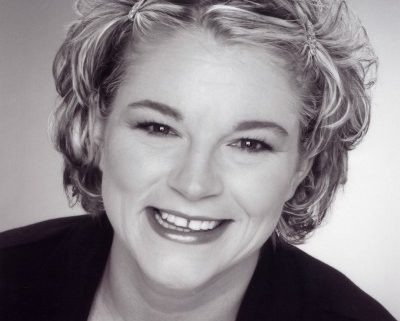 Shelly Bordas' final message to theatre community: 'Love rules out'
Watch John Moore'e entire video documentary series following Shelly Bordas' story by clicking here.

TO SEE OUR COMPREHENSIVE SHELLY BORDAS PHOTO GALLERY, CLICK HERE

Actor and educator Shelly Bordas, whose long and defiant battle against cancer galvanized the Colorado theatre community and beyond, has died, more than five years after her initial diagnosis. She was 43.
Bordas believed strongly in a God almighty who called her home … and she had no problem making him wait.
Bordas learned she had cancer in 2009 while she was pregnant with her son, Nathan, who is now 5. In a cruel twist of biological fate, it was a hormone that is produced when women are pregnant that fed the cancer cells that are present in everyone. Her cancer was diagnosed as Stage 4 upon discovery. There is no Stage 5. She was only 38 at the time.
Bordas had been blessed with one of the greatest gifts life can bestow – and it came with a death sentence. But Bordas, in typical good humor, made a joke of it. "I called it 'tit for tot,' she said.
It was a good line. But it was a lie.
"I try to find a little funny in everything – but there is NOTHING funny about cancer," she said. "Nada, zilch, zero. It sucks to the utmost."
"Cancer is terrible for anyone of any age," Bordas' close friend, actor Steven J. Burge, said at the time. "But Shelly was young, and had a new baby, on top of everything else."
And yet Bordas remained upbeat and defiant, and she fought vigorously. "The odds of anyone surviving this type of cancer are real small," she said. "And I am so glad that I didn't know that. So I kept a really positive attitude."
Of the cancer's paradox, she said: "I think Nathan was brought to me as an angel to help me through all of this."
Bordas died early Sunday evening (Jan. 4). The story of the disease's advance against her body is a long and complex one. But as it went on, Bordas was determined to take on all the chemotherapy and radiation her body could take – and for one reason:
"I've got my boy to think about," she said of Nathan, who turns 6 on April 29. "I'm all he's got. I can't leave him. I'm not ready."
Earlier today, ESPN anchor Stuart Scott died after a 7-year battle with cancer. When he was honored recently for his perseverance in fighting the disease, he said: "When you die, it does not mean that you lose to cancer. You beat cancer by how you live, why you live, and in the manner in which you live."
Many people would say the same of Bordas, who, for her resilience, her fight and her sheer will to live, was named the True West 2013 Theatre Person of the Year.
"She is such a fighter, my little girl," said her mother, Barbara Bordas.
Longtime friend Carla Kaiser Kotrc added: "She has done every single thing that she said she was going to do. She has held on far longer than anyone thought she ever could."
Bordas' remarkable story seemed to take an unexpected, positive turn in December 2012, when doctors discovered that, after 3 1/2 years, the tumors in her breasts, arms, stomach and even teeth were no longer growing. Bordas was still considered terminal, but the news seemed to bring a new, if temporary, lease on life.
She celebrated with the modest goal of making her first stage appearance in more than three years – as the drunk secretary in the Town Hall Arts Center's 9 to 5, the Musical. But soon after she was cast in January 2013, doctors discovered the cancer had spread to her brain and eyes. She was told to get her affairs in order. That her remaining time was short.
Bordas left the show before it opened with one stated goal: To live long enough to take Nathan on a Disney Cruise for his 4th birthday. Grassroots efforts to help sprung up like lightning strikes that quickly grew into an inferno of warmth and good will.
An online fundraising campaign was launched. Benefits were held at the Voodoo Comedy Playhouse, the Columbine United Church in Littleton and Clementine's hair salon in northwest Denver. In all, nearly $30,000 was raised, and that allowed Bordas, her family, friends and a medical team to take the trip of a lifetime.
"Oh my gosh, it was wonderful," Bordas said after returning from the cruise. "We were so spoiled. We had a cabana on a private island, Nathan got to meet all of the Disney characters, and we had a private meeting with the captain on his bridge."
That completed, Bordas was, again, expected to die. But a funny thing happened on the way to her final exit, stage right.
She simply didn't make it.
"When the cruise was over, it was like, 'Now what? … Should I die now?' " Bordas said.
In true Bordas fashion, she went back to work. Bordas, who had created and run her own children's theatre school called ACTING UP! in 2002, was also a longtime children's theater educator at Town Hall Arts Center. She was determined to finish several productions she was in the process of directing for children there, including Finding Nemo.
In 2013, despite unimaginable medical hardships that included gradually losing her eyesight and use of her legs, Bordas managed to direct 10 children's shows. All told, she directed 177 young theater students at the Town Hall Arts Center for the year.
Overall, she underwent 26 chemotherapy treatments, 45 rounds of radiation and had 15 surgeries, including a double mastectomy.
Bordas' teaching career began in 1992 at Gunnison High School and included Denver Public Schools, Cherry Creek Schools, Stage 11, Mizel Arts and Culture Center, Town Hall Arts Center, Rocky Mountain Hebrew Academy and the Arvada Center. Many of her students have gone on to work in movies, television and on Broadway.
"Shelly took the a 7-year-old who loved watching theatre and turned her into a loud kid who didn't want to do anything off the stage," said Jessica Swanson, one of the former students Bordas affectionately referred to as her "turtles." "She inspired so many, and I know she will continue to do so. She will live forever though the people she has touched."
Her mantra to all her turtles: "Listen. Be heard. Find your light. Because you are the star of this show."
As an actor, Bordas performed in 37 amateur and 48 professional shows for theatre companies across Denver, including the Arvada Center, Avenue Theatre, Town Hall Arts Center, Playwright Theatre, Westminster Dinner Theatre, Promethean Stage, Imagination Makers, and Breckenridge Backstage Theatre.
But she found her true theatrical home as a 15-year company member with Steven Tangedal's Theatre Group, which was known for producing deeply meaningful, sexually provocative and, at times, outright camp classics for the live stage. Bordas served as house manager, box-office manager and office manager.
LISTEN TO OUR 2006 PODCAST INTERVIEW WITH SHELLY BORDAS ABOUT 'DEBBIE DOES DALLAS, THE MUSICAL'
Bordas' first role as an actor for Theatre Group was as sexpot Bettina Barnes in Psycho Beach Party. She played Lisa in Debbie Does Dallas, The Musical and scorched the stage in that late-night classic Cell Block Sirens of 1953. In short: Bordas was a bit of a babe. And she railed against the disease, and the steroids it required her to take, for what it did to her girlish figure.
But Bordas stopped taking steroids last year — and as a result, she lost 64 pounds. When she was interviewed for being named Theatre Person of the Year, she told me, "It's absolutely imperative that you include this: I am skinny … and I look good."
When she won the award, Bordas was taken aback. "There are no words," she said. "I'm flattered. I just want to cry, I'm so happy."
And yet, the damage the disease did to Bordas' body was staggering. Her liver failed. The tumors spread from her brain to her nervous system and down her spine. The doctors told her to stop taking chemotherapy. But she kept taking it, even if it would extend her life only by a few weeks.
"They told me if I stop doing chemo, I will die, so I will be doing that forever," Bordas said at the time. "I am going to live in a lot of pain … but I am going to live."
But by September, Bordas' insurance had long run out. She needed 24-hour accompaniment. Her companion service was costing her family $240 a day. Medicaid wanted Bordas moved to a hospice facility, but she wanted to remain at home. Her primary caregiving team of her family and closest friends Christopher Whyde, Steve Tangedal and Steve J. Burge, were making it happen. But they needed help.
The Denver Actors Fund provided funds to extend the companion service, and 18 additional volunteers stepped forward to take overnight shifts sitting with her, defraying the costs further. They went in thinking they were doing Bordas a service. But it soon became clear that Bordas' struggle was a gift to her caregivers. Bordas gave members of her theatre community the opportunity to show the better part of themselves.
"I am glad for the nights I spent with her," said director Brenda Cook Ritenouer, Bordas' high-school classmate.
To Christopher Willard of Breckenridge Backstage, and Bordas' 9 to 5 director at Town Hall, Bordas "was light and love, naughty and nice," he posted on his Facebook page. "We laughed, we drank, we snorkeled, we had a ball – always. So many lives she touched. So much good she did. So much joy she gave."
Bordas was born Aug. 28, 1971, and attended Littleton High School, where she was an actor and cheerleader. Her mother said Shelly was destined to perform from an early age.
"She used to stand at the bottom of the stairs on a makeshift stage and repeat commercials she had seen on TV word-for-word," Barbara Bordas said.
She and her siblings recruited neighborhood children to write scripts, build costumes and paint backdrops for special "garage theatre" performance for her parents. The invention of automatic garage-door openers gave new meaning to the term 'Curtain Rising,' which became the name of her first theatre company.
Bordas majored in theatre at Western State College in Gunnison alongside a number of classmates who would become prominent members of the local theatre community over the next 20 years, including Kotrc and Trina Magness.
Kotrc knew she had found a kindred spirit when she met Bordas at age 19 – and she always offered Kotrc her own special blend of not-entirely-legal (at the time) tea.
"I'm heartbroken at the loss of this bubbly, rare, exceptional soul," said Kotrc. "As I search for consolation from this devastating loss, I am comforted by her own words to me."
Kotrc was mourning the loss of another friend in 2010 when Bordas, well into her own cancer battle, reached out to Kotrc and said: "When it comes to someone passing, it is not them we cry for; it is the empty space in our lives that causes our tears."

Shelly Bordas in Theatre Group's "Cabaret."
Bordas was as provocative onstage as the company she worked for. Off-stage, she was drawn to outsiders and outcasts.
In her final months, Bordas said, she would have a nightly dream of a ship that kept wanting Bordas to board. "But it will just have to stay at bay," she said. "My friends and my son and my friends and all of the people who are supporting me are going to keep me right here."
Bordas spent much of her final months preparing videos and messages for her son to open or view at different milestones of his life. She videotaped herself reading Nathan's favorite stories. She would often have to start and stop because it was getting so difficult for her to read the words.
And yet she just … fought on. Eventually, even Bordas couldn't believe that she was still here.
"I am so grateful to God for this extra time with my son," she said. "I am so thankful – so thankful – to have made it this far. I've been in a lot of pain this year. I can see how people give up.
"But loves rules out."
Service information:
A memorial service will be held for Shelly Bordas at 4 p.m. on Tuesday, Jan. 13, at the Town Hall Arts Center, 2450 W. Main St., Littleton.
Survivors:
Bordas is survived by her son, Nathan; mother, Barbara Bordas; father, Michael Bordas; sister, Mary Kathryn Brewer; brother, Michael John Bordas; grandmother; Anna Beezley; four nieces, one nephew and many aunts, uncles and cousins.

Contributions:
Contributions in the name of Nathan Bordas may be sent to 8611 Gold Peak Drive, Unit E, Highlands Ranch, CO, 80130. They will be put toward a college fund for Shelly's son.
John Moore was named one of the 12 most influential theater critics in the U.S by American Theatre Magazine in 2011. He has since taken a groundbreaking position as the Denver Center's Senior Arts Journalist.


Watch John Moore's complete video documentary series on Shelly Bordas:
(Part 1 can be found at the top of this page)
Video: The Shelly Bordas Story, Part 2: "My Son Wins"

Video: The Shelly Bordas Story, Part 3: A Community Responds:

More of our previous coverage of the Shelly Bordas story:
2013 True West Theater Person of the Year Shelly Bordas
Shelly Bordas: A story that's just beginning
Photos: Shelly Bordas benefit performances raise money, lift hearts
Shelly Bordas fundraising efforts hit $20,000 after first week
Shelly Bordas supporters raise $10,000 in 24 hours
From 2009: Community rallies for Shelly Bordas
https://www.denvercenter.org/wp-content/uploads/2018/04/featured-image-1790.jpg
467
400
John Moore
John Moore
2015-01-04 22:56:00
2015-01-04 22:56:00
Shelly Bordas' final message to theatre community: 'Love rules out'