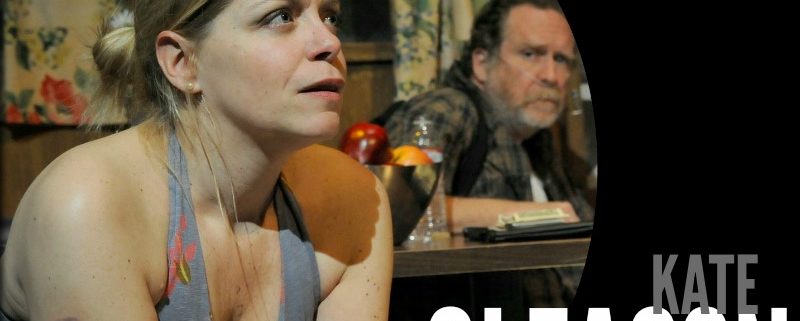 2014 True West Award: Kate Gleason
TRUE WEST AWARDS: 30 DAYS, 30 AWARDS
Kate Gleason made it look so easy in Annapurna, she might have actually made it easy to overlook the most natural, believable and wrenchingly real acting performance of the year. Gleason played a damaged ex-wife named Emma in the Boulder Ensemble Theatre Company's remarkably restrained production. Emma walked out on her ex-husband's life 20 years before, but now has mysteriously walked right back into his trailer nestled in the isolated woods near Paonia, Colorado. And it's soon evident the bruises on Emma's arms aren't the only contusions lingering just under the surface of her purpled epidermis. Drifting between hair-trigger anger and a lingering compassion for a broken-down, bare-butted addict now hooked up to oxygen, Gleason and her equal stage partner, Chris Kendall, slowly revealed the terrible secrets that explain all the hurt that has built up between them like poison seeping out of a leaky gas line. Annapurna, written by Coloradan Sharr White, is an intimate and utterly relatable look at failed relationships. BETC's production, directed by Rebecca Remaly, was one of those rare theatregoing experiences where, once the final layer of the onion was peeled, you wanted the actors to wrap it back up and start peeling all over again. Two months later, Annapurna was warmly received off-Broadway. The New York production starred the wonderful real-life married couple of Megan Mullally (Will and Grace) and Nick Offerman (Parks and Recreation). But while I'm not often overtaken by homerism, if I were to see Annapurna again, I'd rather want to see Gleason and Kendall again. Gleason made the loudest statement of the year in the art of understatement.
2014 TRUE WEST AWARDS:
1: Norrell Moore
2. Kate Gleason
3. Amanda Berg Wilson and Jeremy Make
4. Ben Cowhick
5. Robert Michael Sanders
6. David Nehls
7. Adrian Egolf
8. Emma Messenger
9. Buntport's Naughty Bits
10. Tim Howard
11. Gleason Bauer
12. Daniel Traylor
13. Aisha Jackson and Jim Hogan
14. Cast of 'The Whipping Man'
15. Rick Yaconis
16. Michael R. Duran
17. Laura Norman
18. Jacquie Jo Billings
19. Megan Van De Hey
20. Jeremy Palmer
21. Henry Lowenstein
22. Sam Gregory
23. Wendy Ishii
24. J. Michael Finley
25. Kristen Samu and Denver Actors Fund volunteers
26. Matthew D. Peters
27. Shannan Steele
28. Ludlow, 1914
29. Spring Awakening and Annapurna
30 Theatre Person of the Year Steve Wilson
ABOUT THE TRUE WEST AWARDS
The True West Awards, which began as the Denver Post Ovation Awards in 2001, are the longest-running continuously administered awards program in Colorado theater. This year, the awards have been reconceived to simply recognize 30 award-worthy achievements in local theatre, without categories or nominations. A different honoree will be singled out each day for 30 days.
The True West Awards are administered by arts journalist John Moore, who was named one of the 12 most influential theater critics in the U.S by American Theatre Magazine in 2011. He has since founded The Denver Actors Fund and taken a groundbreaking position as the DCPA's Senior Arts Journalist. His coverage of the Colorado theatre community can be found at MyDenverCenter.Org
https://www.denvercenter.org/wp-content/uploads/2018/04/featured-image-1201.jpg
540
800
John Moore
John Moore
2014-12-02 02:07:00
2014-12-02 02:07:00
2014 True West Award: Kate Gleason