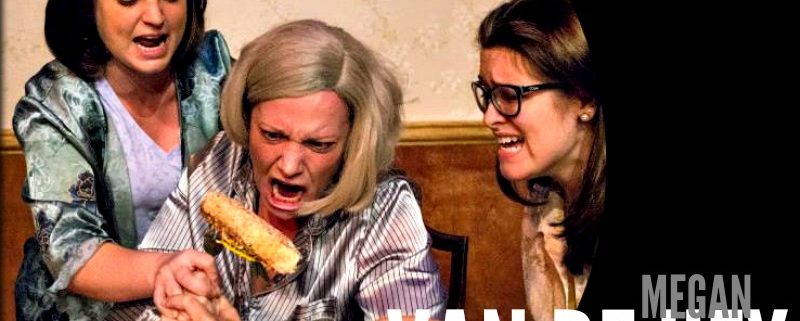 2014 True West Award: Megan Van De Hey

TRUE WEST AWARDS: 30 DAYS, 30 AWARDS
Every year at awards season, I think, "Well, maybe we can give Megan Van De Hey a year off." Only here's the problem: She never takes a year off.
The double-threat actor and singer has made making magic mundane by consistently achieving impossible standards of artistic excellence in roles large and small. I am convinced that constancy is rooted in the tireless, grounded, business-like work ethic she brings to every project.
Van De Hey grew up in Greeley and graduated from Greeley Central High School and the University of Northern Colorado before moving to Chicago for a time. Since then, she has done a lot of shows … and won a lot of awards … so let's just skip ahead to 2014:
Miss Casewell, Arvada Center's The Mousetrap
Little Edie and Big Edie, Vintage Productions' Grey Gardens
Jen, Cherry Creek Theatre Company's John and Jen
Veronica, Little Theatre of the Rockies' God of Carnage
Violet, University of Northern Colorado's August: Osage County
Ensemble, Arvada Center's She Loves Me
Other actors would happily work a decade to amass credits like that. Van De Hey did it in one year. The range of characters is impressive, too, including a reprisal of her award-winning turn in Grey Gardens, which follows Jacqueline Kennedy's eccentric aunt and cousin as they change from rich aristocrats to filth-dwellers. She also shone opposite Casey Andree in John & Jen, a retro musical about a young woman's relationships with her brother, who is killed in the Vietnam War; and son, also named John.
But of particular note was her work in August: Osage County. Van De Hey was asked by her alma mater to play the role surrounded by actors from the UNC theatre program and the local community. By embedding herself with the students and putting the show on together, she would, in essence, be teaching them a master class in how a professional comports herself on and off stage. It's a smart academic model the University of Denver recently employed when it hired multiple award-winner John Arp to play Tevye in a student production of Fiddler on the Roof.
I'm sure Van De Hey found the opportunity irresistible. She's true to her school, and, after all, Violet is the greatest theatrical role written for a woman since Martha in Who's Afraid of Virginia Woolf.
But Violet is 75 years old, and I am guessing Van De Hey is in her 30s. Despite her resume, that alone should make her inconceivably wrong for the part. See you in 2054, Van De Hey.
Except … she wasn't wrong for the role.
Violet is a tough-as-Oklahoma-tumbleweed matriarch whose cancer of the mouth is both literal and metaphoric. She's developed a pill addiction from a diseased mouth that's constantly on fire. What any actress playing her is asked to do every night is daunting. And Van De Hey was astonishing, first in late-night scenes when the pills turned her speech incoherent (every syllable of it scripted) and again at the dinner table, where Violet delivers one of the great stage speeches of all time. It is vicious, calculated … and it leaves no one unscathed.
The role also requires a rigorous physical commitment ranging from the unbalanced running of stairs to several physical altercations … and Van De Hey licked up every drop from her acid cup.
After the show, I was stopped by a more age-appropriate actor who will be playing Violet herself next year, and she was shaken by Van De Hey's performance. "I can't follow that," she said. She can, and she will, but the comment made utterly inconsequential any concern I might have had about Van De Hey's age.
I mean, when John & Jen opens, she's 6. When August: Osage County ends, she's 75. Clearly, Megan Van De Hey is timeless.
2014 TRUE WEST AWARDS:
1: Norrell Moore
2. Kate Gleason
3. Amanda Berg Wilson and Jeremy Make
4. Ben Cowhick
5. Robert Michael Sanders
6. David Nehls
7. Adrian Egolf
8. Emma Messenger
9. Buntport's Naughty Bits
10. Tim Howard
11. Gleason Bauer
12. Daniel Traylor
13. Aisha Jackson and Jim Hogan
14. Cast of 'The Whipping Man'
15. Rick Yaconis
16. Michael R. Duran
17. Laura Norman
18. Jacquie Jo Billings
19. Megan Van De Hey
20. Jeremy Palmer
21. Henry Lowenstein
22. Sam Gregory
23. Wendy Ishii
24. J. Michael Finley
25. Kristen Samu and Denver Actors Fund volunteers
26. Matthew D. Peters
27. Shannan Steele
28. Ludlow, 1914
29. Spring Awakening and Annapurna
30 Theatre Person of the Year Steve Wilson
ABOUT THE TRUE WEST AWARDS
The True West Awards, which began as the Denver Post Ovation Awards in 2001, are the longest-running continuously administered awards program in Colorado theater. This year, the awards have been re-conceived to simply recognize 30 award-worthy achievements in local theatre, without categories or nominations. A different honoree will be singled out each day for 30 days.
The True West Awards are administered by arts journalist John Moore, who was named one of the 12 most influential theater critics in the U.S by American Theatre Magazine in 2011. He has since founded The Denver Actors Fund and taken a groundbreaking position as the DCPA's Senior Arts Journalist.
*The DCPA Theatre Company is not considered for True West Awards, which are instead intended as the DCPA's celebration of the local theatre community.
Moore's daily coverage of the Colorado theatre community can be found at MyDenverCenter.Org

https://www.denvercenter.org/wp-content/uploads/2018/04/featured-image-964.jpg
549
800
John Moore
John Moore
2014-12-19 12:28:00
2014-12-19 12:28:00
2014 True West Award: Megan Van De Hey