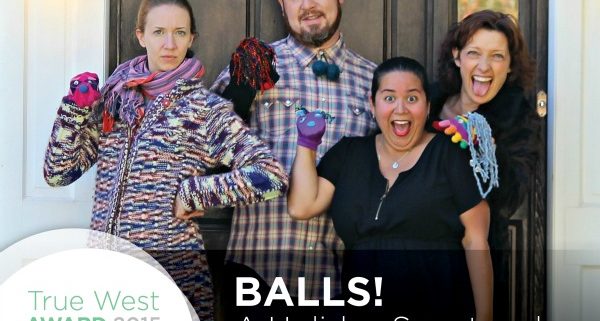 2015 True West Award: 'BALLS! A Holiday Spectacular'

​ 2015 TRUE WEST AWARDS: 30 DAYS, 30 BOUQUETS
​Today's recipient:
BALLS, A Holiday Spectacular

Today's presenter: DCPA Senior Arts Journalist John Moore
---
After seven years, the ladies are bagging their BALLS! And with that, so goes seven years of irreverent puns centered around bouncing balls and … Balzacs.
BALLS! is an annual holiday benefit variety show that has raised about $30,000 for metro nonprofits since 2009 using sock puppets, spontaneous haikus and silly prizes. Co-founder Mare Trevathan has announced that after the 2015 performances coming up Dec. 7 and 14 at Lannie's Clocktower Cabaret, the BALLS! babes will be bouncing their separate ways.
The core group is Trevathan, GerRee Hinshaw (host of The Bug Theatre's monthly Freak Train), Emily K. Harrison (founder of Boulder's case-challenged square product theatre) and bassist-slash-honorary-BALLS!-babe Jim Ruberto. An original co-founder was Melanie Owen, who has since moved to Seattle.
Every performance is different because of a rotating roster of guest performers that includes local musicians, actors and, this year, a special appearance by former 9News entertainment reporter Kirk Montgomery. They all perform for free. "It's a lot to ask of people at the holidays," Trevathan said, "but our community is so generous."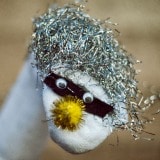 And then there are the sock puppets. Upon entry, every audience member is issued a crafty sock puppet that figures prominently in singalongs and games. And they have gone through hundreds of them over the years. Those sackers who become sockmates with their cotton, wool, nylon, acrylic, polyester, or spandex friends can take them home in exchange for a small donation.
This year's beneficiary is The Gathering Place – Denver's only daytime drop-in center for women, their children and transgender individuals experiencing poverty or homelessness. Previous beneficiaries have included The Denver Actors Fund, Colorado Coalition Against Sexual Assault, Fresh City Life, Dani's Foundation and Slow Food Denver.
Before the air is let out of the BALLS! for good, the True West Awards wanted to acknowledge the organizers' selfless commitment to community and camaraderie – on and off stage.
This year's BALLS! performances are at 7 p.m. Mondays Dec. 7 and 14 at Lannie's, 1601 Arapahoe St. Tickets are $22 in advance, $25 at the door. Recommended for audiences 16 years and older. Call 303-293-0075 or go to www.lannies.com.
ABOUT THE TRUE WEST AWARDS
The True West Awards began as the Denver Post Ovation Awards in 2001. This year, DCPA Senior Arts Journalist John Moore — as well as additional voices from around the state — celebrate the entire local theatre community by recognizing 30 achievements from around the state over 30 days, without categories or nominations. Moore's daily coverage of the DCPA and the Colorado theatre community can be found at MyDenverCenter.Org
THE 2015 TRUE WEST AWARDS​
Day 1: Rachel D. Graham
Day 2: BALLS! A Holiday Spectacular
Day 3: Creede Repertory Theatre's 50th anniversary season
Day 4: Laurence Curry
Day 5: Bernie Cardell
Day 6: Susan Lyles
Day 7: John Jurcheck​
Day 8: Christopher L. Sheley
Day 9: DCPA Education's 'Shakespeare in the Parking Lot'
Day 10: Man and Monster: Todd Debreceni and TJ Hogle
Day 11: Shauna Johnson
Day 12: Geoffrey Kent and Benjamin Bonenfant
Day 13: Sesugh Solomon Tor-Agbidye
Day 14: Keith Ewer
Day 15: Allison Watrous
Day 16: Jonathan Farwell
Day 17: Bob, Wendy and Missy Moore
Day 18: Emma Messenger
Day 19: Shannon McKinney
Day 20: Mary Louise Lee and Yasmine Hunter​
Day 21: Charlie Miller and Emily Tarquin
Day 22: Scott Beyette
Day 23: Augustus Truhn
Day 24: Jimmy Bruenger
Day 25: The Masters of Props: Rob Costigan, Peki Pineda and Becky Toma
Day 26: Jalyn Courtenay Webb
Day 27: Andre Rodriguez
Day 28: Rebecca Remaly
Day 29: Mark Collins
Day 30: Phamaly Theatre Company's Cabaret
Bonus: Donald R. Seawell
https://www.denvercenter.org/wp-content/uploads/2018/04/featured-image-2903.jpg
464
600
John Moore
John Moore
2015-12-02 01:02:00
2019-07-17 10:55:29
2015 True West Award: 'BALLS! A Holiday Spectacular'