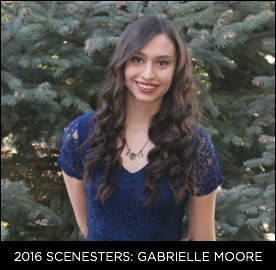 2016 Scenesters, No. 4: Gabrielle Moore
Today at the DCPA NewsCenter, we continue our exciting daily countdown of the 10 student playwrights have been named semifinalists for our third annual statewide playwriting competition. (Details below.)
Scenester No. 4: Gabrielle Moore
School: D'Evelyn High School
Teacher: Janet Shibly
Play title: Divinity of Hell
What is your play about? Teresa is a determined teenage girl who struggles to fit in at her strict church, but she still feels the need to help others, even the Devil. She meets him in hopes that he will repair his once great relationship with God, but instead she learns Satan's side of the story.
Favorite word that appears in your script: "Scientology."
Excerpt from your play: TERESA: "I don't worship the devil at all! You are always telling us to help those who have lost God in their life and I don't think anyone has more than Lucifer. Sometimes I pray to him, just to communicate that he should try to repair the relationship he had with God."


Who was your inspiration for writing your play? A huge inspiration for this play is my own interactions with religion, especially since I got this idea during a session of Adoration.
Killer casting: As much as I would love Danny DeVito in every part for a terrific one-man show, I think Evan Peters would be better suited for the role of Satan. His work on American Horror Story proves how well he is at playing cunning and charming characters.
What did you learn from writing this play? No matter how strange an idea sounds in your head, just write it because it might work out after all.
---
Our complete countdown of 2016 semifinalists (to date):
No. 1: Jafei Pollitt, Denver School of the Arts
No. 2: Jessica Wood, Denver Christian High School
No. 3: Kristine Guo, Peak to Peak Charter School
No. 4: Gabrielle Moore, D'Evelyn High School
No. 5: Ashley Wright and Amelia Middlebrooks, Valor Christian High School
No. 6: Kalina Gallardo, Kunsmiller Creative Arts Academy
No. 7: Kiera Eriksen-McAuliffe, Denver School of the Arts
No. 8: Stephanie Kiel and Mady McGraw, Chatfield High School
________________________________________________________________
About the Denver Center's 2016 Regional Youth Playwriting Workshop and Competition:
What: "Your Words Take the Stage": A one-act playwriting competition designed for area high schools. Local playwrights and DCPA Education staff members taught 145 playwriting workshops in 60 Colorado high schools. More than 3,110 high-school students participated in those workshops, which were held in every school district in the Denver-metro area and in 18 counties, including Alamosa, LaPlata, Montezuma, Ouray and Weld.
Why: To nurture Colorado's young playwrights; develop theatre artists and audiences; develop new plays; and advance literacy, creativity, writing and communication through playwriting.
How: A total of 212 submissions were judged blindly by DCPA artistic, literary and education professionals. That represents a 34 percent growth in submissions from 2014. Ten semifinalists are being identified through this rolling daily countdown. At the end of the countdown, three winners will be named. They will receive a cash scholarship of $250 each AND a staged reading in the 2016 Colorado New Play Summit next month. In addition, each teacher of the three finalists will receive a $250 gift certificate for books, supplies or other teaching tools for their classrooms. One play also will be presented as a fully staged performance exercise for DCPA Education students in the summer of 2016.

These back-to-back videos begin with the three teen play readings at the 2015 Colorado New Play Summit through the full staging of the winning play last summer.
https://www.denvercenter.org/wp-content/uploads/2018/04/featured-image-2797.jpg
270
276
John Moore
John Moore
2016-01-07 07:00:00
2016-01-07 07:00:00
2016 Scenesters, No. 4: Gabrielle Moore