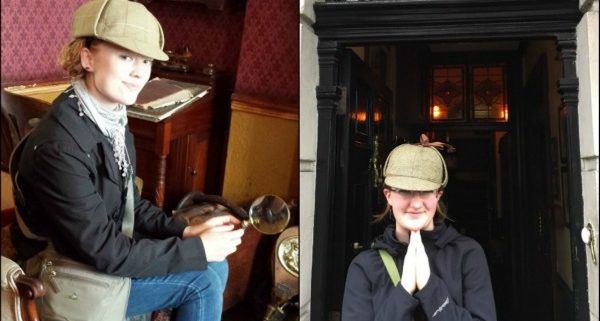 2016 Scenesters, No. 5: Ashley Wright and Amelia Middlebrooks
Today at the DCPA NewsCenter, we continue our exciting daily countdown of the 10 student playwrights who have been named semifinalists for our third annual statewide playwriting competition. (Details below.)
Scenester No. 5: Ashley Wright and Amelia Middlebrooks
School: Valor Christian High School
Teacher: Kurt Muenstermann
Play title: Black and Blue
What is your play about? Humans tend to dislike change. This is no different for Liz, a relatively average girl who hates saying goodbye to the familiar. Enter Allyson, an eccentric British artist with scars of her own, but eager to make new friends and to pull Liz out of her box.

Favorite word that appears in your script: Ashley: "Chicken pesto!" Amelia: "Whump."
Excerpt from your play: Ally: "Trust me. People all have some sort of mask, some sort of face, they put it up so no one sees their hurt. Yours is, 'Being OK,' indifferent, or even apathetic!"
Who was your inspiration for writing your play?
Ashley: The inspiration for Liz's character came largely from myself. I am a lot like Liz; I never moved and the big things in life stayed pretty much the same. I got too comfortable in many respects, thinking that things would always stay the same. When things didn't, when people moved on, when I moved, when life got harder, I thought that I could control things back into the way they used to be. I wasn't able to, I mean, who is? So I had to learn to let go of the familiar shore and let the tide take me to new, unexplored waters. I think I speak for the both of us when I say that our inspiration for a plot comes after we have created the people. We create our worlds around the characters instead of the other way around.

Amelia: Quite simply, watching high school life. Specifically talking about a lot of the friendships I have with my friends. They've come out of some strange places. I've moved around a lot so it seems like I'm always playing Allyson. Trying to make new friends and find a place in a crowd of people already familiar with each other, trying to navigate my way through all those other people's successes and insecurities, while trying not to lose myself.
Killer casting:
Ashley: I'd like to see Sebastian Stan or Eddie Redmayne as the voice of Roland because they can carry a character so well through movement alone (as the Winter Soldier and Steven Hawking); I'd like to see if they can do the same with voice alone.

Amelia: Sebastian Stan or possibly Chris Evans playing the voice of older Roland because that's the sort of voice I imagined in the role. Either of them could manage the voice of that character really well and could make it sound like a older boy who's matured, unlike his friend Liz. I also think it would be interesting to see how they would be at voice acting, rather than stage acting. (And Amelia and I were in separate countries when we made this profile and we still thought alike!)
What did you learn from writing this play?
Ashley: Writing a play was easier than I expected. When I write, I think in dialogue and scenes, then add in description later. With a play (excepting stage directions), there is just free range conversation…or argumentation depending on the scene. Also, I was reminded that even the people who seem the most confident, like Allyson, still need a friend who will be there when they feel alone.

Amelia: Well, how to write a play. And that it's harder than it looks! But really, I was reminded that friends come from the strangest places. And sometimes that person who you never thought could be your friend, who seemed so different, so unreachable, they might turn out to be the greatest thing that ever happened to you.
---
Our complete countdown of 2016 semifinalists (to date):
No. 1: Jafei Pollitt, Denver School of the Arts
No. 2: Jessica Wood, Denver Christian High School
No. 3: Kristine Guo, Peak to Peak Charter School
No. 4: Gabrielle Moore, D'Evelyn High School
No. 5: Ashley Wright and Amelia Middlebrooks, Valor Christian High School
No. 6: Kalina Gallardo, Kunsmiller Creative Arts Academy
No. 7: Kiera Eriksen-McAuliffe, Denver School of the Arts
No. 8: Stephanie Kiel and Mady McGraw, Chatfield High School
________________________________________________________________
About the Denver Center's 2016 Regional Youth Playwriting Workshop and Competition:
What: A one-act playwriting competition designed for area high schools. Local playwrights and DCPA Education staff members taught 145 playwriting workshops in 60 Colorado high schools. More than 3,110 high-school students participated in those workshops, which were held in every school district in the Denver-metro area and in 18 counties, including Alamosa, LaPlata, Montezuma, Ouray and Weld.
Why: To nurture Colorado's young playwrights; develop theatre artists and audiences; develop new plays; and advance literacy, creativity, writing and communication through playwriting.
How: A total of 212 submissions were judged blindly by DCPA artistic, literary and education professionals. That represents a 34 percent growth in submissions from 2014. Ten semifinalists are being identified through this rolling daily countdown. At the end of the countdown, three winners will be named. They will receive a cash scholarship of $250 each AND a staged reading in the 2016 Colorado New Play Summit next month. In addition, each teacher of the three finalists will receive a $250 gift certificate for books, supplies or other teaching tools for their classrooms. One play also will be presented as a fully staged performance exercise for DCPA Education students in the summer of 2016.

These back-to-back videos begin with the three teen play readings at the 2015 Colorado New Play Summit through the full staging of the winning play last summer.
https://www.denvercenter.org/wp-content/uploads/2018/04/featured-image-2795.jpg
451
600
John Moore
John Moore
2016-01-07 07:00:00
2016-01-07 07:00:00
2016 Scenesters, No. 5: Ashley Wright and Amelia Middlebrooks