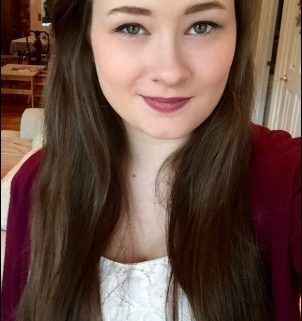 2016 Scenesters, No. 7: Kiera Eriksen-McAuliffe
Today at the DCPA NewsCenter, we continue our exciting daily countdown of the 10 student playwrights have been named semifinalists for our third annual statewide playwriting competition. (Details below.)
Scenester No. 7: Kiera Eriksen-McAuliffe
School: Denver School of the Arts
Teacher: Brandon Becker
Play title: Empty Space
What is your play about? The difficulties of living in small-town America and falling in love with the wrong person. It is about a strange interaction between a girl and a boy who clearly once loved each other very much. It is also about the significance of a young oak tree.
Favorite word that appears in your script: "Somber."
Excerpt from your play: GIRL: "Do you think I enjoy being stuck in this no-good racist town surrounded by nothing but wheat and cows for miles? It's (crap). Everyone here pretends that they have this ideal little life. Small town, a close-knit community of friends helping each other out. It's exactly what people that don't live here see it as. I want to go somewhere where people are actually real with each other."


Who was your inspiration for writing your play? Partly from hearing about police brutality and all of the disgusting things that people do because of prejudice. I also was inspired by my own experience as a high school student struggling with parents and relationships while constantly being pressured to think about my future. My play is hardly autobiographical, but it is very much about being a teenager in a day and age where adolescents voices are constantly quieted.
Killer casting: I would want Taissa Farmiga to play the girl. I think she has a perfect, innocent yet wise look that I imagined when writing. She is also extremely talented and good at playing characters with a lot of baggage, like Violet in American Horror Story. I also think that she is very beautiful but in a sort of subtle way, which is perfect for the girl.
What did you learn from writing this play? It's hard to stick with something. I wrote so many drafts of this show, and I was shocked that I even finished it. I wasn't even sure I was satisfied with the final draft, but I had to be confident in my work and submit it anyways, despite it's imperfections. I know that as a writer there will always be things you want to tweak or change about your work, but you can't do that forever, you have to have a final draft. So basically I learned that I needed to be confident with the art that I had created eventually, even if it wasn't perfect. I also learned that perfection is unrealistic, and that stories don't need to be perfect to be told successfully.
---
Our complete countdown of 2016 semifinalists (to date):
No. 1: Jafei Pollitt, Denver School of the Arts
No. 2: Jessica Wood, Denver Christian High School
No. 3: Kristine Guo, Peak to Peak Charter School
No. 4: Gabrielle Moore, D'Evelyn High School
No. 5: Ashley Wright and Amelia Middlebrooks, Valor Christian High School
No. 6: Kalina Gallardo, Kunsmiller Creative Arts Academy
No. 7: Kiera Eriksen-McAuliffe, Denver School of the Arts
No. 8: Stephanie Kiel and Mady McGraw, Chatfield High School
________________________________________________________________
About the Denver Center's 2016 Regional Youth Playwriting Workshop and Competition:
What: A one-act playwriting competition designed for area high schools. Local playwrights and DCPA Education staff members taught 145 playwriting workshops in 60 Colorado high schools. More than 3,110 high-school students participated in those workshops, which were held in every school district in the Denver-metro area and in 18 counties, including Alamosa, LaPlata, Montezuma, Ouray and Weld.
Why: To nurture Colorado's young playwrights; develop theatre artists and audiences; develop new plays; and advance literacy, creativity, writing and communication through playwriting.
How: A total of 212 submissions were judged blindly by DCPA artistic, literary and education professionals. That represents a 34 percent growth in submissions from 2014. Ten semifinalists are being identified through this rolling daily countdown. At the end of the countdown, three winners will be named. They will receive a cash scholarship of $250 each AND a staged reading in the 2016 Colorado New Play Summit next month. In addition, each teacher of the three finalists will receive a $250 gift certificate for books, supplies or other teaching tools for their classrooms. One play also will be presented as a fully staged performance exercise for DCPA Education students in the summer of 2016.

These back-to-back videos begin with the three teen play readings at the 2015 Colorado New Play Summit through the full staging of the winning play last summer.
https://www.denvercenter.org/wp-content/uploads/2018/04/featured-image-2779.jpg
587
302
John Moore
John Moore
2016-01-12 07:00:00
2016-01-12 07:00:00
2016 Scenesters, No. 7: Kiera Eriksen-McAuliffe