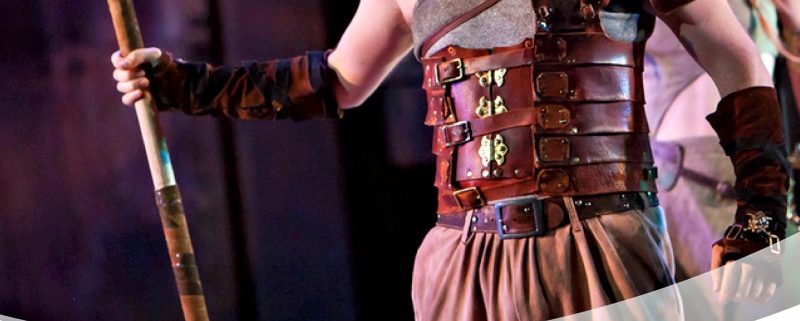 2016 True West Award: Jason Ducat
---

30 DAYS, 30 BOUQUETS

Day 27: Jason Ducat



If you listen closely, you can hear the echoing drumbeats of war still pulsing from the Colorado Shakespeare Festival's sexy military epic Troilus and Cressida, courtesy of the busiest sound designer in Denver, Jason Ducat.
"Special note needs to be made of the blaring horns and incessant drums of Jason Ducat's sound design," wrote Scott Rochat of the Boulder Daily Camera. "When it's time to get down to the business of combat, the choreography and sound fill the stage with an infectious energy and sense of danger."
Designing sound is so much more than picking songs to play during interminable scene changes. The masterful sound designer creates a soundscape that sets a mood, that communicates emotions, that furthers the play's themes, that talks to the audience and accentuates whatever the director is trying to get across, says Boulder Ensemble Theatre Company's Stephen Weitz.
Few are better at that than Ducat, who has been designing sound for area theatre companies for the past eight years. Above all else, adds the Colorado Shakespeare Festival's Carolyn Howarth, "Jason possesses a keen ability to tell story through sound."
Our 2015 profile of Stage Manager Rachel Newman Ducat

And he told a lot of stories in 2016. Eight in all, from Boulder to Denver to Colorado Springs. The rundown:
White Guy on the Bus, Curious Theatre Company
Cymbeline, Colorado Shakespeare Festival
Equivocation, Colorado Shakespeare Festival
The Comedy of Errors, Colorado Shakespeare Festival
Troilus and Cressida, Colorado Shakespeare Festival
Antony and Cleopatra, Colorado Springs TheatreWorks
Full Code, Boulder Ensemble Theatre Company
Hand to God, Curious Theatre Company
Two of the highlights from that list have to be his work on Troilus and Cressida and Full Code. Shakespeare's seldom-produced war orgy. We're talking the Trojan War, without a Trojan in sight. Seven years of carnal carnage (seemingly) over the abduction of Helen of Troy. What Howarth wanted from Ducat, she said, "was a pounding, percussive, martial soundtrack to amplify the war-time aspect of the story." And he delivered.
"Jason tweaks and twists his sound design to perfectly punctuate each strike of a sword and hit to a shield," she said. "It's magical and exacting work, and his results are always extraordinary."
More Colorado theatre coverage on the DCPA NewsCenter

For Full Code, a world-premiere play by David Valdes Greenwood about a man who has been in a freak accident, Ducat's challenge was the opposite. He had to go small to somehow come up with an evocative sound that somehow captured the turbulence of a man trapped in a coma. Ducat's sound design, wrote GetBoulder.com theatre critic Beki Pineda, "greatly enhances the startling changes the man is going through."
(Pictured above and right: Casey Andree in the Boulder Ensemble Theatre Company's 'Full Code.' Photo by Michael Ensminger.)
When picking a sound designer, said Weitz, director of Full Code, "you want someone who has all of the technical training, but more than that you want a collaborator who is flexible, takes feedback well and works well with the other designers on the creative team."
Weitz and Howarth both separately used that word when describing Ducat, "collaborator." And to Howarth, "he is one of my very favorite collaborators."
Ducat hails from Ohio and has designed sound with the DCPA Theatre Company for seven years, with credits including Glengarry Glen Ross, When Tang Met Laika, The House of the Spirits, Lord of the Flies, Shadowlands, Reckless, Superior Donuts, Heartbreak House, and Othello. He started work today on his next project, the world-premiere play Two Degrees, opening Feb. 3 in the Jones Theatre. Ducat is also an Artistic Company member at Curious Theatre Company, where he has designed more than 20 shows, and he is the resident sound designer for the Colorado Shakespeare Festival.
"Jason spends more time in the rehearsal room than any designer I know, and consequently always has a remarkably keen understanding of not only the play, but this particular production of the play," said actor and director Gary Wright. "That's what makes his work so alive. He not only has a great ear for music and sound, he has a great eye for truth and what's actually happening in the moment, and he has a great gift for helping to tell that story."
The best that can be said of Ducat, Howarth said, is the best that can be said of any sound designer:
"Under Jason's designs," she said, "Our productions come alive."
(And yes, it helps to have a solid iTunes library.)

Jason Ducat/At a glance
Hometown: Bowling Green, Ohio
College: University of South Florida; MFA in Sound Design from Purdue University
DCPA Theatre Company Sound Designer for seven years. Now an Artistic Company member at Curious Theatre Company and resident sound designer for the Colorado Shakespeare Festival
He also teaches and mentors at the University of Colorado-Boulder and Metro State University
Married to DCPA Stage Manager Rachel Newman Ducat, who is currently running An Act of God at the Garner-Galleria Theatre. They are the parents of twins.


ABOUT THE TRUE WEST AWARDS
The True West Awards, now in their 16th year, began as the Denver Post Ovation Awards in 2001. DCPA Senior Arts Journalist John Moore — along with additional voices from around the state — celebrate the entire local theatre community by recognizing 30 achievements from 2016 over 30 days, without categories or nominations. Moore was named one of the 12 most influential theater critics in the U.S by American Theatre Magazine in 2011. He has since taken a groundbreaking position as the Denver Center's Senior Arts Journalist. His daily coverage of the DCPA and the Colorado theatre community can be found at MyDenverCenter.Org
THE 2016 TRUE WEST AWARDS
Day 1: Jada Suzanne Dixon
Day 2: Robert Michael Sanders
Day 3: After Orlando
Day 4: Michael Morgan
Day 5: Beth Beyer
Day 6: Patrick Elkins-Zeglarski
Day 7: donnie l. betts
Day 8: Night of the Living Dead
Day 9: The Killer Kids of Miscast
Day 10: Jason Sherwood
Day 11: Leslie O'Carroll and Steve Wilson
Day 12: Jonathan Scott-McKean
Day 13: Jake Mendes
Day 14: Charles R. MacLeod
Day 15: Patty Yaconis
Day 16: Daniel Langhoff
Day 17: Colorado Shakespeare Festival costumers
Day 18: Miriam Suzanne
Day 19: Yolanda Ortega
Day 20: Diana Ben-Kiki
Day 21: Jeff Neuman
Day 22: Gabriella Cavallero
Day 23: Matthew Campbell
Day 24: Sharon Kay White
Day 25: John Hauser
Day 26: Lon Winston
Day 27: Jason Ducat
Day 28: Sam Gregory
Day 29: Warren Sherrill
Day 30: The Women Who Run Theatre in Boulder
Theatre Person of the Year Billie McBride
https://www.denvercenter.org/wp-content/uploads/2018/04/featured-image-3466.jpg
1035
800
John Moore
John Moore
2016-12-27 01:50:00
2016-12-27 01:50:00
2016 True West Award: Jason Ducat