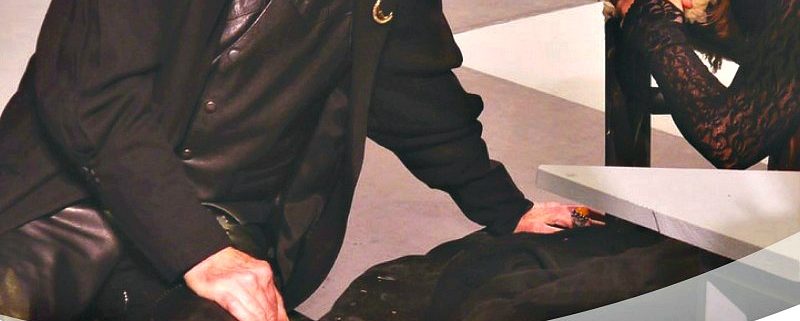 2016 True West Award: Lon Winston
---

30 DAYS, 30 BOUQUETS

Day 26: Lon Winston



Lon Winston was an Easy Rider kind of biker when he roared into the Roaring Fork Valley in the 1970s, revved his engines and, to the surprise of most everyone excluding himself … eventually started a theatre company.
Over the past 21 years and 67 productions, Winston and counterculture creative partner Valerie Haugen brought David Mamet and Henrik Ibsen and Sam Shepard and Eugene O'Neill and even Akira Kurosawa to Carbondale through their Thunder River Theatre Company.
Winston, 70, announced his retirement in June as Executive Artistic Director of the rebel troupe he turned into a home for serious and often challenging theatre nestled 170 miles west of Denver between Aspen and Glenwood Springs. The elevation of 6,200 is only slightly higher than the town's population.
"I feel like I've done the job I set out to do 21 years ago," Winston told the Aspen Times. "I set out to create a theatre company committed to staging classics, contemporary works and original productions – and that was committed to talent in the Roaring Fork valley, emphasizing a professional standard."
On Feb. 24, Thunder River will re-name the "black-box" studio theatre he opened in 2006 as The Lon Winston Theatre.
"Lon has been an innovative and insightful creative force in the Roaring Fork Valley for more than 20 years, and his creative vision continues to inspire our work," successor Corey Simpson told the DCPA NewsCenter. "He is the epitome of an 'actor's director' who can find the unique way to work with each artist to reveal their best work. One of his artistic gifts has been his devotion to fostering the talent and artistry of the local acting community."
Winston and his wife, Debra, first moved to Colorado in 1975. They left in 1980 when they were hired as theatre professors at Villanova University near Philadelphia. They moved back in 1992 with a dream to launch the Thunder River Theatre Company – the name came from the sheepskin trading business they had started to generate seed money for the theatre.
More Colorado theatre coverage on the DCPA NewsCenter

Three years later, they teamed with the Carbondale Council on Arts and Humanities and opened their roving theatre group that played in storefronts out of an 18-wheeler. The opening production in 1995 was the Mamet's gender-baiting drama Oleanna, about a college student who induces a misogynist professor to reveal the worst part of himself. It starred DCPA masters graduate Maurice LaMee (future artistic director of the Creede Repertory Theatre) and his wife, Trary Maddalone.
It would be another 11 years before the company had its own bricks and mortar. For all 11 of those years, Winston worked for free. And for the five after that, he and Haugen split a combined annual salary of a whopping $15,000.
"Lon is a true visionary," Maddalone said. "When he saw the window of opportunity for building a permanent home for the theatre arts in the Roaring Fork Valley, he put all of his hope and energy into making the Thunder River Theatre Company a reality." Her husband added "all of his passion, blood, sweat and tears" to that list of ingredients.
On New Year's Eve 2005, Winston opened the black box theatre his company has since called home. "That changed everything, having our own space," Winston told the Aspen Times. "It allowed us to focus on raising the bar."
"Early on, he said, "we had this reputation as that theater that just does depressing plays," Winston said. "If it wasn't Fiddler on the Roof, then it was depressing. But over time, our audience started to get it." In 2012, Thunder River won the Colorado Theatre Guild's Henry Award for Outstanding Regional Theater.
Maddalone completed her own circle in 2014 by performing alongside Winston in The Lion in Winter (pictured at right).
"That was a real highlight for me," she said. "As a director and an actor, he's a wonderful collaborator. He listens so well. He sees so clearly. He's fun. He loves to look behind every corner of every moment in a script. He's one of my favorite scene partners."
Winston has directed the majority of shows for Thunder River and designed all of the sets until last year, along with acting in wide range of roles. He was known for hammering nails and manning the concessions stand during intermissions, said Andrew Travers of the Aspen Times.
"When directing plays, Winston encourages actors to work with what he calls 'informed vagueness' – an approach rooted in dramaturgy and research but with openness to differing opinions and interpretations," Travers said.
On the business side, he ran the theatre the same way. Winston wanted anyone who got involved with his theater to feel like a contributor, not a puppet. "And that's a huge reason, I think, for our success," Winston said.
Winston announced his intention to retire last summer while directing Rashoman, Kurosawa's famous mystery that recounts four different eyewitness accounts of a samurai's murder. In his review for the Aspen Times, Travers said Winston's expert blurring of fact and falsehood made for "a riveting theatrical experience."
Maddalone praised Winston for cultivating "a wonderful team of artists and teachers, as well as board members and audience, with artistic partner Valerie Haugen right by his side," she said. "And now there's a beautiful facility in downtown Carbondale to show for all of his work."
Winston will stay involved with Thunder River as a board member, and he will direct Shakespeare's The Tempest this spring – the first production after the theatre he started bears his name.
"I want to be the guide on the side," Winston told Travers, "not the sage on the stage."
Much of the reporting in the story above was compiled from an Aspen Times article by Andrew Travers, and a Roaring Fork Lifestyle article by Olivia Pevec and Nicolette Toussaint. Photo above and right: Lon Winston as Willy Loman in 'Death of a Salesman.'

Lon Winston/At a glance
Hometown: North Miami Beach, Fla.
Home now: Carbondale
College: University of Florida; graduate degree from the University of Connecticut
Former Theatre Professor at Colorado Women's College and Villanova University
Selected acting credits with Thunder River: Henry II in The Lion in Winter; George Burns in Passionate Collaborators: George Burns & Gracie Allen; Willy Loman in Death of a Salesman; Lee in True West; Teach in American Buffalo

ABOUT THE TRUE WEST AWARDS
The True West Awards, now in their 16th year, began as the Denver Post Ovation Awards in 2001. DCPA Senior Arts Journalist John Moore — along with additional voices from around the state — celebrate the entire local theatre community by recognizing 30 achievements from 2016 over 30 days, without categories or nominations. Moore was named one of the 12 most influential theater critics in the U.S by American Theatre Magazine in 2011. He has since taken a groundbreaking position as the Denver Center's Senior Arts Journalist. His daily coverage of the DCPA and the Colorado theatre community can be found at MyDenverCenter.Org
THE 2016 TRUE WEST AWARDS

Day 1: Jada Suzanne Dixon
Day 2: Robert Michael Sanders
Day 3: After Orlando
Day 4: Michael Morgan
Day 5: Beth Beyer
Day 6: Patrick Elkins-Zeglarski
Day 7: donnie l. betts
Day 8: Night of the Living Dead
Day 9: The Killer Kids of Miscast
Day 10: Jason Sherwood
Day 11: Leslie O'Carroll and Steve Wilson
Day 12: Jonathan Scott-McKean
Day 13: Jake Mendes
Day 14: Charles R. MacLeod
Day 15: Patty Yaconis
Day 16: Daniel Langhoff
Day 17: Colorado Shakespeare Festival costumers
Day 18: Miriam Suzanne
Day 19: Yolanda Ortega
Day 20: Diana Ben-Kiki
Day 21: Jeff Neuman
Day 22: Gabriella Cavallero
Day 23: Matthew Campbell
Day 24: Sharon Kay White
Day 25: John Hauser
Day 26: Lon Winston
Day 27: Jason Ducat
Day 28: Sam Gregory
Day 29: Warren Sherrill
Day 30: The Women Who Run Theatre in Boulder
Theatre Person of the Year Billie McBride
https://www.denvercenter.org/wp-content/uploads/2018/04/featured-image-3468.jpg
1035
800
John Moore
John Moore
2016-12-26 10:04:00
2018-06-15 08:48:16
2016 True West Award: Lon Winston