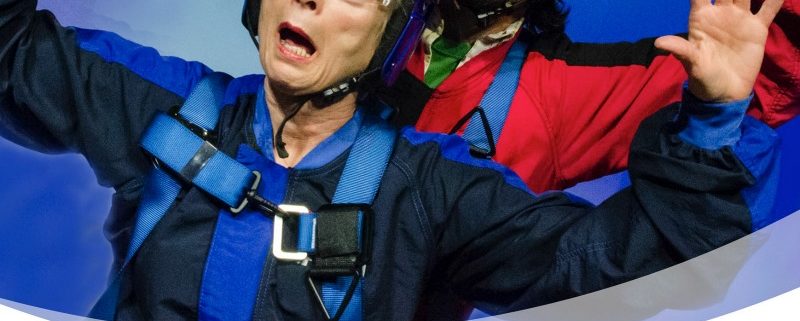 2016 True West Award: Theatre Person of the Year Billie McBride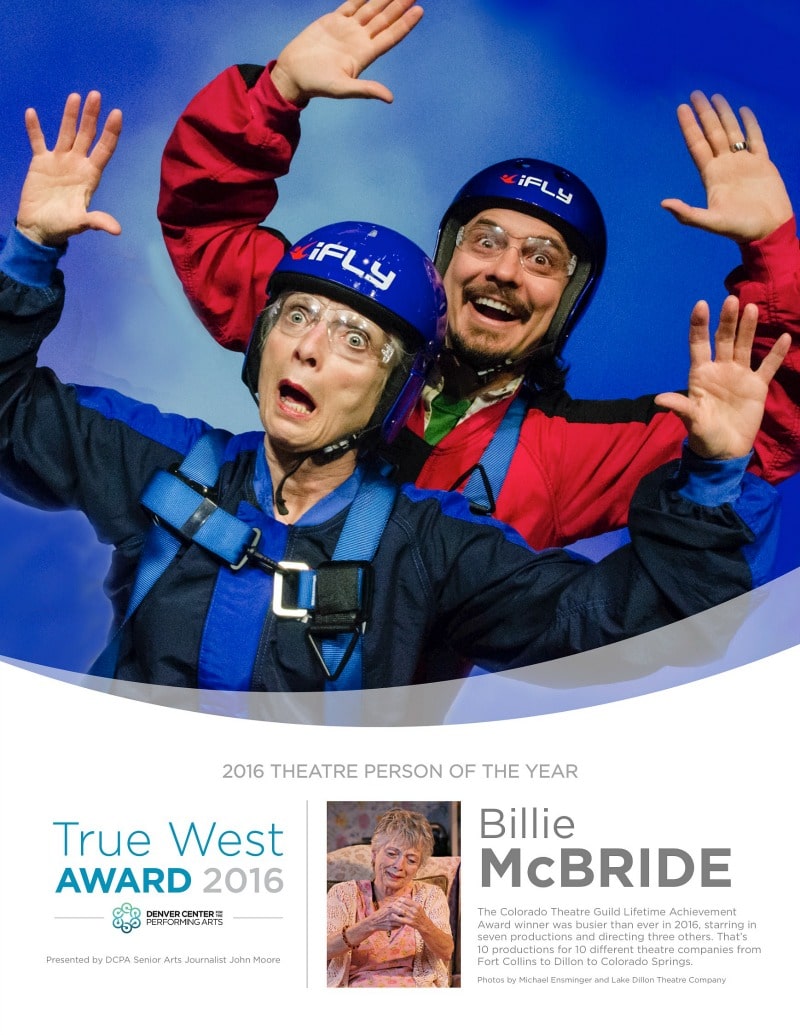 ---

30 DAYS, 30 BOUQUETS
2016 Theatre Person of the Year: Billie McBride
When Billie McBride won the Colorado Theatre Guild's Lifetime Achievement Award in 2014, she was convinced she would never work again. "My first reaction was, 'Oh my God, they think I am that old?'" she said with a caustic laugh.
Pshaw. McBride has barely taken a day off since. One rather wonders how she possibly found time in 2016 to have played seven leading roles and direct three productions from Fort Collins to Dillon to Colorado Springs. That's 10 productions – for 10 different theatre companies – in 12 months.
"She is, quite simply, the best around," said Rebecca Remaly Weitz, who directed McBride in Boulder Ensemble Theatre Company's Ripcord. And that, quite simply, is why she is the True West Awards' 2016 Theatre Person of the Year: She's the best around.
McBride, who has Broadway credits on and off stage, has now reached a certain age where she gets asked to play, well, "a lot of old ladies," as she bluntly puts it. A lot of them. But in 2016, that meant bringing a dizzying array of women to life ranging in age from 70 to 91.
OK, so McBride's characters often share a few consistent personality traits. They tend to be a bit prickly, terse, cantankerous, curmudgeonly, feisty, annoying, bracing, nasty, sour, volcanic, difficult, acerbic and irascible. (Those are all words critics used to describe McBride's characters in 2016 – "cantankerous" twice, that I could find).
But it is important to note that she is not being typecast. "Billie is a genuinely loving, giving, wonderful person," said Christopher Alleman, who directed McBride in The Velocity of Autumn for the Lake Dillon Theatre Company. She's just really good at acting cranky.
Still, McBride's 2016 portrayals represented a vast breadth of life experiences that informed every aspect of her fully fleshed characters. I mean, she did everything this year from jumping out of a plane to nearly blowing up her own son with a Molotov cocktail. Consider:
In a recent essay about David Lindsay-Abaire's Ripcord – perhaps the slightest story among McBride's 2016 catalog, Ellen Mareneck found unexpected depth in this Odd Couple meets Grumpy Old Men tale of two opposite women forced to share a room in a senior living residence. "Under the docile exterior of age, there is a ruthless drive to retain relevance and power," Mareneck wrote of the play. But no words could better describe McBride's ongoing importance to the Colorado theatre ecology.
By simply doing what she does best year after year in a profession that doesn't often value women, and in a society that typically renders older people obsolete, McBride stands in towering, empowering opposition to the norm.
Perhaps the greatest achievement of McBride's year was her unexpectedly gritty performance in Eric Coble's The Velocity of Autumn. There was nothing even slightly adorable about McBride's portrayal of a declining woman locked in a bitter showdown with her family over where she will spend her remaining years. As soon as her estranged son arrives, the emotional bombs start detonating. The play has been praised for "touching a nerve that is exposed in many no-win debates across America over what's best for a relative no longer at her sharpest." McBride unflinchingly embraced her role as essentially a domestic terrorist with a profound absence of sentiment.
"We knew as soon as we chose the play that we had to have Billie play the role," said Alleman. "There wasn't any more thought put into it. Billie is incredibly talented, and she brought fierceness to the role."
Somehow McBride also managed to direct Lost in Yonkers for the Midtown Arts Center in Fort Collins, Hello Dolly! for middle- and high-school actors at the Mizel Arts and Culture Center, and the workshop production of a new play called The Closet by Siegmund Fuchs for the Historic Elitch Theatre.
As a director, McBride is known for asking you to leave your toolbox at the door when you arrive at the theatre. Not the crewmembers building the set – the actors. Just like carpenters, all actors have go-to tactics they go back to again and again. McBride has a reputation for breaking actors of those safe habits like so many wild horses.
"She is tough and yet incredibly kind," said Jalyn Courtenay Webb, who hired McBride to direct Neil Simon's Lost in Yonkers in Fort Collins. McBride, who has a long history directing for the Denver Children's Theatre, has a special way with younger actors, said Webb, whose 11-year-old nephew won the role of young Arty. "She was really great at talking to him at his level," she said. "She didn't treat him like a kid or like an adult. She treated him like the actor he needed to be in that show."
BILLIE McBRIDE/At a glance:
Grew up in Le Roy, Ill.
College: Illinois Wesleyan University
Broadway credits: A Kurt Weill Cabaret, Production Supervisor, 1979; Torch Song Trilogy, Assistant Stage Manager, 1982; played June in Safe Sex with Harvey Fierstein, 1987
Made DCPA Theatre Company debut in 2015 playing straight-talking Willa in world premiere of Benediction
Selected local credits not mentioned above: The Arvada Center (The Women, Cabaret), TheatreWorks (The Lying Kind), The Barth Hotel (On Golden Pond), Miners Alley Playhouse (Grace and Glorie)
Currently a company member with Boulder Ensemble Theatre Company
TRUE WEST AWARDS THEATRE PERSON OF THE YEAR/A look back
2016: Actor and director Billie McBride
2015: Donald R. Seawell: Denver Center for the Performing Arts founder
2014: Steve Wilson: Phamaly Theatre Company and Mizel Center for Arts and Culture
2013: Shelly Bordas: Actor, teacher, director and cancer warrior
2012: Stephen Weitz: Boulder Ensemble Theatre Company co-founder
2011: Maurice LaMee: Creede Repertory Theatre artistic director
2010: Anthony Garcia: Su Teatro artistic director
2009: Kathleen M. Brady: Denver Center Theatre Company actor
2008: Wendy Ishii: Bas Bleu Theatre co-founder
2007: Ed Baierlein: Germinal Stage-Denver founder
2006: Bonnie Metzgar: Curious Theatre associate artistic director
2005: Chip Walton, Curious Theatre founder
2004: Michael R. Duran: Actor, set designer, director and playwright
2003: Nagle Jackson, Denver Center Theatre Company director and playwright
2002: Chris Tabb: Actor and director


ABOUT THE TRUE WEST AWARDS
The True West Awards, now in their 16th year, began as the Denver Post Ovation Awards in 2001. DCPA Senior Arts Journalist John Moore — along with additional voices from around the state — celebrate the entire local theatre community by recognizing 30 achievements from 2016 over 30 days, without categories or nominations. Moore was named one of the 12 most influential theater critics in the U.S by American Theatre Magazine in 2011. He has since taken a groundbreaking position as the Denver Center's Senior Arts Journalist. His daily coverage of the DCPA and the Colorado theatre community can be found at MyDenverCenter.Org

THE 2016 TRUE WEST AWARDS
Day 1: Jada Suzanne Dixon
Day 2: Robert Michael Sanders
Day 3: After Orlando
Day 4: Michael Morgan
Day 5: Beth Beyer
Day 6: Patrick Elkins-Zeglarski
Day 7: donnie l. betts
Day 8: Night of the Living Dead
Day 9: The Killer Kids of Miscast
Day 10: Jason Sherwood
Day 11: Leslie O'Carroll and Steve Wilson
Day 12: Jonathan Scott-McKean
Day 13: Jake Mendes
Day 14: Charles R. MacLeod
Day 15: Patty Yaconis
Day 16: Daniel Langhoff
Day 17: Colorado Shakespeare Festival costumers
Day 18: Miriam Suzanne
Day 19: Yolanda Ortega
Day 20: Diana Ben-Kiki
Day 21: Jeff Neuman
Day 22: Gabriella Cavallero
Day 23: Matthew Campbell
Day 24: Sharon Kay White
Day 25: John Hauser
Day 26: Lon Winston
Day 27: Jason Ducat
Day 28: Sam Gregory
Day 29: Warren Sherrill
Day 30: The Women Who Run Theatre in Boulder
Theatre Person of the Year Billie McBride
https://www.denvercenter.org/wp-content/uploads/2018/04/featured-image-4713.jpg
1035
800
John Moore
John Moore
2016-12-31 08:15:00
2018-12-07 15:04:22
2016 True West Award: Theatre Person of the Year Billie McBride