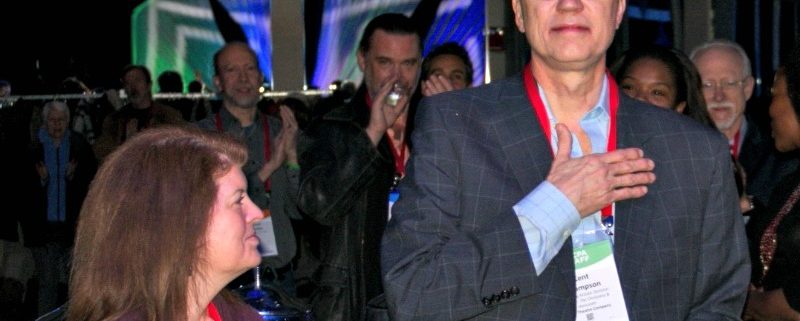 2017 Summit goes global while hitting close to home
Video by David Lenk and John Moore for the DCPA NewsCenter.
Colorado New Play Summit goes global
with stories that hit close to home

The 2017 Colorado New Play Summit went global in its storytelling while also serving as an intimate and heartfelt celebration of departing founder Kent Thompson.
Thompson resigned as Producing Artistic Director of the DCPA Theatre Company effective March 3, leaving a legacy that includes starting the Summit in 2006 and the Women's Voices Fund, a $1.4 million endowment that supports new plays by women and female creative team members.
"Kent Thompson is such a champion of new plays. He is such a champion of new and different voices," said Lauren Yee, author of the featured Summit play Manford at the Line, Or The Great Leap. "He always makes sure that the world we live in is reflected on the stage."
This year's expanded Summit featured readings of five plays that spanned in time from 1931 to present day and traveled the world from Brooklyn to Berlin to Beijing to Geneva to Georgia to a suburban Ohio fertility clinic.
Every year, two or more readings from the previous Summit go on to become fully staged plays on the DCPA Theatre Company's mainstage season. This year's featured productions were Tira Palmquist's Two Degrees and Lauren Gunderson's The Book of Will, which both started as readings from the 2016 Summit. (Story continues below).
Photo gallery: A look back at the Colorado New Play Summit

Photos from the 2017 Colorado New Play Summit. To see more, click the forward arrow in the image above. All photos can be downloaded and shared. Just click. Photos by John Moore and Adams VisCom for the DCPA NewsCenter.
The Colorado New Play Summit has grown into one of the nation's premier showcases of new plays. Under Thompson, the Summit has workshopped 50 new plays, leading to 29 fully produced world premieres as part of the DCPA Theatre Company's mainstage season. Thompson has commissioned 44 new plays, almost half written by women.
"I feel like for the past 12 years, I've had a great opportunity t
o present many different windows on the world, from many different peoples' viewpoints," Thompson said.
To understand the impact the Summit has had on the development of new works for the American theatre, one need look no further than Skokie Ill., home of the Northlight Theatre. Recently the DCPA learned that Northlight will be fully producing two Summit plays next season: Gunderson's The Book of Will and The Legend of Georgia McBride by Matthew Lopez.
Kent Thompson's legacy: Giving sound to unheard voices


The Summit allows for two weeks of development, each culminating in a round of public readings. Playwrights take what they learn from the first public weekend back into rehearsal before a second round of readings for industry professionals.
"That second week of work is absolutely unique," said featured playwright Robert Schenkkan (Hanussen). "I don't know any other theatre festival in the United States that does anything like that. And it's a really critical for the writer because so often, you are just beginning to get your arms around it just as you near the end of that first week. You are just beginning to say, 'Now I see what I need to do.' … And then it's over. Well, that's not true here. You get to take the things that you learned at the first reading and really thrash it out and take all of that complexity and nuance and additional richness back into the text, culminating in a second public reading."
This year's Summit drew more local audiences and national industry leaders than ever before, with 44 playwrights and 36 theatre organizations attending from at least 16 states. Visitors represented companies ranging from the Public Theatre in New York to the Oregon Shakespeare Festival to the Banff Centre in Ontario to the Dorset Theatre Festival in Vermont. Closer to home, guest included the Creede Repertory Theatre, Curious Theatre, The Catmounts, Athena Festival Project, Lake Dillon Theatre Company and others. More than 920 attended at least one reading, with an overall attendance of nearly 2,900.
Summit stands in thanks to departing Kent Thompson

The third annual Local Playwrights Slam was held a week earlier, curated by Josh Hartwell from the Colorado chapter of the Dramatists Guild, which exists to protect playwrights and their copywritten material. Readers this year included Curious Theatre founding member Dee Covington, National Theatre Conservatory alum Jeff Carey and Tami Canaday, whose new play Uncle Rooster will be performed in Brooklyn this summer.
For the fourth year, winners of DCPA Education's Regional High School Playwriting Workshop and Competition had their plays presented at the Summit. This year a record four writers were showcased, two from Fort Collins.
The annual late-night Playwrights Slam drew an eclectic group of writers sampling their developing works in a fun and supportive atmosphere. This year's crowd was treated to Gunderson singing to a ukulele from her new play Storm Still, and Two Degrees actor Robert Montano performing an excerpt from his one-man play Small, which recounts his growing up as a jockey at the famed Belmont race track in New York.
The five featured Summit readings:
Click play to see short videos spotlighting all five 2017 Colorado New Play Summit plays.
Donnetta Lavinia Grays' Last Night and the Night Before opens with a Georgia woman on her sister's doorstep in Brooklyn, with her 10-year-old daughter in tow. The mystery for both the characters and the audience to solve is what trauma took place in Georgia that brought them here.
Rogelio Martinez's Blind Date centers on Ronald Reagan and Mikhail Gorbachev's first meeting at the Geneva Summit in 1985 to try to open up channels between the U.S. and the Soviet Union.
In Eric Pfeffinger's comedy Human Error, a couple goes to what they think is a routine appointment at their fertility clinic only to discover that their fertilized embryo has been mistakenly implanted into another couple. And it turns out they are polar opposites.
Robert Schenkkan's Hanussen is set in 1931 Berlin and introduces us to the brilliant mentalist Erik Jan Hanussen, captivates German audiences with his ability to read minds and his uncanny predictions of the future. His reputation brings him to the attention of avid occultist Adolf Hitler, who does not realize he is a Jew.
Lauren Yee's Manford at the Line, or The Great Leap follows an American college basketball team as it travels to Beijing for a "friendship" game during the politically charged Cultural Revolution in 1989.
After Albee: America's 10 leading, living playwriting voices

Photos, from top: 'Two Degrees' Director Christy Montour-Larson with retiring DCPA Producing Director Kent Thompson; Jasmine Hughes and Veleka J. Holt in 'Last Night and the Night Before'; Playwright Donnetta Lavinia Grays performs in the annual Playwrights Slam; Grace Anolin and Wyatt DeShong perform from 'Dear Boy on the Tree,' part of the Regional High-School Playwriting readings. Below: Student playwrights, from left, Jasmin A. Hernandez-Lozano, Jessica Wood, Parker Bennett and Ryan McCormick. (Photos by John Moore and Adams VisCom).
John Moore was named one of the 12 most influential theater critics in the U.S by American Theatre Magazine in 2011. He has since taken a groundbreaking position as the Denver Center's Senior Arts Journalist.
Selected previous coverage of the 2017 Colorado New Play Summit:
After Albee: America's 10 leading, living playwrights
2017 Summit welcomes dozens for opening rehearsal
Summit Spotlight: Robert Schenkkan on the dangers of denial
Summit Spotlight: Lauren Yee lays it all on the free-throw line
Summit Spotlight: Rogelio Martinez on when world leaders collide
Summit Spotlight: Donnetta Lavinia Grays on the aftermath of trauma
Summit Spotlight: Eric Pfeffinger on the fertile comedy of a divided America
Summit stands in thanks to departing founder Kent Thompson
Record four student writers to have plays read at Summit
DCPA completes field of five 2017 Summit playwrights
More Colorado theatre coverage on the DCPA NewsCenter

https://www.denvercenter.org/wp-content/uploads/2018/04/featured-image-4551.jpg
550
800
John Moore
John Moore
2017-02-27 18:10:00
2018-06-14 13:43:24
2017 Summit goes global while hitting close to home