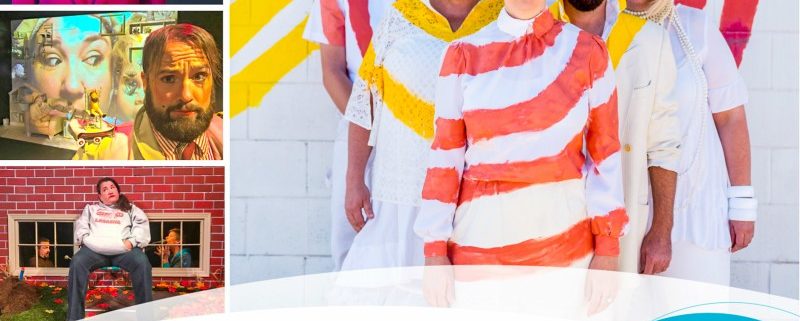 2017 True West Award: Buntport Theater

2017 TRUE WEST AWARDS

Day 26: Buntport Theater
The Zeus Problem
The Crud
Edgar Allan Poe Is Dead and So Is My Cat
By John Moore
Senior Arts Journalist

When you've done what Buntport Theater has done for 17 years, the worst thing that could possibly happen would be for complacency to settle in.
Not in them. In us.
Buntport has been such a consistent contributor to the Colorado creative ecology that I sometimes wonder whether audiences might eventually (and perhaps even naturally) begin to take what they do for granted.
What they do is make the magical look mundane time and time and time again. But this is a condition which must be guarded against at all costs. Because to normalize what Buntport does would be like normalizing … I dunno. Butterflies.
Think about it: Now entering its 18th year, Buntport is older than all but 20 Denver metro theatre companies. In that time, these five uncommonly compatible college pals have conjured, written and staged 45 original, intelligent, accessible and often very funny full-length theatrical productions. From scratch. Collaboratively, without designated writers, directors, designers or even janitors. "We do it all. Because we love it," says, well … one of them. Because another thing they do collaboratively is … talk about themselves.
Think about that: Forty-five distinct, form-bending stories unlike anything any other company brings to any Colorado stage. Often while employing old-school Eastern European transformational theatre techniques they were introduced to at Colorado College.
The Buntport Five — Brian Colonna, Hannah Duggan, Erik Edborg, Erin Rollman and Samantha Schmitz — have pretty good heads for business, too, having long ago turned working at Buntport into full-time employment, thanks in large part to rentals and supporting monthly and children's programming that keeps people coming back to the iconic warehouse theatre in the Santa Fe Arts District whenever the company is between mainstage shows.
The three new works Buntport entered into the canon in 2017 well-demonstrate everything they do right as an artistic collective — even when not everything they do necessarily comes out just right. That's part of the fun. The Zeus Problem was metaphorically political — or as political as Buntport gets, which usually isn't all that much. The Crud was a theatrical adventure and party game of epic scale: The company bought a random storage locker at an auction and committed to building an entire play around whatever contents they found inside, sight unseen. Next was Edgar Allan Poe Is Dead and So Is My Cat, an unabashed Halloween comedy that was intentionally about as scary as a trip to Boston Market. (So you'll have to apply your own personal experience to that barometer.)
That's the thing about these sweet smarty-pants: They can fly 6 feet over your head one minute and go 6 feet under the next depending on where their present creative whim wants to take them. All they ask of audiences is that you meet them halfway. So that's … 3 feet, over or under.
"The most remarkable thing about Buntport to me is that they start over every single time. It's like they always return to Ground Zero," said Buntport guest actor Jim Hunt. "And they put themselves at incredible risk with their audiences because they don't say to people, 'If you liked what we did last time, then you are automatically going to love what we are doing this time — because what we are doing this time is unlike anything we have ever done before.' "
The Buntporters began preparations for 2017 with a plan, which they promptly threw out with the bathwater after the presidential election. And it was an intriguing plan. Buntport shows often begin with one company member stumbling onto a really interesting bit of otherwise useless trivia — which they then build an entire show around. Colonna, for example, latched onto the discovery that child murderer Nathan Leopold (of Leopold and Loeb infamy) was also an ornithologist who kept 3,000 bird specimens in his home.
Now that sounds like the quintessential premise for a new Buntport play. But it never happened because Donald Trump won the election.
(Pictured above and right: Erin Rollman (as The Suit) with Hannah Duggan as a grieving cat owner and Brian Colonna as a creeper wearing Baltimore Ravens boxers in 'Edgar Allan Poe Is Dead and So Is My Cat.' Below: Erik Edborg in 'The Crud.')
"When they realized the play would be opening within days of the inauguration, they felt it would be unconscionable if they didn't do something that was more closely related to the way people were feeling at the time," said Hunt, a Colorado Theatre Guild Life Achievement winner they had asked to play famous lawyer Clarence Darrow.
They still wanted Hunt — they just no longer wanted Darrow. So instead they cast him as Zeus, the vainglorious and hotheaded ruler of all other gods, in The Zeus Problem. Then they asked the esteemed and ever-erudite actor with the somewhat British sensibilities to, oh … let's run down the list: Pull his pants down, fart, dance on a table, chew on a heart, repeatedly brag about his manhood and grab his testicles — a lot. Hunt's Zeus was a charmer with the audience, too. Particularly when Hunt said to them: "You violent things. You dim lights. You armored and inedible vegetables. You (bleeping) artichokes."
What he was not doing was an impression of you-know-who.
"They told me, 'You are playing a crazy, childlike god. You are not playing Donald Trump.' They did not want me to mimic him. They did not even want me to watch him on television because they didn't want it to bleed into the performance."
The setting for the play was sort of a dinner party. At one end of a long table sat an amiable Henry David Thoreau (Colonna) working on his boring translation of Aeschylus' Prometheus Bound. At the other end was Prometheus (Edborg), who was chained to his rock, condemned by Zeus to a life of torment for the crime of stealing fire from the gods and giving it to man. Duggan played a giant eagle who unenthusiastically snacks on Prometheus' continually regenerating heart and liver. And then there was Rollman as a beautiful maiden named Io (pronounced I.O.) whom Zeus transformed into a cow to prevent his wife, Hera, from picking up on his lust for her.
So what you had with Zeus, Hunt said, "is a crazy god who behaves like a temperamental, narcissistic child. Who was mad with power and armed with lightning bolts. Who chained a man to a rock as punishment for wanting to liberate all mankind. Who turned a beautiful woman into a cow for his own selfish pleasure. Who could do absolutely anything he wanted, and absolutely no one could stop him."
And if that sounds vaguely similar to someone who appears regularly in your daily Twitter feed, then that's all on you. But Westword's Juliet Wittman went there. "Zeus' clownish and impermeable ego is irresistibly reminiscent of the current president's," she wrote. "Except that Jim Hunt is a whole lot funnier."
To Hunt, "The genius of the play is that it never directly commented on what was going on in the world. It was not trying to change or solve anything. And yet so many of the people who came to our play told us, 'You gave me a container for me to put my frustration in for 90 minutes. You gave me a place to laugh and have fellowship.'
"To me, that is the genius of Buntport."
(Pictured at right: Buntport's four performing members with their self-chosen celebrity doppelgängers, from the top: Erik Edborg: Jim Carrey, Hannah Duggan: Tina Yothers, Erin Rollman: Rowan Atkinson and Brian Colonna: Jim Belushi.)
The rest of the year was closer to Buntport's more expected, unexpected form. In The Crud, the crud that filled the stage became a universal metaphor for the crud on our floors and in our heads and out in the world. The ensemble brainstormed the plot of the play (subtitled Hoarder's Delight) based on what they found in the storage unit they bought. The resulting play explored the nature of memory, the transience of "having," our relationship to technology, and our need for play and fantasy.
And the unapologetically funny Edgar Allan Poe Is Dead, and So Is My Cat featured a quintessentially original Buntport staging device — Rollman coming to life as a man's suit. Craig Williamson of the North Denver Tribune called the dead-cat play a return to Buntport's funny roots, "but it still manages to make the audience think about the nature of life, and especially what it takes to make life meaningful."
So that was Season 17, which was one of Buntport's best yet. And yet, despite years of critical praise, more awards than they have places to put them and a fiercely loyal core audience base, Buntport seemed to be flying somewhat under the radar this year. For example, much thoughtful media and social attention was paid over the past year to the leading contributors of new work among Colorado theatres. And for the most part, none of it thought to include Buntport — the most prolific producer new work by any company in Colorado — in the conversation. Has Buntport become a thing that we, gulp, now take for granted?
"I do think that Buntport remains somewhat underrated," Hunt said," even as they have become a kind of a staple over all these years."
To be fair, Buntport doesn't always start over with every new project. Sometimes they repeat themselves — to their fans' delight. They have been clamoring for the return of Buntport's brilliantly stupid monthly sitcom Magnets on the Fridge, about a group of 20-something friends who have a book club even though they don't read books. And they shall be rewarded, once a month, starting Jan. 3.
(Pictured above and right: The 'Magnets on the Fridge' cast in 2003.)
Magnets debuted in 2001 and ran for 65 episodes over five years, nearly all of them packed to the alleyway. Like the Friends/Seinfeld TV series that inspired it, Magnets introduced a group of vapid 20-somethings doing nothing. And the new Magnets no doubt will re-introduce a group of vapid 40-somethings doing nothing. Probably brilliantly.

John Moore was named one of the 12 most influential theater critics in the U.S. by American Theatre Magazine in 2011. He has since taken a groundbreaking position as the Denver Center's Senior Arts Journalist.
About The True West Awards: '30 Days, 30 Bouquets'
The True West Awards, now in their 17th year, began as the Denver Post Ovation Awards in 2001. DCPA Senior Arts Journalist John Moore — along with additional voices from around the state — celebrate the entire local theatre community by recognizing 30 achievements from 2017 over 30 days, without categories or nominations. Moore's daily coverage of the DCPA and the Colorado theatre community can be found at MyDenverCenter.Org



A look back at the history of the True West Awards


The 2017 True West Awards
https://www.denvercenter.org/wp-content/uploads/2018/04/featured-image-5501.jpg
618
800
John Moore
John Moore
2017-12-27 07:00:00
2018-06-14 14:07:58
2017 True West Award: Buntport Theater