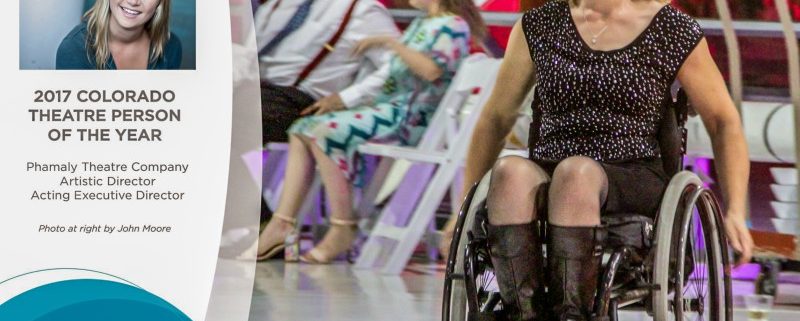 2017 True West Award: Colorado Theatre Person of the Year Regan Linton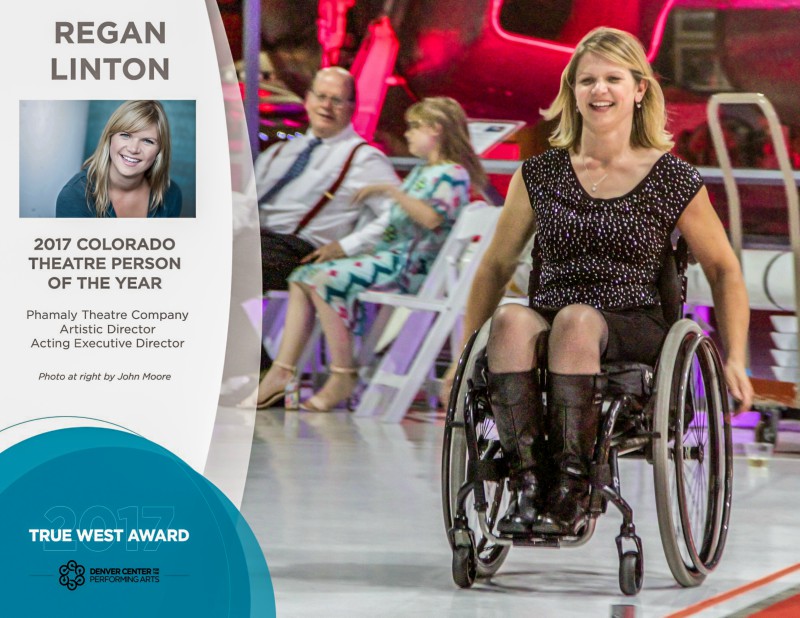 2017 TRUE WEST AWARDS

Regan Linton
Colorado Theatre Person of the Year
The returning hero won't claim to have saved the theatre that creates performance opportunities for the disabled. But plenty of others will.
We'll never know whether Phamaly Theatre Company would have survived 2017 had Regan Linton not been here. She was here. And one of the nation's signature theatre companies is still here. And that's why Linton is the True West Awards' 2017 Colorado Theatre Person of the Year.
For 28 years, one of Denver's crown jewels has produced professional plays and musicals exclusively for actors with disabilities. But at this time a year ago, it was in catastrophic financial trouble.
Linton, a former core company member who went on to become a shining national example of what begets opportunity, had just been named Phamaly's interim Artistic and Executive Director to fill a short-term leadership vacuum.
Linton's appointment was a cause for celebration. Not only had the Denver East High School graduate helped elevate Phamaly's game as an actor with wrenching performances in musicals such as Side Show and Man of La Mancha, she came home with serious cred. In 2012, she became the first paralyzed student ever to be enrolled into one of the nation's top master's conservatory programs when she was accepted at the University of California San Diego. And in 2015, Linton became the first actor in a wheelchair ever to be hired into the venerable Oregon Shakespeare Festival's year-round repertory company since it was founded in 1935.
Today, Linton is a highly respected actor, educator and prominent voice for disability inclusion in the national theatre community. And when she accepted the one-year Phamaly assignment last year at age 34, Linton became the first person in a wheelchair ever to lead a major U.S. theatre company as Artistic Director, according to Theatre Communications Group.
Then came the sticker shock.
"I immediately became aware that the company was not in as healthy a financial position as I had thought," Linton said. Phamaly's annual operating budget had more than doubled over the previous seven years, to $850,000. But revenue had not grown proportionally. Just two months into the job, Linton realized Phamaly was facing an immediate $100,000 shortfall.
(Story continues after the photo gallery below.)

Photo gallery: A look back at Regan Linton's year (and years) with Phamaly:
Photos from Regan Linton's first year as interim Artistic and Executive Director of Phamaly Theatre Company, followed by additional photos from years past. To see more images, just click on the image above to be taken to the full gallery. Photos by or compiled by John Moore for the DCPA NewsCenter.
Linton attacked the problem swiftly, first by shaving the upcoming budget. She scrapped expensive plans to stage Peter Pan with wheelchairs flying over the DCPA's Stage Theatre. A Shakespeare collaboration with a New York company was put off. And then, on March 28, Linton took a deep breath and released an uncommonly forthright public statement bluntly telling supporters that without an urgent cash infusion, Phamaly would be bankrupt by July 1. And that was just to make it to the summer. "We were really more like $250,000 in the hole," she said.
The most important thing to Linton was being open and honest about the situation. "If we were going to go down, then we were going to do it having been completely transparent with every one of our supporters," she said.
But, it turns out, It's a Wonderful Life ain't just a holiday movie.
Phamaly's "Sunny Tomorrow" campaign didn't just raise $100,000. It raised $108,000, thanks to more than 325 individual donors. And that still takes Linton's breath away. "I feel like that wasn't just people saying, 'We love this theater company.' It's deeper than that. I feel like they were saying, 'People with disabilities are valuable.' And as a person who lives with a disability, that's really, powerfully meaningful to me."
Just a few weeks after the campaign ended, Phamaly netted an additional, record-obliterating $60,000 from its annual gala — up from $35,000 the year before. And then Annie, which Linton chose to present instead of Peter Pan, drew 6,700 to the Stage Theatre. That's nearly 20 percent more than the previous Phamaly attendance record.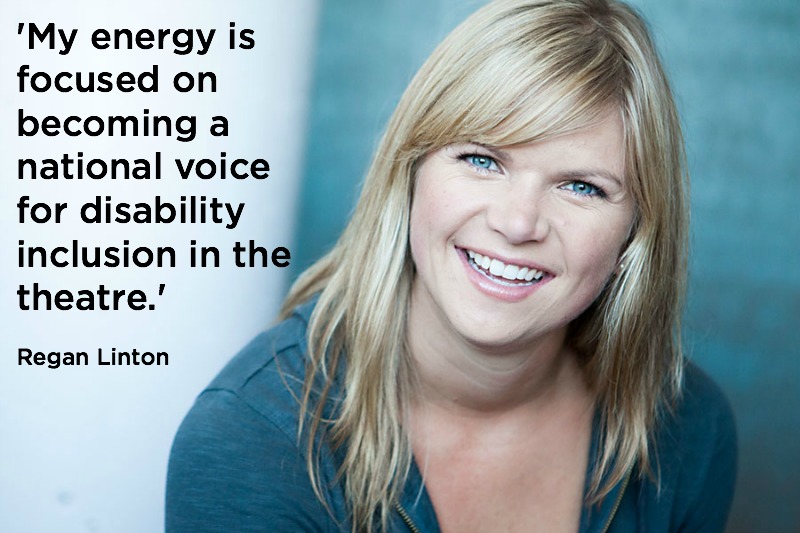 All three of those things had to happen, Linton said, for Phamaly to fully climb out of the hole it was in. And all three did.
But Phamaly didn't get the backing it needed on sentiment alone. It got it because it was Linton who went out and asked for it, Denver Center President and CEO Janice Sinden said.
"Regan is a determined, passionate woman who leads with her heart, but always with an outcome in mind," Sinden said. "She was uniquely situated to lead this campaign because of who she is and what she means to the community. She leveraged smart relationships to drive this turnaround."
Boy, did she. The first call Linton made was to Sinden's predecessor, Daniel L. Ritchie, a longtime Phamaly supporter who cut Linton a $10,000 check just 20 minutes after sitting down with her. The Harvey Family Foundation then agreed to match up to $35,000 in new donations, a goal that was reached in just 17 days.
But Linton's greatest fundraising achievement of 2017 came at the end of the year, after Sinden facilitated a visit with William Dean Singleton, retired chairman of The Denver Post and newly named Chairman of the Bonfils Foundation. They hit it off, Sinden said, because the two share a powerful commonality as former able-bodied persons now living with mobility challenges.
Life changes in the ordinary instant
Linton was a 20-year-old undergrad at the University of Southern California when her spine was wrecked in a fraction of an instant on a rainy Santa Monica Freeway. Linton was in the back seat of a car that was stopped for a vehicle that had been abandoned in the fast lane of the highway. The car behind Linton, filled with five sorority sisters, hit her at full speed.
Linton no longer feels sensation below her chest. And yet, whenever she prepares to go on stage, she playfully says, "I can still feel butterflies."
Singleton is a newspaper magnate and cattle rancher who founded MediaNews Group, the fourth-largest newspaper company in the U.S. by circulation, with The Denver Post as its eventual flagship. He was diagnosed with multiple sclerosis 30 years ago, which has slowly robbed him of his mobility, and today he gets around in a motorized chair.
(Story continues after the video.)
The video above was played at the annual PUSH Gala for Craig Hospital in April with the announcement of Phamaly Theatre Company Executive and Artistic Director Regan Linton as its 2017 Dave and Gail Liniger Spirit of Craig Award winner. Video provided by Craig Hospital. To watch Linton's acceptance speech, click here
"They hit it off when they met," Sinden said, "and Dean immediately saw an opportunity to help."
On Oct. 11, Singleton presented Linton with the Fourth Annual Dean Singleton Legacy Grant, a $50,000 gift made through the Denver Post Community Foundation. "It was very emotional for both of them," Sinden said.
"I couldn't be more proud of our grant recipient this year, for what Phamaly does to inspire people to re-envision disability through professional theatre," said Singleton. "Phamaly provides such a benefit to the metro-Denver community."
Linton called the grant "an incredible honor for Phamaly."
In just six months, Linton implemented a campaign that moved Phamaly from the financial brink to something akin to stability. And that, said former Phamaly assistant stage manager Max Peterson, is an astonishing accomplishment.
"I had both the pleasure and the anxiety of watching Regan and (Director of Production and Operations) Paul Behrhorst walk through that whole mess," Peterson said. "It was inspiring to see their determination and persistence to bring that company all the way back. The blood, sweat and tears were real — and the stakes could not have been higher."
Meanwhile, back on the stage
Lest we forget: While this was going on, Linton also had a company to run, both as Artistic and Executive Director.
In February, Phamaly presented George Bernard Shaw's Pygmalion at the Aurora Fox, followed by the record-breaking run of Annie at the Denver Center and, last month, Phamaly's annual original sketch comedy called Vox Phamilia at Community College of Aurora.
Linton pushed herself to her physical and mental limits in 2017, in part because she also chose to direct Annie on the largest stage in Phamaly history. Linton began to feel overwhelmed by the enormity of it all as preparations for Annie approached. "The stress of even thinking of Phamaly going away was emotionally taxing for me," she said. "It all finally caught up to me. I was a mess."
One of Linton's smartest moves of the year was calling on former longtime Phamaly Artistic Director Steve Wilson to co-direct Annie with her. "Wilson knows to his bones what directing disabled actors entails: The difficulties many face, the need to work without sentimentality or condescension, and to treat his actors as the artists they are," wrote Westword's Juliet Wittman, who called the resulting production "Ready, willing … and very able."
Linton kept her own acting skills sharp in 2017 by performing in two major productions for the Mixed Blood Theatre Company in Minneapolis. In February, she played the governor of California in a site-specific immigration play called Safe at Home that was set and performed at a local baseball stadium. And just last month, she returned in one of the first regional stagings of the big-buzz play The Curious Incident of the Dog in the Night-Time. Star-Tribune theatre critic Chris Hewitt said Linton was excellent as an autistic boy's calm, compassionate teacher.
As Linton reflects back on her year now, she won't say she saved Phamaly Theatre Company. But Behrhorst will.
"I say it because it is true," Behrhorst said. "Of course Regan didn't do it single-handedly. But from the start, she gave the community, the actors, the board and the staff something to believe in. Regan didn't back away from the problem. She gave us new life."
Sinden sides with Behrhorst.
"Regan came home and she brought both thought leaders and community leaders to the table who invested in the future of this organization," Sinden said. "Regan put Phamaly on a trajectory for long-term success. And only she could have done that."
All of which is only part of the reason Linton has been named the 17th annual Colorado Theatre Person of the Year. She not only saved a theatre company. She not only preserved future performance opportunities for persons with disabilities that do not exist elsewhere. She saved something that is part of the city's soul.
"There's a lot of great theater that happens in Denver," Linton said. "However, one-fifth of the population of the United States identifies as having a disability. So if you don't have that identity prominently represented in your local theater, then you are missing out on a whole subset of what it means to be human. And that's what I think people would have missed out on if Phamaly had gone away. They would've missed out on this unique experience that opens your eyes to something you just don't see anywhere else."
Linton's 2017 odyssey has changed her career itinerary in ways that are not yet clear, even to her. Her initial one-year appointment is now entering its 15th month. She says she is very close to hiring the company's next Executive Director. So what does that mean for Linton, who officially lives in Montana now, while maintaining a second artistic home in Minneapolis?
"It means I will be around for the near future, at least," she said. "I feel committed to Phamaly, and I want to see Phamaly succeed. To me, that means following through with my commitment to make sure the company is in a good place if and when I move away. And I don't think that work is done yet."
Asked to assess where she is at as 2018 begins, compared to the start of the year, Linton laughs. "Well, I'm not nearly as much of a mess as I was," she said. "But most of all, I will say I am proud to be part of Phamaly living on, and I'm proud to be part of leading Phamaly into its next chapter."
John Moore was named one of the 12 most influential theater critics in the U.S. by American Theatre Magazine in 2011. He has since taken a groundbreaking position as the Denver Center's Senior Arts Journalist.  
Regan Linton: 2017
•  Artistic and Executive Director for Phamaly Theatre Company
•  Winner, 2017
Spirit of Craig
Award
READ MORE
•  Played the Governor of California in Mixed Blood Theatre's
Safe at Home
in Minneapolis
•  Co-Directed Phamaly's mainstage production of Annie at the DCPA's Stage Theatre
The True West Awards' Theatre Person of the Year / A look back
• 2016: Billie McBride: Actor and director
• 2015: Donald R. Seawell: Denver Center for the Performing Arts founder
• 2014: Steve Wilson: Phamaly Theatre Company and Mizel Center for Arts and Culture
• 2013: Shelly Bordas: Actor, teacher, director and cancer warrior
• 2012: Stephen Weitz: Boulder Ensemble Theatre Company co-founder
• 2011: Maurice LaMee: Creede Repertory Theatre artistic director
• 2010: Anthony Garcia: Su Teatro artistic director
• 2009: Kathleen M. Brady: DCPA Theatre Company actor
• 2008: Wendy Ishii: Bas Bleu Theatre co-founder
• 2007: Ed Baierlein: Germinal Stage-Denver founder
• 2006: Bonnie Metzgar: Curious Theatre associate artistic director
• 2005: Chip Walton, Curious Theatre founder
• 2004: Michael R. Duran: Actor, set designer, director and playwright
• 2003: Nagle Jackson, DCPA Theatre Company director and playwright
• 2002: Chris Tabb: Actor and director
Phamaly Theatre Company: Coming in 2018
• April 14-22: Romeo & Juliet, at the Dairy Arts Center
• July 12-Aug. 5: Into the Woods, at the DCPA's Space Theatre
• Oct. 18-Nov. 11: Harvey, at the The Olin Hotel Apartment, in partnership with Senior Housing Options
Information: 303-575-0005 or phamaly.org
Selected recent NewsCenter coverage of Phamaly:
About The True West Awards: '30 Days, 30 Bouquets'
The True West Awards, now in their 17th year, began as the Denver Post Ovation Awards in 2001. DCPA Senior Arts Journalist John Moore — along with additional voices from around the state — celebrate the entire local theatre community by recognizing 30 achievements from 2017 over 30 days, without categories or nominations. Moore's daily coverage of the DCPA and the Colorado theatre community can be found at MyDenverCenter.Org

The 2017 True West Awards
https://www.denvercenter.org/wp-content/uploads/2018/04/featured-image-5487.jpg
618
800
John Moore
John Moore
2017-12-30 23:56:00
2018-12-30 17:10:29
2017 True West Award: Colorado Theatre Person of the Year Regan Linton