2017 True West Award: Composer and Music Director David Nehls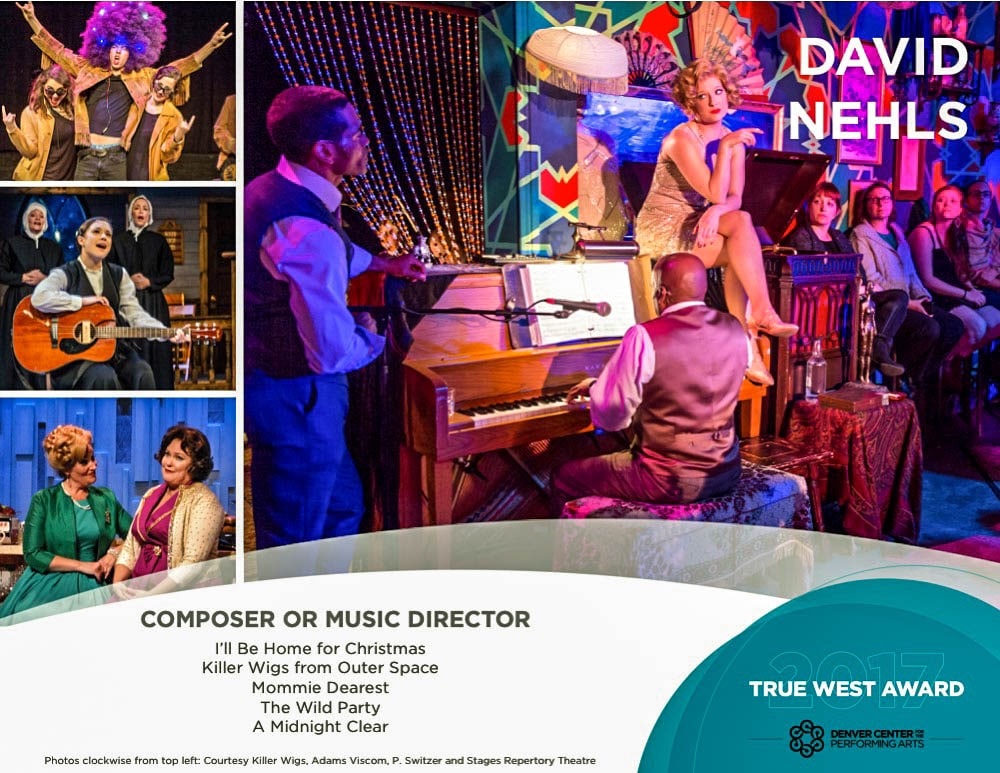 2017 TRUE WEST AWARDS
Day 29: David Nehls
Composer and Music Director
I'll Be Home for Christmas
Killer Wigs from Outer Space
The Wild Party
Mommie Dearest
A Midnight Clear
Composer David Nehls had four new musicals in various stages of development over the past 12 months.
Wait, wait. Let me repeat that:
Composer David Nehls had FOUR NEW MUSICALS in various stages of development over the past 12 months.
It's nearly incomprehensible to think that one composer based here in Colorado could have that much new musical material gestating out there in the theatre world all at once. And all four of his musicals got staged and seen, in some form or other, in three states.
And that doesn't even include his musical direction of someone else's musical: Nehls made his Denver Center debut in 2017 by taking on Off-Center's full-flapper cannonball dive into immersive theatre with The Wild Party, a truth-in-title Jazz Age musical that was staged under The Hangar at Stanley in Aurora.
Ladies and gentlemen, this is David Nehls' moment. And his moment includes brain-eating parasites, unapologetic holiday sentiment and partnerships with none other than the daughter of Joan Crawford (pictured at right) and a star of Broadway's Rock of Ages.
Maybe we should go back to the beginning of the year.
Nehls began 2017 by bravely leaving the safe embrace of his 12-year artistic home at the Arvada Center, where he supervised the music for about 45 mainstage productions. And he went out on top: His final project there was one of his own: The Arvada Center premiered Nehls' I'll Be Home for Christmas, a familiar holiday throwback with a little bit of bite. He ended 2017 premiering a purely joyful holiday commission called A Midnight Clear: A Musical Tale of Christmas at Stages Repertory Theatre in Houston, where Nehls' writing partner, Kenn McLaughlin, is the Artistic Director.
"The work that David is doing is really vital for the future of the American musical," said Denver's Robert Michael Sanders, who traveled to Houston to be the assistant director A Midnight Clear. "Because without people like David continuing to take these big risks and write this new stuff, we'll continue to just perform The Sound of Music and Beauty and the Beast into the next century."
Here's a quick look at Nehls' four very different new musicals in 2017: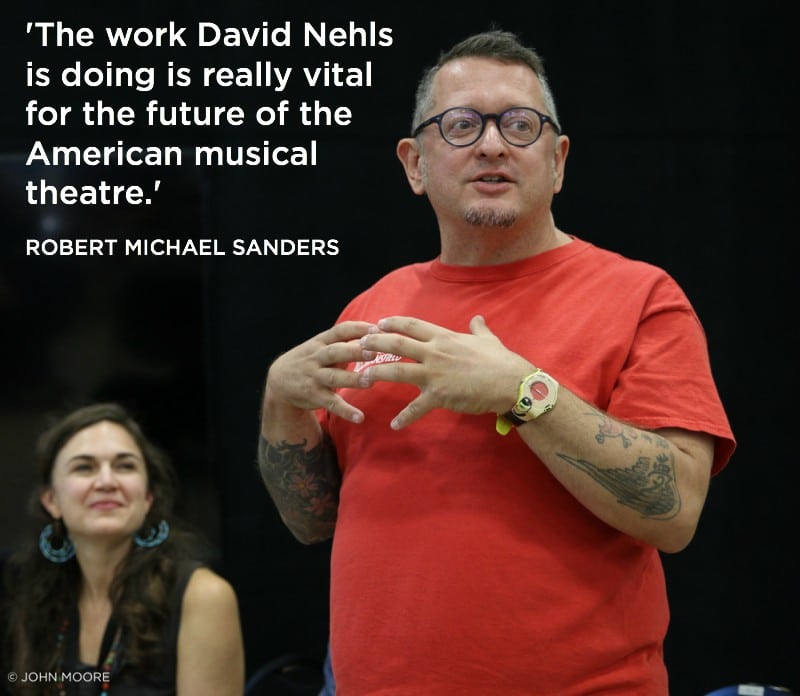 World premiere at the Arvada Center
Nov. 18-Dec. 23, 2016
Written with: Kenn McLaughlin
At a glance: Set in 1969, the Bright family prepares for their annual Christmas variety show, always one of the most-watched national TV events of the year. As the telecast approaches, they welcome their eldest son home from the Vietnam war. The former teen idol is now a decorated hero but deeply challenged by his return to civilian life in front of the cameras.
Workshop staging at the University of Colorado Boulder on Dec. 5-6, 2016. Fully presented at the New York Musical Festival from July 10-16, 2017
Written with: Zac Miller
At a glance: This "hair-raising rock opera" is the story of a carnival handyman named Orville who is attacked by a galactic, brain-eating parasite. The alien transforms Orville into "a rock 'n roll prophet for peace with out-of-this-world hair." We follow Orville on his epic operatic journey to save our world. The New York cast featured Mitch Jarvis, who starred in Broadway's Rock of Ages.
Presented as a reading on Sept. 1, 2017, at Out of the Box Theatrics in New York
Written with: Christina Crawford
At a glance: This is the musical stage adaptation of Crawford's shocking, bestselling memoir about growing up as the adopted daughter of Joan Crawford. The focal point of the stage story, written in full collaboration with Christina Crawford, is the famous actor's will, which disinherits her two eldest adopted children. The plot becomes the coming-of-age story of the brother-sister pair who try to remain family as various obstacles force them down different paths.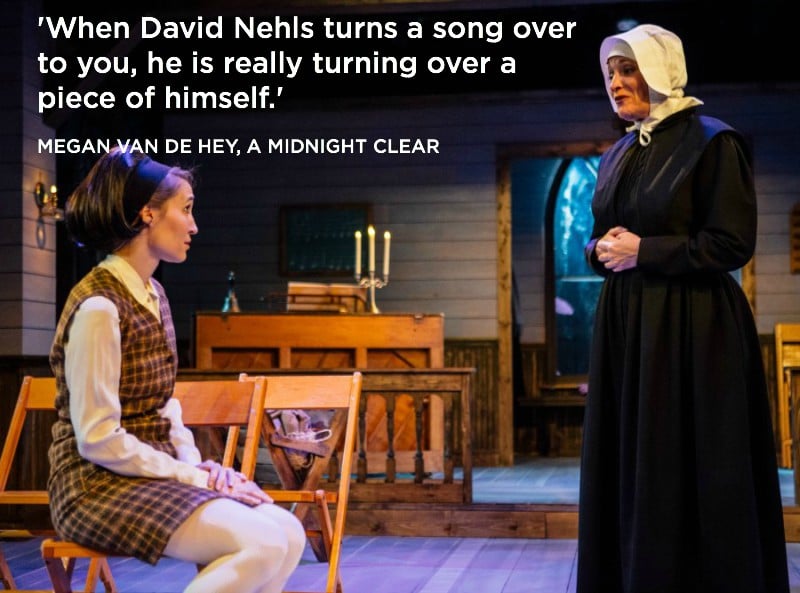 A Midnight Clear: A Musical Tale of Christmas
Nov. 8-Dec. 24, 2017
Stages Repertory Theatre, Houston
Written with: Kenn McLaughlin
At a glance: It's Christmas Eve 1964, and a snowstorm threatens to cancel a concert hosted by the Sisters of the Poor Sacred Heart. But when a mysterious stranger and a stranded motorist arrive at their chapel, the nuns find that the songs of Christmas have far more power than they had imagined. The score combines traditional Christmas songs with Nehls originals including "A Joyful Christmas Noise," "St. Christopher's Prayer" and "Eyes of a Wandering Stranger."

'If regular theatre takes place in three dimensions, then immersive theatre takes place in six.'
No less impressive than creating those four new works from scratch was tackling the unique challenges Nehls was presented by Off-Center's staging of The Wild Party, said director Amanda Berg Wilson.
"First of all, the way the music functions in an immersive-theatre space like The Stanley is a totally different ballgame from how it works in a traditional theatre," Berg Wilson said. "If regular theatre takes place in three dimensions, then immersive theatre takes place in six. Performing the show environmentally seriously changes how the music is going to play out in your time and space."
Imagine a cast of 15 actors playing characters who are attending a drunken, decadent party in a 16,000-square-foot apartment crammed with 200 guests. The live band is stationed in one far corner of the room, but the actors sing and dance and run down tiny aisleways at times more than 100 feet away from the musicians. This was a new performance challenge for actors and musicians alike.
"David really had to be there to support the actors and to help them develop techniques for how to perform the songs in completely different corners of this massive room and still make it sound blended and lovely," Berg Wilson said.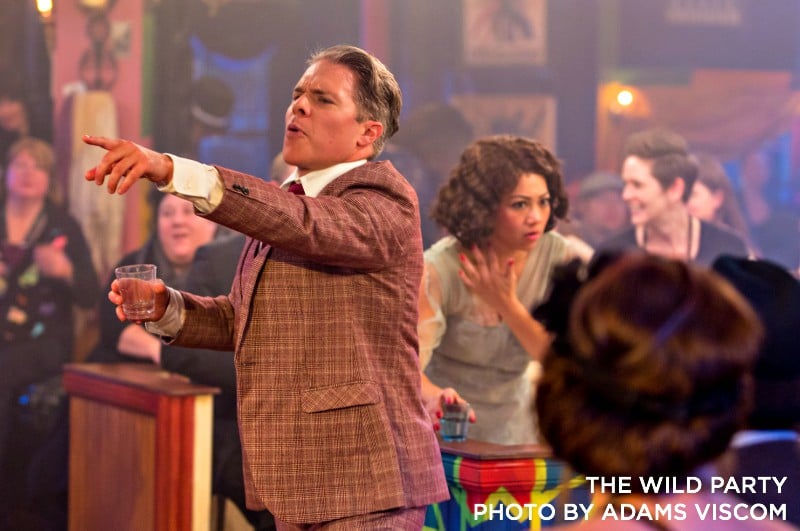 And Nehls had to abandon his own comfort zone to do that. "After so many years at the Arvada Center doing outstanding, but traditionally presented musical theatre, David had to be willing to go places he had never gone before —  and he was completely game for it," Berg Wilson said.
Perhaps no actor has more practical experience working with Nehls than the multiple award-winning Megan Van De Hey, who has performed in nearly two dozen productions under Nehls' musical supervision since 2005. She even went on the road to Houston with Nehls last month to play the Mother Superior in A Midnight Clear.
"The one thing that has impressed me the most about David over the years is how much that he, as a composer and lyricist, thinks about the characters and the story and the mood and the ambience — and then he puts all of that into his songs," said Van De Hey. "He has a very clear concept for every show that he goes into."
She cited the Arvada Center's 2012 production of the Cold War musical Chess as an example. "He took every song that was focused on the Russians and filled it with the warmth of violin and cellos," Van De Hey said. "And anything that had to do with the Americans had more of an electric sound to it. That's the kind of twist that David adds to everything he does."
In recent years, Nehls vigorously joined the now 30-year-old grassroots movement to resurrect the dilapidated old Elitch Theatre summer playhouse that once hosted the likes of Vincent Price, Grace Kelly and Douglas Fairbanks Jr. as a year-round, functioning crown-jewel of Denver theatre. As a former board member, Nehls got further than anyone else has in 2015 when the old wooden theatre in the Highlands began hosting an annual new-play festival of readings.
Despite Nehls' breakout year as a composer in 2017, his success in new-musical development is not actually new. Nehls first hit it big back in 2004 with The Great American Trailer Park Musical, which he developed here in Denver with Betsy Kelso before it went on to dozens of productions in New York, Australia, the U.K. and many points in-between.
Van De Hey was asked how she reconciles the breadth of Nehls' story subjects, ranging from the sci-fi silliness of Killer Wigs to basking in the show-biz mud to holiday stories geared for traditional theatre audiences.
"No one who has met David would ever expect him to turn out to be a sentimentalist in any way, shape or form," said Van De Hey. "But actually, so much of his work is rooted in actual memories from his own childhood."
She describes working with him as "insanely collaborative."
"It's never been his way or the highway," she said. "If you are the person who is going to be singing his song, he talks to you. He asks you questions. He asks for your point of view. As a composer, he works with the actor, and you discover the song together. And when David turns a song over to you, he is really turning a piece of himself over to you."
And that works to everyone's advantage, Sanders said.
"David is not only furthering his own craft — he's creating work for the rest of us," Sanders said on behalf of the hundreds of actors, musicians and other creative personnel who produce musicals in Colorado and around the country.
John Moore was named one of the 12 most influential theater critics in the U.S. by American Theatre Magazine in 2011. He has since taken a groundbreaking position as the Denver Center's Senior Arts Journalist.  
About The True West Awards: '30 Days, 30 Bouquets'
The True West Awards, now in their 17th year, began as the Denver Post Ovation Awards in 2001. DCPA Senior Arts Journalist John Moore — along with additional voices from around the state — celebrate the entire local theatre community by recognizing 30 achievements from 2017 over 30 days, without categories or nominations. Moore's daily coverage of the DCPA and the Colorado theatre community can be found at MyDenverCenter.Org


The 2017 True West Awards
https://www.denvercenter.org/wp-content/uploads/2018/04/featured-image-5495.jpg
773
1000
John Moore
John Moore
2017-12-29 09:39:00
2019-01-11 16:59:33
2017 True West Award: Composer and Music Director David Nehls