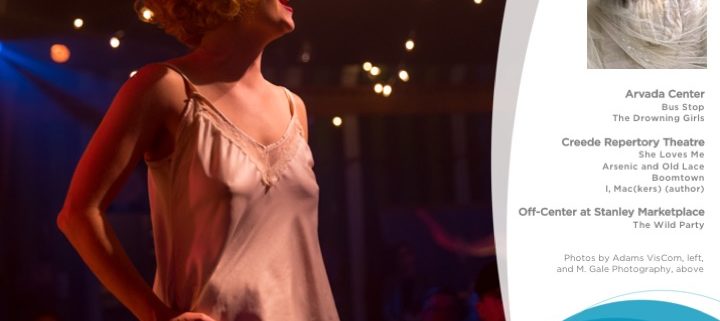 2017 True West Award: Emily Van Fleet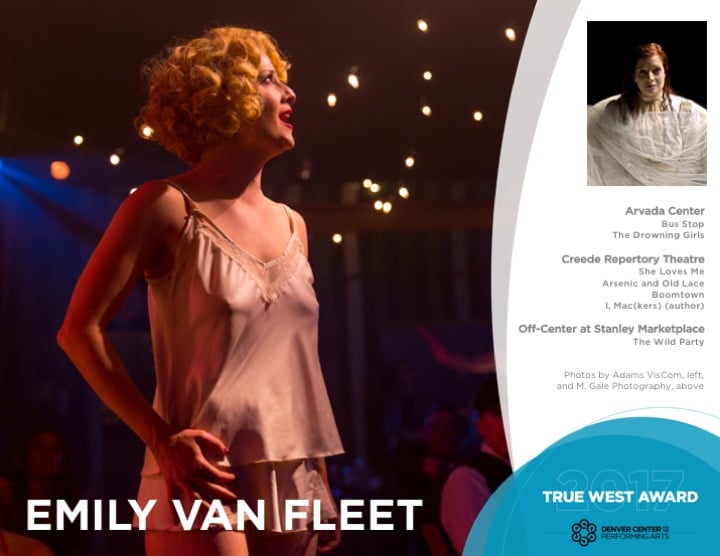 2017 TRUE WEST AWARDS

Day 8: Emily Van Fleet
Arvada Center
Creede Repertory Theatre
DCPA's Off-Center
By John Moore
Senior Arts Journalist

Denver actor Emily Van Fleet was a shape-shifter in 2017. She played a hillbilly wannabe starlet stranded in a snowstorm. She played a soaking wet corpse in a bathtub. She played a Hungarian lonely heart. She played a coy minister's daughter. She was an improv comedian. Her stories spanned the globe from 1912 to 1956. Apparently she can play anyone, anywhere, in any time period.
But once in a great, lucky while, you get to witness an actor killing it so hard in a particular role, you just know they will never be looked at the same way again.
That was watching Van Fleet play a self-destructive showgirl in Off-Center's very wild The Wild Party, a debauched musical drama based on a 1928 narrative poem by Joseph Moncure March and staged under The Hanger at Stanley Marketplace with a cast of 15, a live band and 200 audience members doubling as in-your-lap party guests.
Van Fleet played the hostess Queenie, and she was regal. It was an absorbing and undeniably seductive performance that demanded Van Fleet's complete immersion into a role that, on paper, director Amanda Berg Wilson said, frankly didn't give the actor all that much to work with.
"That character is actually a trope," Wilson said, "and yet Emily somehow managed to make a not-terribly developed character fully dimensional, heartbreaking, vulnerable and sexy. And to do that in such an intimate space is a really tricky thing to pull off."
Van Fleet is a Boulder native who graduated from Fairview High School and the University of Northern Colorado in Greeley. She has been a company member with the Creede Repertory Theatre for five summers. Last year, she was chosen to be among the inaugural class of actors in the Arvada Center's new repertory company. So, she's actually been killing it for quite some time.
Last winter, in fact, she killed it as a woman who already had been killed in the Arvada Center's exquisite staging of The Drowning Girls, which posed an entirely different kind of acting challenge.
The Drowning Girls tells how three wives of serial killer George Joseph Smith met their watery demise between 1912 and 1914. The stories are told by three actors who must play the wives (and every other relevant character) with great narrative and physical precision, and Van Fleet, Kate Gleason and Jessica Robblee executed the challenge with complete (sorry) fluidity. It's not easy to act while sopping wet but, as Westword's Juliet Wittman put it, the three actors committed to it with gusto.
"The trick for all three of them was to be both choral and incredibly specific and unique in their performances, and I think Emily was brilliant in both regards," Director Lynne Collins said. "She played a hunchbacked old landlady so precisely, you could almost feel the curvature of her spine and the arthritis in her hands. And two seconds later, she was back to being lovely young Alice. To be that specific and clear in all your characters is incredibly difficult to do."
Just as impressive, one might say, was her performance in Bus Stop as Cherie, the doe-eyed role made famous by Marilyn Monroe in the 1956 film. Van Fleet's take on the profoundly innocent woman was virtually unrecognizable from Monroe's take in the famous film.
Van Fleet glides easily from light musicals to romantic comedies to dramas with uncommon ease. But there was something fundamentally "next level" about her star-making turn in The Wild Party. Van Fleet stripped everything from her inhibitions to her clothes while hosting a corker of a party fueled by cocaine, bathtub gin and uninhibited sex.
"Queenie is a sexually ambitious, morally dubious, low-rent vaudeville performer who is promiscuous and probably an alcoholic," Wilson said. "And through the course of the play she falls in love and consummates that love right then and there — with a man who is not her husband. Emily somehow kept that up for two hours in very close proximity to the audience — and that requires a level of being present that not every actor has. That's what I think made it such an amazing performance."
Off-stage, Van Fleet and her husband, Nathan Jones, wrote an ingenious modern adaptation of Macbeth that was performed by and for teens last summer in Creede, located 250 miles southwest of Denver in Mineral County.  I, Mac(kers) uses spoken word and cell phones to tell the story of an aspiring but morally compromised high-school thespian who succumbs to the temptation of social media, technology and cyberbullying to fuel his ambition by spreading rumors and manipulating his fellow students.
"Emily Van Fleet is a magical unicorn," said Creede Rep Artistic Director Jessica Jackson. "Yes, she's an incredible actor and musician, but Creede audiences also get to experience her as this passionate community member and leader in our company as well. And in some unquantifiable way, that makes what she does on stage even more compelling."
And she's finishing the busiest year of her life by performing in the Indianapolis Symphony Orchestra's Yuletide Celebration.
There's a simple reason Van Fleet is enjoying the level of success she attained in 2017, said Collins. She's earned it.
"She hit her stride in every area of her work this year," Collins said, "and she works harder than any other actor I know."
John Moore was named one of the 12 most influential theater critics in the U.S by American Theatre Magazine in 2011. He has since taken a groundbreaking position as the Denver Center's Senior Arts Journalist.
Emily Van Fleet 2017:
Cherie, Arvada Center's Bus Stop
Alice, Arvada Center's The Drowning Girls
Amalia, Creede Repertory Theatre's She Loves Me
Elaine, Creede Repertory Theatre's Arsenic and Old Lace
Performer, Creede Repertory Theatre's Boomtown
Director and Playwright, Creede Repertory Theatre's youth production of I, Mac(kers)
Queenie, Off-Center's The Wild Party

ABOUT THE TRUE WEST AWARDS: '30 DAYS, 30 BOUQUETS'
The True West Awards, now in their 17th year, began as the Denver Post Ovation Awards in 2001. DCPA Senior Arts Journalist John Moore — along with additional voices from around the state — celebrate the entire local theatre community by recognizing 30 achievements from 2017 over 30 days, without categories or nominations. Moore was named one of the 12 most influential theater critics in the U.S by American Theatre Magazine in 2011. He has since taken a groundbreaking position as the Denver Center's Senior Arts Journalist. His daily coverage of the DCPA and the Colorado theatre community can be found at MyDenverCenter.Org



The 2017 True West Awards
https://www.denvercenter.org/wp-content/uploads/2018/04/featured-image-5553.jpg
556
720
John Moore
John Moore
2017-12-08 09:42:00
2018-12-21 17:39:50
2017 True West Award: Emily Van Fleet