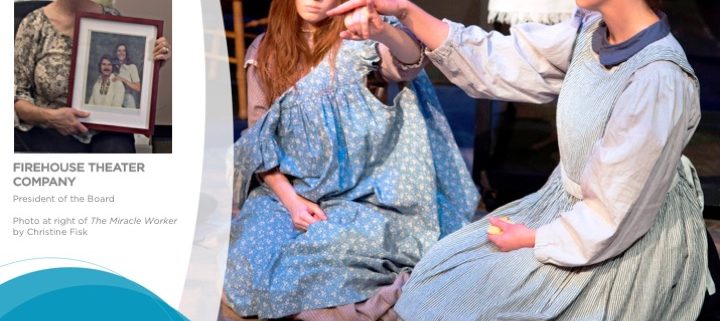 2017 True West Award: Helen Hand


2017 TRUE WEST AWARDS

Day 18: Helen Hand
Firehouse Theater Company
By John Moore
Senior Arts Journalist

A funny thing happened while Helen Hand was preserving her murdered brother's legacy. She fell in love with his theatre. And with theatre itself.
Since 2004, the Firehouse Theater Company's Board President, de facto Artistic Director and yet still modestly self-described "non-theatre person" has produced 41 plays and created performance opportunities for more than 300 actors of all experience levels in the boutique theatre that now bears his name.
If only her brother had lived to see this.
John Hand, the founder of both Colorado Free University and Firehouse Theater Company on the historic Lowry Air Force Base, was robbed and brutally stabbed to death in March 2004 by a 19-year-old drug felon who was later declared unfit to stand trial for his murder. After his death, Helen made it her mission to keep both his school and community theatre alive even though, as a clinical psychologist, she knew nothing at the time about running a theatre company.
Or maybe more she knew more than she thought. Because under Helen Hand's leadership, Firehouse has outlived hundreds other Colorado theatre companies that have come and gone over the past 13 years.
The Firehouse story starts with John Hand, a free spirit who had run an antique shop, owned a deli, bought and sold real estate, and started Colorado Free University by the time he bought the Lowry firehouse as a satellite for his school in 1999. He was 52 when he had the epiphany to start a theatre company for beginners. He had acted in a random musical once, so … why not? John Hand was preparing to open his first play, Arthur Miller's The Ride Down Mt. Morgan, when he was murdered.
In a twist at once both cruel and divine, it was Stacey Nelms, a Denver actor who would later perform and direct at Firehouse, who witnessed Amber Torrez stab an immigrant taxi driver from Ethiopia 39 times the very next night. She called police, who later determined Torrez had also murdered John Hand 24 hours before.
To honor John, Helen cut back on her private practice and took over the school and theatre to keep them both going. And she's still doing both.
"Helen really went outside her comfort zone," said Firehouse Treasurer Kris Paddock. She formed an emergency board of directors and solicited outside contributions just to keep the company afloat. Six months after John Hand's death, The Ride Down Mt. Morgan (picture at right) finally opened — and the Firehouse Theater Company was officially launched.
"I think once Helen started hanging around with theatre people, she warmed up to the process and the people around her," said Firehouse actor and board member Clint Heyn. "And now she is a theatre geek like the rest of us."
She's seen The Miracle Worker three times, he said of the company's current offering. "She says it makes her feel all fuzzy inside."
Helen says running the Colorado Free University and the Firehouse Theater has been a way of staying connected to her brother in a positive, affirming way. "And it's great fun to be able to give other people the opportunity to things in theater that he loved to do," she said.
But it has never been easy. She's had to contend with ever-revolving board members and periods of audience deficits and revenue shortfalls. To keep the operation afloat, Helen started renting out the John Hand Theater to homeless theater groups such as Spotlight, Illumination, Silhouette and more — all of which found a place to play in the theatre John Hand imagined.
In 2007, Lowry's Spotlight Theater became a permanent tenant, with both Firehouse and Spotlight producing up to five plays per year there. "Spotlight Artistic Director Bernie Cardell is fond of saying Spotlight does the comfort food that makes you laugh and goes down easy," Paddock said, "while Firehouse explores the human heart." That creative philosophy, she added, comes from Helen.
Firehouse provides an opportunity for all to get involved with the theater from the novice to the experienced, Paddock said. Jamie Ann Romero, whose national standing was recently bolstered by two high-profile seasons with the Oregon Shakespeare Festival, is one of a long list of accomplished actors who have performed for Firehouse (in Arcadia, pictured right with Jono Waldman). Others have included Emma Messenger (The Lion in Winter), James O'Hagan-Murphy (Murderer), Emily Paton Davies (Some Girls) and Daniel Langhoff, who died of cancer in November less than a year after appearing in Firehouse's The Crucible. But John Hand would be just as proud of all the names you've never heard of, Heyn said.

(Note: Tonight, Monday, Dec. 18, Firehouse is presenting a special performance of 'The Miracle Worker,' directed by Peter Hughes, with all proceeds going to Langhoff's wife for the care of their two infant daughters. Starts at 7:30 p.m. at the John Hand Theatre, 7653 E. 1st Place. Tickets: 303-562-3232 or firehousetheatercompany.com).

Heyn, who has been involved with Firehouse since 2004, thinks John Hand would be "extremely proud" to see the evolution of his company from a safe and welcoming place for novice actors into its present place as a respected member of the larger Colorado theatre community under his sister's care.
"John had a program at his school called 'Hands On' that would specifically give people a chance to do something they had never done before," Heyn said. "So if you have never directed before, you would get a chance to direct. If you have acted in a supporting role, but never in a lead role, he would very intentionally give you a lead role. John wanted people to get better."
Helen also believes in giving people a chance — and that comes straight from her brother's legacy.
Paddock says the Firehouse Theater Company that just entered its teen years remains John's vision — "but Helen is the one who has kept that vision alive. She juggles so many balls in the air, from guiding the board to selecting scripts to raising funds to attending rehearsals."
She even has been spotted up on the roof checking for leaks. Hand has essentially been "on call" for whatever the theatre needs for 13 years now. All while also running Colorado Free University.
(Pictured at right: Dell Domnik and Sue Leiser in Firehouse's 'Red Herring.')
"Helen is still very much the driving force behind all Firehouse operations," Heyn said. She recently succeeded in making the company eligible for SCFD funding (a sure sign of credibility) and she has secured several grants from the Lowry Foundation. As a result, the company is turning a profit for the first time. Hand has directed those first-time profits directly back into theater operations in the form of building improvements, higher stipends for the cast and crew, and expansion of the company's outreach and education programs.
Running any small theatre company always comes down to how you treat your people, and John Hand fundamentally believed in community over hierarchy, Paddock said. It's written into the company's mission statement: "Firehouse will be an open community of artists from all walks of life, creating quality productions for the community to enjoy, but never at the expense of being all-inclusive."
And here is a perfect example of John Hand's mantra in practice under his sister's leadership: In 2015, Helen Hand went forward with a scheduled production of the demanding one-man play I Am My Own Wife just a few months after actor Greg Alan West had major surgery in preparation for upcoming heart and kidney transplants. "That meant that I had to perform the show with a bag full of large batteries and a controller under my costume," West said. "I could barely walk a block without having to rest. There was always the possibility of a transplant happening at any time, but they stuck with me."

For Helen Hand, there was never any question West would play the role as long as he was physically up for it. Paddock says that tells you a lot about both Hand and West.
"Helen does everything with humor, care and concern for all," Paddock said. "She works very hard to ensure that everyone from the novice to the experienced feels supported and part of a family."
But she doesn't do it alone. As Board President, Hand feels she has finally hit the sweet spot with a group (pictured right) made up of Paddock, Heyn, Kevin Rollins, Jeff Jesmer, Dell Domnik, Lorraine Scott, Julie Kaye Wolf, Deborah Montgomery and Mooey Hammond. And she owes much to the continuing presence of John Hand himself.
"I miss him," said Helen, "but he walks around with me all the time."


John Moore was named one of the 12 most influential theater critics in the U.S. by American Theatre Magazine in 2011. He has since taken a groundbreaking position as the Denver Center's Senior Arts Journalist.

Firehouse Theatre 2017:
Becky's New Car
Crimes of the Heart

Rock of Aging

The Mystery of Love and Sex (pictured at right)

The Miracle Worker (playing through Dec. 23)
Firehouse Theatre 2018 (so far):
Feb. 17-March 17: Gross Indecency: The Three Trials of Oscar Wilde
May 12-June 9: Superior Donuts

Photo by John Moore.
About The True West Awards: '30 Days, 30 Bouquets'
The True West Awards, now in their 17th year, began as the Denver Post Ovation Awards in 2001. DCPA Senior Arts Journalist John Moore — along with additional voices from around the state — celebrate the entire local theatre community by recognizing 30 achievements from 2017 over 30 days, without categories or nominations. Moore was named one of the 12 most influential theater critics in the U.S by American Theatre Magazine in 2011. He has since taken a groundbreaking position as the Denver Center's Senior Arts Journalist. His daily coverage of the DCPA and the Colorado theatre community can be found at MyDenverCenter.Org



A look back at the history of the True West Awards

The 2017 True West Awards
https://www.denvercenter.org/wp-content/uploads/2018/04/featured-image-5523.jpg
556
720
John Moore
John Moore
2017-12-18 03:20:00
2018-06-14 14:08:03
2017 True West Award: Helen Hand