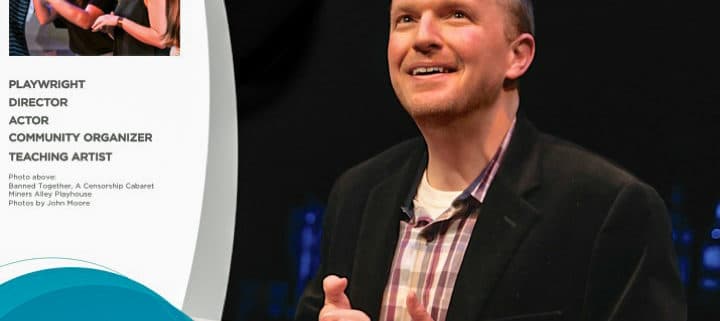 2017 True West Award: Josh Hartwell

2017 TRUE WEST AWARDS

Day 12: Josh Hartwell
Playwright
Director
Actor
Teaching Artist
Dramatists Guild of America
By John Moore
Senior Arts Journalist

Josh Hartwell has done enough this month to earn a True West Award for all of 2017. Oh, he's made his mark as an actor, director, playwright, teaching artist and community organizer throughout the calendar year. But consider that Hartwell has written two new plays that are being staged at the same time at two different local theatres — and he's performing in one of them.
"I don't think another Colorado playwright has ever had two professional premieres running concurrently at different theatres," said Jeff Neuman, co-founder of the local writing group known as the Rough Draught Playwrights. Hartwell graduated from Longmont High School and Metropolitan State University of Denver. But the fact that he's a writer from Colorado only seems to make it harder for his work to actually be seen in theatres here, Neuman believes.
"I don't know if people really understand how difficult it is for a Colorado playwright to get produced in Colorado," he said. "Many Front Range playwrights regularly get produced all over the world, but are unable to secure one single production in their own home state. I think that's one of the reasons I'm so incredibly thrilled for Josh — and more than a little envious of him."
Hartwell was commissioned by The Edge Theatre Company to create Resolutions (pictured above), a plum assignment that came with three stipulations, said Producing Artistic Director Rick Yaconis: "It had to be a holiday play that wasn't about Christmas, it had to have the word resolutions in the title, and it had to be edgy," he said.
Side note: A commission is when a theatre company actually pays you to write a new play for them — the ultimate sign that a playwright has really made it. Because most playwrights pen their plays, submit them blindly to anyone with an address (digital, postal or otherwise) and then pray to the literary gods that someone actually reads them, believes in them and then stages them.
Meanwhile, a little further west, Miners Alley Playhouse is currently staging Hartwell's original and intimate spin on A Christmas Carol in downtown Golden with a cast of just six.
Having the two new plays running at once, Neuman said, "Is a supremely exciting landmark for the local playwriting community, as well as a testament to Josh's amazing skills and talents as a dramatist."
Ironically, both of Hartwell's stories depict actors enjoying very — very — different holiday gatherings away from the stage. His family friendly take on A Christmas Carol (pictured right) drops us in on a group of merry actors who endeavor to stage Dickens' classic right then and there, as swiftly and cleverly as possible. It stars Jim Hunt as the thespian who takes on Scrooge, with Hartwell among the ensemble playing several supporting roles.
Miners Alley Playhouse audiences are lapping up the new take on an old favorite like sweet eggnog, and Artistic Director Len Matheo already has announced that Hartwell's script will henceforth become the company's annual holiday offering.
"What I'm most excited about with this production is that this play is a heightened glimpse into us theatre folk," said Hartwell, who finds it completely conceivable that off-duty actors sitting around a cozy fire at the holidays are compelled to re-enact their favorite Christmas stories. Lisa Kennedy of The Denver Post called the work a gentle, sweet and tender bit of nostalgia.
Resolutions at the Edge is considerably more … well, edgy — as ordered. As in a 'Stephen King meets Quentin Tarantino popcorn pulp' kind of way. This group of former college thespian pals gathers every New Year's Eve at a posh cabin in Vail to relive their Big Chill days and share their hopes for the coming year. But this time, one of the gang is a little ax-to-grindy, and let's just say one of these buddies will soon be adding "reattach severed limb" to his list of New Year's resolutions.
Westword critic Juliet Wittman called the resulting world premiere, appropriately playing through New Year's Eve, "a swift, funny, clever, 85-minute holiday treat."
Hartwell is a young writer with a veteran resume that includes productions in New York, Florida, Washington, Minneapolis, New Zealand and beyond. He's a big-enough deal that he's represented by the Abrams Artist Agency in New York City.
But writing is just a slice of his breakthrough, renaissance year. He directed two plays, including the comedy Bad Jews for the Edge (pictured right) and a milestone production of Hir at Miners Alley. That was a dark and difficult family drama that dared to include a transitioning teenager as part of a major subplot. Hartwell also continued to vigorously mentor student writers, both through Curious Theatre's wildly successful Curious New Voices program and Denver Center Education's year-round and statewide playwriting competition, which has Hartwell offering dozens of in-class workshops throughout the fall semester.
Hartwell also stepped up into a major leadership role in the community when he took on producing Banned Together, A Censorship Cabaret, on Sept. 28 at Miners Alley Playhouse. MAP joined a national coalition of theatres in presenting an informal evening of censored theatre pieces to mark Banned Books Week in America and raise awareness about the ongoing issue of free expression in the live theatre (pictured right and below).
An array of acclaimed local actors presented songs and scenes from controversial plays and musicals ranging from Cabaret to Fun Home to Rent to Spring Awakening to Angels in America. Hartwell read from the critical moment in The Laramie Project when murdered gay college student Matthew Shepard's father addresses his son's killer in court and bitterly spares him from the death penalty.
Banned Together was an important evening that Denver might easily have missed entirelyhad not Hartwell, Matheo and Hunt not taken the project on. (See video highlights below.)
And while acting was low on his list of priorities this year, Hartwell is a company member at Curious Theatre, Boulder Ensemble Theatre Company and The Edge Theatre Company.
If all that weren't enough, Hartwell has worked tirelessly as Colorado's first regional representative for the Dramatists Guild of America, endeavoring throughout the year to both unite, grow and empower the local writer community.
It's been a busy year for a writer who has again proven that the pen is mightier than the pillow.

John Moore was named one of the 12 most influential theater critics in the U.S by American Theatre Magazine in 2011. He has since taken a groundbreaking position as the Denver Center's Senior Arts Journalist.

Josh Hartwell: 2017 in review

Director, Hir, Miners Alley Playhouse
Teaching Artist, Curious New Voices, Curious Theatre Company
Director, Bad Jews, The Edge Theatre Company
Producer, Banned Together: A Censorship Cabaret, Miners Alley Playhouse
Playwright, Resolutions, The Edge Theatre Company
Playwright, A Christmas Carol, Miners Alley Playhouse
Actor, A Christmas Carol, Miners Alley Playhouse
Teaching Artist, Denver Center Education Student Playwriting
Dramatists Guild of America, Colorado Regional Representative
Photo credits, from top down: Karen Slack and Andrew Uhlenhopp in 'Resolutions' (RDG Photography). Jason Maxwell, Meredith Young, Josh Hartwell and Ella Matheo in 'A Christmas Carol.' (Sarah Roshan Photography). John Wittbrodt and Missy Moore in 'Bad Jews' (RDG Photography). Josh Hartwell performing from 'Angels in America' for 'Banned Together.' Photo by John Moore. Abigail Kochevar, Steph Holmbo and ensemble performing 'Seasons of Love' for Banned Together.' Photo by John Moore.

Video bonus:Our coverage of Banned Together


ABOUT THE TRUE WEST AWARDS: '30 DAYS, 30 BOUQUETS'
The True West Awards, now in their 17th year, began as the Denver Post Ovation Awards in 2001. DCPA Senior Arts Journalist John Moore — along with additional voices from around the state — celebrate the entire local theatre community by recognizing 30 achievements from 2017 over 30 days, without categories or nominations. Moore was named one of the 12 most influential theater critics in the U.S by American Theatre Magazine in 2011. He has since taken a groundbreaking position as the Denver Center's Senior Arts Journalist. His daily coverage of the DCPA and the Colorado theatre community can be found at MyDenverCenter.Org



A look back at the history of the True West Awards

The 2017 True West Awards
https://www.denvercenter.org/wp-content/uploads/2018/04/featured-image-5541.jpg
556
720
John Moore
John Moore
2017-12-12 09:59:00
2017-12-12 09:59:00
2017 True West Award: Josh Hartwell