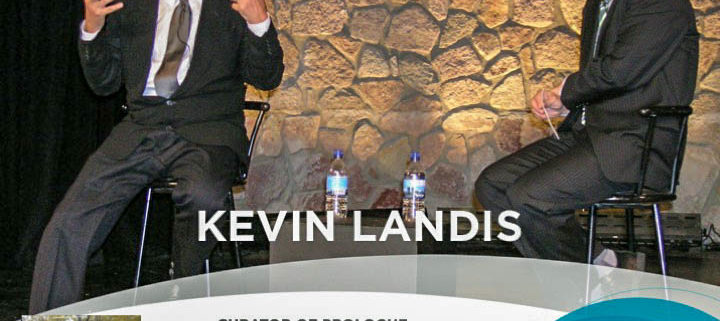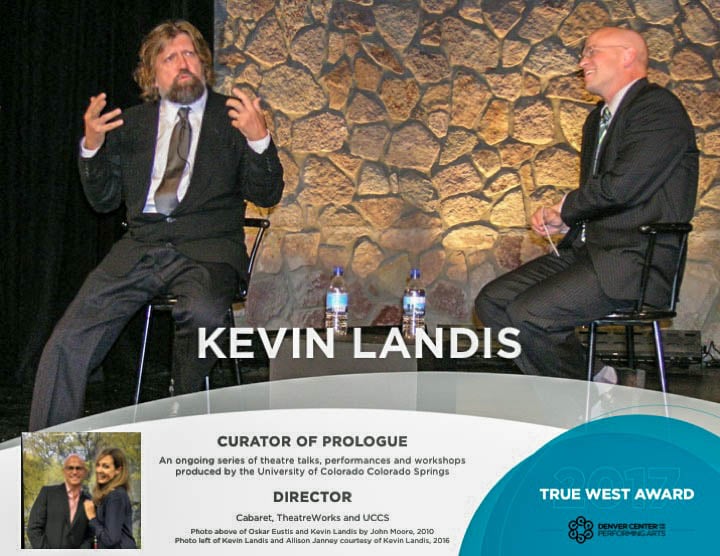 2017 TRUE WEST AWARDS

Day 20: Kevin Landis
University of Colorado Colorado Springs
Curator: Prologue series
By John Moore
Senior Arts Journalist

If you've studied theatre at the University of Colorado Colorado Springs over the past eight years, it's likely you've had Allison Janney drop by class. Or Oskar Eustis. Or Olympia Dukakis. Or Sarah Ruhl. Or Tina Packer. Or Charles Busch. Or Brian Dennehy. This list goes on and on.
In Colorado Springs!
James Lipton has nothing on UCCS associate professor Kevin Landis, whose full title literally has 24 words in it. Distilled: Landis runs the Theatre and Dance program at UCCS, and he curates Prologue, one of the most remarkable ongoing success stories in all of theatre academia.
The free series consists of theatre talks, performances and hands-on workshops featuring some of the most important theatre-makers working in the United States today. This isn't just Inside the Actors Studio. It's Inside the Actors, Directors, Playwrights and Designers Studio.
"I want to put students in the room with the greatest artists and art thinkers in the country," said Landis. "Not because meeting famous people is fun — though it sometimes is. But because this is where they can learn and expand their artistic potential."
Seriously, do these students know how lucky they are?
Landis says the more appropriate question is this: "Do we know how lucky we are? We, as a community, to have these students? These tireless creators of art, sometimes holding down two jobs and rehearsing into the night. I hope we realize we how lucky we are to have them. Students are first for me. Without the students, Prologue doesn't happen.
But, by the way, the answer to both questions is yes.
First case in point: UCCS senior Brittany Merritt, who enjoys getting to hear from famous people, but she says what's better as a student is the opportunity to work one-on-one with the visiting artists during master classes. Especially the ones you've never even heard of —  "amazing professionals who work in the trenches and make the true magic of the American theatre," as Landis describes them.
Merritt cited a visit by Arthur Strimling, founder of Roots and Branches Theatre in New York and an expert on issues of ageism in the American theatre. "After that workshop, I was able to view intergenerational theatre in a new light," Merritt said.
Second case in point: Actor Sammie Joe Kinnett, himself a newly minted 2017 True West Award winner, was a student at UCCS in 2016 when the Prologue guest was actor John Douglas Thompson, who at the time was starring as Louis Armstrong in Satchmo at the Waldorf  for TheatreWorks. That's a professional regional theatre company that started out as an outreach program for the college, and still remains located on the campus working in a strong partnership with UCCS. Prologue guests and themes often coincide with the plays TheatreWorks is staging.
"As a student, I got to take an audition master class with John Douglas Thompson," Kinnett said. "We each performed our pieces for him, and he gave notes and worked them with us."
(Story continues below the video.)
Video bonus: Our coverage of Oskar Eustis at Prologue:
Oskar Eustis, artistic director of the Public Theatre in New York, spoke at 'Prologue' in 2010 about the making of 'Angels in America,' the state of theatre criticism, his goal of making all theater free, and the crisis of black leadership in the American theater. Video by John Moore.  
Coming up in 2018, Landis will bring back Eustis for a third time, along with Fun Home composer Jeanine Tesori just as her Tony-winning musical is about to have its first three homegrown Colorado stagings (Feb. 18). Then, actor Brian Quijada, who performed in Victory Jones and the Incredible One-Woman Band at the Denver Center's 2014 Colorado New Play Summit, will talk about race and class in the American Theatre (Feb. 25). He will be followed later in the spring by esteemed actor Sam Waterston.
How does Landis get all these people to come to Colorado Springs? He must either be the most well-connected man in theatre — or he knows where the bodies are buried.
It's pretty much the former.
Landis hails from Sacramento and holds five academic degrees, so we'll just skip ahead to the Ph.D. in Drama from Tufts University in Medford, Mass. Landis is nothing if not a renaissance man, having studied everything from contemporary avant-garde theatre to Native American melodrama to Nordic art to American drag to "performance analyses of evangelical church services."
But he knows pretty much everyone who is anyone in the American theatre from working with Eustis at the Public Theatre in New York, where Landis continues to hold the title of "Scholar in Residence," and uses his influence to get Colorado students internships there. The Public nurtures a huge catalog of emerging new work, with recent titles ranging from Bloody Bloody Andrew Jackson to Fun Home. So when Landis asks you to come for a visit to Colorado Springs, you generally say yes. "And even when he doesn't know someone, he just pretty much calls them up on the phone and asks them," said Drew Martorella, Executive Director of UCCS Presents. "And you'd be amazed by how many of them say yes."
Landis says Eustis once told him something that he internalized as the following: "I realized early that theatre is a small-enough world that I could probably figure out how to get in a room with almost anyone," Landis said. "Once I was there, I knew I could hold my own. But getting in the room is still the hardest part.
"I took this to heart, and when I came to UCCS, I wanted to give our students what I had been privileged to have during my education: Access. I was taught by Oskar Eustis, Tina Packer, Paula Vogel and was classmates with Sarah Ruhl. These are amazing people who live to connect artists and promote art.
"But connecting the community — students, TheatreWorks patrons and just curious people who happen to come in to our free talks — to great artists is also important. I noticed when I came to Colorado Springs a vibrant arts community that somehow felt ignored on the national level. I bring people here as much to show them our community as to highlight the artists. The regional and national dialogue is so important in a country as sprawling as ours."
Brittany Merritt realizes that without Landis on campus, "I wouldn't have had the opportunity to not only meet and work with these artists," she said, "but I've also been able to see that the options are endless in what I choose to do. Never have I had a professor who truly cared like Kevin has."
So that's it. I'm changing the question:
Does UCCS know how lucky it is to have Landis?

John Moore was named one of the 12 most influential theater critics in the U.S. by American Theatre Magazine in 2011. He has since taken a groundbreaking position as the Denver Center's Senior Arts Journalist.

Kevin Landis: At a glance

Ph.D. in Drama, Tufts University, Medford, Mass.
Dissertation: Republic of Dreams: Stacy Klein and the Double Edge Theatre, 2009
M.F.A. in Acting, Brandeis University, Waltham, Mass., 2005
M.A. in Theatre Theory, Brown University, Providence, R.I., 2001
B.A. Colby College, Waterville, Maine, 1998
Kevin Landis is an associate professor and director of the Theatre and Dance Program in the Department of Visual and Performing Arts at the University of Colorado Colorado Springs. He has co-authored the book Cultural Performance: Ethnographic Perspectives on Performance Studies with Suzanne MacAuley. He is currently writing a manuscript about the contemporary history of the Public Theater in New York. Landis is an MFA-trained actor and member of the Actor's Equity Association. He specializes in physical theatre training derived from his work with Grotowski's lead actress, Rena Mirecka.

About The True West Awards: '30 Days, 30 Bouquets'
The True West Awards, now in their 17th year, began as the Denver Post Ovation Awards in 2001. DCPA Senior Arts Journalist John Moore — along with additional voices from around the state — celebrate the entire local theatre community by recognizing 30 achievements from 2017 over 30 days, without categories or nominations. Moore's daily coverage of the DCPA and the Colorado theatre community can be found at MyDenverCenter.Org


A look back at the history of the True West Awards

The 2017 True West Awards
Prologue guests: 2010-17
Rebecca LaRoche: Merry Wives in the Garden
Murray Ross: Nicola Tesla
Jim Burkhardt: Electrical Magic Show
Oskar Eustis: The State of American Professional Theater
The Double Edge Theatre: Laboratory Theater in America
Hal Cannon: Cowboy Poetry
Dr. Teresa Meadows and Melody Fisher:  French Farce and Flight Attendants
Dr. Laurence Senelick: Gogol, Chekhov and Revolutionary Theater
Dr. Kevin Landis: Chekhov and Psychological Gesture
Judaism on Stage: Members of the Colorado Springs Jewish community
Robert Von Dassanowsky: On Hitchcock
Young Jean Lee: On the Writing of Church
Tina Packer: Women of Will
Richard Schechner: The New Avant-Garde
Eric Hill: Suzuki Training in America
Tennessee Williams Roundtable
Sarah Ruhl: American playwrights
Vince Russo and Ed Ferrara: On Wrestling
Robert Rais: On Improv and What's Funny
Leeny Sack: Devising Theatre
Elissa Authur and Modern Art Roundtable: The Making of Red
Ann Dobyns: The Text of Everyman
Michael Friedman and Oskar Eustis: Making Bloody Bloody Andrew Jackson (pictured at right in 2013; photo by John Moore)

Murray Ross and Kevin Landis: Ibsen and the Wild Duck
John Douglas Thompson: Acting Shakespeare
Anthony Davis: Seven Guitars and American Blues
Murray Ross: Talking Salesman
Brian MacDevitt: Tony Award Winning Lighting Design
Booze Roundtable and Tasting
Landis and VonDassanowsky- Facets of German Expressionism
Mistress Djuna: Being a Dominatrix
Dody DiSanto: Clowning and Servant of Two Masters
Leah Chandler-Mills: On Auditioning
Thomas Andrews: On Ludlow, 1914, a collaboration between TheatreWorks and The LIDA Project
Charles Busch: Psycho Beach Party and American Drag
Brian Dennehy: Acting in Film and for Stage
Clancy Martin: On Lying
Lisa D'Amour: American Playwriting and Detroit
Suzanne MacAulay: History and Psychology of Folktales
Landis and Ross: Absurd Theatre
Bil Lepp: Telling Tall Tales
Ben Brantley, Matt Wolff and Lisa Kennedy: The Great Critics
Tina Packer and Jon Jory: Great American Writing and Acting
John Lahr: The Works of Nöel Coward
Dr. Kevin Landis: Ibsen and the Scourge
Olympia Dukakis
Governor John Hickenlooper
John Douglas Thompson: Making Satchmo
Jim Jackson and Birgitta DePree: On Clowning and Dario Fo
Martile Rowland and Murray Ross: Cowgirls and Opera
Jeffrey Horowitz: Shakespeare in America
Honey and String Theory
Carey Perloff, Polly Carl, Tina Packer and Teresa Meadows: Prologue Town Hall
Allison Janney
Matt Wilson: The World of Commedia dell'Arte
Sally Hybl and Dr. Kevin Landis: Christmas Culinary Delights
Dr. Tom Connolly: Becoming the Hairy Ape
Idris Goodwin, Rhiana Yazzi and Aaron Carter: Prologue Town Hall, Race and the American Theater
Jay Duckworth: Propmaster to Broadway and the Public Theater
Karenleigh Overmann: The Novel to the Stage
Jay O. Sanders and Maryann Plunkett: Acting in the Park
Arthur Strimling: Heisenberg Generations
Ruth Sternberg: Women in Technical Theatre
Max Shulman: Chekhov and Dramaturgy
Christy Metz: Holiday Displays
Upcoming in 2018:
Oskar Eustis and Jeanine Tesori: Fun Home (Feb. 18)
Brian Quijada: Race and class in the American Theatre (Feb. 25)
Sam Waterston (TBA)
https://www.denvercenter.org/wp-content/uploads/2018/04/featured-image-5517.jpg
556
720
John Moore, Senior Arts Journalist
John Moore, Senior Arts Journalist
2017-12-20 09:04:00
2018-09-14 16:36:51
2017 True West Award: Kevin Landis