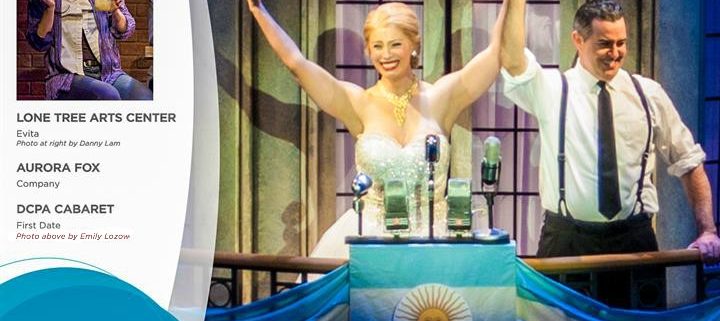 2017 TRUE WEST AWARDS

Day 16: Lauren Shealy
Lone Tree Arts Center
Aurora Fox
Denver Center for the Performing Arts

By John Moore
Senior Arts Journalist

The thing Lauren Shealy brought to Evita was teeth.
The thing she brought to Company was … passive-aggressive karate.
The thing she brought to First Date was … dead Grandma Ida. Oh, and Google Girl.
The thing Shealy brings to every role she plays is her depth of feeling as both an actor and as a human being on this planet.
Shealy is an accomplished, homegrown actress and vocalist who is as adept at playing comedy as she is the most ambitious woman in history. (Broadway history at least!) Her résumé is impeccable, with more than 20 years of knockout performances around the country including a national tour of South Pacific, off-Broadway and multiple productions at the Denver Center and throughout the Denver area. Shealy is a Littleton native who can be the picture of 1940s elegance one minute — and rip her shirt open the next.
Shealy first came to the Denver Center for its 2011 production of I Love You, You're Perfect, Now Change and returned for The Doyle and Debbie Show, Forbidden Broadway, A Christmas Carol, Sweeney Todd and now, the new musical comedy First Date.
But the role that changed her life is the one that also changed her as a performer: Motherhood. Having a child left her raw, she says, and yet more brave. "My heart underwent profound renovations," she said. "The current model has no walls, many doors – and seriously leaky faucets. Every day I wrestle with a delightful and terrifying mix of fear, love and humility."
It's no coincidence then that the newly leaking, vulnerable, karate-chopping Shealy just knocked three consecutive and very different roles right out of the park. This year she headlined a high-profile production of Evita at the Lone Tree Arts Center alongside a primarily New York ensemble and not only held her own, she had the trailing masses both onstage and in the audience pawing at her fur. It was a gutsy portrayal of a legendary figure whose disputed legacy remains passionately divided 65 years after her death.
Opening yourself up so fully can both make an actor better, and leave her utterly vulnerable. It's done both to Shealy.
"Encountering my best and worst self also has invited me to look at my stage characters differently," she said. "I have more empathy for them and less judgment. When I look at Eva Peron, for instance, I don't see a power-hungry manipulator of men. I see a passionate woman who wants to matter; wants to be loved. I see a fighter who uses street sense, wiles and alliances to gain the mobility she needs to realize her dreams."
Director Gina Rattan believes the real Eva, at her best, was a woman not all that dissimilar to Shealy. "Eva was giving, purposeful and driven," Rattan said. "She wanted what was best for her fellow man. She stood behind her word and her deeds."
The downfall of many a portrayal of Evita has been presenting the ruthless First Lady with perhaps too much sympathy. Shealy bared both her fangs and her heart, which is what Rattan said made Shealy "a dream" to work with — the very same word First Date Director Ray Roderick separately chose to describe Shealy.
"Not only is Lauren effortlessly talented and effervescently positive, she has the discipline of a drill sergeant," Rattan said. "I admire Lauren's generosity of spirit, shimmering voice and her ability to bring searing truth to even the smallest moments."
(Pictured: The money kept rolling in for Lauren Shealy and Miles Jacoby in Lone Tree Arts Center's 'Evita.' Below: Shealy and Kyle D. Steffen as Sarah and Harry in the Aurora Fox's 'Company.' Photo by Jeremy Rill — who also played Bobby.)
Shealy followed Evita with an all-star production of Company at the Aurora Fox. That's Stephen Sondheim's melancholy musical rumination on the relative merits of solitude versus coupling. Surrounding bachelor Bobby (played by a terrific Jeremy Rill) are five married couples who unknowingly make strong cases for either life direction.
Shealy played Sarah, a wife who is deluding herself with food, opposite a husband (Kyle D. Steffen) who is deluding himself about booze. The two walked a very thin tonal line between playful and pathos when they finally broke into a comically antagonistic display of the marital martial arts.
Then came her current, long-term commitment to First Date, a musical comedy that explores the common pitfalls and pratfalls of contemporary dating, all in one pair's first blind date. Shealy's task is to play all the voices inside the dating woman's head, real or imagined.
First Date reunites Shealy with Roderick, her director on the daddy of all relationship musical comedies, I Love You, You're Perfect, Now Change. Roderick seeks out only the very best actors he can find, but he also proudly espouses choosing actors who show a kind generosity of spirit — actors like Shealy.
"Lauren is as stunning and engaged in the process as she is onstage," Roderick said. "She is a true pro with extraordinary range, and a dream to work with." (There's that word again.)
Actor Seth Dhonau has witnessed Shealy's impressive range first-hand this year as her castmate in both Evita and First Date.
"Working with Lauren, one can't help but strive to match the professionalism and preparation she so effortlessly brings to her roles," Dhonau said. "Imbuing a performance with Lauren's positivity and energy is no small feat, and we're all so lucky to share the stage with her."
Audiences may not recognize the steely Argentinian in the taunting, imaginary ex-girlfriend Shealy portrays in First Date. And there's no bigger compliment to Shealy, Rattan said.
"I truly don't know if there is anything she can't do," she said.
(Pictured above right: Seth Dhonau, Steven J. Burge and Lauren Shealy in DCPA Cabaret's 'First Date.' Photo by Emily Lozow.)

John Moore was named one of the 12 most influential theater critics in the U.S by American Theatre Magazine in 2011. He has since taken a groundbreaking position as the Denver Center's Senior Arts Journalist.

Lauren Shealy 2017:
Evita in Evita, Lone Tree Arts Center
Sarah in Company, Aurora Fox
Woman I (six roles) in First Date, DCPA Cabaret
About The True West Awards: '30 Days, 30 Bouquets'
The True West Awards, now in their 17th year, began as the Denver Post Ovation Awards in 2001. DCPA Senior Arts Journalist John Moore — along with additional voices from around the state — celebrate the entire local theatre community by recognizing 30 achievements from 2017 over 30 days, without categories or nominations. Moore was named one of the 12 most influential theater critics in the U.S by American Theatre Magazine in 2011. He has since taken a groundbreaking position as the Denver Center's Senior Arts Journalist. His daily coverage of the DCPA and the Colorado theatre community can be found at MyDenverCenter.Org



A look back at the history of the True West Awards

The 2017 True West Awards (to date)
https://www.denvercenter.org/wp-content/uploads/2018/04/featured-image-5527.jpg
556
720
John Moore, Senior Arts Journalist
John Moore, Senior Arts Journalist
2017-12-16 11:10:00
2018-06-14 14:08:04
2017 True West Award: Lauren Shealy