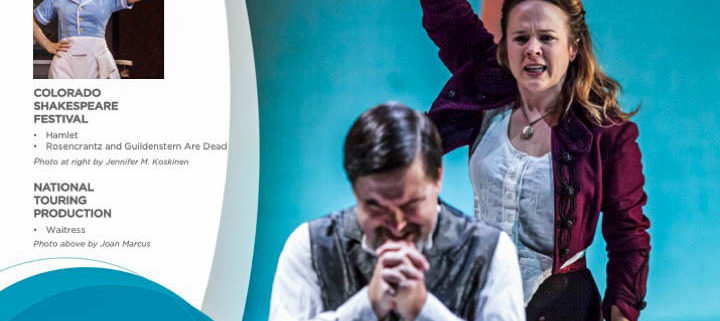 2017 True West Award: Lenne Klingaman

2017 TRUE WEST AWARDS

Day 19: Lenne Klingaman
Colorado Shakespeare Festival
National touring production of Waitress
By John Moore
Senior Arts Journalist

For Colorado Shakespeare Festival Director Carolyn Howarth, the question wasn't, "Why a female Hamlet?"
It was, "Why not a female Hamlet?"
Howarth says she wasn't trying to be radical when she cast Lenne Klingaman to play one of the greatest roles ever written — for a man. She was just bored with the same old, same old. "I had seen dozens of productions of Hamlet, and I just couldn't get excited about it," she said.
But then she got in touch with Hamlet's female side.
"Pages and pages have been written about the femininity of Hamlet," she said. "It's all there in the text. So when you read it again with a woman in mind, suddenly all of these sexist lines that are so often stereotypically played by a man bounce out with all new meaning."
Lines like: "Frailty, thy name is woman." And, of course: "Get thee to a nunnery."
"There has never been an equivalent character to Hamlet for female actors," Howarth said. "It's very uncommon for a woman to get to play a character with that kind of brain power, range, verbal dexterity and wit. So I thought, well why not let a woman take on the great questions of this play from a female perspective?"
Howarth admits the journey started out as "a clever little experiment that maybe was going to fail badly" — until she saw Klingaman audition for the role. "She was luminous," Howarth said. "Spectacular. I knew right then she had to do it."
Klingaman, who made for a lovely Juliet for the DCPA Theatre Company in 2013, was gobsmacked by the offer. She then plunged herself into the world — and the words — of the play like a swordsman. A female swordsman.
"It was extremely empowering to work with Carolyn Howarth on a female Hamlet because it opened up this whole range of possibility of what acting can be, and of what women can do on the stage," said Klingaman, a Minneapolis native who returns to her second artistic home of Colorado tonight in the first national touring production of the Broadway musical Waitress. "There was something so freeing about playing a role written for a man."
Klingaman's Hamlet was filled with passion and clarity. As for her big "To Be or Not to Be" monologue? That was not even a question for Klingaman. "I don't think the speech is about killing oneself," she said. "It's about action. It's about what it means to truly live, which goes hand-in-hand with dying — the ultimate consequence of living."
(Story continues below the photo.)

Lenne Klingaman with Emilie O'Hara as Ophelia in the Colorado Shakespeare Festival's'Hamlet.' Photo by Jennifer M. Koskinen.
Klingaman played Hamlet like an actor who loves her character with her whole heart. She embraced all the flaws, the joy, the wit, the desire, the intellect, the heart, the love — all of it. "Love drives this human," she said. "Love for her father; for her family that's been broken apart; for her mother, as conflicted as that is; for her friends. And so, when they wrong her, the pit of despair and pain runs so deep that not much can stop her."
Howarth says Klingaman surprised her — and herself — along her Hamlet way. "She plumbed the depths of that character in ways I never imagined," Howarth said. "In fact, now I sort of have a hard time imagining the role as a man again."
It actually isn't all that radical for a woman to play the master of melancholy as the mistress of moody. Colorado Shakespeare Festival Dramaturg (and DCPA Theatre Services Manager) Hadley Kamminga-Peck says more than 200 women have played the role, dating back to 1741 Dublin. But it has been rare for a female actor to play the prince as a princess. What added to the curiosity — and the controversy — of Howarth's staging in Boulder was her decision to make Laertes and Fortinbras women as well, while pointedly leaving fair Ophelia as a woman.
That made the forbidden love-hate relationship that drives the waif to suicide a lesbian relationship here. And that seismically shifted the world where this play existed into a strange and never-before seen kingdom. That and moving many crucial scenes into the snowy Nordic forest turned Howarth's tragedy into a kind of Midwinter Night's Dream.
"Our understanding of gender today is so different from Shakespeare's time," Klingaman said. "Some of our ideas of what might be feminine today are now more in line with might have been considered masculine in Shakespeare's time. I wanted to open up a more fluid conception of masculinity and femininity. It's not just a question of one or the other."
The result was record-breaking attendance for an indoor Colorado Shakespeare Festival production. A.H. Goldstein, reviewing for Boulder's Daily Camera, came to the conclusion that madness knows no boundaries of gender. The experiment succeeded, he wrote, because of Klingaman. "All of Hamlet's finest gut-wrenching and soul-searching moments find ample gravity in Klingaman's performance," he wrote. "What's more, her soliloquies and queries offer Shakespeare's poetry in a new light."
Colorado Shakes Producing Artistic Director Timothy Orr found Klingaman's performance to be incredibly powerful. "She was so alive in the moment and experienced every thought and action with fresh vision," he said. "It was a pleasure, and astonishing, to watch each night."
But not everyone was pleased by the experiment. Some longtime subscribers refused to even attend the play. "Some of them thought what we were doing was just wrong," Howarth said. Westword's Juliet Wittman came out with an uncommon advance essay that declared: "It sounds beyond wrong" — before the production even opened.
Cleary, Howarth was onto something. Shakespeare so rarely riles anyone up. The Boulder staging even caught the attention of The New York Times.
"Listen, we need roles with greater range for women," Howarth said. "And I hope our production encourages other theatres to cast women in traditionally male roles that both allow you to reimagine the play and promote more equality for women in the theatre. I'm also hoping there can be a sea change in the way we view classical theatre. Because if you are going to do the same plays the same way every time, then why even do them at all?
Doubling Klingaman's summer fun was the Colorado Shakespeare Festival's clever decision to stage Tom Stoppard's Rosencrantz & Guildenstern are Dead in repertory with Hamlet. That play takes place in the real-time world of Hamlet, but shifts the focus of the inaction to Hamlet's presumed two best friends — the two tramps who also inspired Beckett's Waiting for Godot. All the actors in Hamlet, including Klingaman, played their same roles in Rosencrantz & Guildenstern on the same stage and set as Hamlet.
(Pictured above: Sean Scrutchins, Lenne Klingaman and Michael Bouchard in 'Rosencrantz and Guildenstern are Dead.' Photo by Jennifer M. Koskinen.)
It was around the time Hamlet opened that Klingaman was offered the role of Dawn in the first national touring production of Waitress, which opens tonight (Tuesday, Dec. 19) and runs through Dec. 31) at Denver's Buell Theatre. Dawn is a woman Klingaman describes as a bit of a turtle who comes out of her shell through the bond of sisterhood with her fellow waitresses. And the story of how Klingaman got that job is straight out of Hollywood fiction. (Click here to read all about it.)
The national tour opened just two months ago in Cleveland, where Klingaman was singled out for her "adorable nerdiness" by the critic from the Plain Dealer — which after her summer of intense brooding in Boulder, is proof-positive of the actor's versatility.

John Moore was named one of the 12 most influential theater critics in the U.S. by American Theatre Magazine in 2011. He has since taken a groundbreaking position as the Denver Center's Senior Arts Journalist.
From left: Charity Angel Dawson, Desi Oakley and Lenne Klingaman in the national touring production of 'Waitress,' opening tonight in Denver. Photo by Joan Marcus.
Lenne Klingaman at a glance:
Hometown: Minneapolis
Home now: Brooklyn
College: BA from the University of California at Santa Cruz; MFA from the University of Washington
For the Denver Center: Theatre Company: Appoggiatura and Romeo and Juliet
For Colorado Shakespeare Festival: Record-breaking run as Hamlet; also Rosencrantz and Guildenstern are Dead, Measure for Measure and The Fantasticks
Other regional highlights: Fingersmith (A.R.T.), Berkeley Rep, Shakespeare Theatre, South Coast, St. Louis Rep, The Jungle, Intiman.
TV: "Chicago Med," "Cold Case," "Welcome to Sanditon"
Album: "The Heart is the Hunter," available on iTunes and elsewhere


About The True West Awards: '30 Days, 30 Bouquets'
The True West Awards, now in their 17th year, began as the Denver Post Ovation Awards in 2001. DCPA Senior Arts Journalist John Moore — along with additional voices from around the state — celebrate the entire local theatre community by recognizing 30 achievements from 2017 over 30 days, without categories or nominations. Moore's daily coverage of the DCPA and the Colorado theatre community can be found at MyDenverCenter.Org



A look back at the history of the True West Awards

The 2017 True West Awards
Video bonus: Lenne Klingaman's Waitress shout-out to Denver audiences:
Lenne Klingaman talks about returning to Colorado in Waitress, through Dec. 31.
Waitress in Denver: Ticket information
Inspired by Adrienne Shelly's beloved film, Waitress tells the story of Jenna — a waitress and expert pie-maker who dreams of a way out of her small town and loveless marriage. A baking contest in a nearby county and the town's new doctor may offer her a chance at a fresh start, while her fellow waitresses offer their own recipes for happiness. But Jenna must summon the strength and courage to rebuild her own life. This is an uplifting musical celebrating friendship, motherhood, and the magic of a well-made pie.
National touring production
Performances Dec. 19-31
Buell Theatre, Denver Performing Arts Complex
Tickets start at $25
Call 303-893-4100 or BUY ONLINE
Sales to groups of 10 or more click here
https://www.denvercenter.org/wp-content/uploads/2018/04/featured-image-5519.jpg
556
720
John Moore
John Moore
2017-12-19 09:13:00
2018-06-14 14:08:02
2017 True West Award: Lenne Klingaman