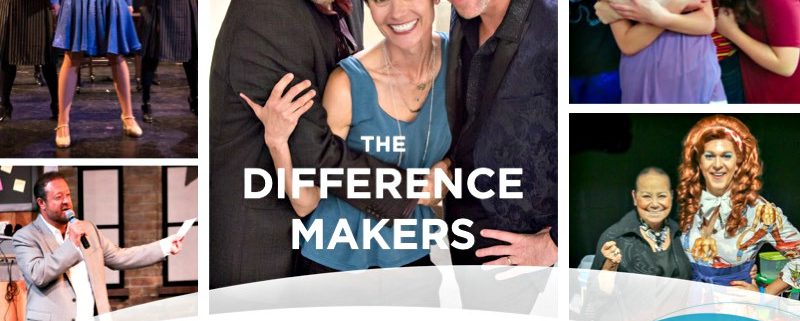 2017 TRUE WEST AWARDS

Day 25: The Difference-Makers
Leading organizers of 2017 fundraisers on behalf of Denver Actors Fund:
Ebner-Page Productions' United in Love concert, $40,083
The Mothers of 13 the Musical, $13,188
Dr. Brian Kelly DDS, $10,300 in in-kind services
Robert Michael Sanders' Miscast 2017, $7,040
BDT Stage's Thoroughly Modern Millie and Annie, $6,147
Dixie Longate standup comedy benefit, $4,804
By John Moore
Senior Arts Journalist

In 2017, The Denver Actors Fund has made $128,000 available to Colorado theatre artists in situational medical need, compared to $42,000 in all of 2016. And there is just one reason the rapidly growing grassroots nonprofit had that much money to give back in only its fourth year of existence: A boggling array of self-starting individuals, theatre companies and schools from all over the metro area organized their own fundraising efforts that generated $112,000 in unplannable revenue for the Denver Actors Fund.
They are The Difference-Makers.
The biggest chunk by far came from one remarkable sold-out concert at the Lone Tree Arts Center featuring Colorado-connected Broadway stars Annaleigh Ashford, Beth Malone and Mara Davi alongside Denver First Lady Mary Louise Lee and more than 20 local performers. The event, called United in Love, was conceived and carried off by Ebner-Page Productions, aka Eugene Ebner and Paul Page. Their concert raised more than $40,000 for the non-profit in part because nearly everyone volunteered their time and talents — and because they went out and secured sponsorships totaling $20,000 from Delta Dental, Kaiser Permanente, Skyline Properties and Alliance Insurance.
It was a night that changed the trajectory of the Denver Actors Fund forever. But it was just the start of a remarkable year during which school-age kids, for example, accounted for more than $25,000 in donations to the Denver Actors Fund all by themselves.
The most astonishing of those efforts was a fully staged production of Jason Robert Brown's 13 the Musical, which in 2008 became the first Broadway musical to feature a cast made up entirely of teenagers.
The parents of 13 young metro-area actors banded together to self-produce the first-ever Colorado staging of 13 the Musical, which is the story of a New York-savvy teen whose parents' divorce lands him in Indiana. The parents absorbed nearly all production costs as their own personal donations so that all proceeds from ticket sales and other revenue sources would go fully to the Denver Actors Fund. As a result, 13 the Musical generated more than $13,000 for The Denver Actors Fund in just two performances at the Mizel Center for Arts and Culture. And it was a good production, because the young actors were supported by a dream creative team that included Robert Michael Sanders, Paul Dwyer, Jalyn Courtenay Webb, Shannan Steele and more (full list below).
Sanders also again directed and produced Miscast, an annual evening of silly songs and games at the Town Hall Arts Center that raised another $7,000, bringing Sanders' four-year Miscast efforts past the $20,000 mark.
The Denver Actors Fund was also the designated beneficiary when tart-talking Dixie Longate returned to the Galleria Theatre for the Denver Center's fourth staging of Dixie's Tupperware Party. While in Denver, Dixie creator Kris Andersson wanted to try out Dixie's new standup comedy routine, and the evening turned into a $4,804 windfall for the DAF.
Also this year, the Denver Actors Fund entered into a unique partnership with Thornton dentist (and former Broadway dancer) Brian Kelly, who accepted emergency dental cases referred through the Denver Actors Fund. Kelly helped four DAF patients in need of everything from root canals to full teeth replacement to complex bridge work. In all, Kelly donated more than $10,000 worth of his services to uninsured area artists.
Area companies regularly designate certain performances for the benefit of the Denver Actors Fund, and this year, two remarkable evenings at BDT Stage organized by Producing Artistic Director Michael J. Duran raised a combined $6,147 for the DAF.
All done on their own.
"I think the truest mark of a community is how much people will do to help each other without even being asked," said Denver Actors Fund President Will Barnette. "These dollar figures brilliantly show the depth of love and caring and camaraderie we have in this Colorado theatre community."
Here's a small sampling of additional efforts large and small that benefited more than 40 individual artists facing situational medical needs in 2017 alone:
The young people in the cast of Town Hall Arts Center kid-centric's stage adaptation of A Christmas Story created a group they called The Lollipop Kids, and they sold $3,405 worth of suckers in the theatre lobby.
For the second straight year, the Miners Alley Playhouse in Golden designated one performance of A Christmas Carol for the DAF, including all ticket revenue and bar sales. The evening sold out, and the Christmas miners raised $3,664 — or about $40 per person.
Denver School of the Arts was the very first school to take collections for the Denver Actors Fund in 2014, and the $2,117 the theatre students raised this year at performances of The Producers brought the troupe's three-year total to a record $6,230. Other school-age groups that raised money for the DAF in 2017 included Front Range Theatre Company in Highlands Ranch ($2,041), Cherry Creek High School ($1,614) Summit Middle School in Boulder ($938.35), Parker Performing Arts School ($475) and CenterStage Theatre Company in Louisville ($406).
The journalism students at Metropolitan State University hosted an original Christmas special just last week that raised $2,000. The evening, donated by the city of Northglenn, was co-hosted by student Avery Anderson of The Nightly Met and popular area actor Annie Dwyer (currently Miss Hannigan in BDT Stage's Annie). The program included appearances by Anna Maria High (Aurora Fox's Hi-Hat Hattie), Abigail Kochevar (Miners Alley Playhouse's upcoming Fun Home), casts from Town Hall's Seussical and BDT Stage's Annie, bands and combos such as Mister Tim and The Denver Dolls, Ryan Chrys and the Rough Cuts and many more.
The Denver Actors Fund hosts a monthly film series at the Alamo Drafthouse in partnership with a rotating local theatre company, next featuring 500 Days of Summer on Jan. 22 with live entertainment from cast members from DCPA Cabaret's First Date. Half of all ticket proceeds go to the DAF, and the series generated $5,400 in 2017.
The Jerseys, made up of area musical-theatre veterans Brian Smith, Paul Dwyer, Klint Rudolph and Randy St. Pierre, designated one February performance at the Clocktower Cabaret to the DAF and raised $2,208.
The caustic puppet musical comedy Avenue Q includes a cynical panhandling number called The Money Song, and this year TWO companies used the opportunity to raise real-time money for the DAF during the actual show. The StageDoor Theatre in Conifer raised $1,589 that way, and the Town Hall Arts Center brought in $1,361.
The Edge Theatre hosted a staged reading of DAF founder John Moore's play Waiting for Obama, which had been recently staged in New York, and the evening raised $1,173 for the DAF.
Some of the most creative fundraisers were purely personal initiatives. Patty Kingsbaker, who founded Radical Artists talent agency, urged guests at her retirement party to give to the DAF, raising $743. Teenager Willow Samu turned her senior recital into a fundraiser for the DAF and collected $350 at the Clocktower cabaret. Actor Billie McBride, a Colorado Theatre Guild Lifetime Achievement Award-winner, used Facebook to auction off an album she owned that was signed by the original Broadway cast of A Chorus Line, raising $250. Local journalist and In Focus host Eden Lane, who this year made her Denver directorial debut with the Priscilla Queen of the Desert, raised $206 selling custom-made Priscilla coffee cups in the Aurora Fox lobby. Actor Sue Leiser sold hats she made inspired by the Women's March on Denver, resulting in a $140 donation.
The DAF encourages every company in the state to designate one performance per run for a spare-change collection. It's called Tap Shoe Initiative, which brings in modest amounts that have added up to more than $17,000 over the past four years. This year's leading Tap Shoe participant was one of the state's smallest companies: Firehouse Theatre Company raised $937 for the DAF over four collection nights.
Separately, the local theatre community was spurred to action last month by the wrenching death of 42-year-old actor Daniel Langhoff from cancer just 10 days after the birth of his second daughter. Over the next six weeks, donations and special events generated $53,000 in targeted donations through the DAF that will help Langhoff's wife plan for the long-term needs of their children. Among the special efforts:
Vintage Theatre's designated performance of Honeymoon in Vegas raised $2,094.
Choreographer and fitness trainer Adrianne Hampton hosted a special class featuring Broadway songs and raised $250.
The boards of the Town Hall Arts Center, Breckenridge Backstage Theatre and Performance Now each donated $1,000 to the Langhoffs. Performance Now also pledged to donate 2 percent of all profits for the next year to the DAF (about $365 per show), and challenged all other Colorado theatre companies to do the same.
Boulder Ensemble Theatre Company closed out 2017, appropriately enough, by raising exactly $2,017 on opening night of its Every Christmas Story Ever Told.
"The number of people who planned, participated or attended all of these efforts on behalf of the Denver Actors Fund numbers into the thousands," the DAF's Will Barnette said. "Every one of those people is a difference-maker. Their efforts not only sustain us, they galvanize us as we enter 2018. We simply could not do what we do without the continuing efforts of the Colorado theatre community to keep us funded."

John Moore was named one of the 12 most influential theater critics in the U.S. by American Theatre Magazine in 2011. He has since taken a groundbreaking position as the Denver Center's Senior Arts Journalist. He is also the founder of The Denver Actors Fund.


Video bonus: Highlights from the United in Love concert:
Video by The Met Report's Avery Anderson.

Denver Actors Fund Beneficiaries 2017
With Name, 2017 Financial Aid and Medical Need
Daniel Langhoff, actor, $52,918 ($66,938 overall), Cancer treatments
Archie Valleda, actor, $8,457, Dental
Abner Genece, actor, $6,471, Car accident
Norrell Moore, actor, $4,685, Cancer treatments
Sasha Fisher, actor, $4,522, Car accident
Katherine Paynter, actor, $4,290, Knee surgery
Mark Shonsey, actor, $4,095, Premature birth
Nancy Warner, crew, $3,832, Two emergency surgeries
Don Gabenski, actor, $3,529, Purchase wheelchair
Paul Hartman, pit musician, $2,950, Car accident
Traci J. Kern, actor, $2,693 ($3,243 overall), Cancer tests, Sliced hand
Family of Christopher Tye, actor, $2,500, Funeral expenses
Jaime Lujan, actor, $2,725 ($3,825 overall), Rotator-cuff surgery
Patrick Sawyer, director, $2,150 ($5,167 overall), Heart surgery
Anonymous, $2,019 ($2,519 overall), Dental
Becky Toma, props designer, $1,701 ($1,995 overall), Surgery
David Ballew, actor, $1,680, Dental
Emily K. Harrison, producer/actor, $1,520, Emergency room
Carol Kelly, hair designer, $1,499, Medical leave
Anonymous, $1,190, Dental
Keegan Flaugh, actor, $1,180, Dental emergency
Meghan Ralph, stage manager/actor, $1,120 ($2,788 overall), Dental emergency
Anonymous, $1,000, Emergency room
Catherine Aasen Floyd, actor, $720, Cancer treatment
Daniel Perkins, actor, $675, Seizures, back surgery
Joey Wishnia, actor, $600 ($1,597 overall), Eye injections
Twanna Latrice Hill, actor, $540 ($922 overall), Medical
Nick Thorne, actor, $500, Memorial gift
Sheila Traister, actor, $500 ($2,800 ovverall), Bodily injury
Maggie Sczekan, actor, $365, Dental
Lara Maerz, stage manager $246, Diabetes treatments
Faith Goins, actor, $175 ($4,375 overall), Infant's death
Note: List above does not include beneficiaries of rides, meals and other Action Team assistance
Video bonus: 'The Cancer Warriors' at Miscast 2017

Actors Jona Alonzo, Daniel Langhoff and Norrell Moore, all at various stages of their personal own cancer battles, performed an original variation of the song "Tonight," from 'West Side Story,' at Miscast 2017. Video by John Moore.
About The True West Awards: '30 Days, 30 Bouquets'
The True West Awards, now in their 17th year, began as the Denver Post Ovation Awards in 2001. DCPA Senior Arts Journalist John Moore — along with additional voices from around the state — celebrate the entire local theatre community by recognizing 30 achievements from 2017 over 30 days, without categories or nominations. Moore's daily coverage of the DCPA and the Colorado theatre community can be found at MyDenverCenter.Org



A look back at the history of the True West Awards


The 2017 True West Awards
UNITED IN LOVE

Hosts: Steven J. Burge and Eden Lane
Musical Director: Mitch Samu
Performers: Annaleigh Ashford, Beth Malone, Mara Davi, Jodie Langel, Denise Gentilini, Jimmy Bruenger, Eugene Ebner, Becca Fletcher, Clarissa Fugazzotto, Robert Johnson, Daniel Langhoff, Susannah McLeod, Chloe McLeod, Sarah Rex, Jeremy Rill, Kristen Samu, Willow Samu and Thaddeus Valdez. Also the casts of both The Jerseys (Klint Rudolph, Brian Smith, Paul Dwyer and Randy St. Pierre), and 13 the Musical (see below).
The band: Tag Worley, Steve Klein, Andy Sexton, Scott Handler and Jeremy Wendelin

MISCAST 2017

Hosts: Steven J. Burge, Eric Mather and Shannan Steele
Performers: Robert Michael Sanders, Megan Van De Hey, Jackson Garske, Destiny Walsh, Jalyn Courtenay Webb, Rylee Vogel, Jeremy Rill, Reace Daniel, Jose David Reynoza, Randy Chalmers, Hope Grandon, Kenny Moten, Margie Lamb, Jona Alonzo, Daniel Langhoff, Norrell Moore, Evan Gibley, Kaden Hinkle, Hannah Katz, Darrow Klein, Hannah Meg Weinraub and Rylee Vogel
Production team:
Director: Robert Michael Sanders
Assistant to the director: Jessica Swanson
Musical Direction and Live Keys: Donna Debreceni
Stage Manager: Maegan Burnell
Assistant Stage Manager: Haley Ivy Di Virgilio
Technical Director: Mike Haas
Lights: Alexis Bond
Sound: Curt Behm and Tom Quinn
Costumes: Nicole Harrison
13 THE MUSICAL:
Cast (moms in parentheses):
Joshua Cellar (Emily Cellar)
Conrad Eck (Kristin Eck)
Macy Friday (Megan Friday)
Evan Gibley (Michelle Gibley)
Lorenzo Giovanetti (Carmela Giovanetti)
Kaden Hinkle (Shannon Gaydos-Hinkle)
Hannah Katz (Erin Katz)
Darrow Klein (Jennifer Klein)
Michelle Lee (Huwon Lee)
Gabe Legg (Angela Legg)
Carter Novinger (Jennifer Novinger)
Rylee Vogel (Kristi Vogel)
Hannah Meg Weinraub (Michelle Weinraub)
Creative:
Robert Michael Sanders: Producer and director
Paul Dwyer: Assistant director
Anna Smith: Assistant director
Jayln Courtenay Webb: Music director
Lauren Hergenreter: Stage manager
Sydney Eck: Assistant stage manager
Tom Quinn: Sound
Jennifer Orf: Lighting
Choreographer: Stephanie Hess, Shannan Steele, Matthew D. Peters, Jessica Hindsley, Abigail Kochevar
Band:
Jason Tyler Vaughn: Guitar
Heather Holt Hall: Keyboards
S. Parker Goubert: Bass
Evan Jones: Drums
https://www.denvercenter.org/wp-content/uploads/2018/04/featured-image-5505.jpg
618
800
John Moore, Senior Arts Journalist
John Moore, Senior Arts Journalist
2017-12-25 10:59:00
2018-06-14 14:07:59
2017 True West Award: The Difference-Makers