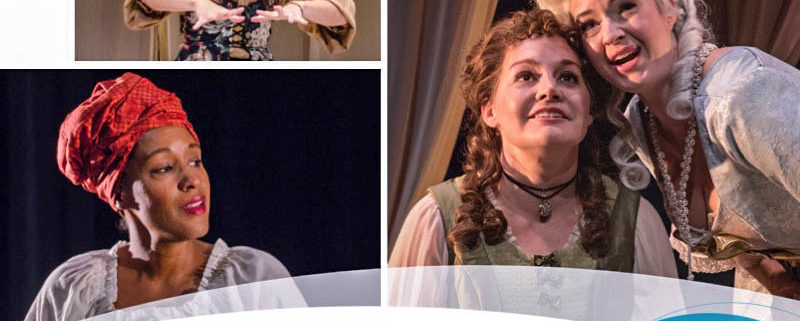 2017 True West Award: The Women of 'The Revolutionists'

2017 TRUE WEST AWARDS

Day 26: The Women of The Revolutionists
Boulder Ensemble Theatre Company

Playwright: Lauren Gunderson
Director: Allison Watrous
Marianne Angelle: Jada Suzanne Dixon
Marie Antoinette: Adrian Egolf
Charlotte Corday: Maire Higgins
Olympe De Gouges: Rebecca Remaly
Stage Manager: Karen Horns
Set Designer: Tina Anderson
Costume Designer: Brenda King
Lighting Designer: Katie Gruenhagen
Sound Designer: Ashley Campbell
Properties Designer: Amy Helen
Cole Dramaturg: Heather Beasley
By John Moore
Senior Arts Journalist

The Revolutionists might just have easily been titled The Revisionists.
Playwright Lauren Gunderson's goal wasn't to rewrite the past (that's been the job of agenda-driven, mostly male historians for centuries) but instead to revisit the past and write it a bit more fully. You know … with women in it?
The Boulder Ensemble Theatre Company emphatically and intentionally assembled an all-female cast and creative team in September to stage the regional premiere of The Revolutionists, a play Gunderson describes as a "brutiful" new comedy about four fierce and iconic women of history who are desperate to change the world at the height of the Reign of Terror in Paris.
She's talking about a revolution.
Make that two. The one that happened then. And the one that needs to happen in the American theatre now.
"Actually it was (BETC Producing Artistic Director) Stephen Weitz who pointed out from the start what an amazing opportunity we had with Lauren's powerful play to gather a group of incredible women to tell this particular story," Director Allison Watrous said.
It is a story Gunderson raised from the collective crypt of undertold history about a playwright who was one of more than 16,000 political dissidents put to state-sponsored death by guillotine during the French Revolution from 1794-99. It was not an ethnic cleansing. More like an ideological cleansing, and Gunderson was inspired to write about it on a family trip to The Pantheon in Rome, where she came across a footnote about a feminist French playwright named Olympe de Gouges.
"I did a cartoon-style double take and said, 'Wait. A feminist playwright? During the French Revolution?' " Gunderson said in an interview posted to her blog. "After that, it was a gradual exploration of that time, and the striking similarities to our time in America now: A ridiculous war, drowning national debt, a vast divide between rich and poor, institutional racism, and the quest for women's equality."
BETC's tagline for the play: Modern America really should have a talk with 18th century France.
Watrous, who is one of the busiest directors in the local theatre community while also serving as the DCPA's Director of Education, agrees that The Revolutionists could not be more relevant than it is today, when the biggest story in the American theatre continues to be gender inequality in virtually every aspect of theatremaking, and the biggest story in the country continues to be the wave of women who are rising up to expose decades of sexual assault by men in various positions of power.
"It's just time to take a stand for women right now," Watrous said. "And one way to do that is to commit to telling and celebrating the untold stories of women on our American stages."
And who better to set the agenda for that conversation than Gunderson, who is now in her second year as the most produced living American playwright?
"More than ever, this is the time to recognize those incredible female heroes whose powerful stories were not being told then, and may not be being told now," Watrous said.
Three of the four bad-ass women (that's how Gunderson describes them) in The Revolutionists were real while one, by historical necessity, is a composite. "We don't have many records of black women in the Saint Domingue rebellion. So I made her up," Gunderson says on her web site. Here's a brief introduction to each:
Olympe de Gouges (1748-93):
Played by Rebecca Remaly
Olympe de Gouges was a French playwright and political activist whose feminist and abolitionist writings reached a large audience. She was desperate to believe that her playwriting could change the world for the better.
Quote: "Woman is born free and lives equal to man in her rights. Social distinctions can be based only on the common utility."
Adrian Egolf had the time of her life — and all the cake she could eat — as Marie Antoinette in 'The Revolutionists.'

Marie Antoinette (1755-93):
Played by Adrian Egolf
The decadent Marie Antoinette was the final Queen of France before the French Revolution, consort to doomed King Louis XVI — and a fellow victim of the guillotine at age 37.
Quote: Antoinette was often credited for having said, "Let them eat cake!" when told that the poor were hungry — though the authenticity of the quote has never been proven.
Charlotte Corday (1768-93):
Played by Maire Higgins
Charlotte Corday stabbed a journalist-politician named Jean-Paul Marat in a bathtub. He was an advocate of the violent purge of anyone he considered a traitor. ("Think Bill O'Reilly," wrote Boulder Weekly's Gary Zeidner.) Writer Alphonse de Lamartine later gave Corday the posthumous nickname l'ange de l'assassinat ("The Angel of Assassination").
Quote: "I killed one man to save 100,000."
Marianne Angelle
Played by Jada Suzanne Dixon
Marianne Angelle is the composite character in the play. She represents all the real women of what is now called now Haiti who fought to free the island's slaves and people of color during the same period as the French Revolution.
Watrous' staging charmed and disarmed audiences and critics alike, in part because of how funny it was, given the consequential subject matter. Westword's Juliet Wittman was completely won over, calling the BETC staging "a true feat of the imagination. Gunderson has re-created the French Revolution in an entirely original form."
Lisa Kennedy of The Denver Post said: "You'll not see a better ensemble playing off each other with such fine aplomb. The bar has been raised."
Gunderson certainly knows how to write a great ensemble piece, Watrous said — that's something Denver Center audiences witnessed first-hand when the DCPA Theatre Company premiered her The Book of Will, which is now being staged at theatres across the country.
But ironically, it was Egolf's portrayal of Marie Antoinette, the one character pretty much everyone has heard of, that perhaps revealed the most. "Egolf fills a role most actors would kill for to the vain, hilarious, regal hilt," Wittman wrote. "She's childish, arrogant and sweet, and I'd see this production again and again just to watch the fluttery, dancerly movement of her hands."
(Pictured above, from left: Adrian Egolf, Rebecca Remaly, Maire Higgins and Jada Suzanne Dixon. Photo by Michael Ensminger.)
No matter how different the four women were in age, race and background, Zeidner wrote in his review, "it is their yearning for liberté, égalité and sororité that unites them."
Translated, that means "liberty, equality and sorority." It's a slight gender variation on the more patriarchal national motto of France and Haiti. The revised version is a phrase commonly invoked today as a rallying cry to get more women participating in local politics. This is no time, Watrous said, to be passive.
"With this play, Lauren Gunderson is saying that the reign of terror may be happening right now," she said. "If we are not careful, we all might be heading to the guillotine."

John Moore was named one of the 12 most influential theater critics in the U.S. by American Theatre Magazine in 2011. He has since taken a groundbreaking position as the Denver Center's Senior Arts Journalist.
About The True West Awards: '30 Days, 30 Bouquets'
The True West Awards, now in their 17th year, began as the Denver Post Ovation Awards in 2001. DCPA Senior Arts Journalist John Moore — along with additional voices from around the state — celebrate the entire local theatre community by recognizing 30 achievements from 2017 over 30 days, without categories or nominations. Moore's daily coverage of the DCPA and the Colorado theatre community can be found at MyDenverCenter.Org



A look back at the history of the True West Awards


The 2017 True West Awards
https://www.denvercenter.org/wp-content/uploads/2018/04/featured-image-5503.jpg
618
800
John Moore
John Moore
2017-12-26 00:18:00
2018-06-14 14:07:59
2017 True West Award: The Women of 'The Revolutionists'