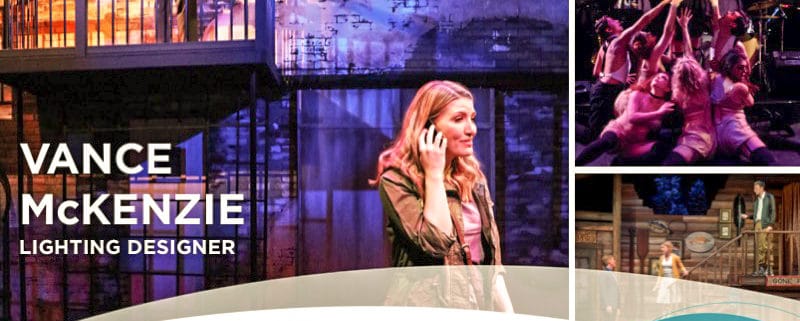 2017 True West Award: Vance McKenzie

2017 TRUE WEST AWARDS

Day 28: Vance McKenzie
Lighting Designer

By John Moore
Senior Arts Journalist

To shed a little light on Lighting Designer Vance McKenzie, we offer this bit of illumination: He's a cool kid with a cool kid. Clearly. He and wife Crystal named their son Grayson — the non-nom de plume of Batman's original sidekick Robin before he became known in the DC universe as Nightwing.
Seriously, how cool would it be to have a nickname like Nightwing? As your birthright?
McKenzie is a busy lighting designer from Carbondale whose friends use other words to describe him as well: Collaborative. Patient. Unafraid. Outside the theatre, they say he's an avid skier who loves board games, role-playing Starship Troopers and playing Xbox. "So yeah, he's a total uber-geek," says Miners Alley Playhouse Managing Director Jonathan Scott-McKean. (And it takes one to know one.)
Such a fine line between tech-nerd and guardian protector of the universe.
McKenzie is definitely a superhero to Seth Caikowski, who directed The Wedding Singer last summer with McKenzie as his "let-there-be-light" guy. McKenzie is the resident lighting director for Performance Now Theatre Company at the Lakewood Cultural Center.
"I would trust him with any type of show," Caikowski said. "From Shakespeare to Sondheim, Vance will always deliver."
He's delivered for a wide variety of Colorado theatre companies including the Arvada Center, Colorado Springs TheatreWorks, Performance Now, Phamaly Theatre Company, Breckenridge Backstage Theatre, Miners Alley Playhouse, Platte Valley Players, the University of Denver, Ballet Nouveau Colorado and Lake Dillon Theatre. Those companies perform in venues ranging from a state-of-the-art, 975-seat concert hall to a tiny, 60-seat studio. And it takes a special someone, Scott-McKean says — one might even say cool — to design for both kinds of spaces effectively.
"Miners Alley Playhouse is a harder place for a lighting designer to work than, say, the Arvada Center because we have fewer instruments and circuits to work with," Scott-McKean said. "Vance came in here wanting to do highly professional work in a venue that, frankly, was not designed for truly high-quality lighting. But instead of settling, he worked with us to move up in the world and get better gear. He's upped the game here."
Here's a brief look at McKenzie's busy and very varied 2017:
• Miners Alley Playhouse's Hir
• Miners Alley Playhouse's Cabaret (photo at right of Adriane Wilson, currently appearing in DCPA's 'First Date' as Adriane Leigh Robinson, by Sarah Roshan.)
• Performance Now's Man of La Mancha
• Performance Now's Hello Dolly
• Performance Now's The Wedding Singer
• Performance Now's The Mervelous Wonderettes
• Lake Dillon Theatre Company's Sister Act
• Lake Dillon Theatre Company's Ghost
• Arvada Center's The Foreigner
• Platte Valley Players' A Funny Thing Happened on the Way to the Forum
Lake Dillon Theatre Company Artistic Director Christopher Alleman said McKenzie's adaptability made him the perfect choice to simultaneously design two very different film adaptations in its swank new $9 million Silverthorne Arts Center: Sister Act in the 165-seat mainstage theatre and Ghost in the 60-seat studio next door.
"Those are two very different spaces," Alleman said. "Sister Act had more bells and whistles, while Ghost was simple storytelling. Although Vance was successful with both shows, I believe his design in the smaller and more challenging theatre was beautiful."
Despite the obstacles McKenzie faced in designing Cabaret for the 120-seat Miners Alley Playhouse in Golden, Director Len Matheo said McKenzie went the extra mile to make sure the lighting "truly evoked the seedy atmosphere of Berlin's pre-World War II Kit Kat Club." McKenzie's lighting ideas even informed the show's scenic design.
"We decided early on we wanted to use spotlights," Matheo said — which, to anyone's memory, had never been used for any MAP show since its 2003 opening. "Working together, we created actual towers to house those spotlights — and those same towers eventually became the guard towers in the concentration-camp scene."
(Photo at right of Lake Dillon Theatre Company's 'Sister Act' by Christopher Alleman.)
McKenzie, a graduate of Roaring Fork High School, the University of Northern Colorado and the University of Nevada-Las Vegas, teaches lighting for the Community College of Denver. His wife, Crystal, is the Assistant Costume Shop
Manager at the Arvada Center and is currently focused on the upcoming Sense and Sensibility, opening Jan. 26. Crystal designed the costumes for Neil Simon's Broadway Bound at MAP last summer and will be designing two more shows there in 2018.
Here's more of what those who worked with McKenzie in 2017 had to say about today's True West Award winner:
Alleman: "We love working with Vance. We like to surround ourselves with talented and knowledgeable people but, most important, we surround ourselves with generous, kind and collaborative people. Vance is all of those. His spirit in the room is palpable. His goal is to make the show stronger — whether it is his lighting vision or not. He listens to directors and incorporates their thoughts — without losing his own vision."
Caikowski: "Vance understands exactly how to work in challenging spaces. And he has the patience to roll with changes in a very small amount of time. Vance has to navigate around the chaos of load-in and produce an entire show in about two days. All while taking notes and being patient in a sea of frustrations. He is truly incredible."

(Photo of the DeLorean from The Wedding Singer courtesy Seth Caikowski. Set photo from the Arvada Center's 'The Foreigner' by M. Gale Photography.)
John Moore was named one of the 12 most influential theater critics in the U.S. by American Theatre Magazine in 2011. He has since taken a groundbreaking position as the Denver Center's Senior Arts Journalist.
About The True West Awards: '30 Days, 30 Bouquets'
The True West Awards, now in their 17th year, began as the Denver Post Ovation Awards in 2001. DCPA Senior Arts Journalist John Moore — along with additional voices from around the state — celebrate the entire local theatre community by recognizing 30 achievements from 2017 over 30 days, without categories or nominations. Moore's daily coverage of the DCPA and the Colorado theatre community can be found at MyDenverCenter.Org



A look back at the history of the True West Awards


The 2017 True West Awards (to date)

https://www.denvercenter.org/wp-content/uploads/2018/04/featured-image-5497.jpg
618
800
John Moore
John Moore
2017-12-28 08:50:00
2018-06-14 14:07:58
2017 True West Award: Vance McKenzie