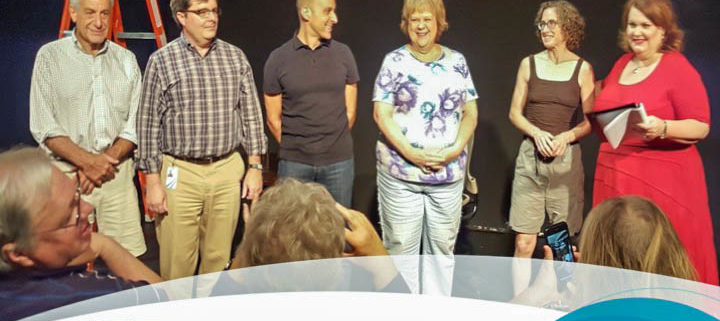 2017 True West Award: White Rabbit Red Rabbit

2017 TRUE WEST AWARDS

Day 13: White Rabbit Red Rabbit
Pipedream Productions, Denver
Star Bar Players, Colorado Springs
By John Moore
Senior Arts Journalist

Imagine walking into a theatre and having no idea what you were about to see.
Now imagine being an actor walking onto a stage and having no idea what you were about to say.
Now imagine being a 29-year-old playwright forbidden to leave your country.
Those three imaginings were all realities that informed the most intriguing theatrical experiment of the Colorado theatre year: White Rabbit Red Rabbit.
That's the name of a very meta, one-actor play written by Nassim Soleimanpour in 2010, when he was jailed in his native Iran for refusing to perform two years of required military service. Because he could not leave the country, Soleimanpour sent White Rabbit Red Rabbit out into the world like a message in a bottle, hoping someone might find it and perform it. Knowing that even if anyone did, he would probably never see it performed himself.
"This was his way of traveling the world, essentially," Dylan Clements-Mosley, Executive Director of Star Bar Players, told the Colorado Springs Independent.
Adding to the intrigue: Soleimanpour included some party rules for every interested theatre company to follow: No director, no set and a different actor for every performance. The script must remain sealed until that night's guinea rabbit, er, actor, enters the stage and begins to read aloud the 40-page script, which includes specific tasks for the narrator and audience to follow.
We'd love to tell you more about the narrative's twists and turns, but the biggest rule of Rabbit Club, as you might expect: No one talks about Rabbit Club.
Now you might naturally assume from the playwright's circumstances that his play must be a damning political screed. It turns out to be more of a thoughtful, allegorical rumination on many different ways we live in closed worlds. Starting with a playwright who is trapped in a cage — and an actor who is, in many ways, trapped on a stage.
Sending the play out in the playwright's stead, said acclaimed Denver actor Emma Messenger, "was like setting a balloon free into the atmosphere — and you have no idea where it will end up."
But it turns out, the balloon ended up on dry land throughout the world. Over the past seven years, more than a thousand actors have performed White Rabbit Red Rabbit, including Whoopi Goldberg, Nathan Lane, Alan Cumming, Martin Short, F. Murray Abraham, Cynthia Nixon, Stephen Rea and John Hurt.
It ended up in Colorado for the first time this year when two very different companies accepted the challenge to stage it: Pipedream Productions, made up of five unafraid youngsters from the University of Denver who took it on as just their company's second production; and the venerable band of Colorado Springs renegades known as the Star Bar Players.
The DU whippersnappers assembled an ambitious roster of 21 actors any local casting director would drool over, including Messenger, Mare Trevathan, Luke Sorge, Adrian Egolf, John Hauser and Meridith C. Grundei (for starters). Clements-Mosely and wife Alysabeth Clements Mosley adopted a diverse, 10-show slate that included a mix of well-known Colorado Springs actors (Hossein Forouzandeh, Lynne Hastings), as well as community leaders such as the outspoken Rev. Dr. Nori Rost of All Souls Unitarian Church.
That Pipedream Associate Artistic Director Ashley Campbell didn't know Messenger didn't stop her from asking the actor who has as many local theatre awards as Streep has Oscars. Messenger's two-word, email response: "How terrifying!" Quickly followed by a terrified "yes."
And it was terrifying, Messenger admits. "Until you actually stepped onstage," she said. "And then, all of a sudden it became this instant connection between you and the audience and this unseen playwright whose words took on a life of their own."
At one point, Messenger said, "It got emotional for me, and it became hard to say the lines. It was like we were puppets. And the playwright was pulling the strings not only across continents, but through time."
The mission of the Pipedream collective, which includes Campbell (pictured right), Alexis Robbins, Tony Ryan, Trevor Fulton and Katie Walker, is to push the boundaries of the stage while bringing attention to notable causes. Both were accomplished with this self-funded undertaking — all proceeds went to three local charities that fight for animal rights, immigrant rights and free speech, respectively. (Just to give you another clue about the play's themes.)
In all, about 500 curiosity-seekers came out to see one of Pipedream's 21 performances — and many of those returned again and again to see how the tone and impact varied according to each narrator's commitment and passion. Campbell said audience members regularly milled around for an hour after each performance talking about the experience with the designated actor and fellow audience members. (Pictured above: Jihad Milhem.)
By the way, the playwright eventually was freed and left Iran in 2013 for London, where he saw White Rabbit Red Rabbit for the first time. And because Soleimanpour has violated the rules of Rabbit Club and given away the ending of his own play in various YouTube videos, it's not all that much of a betrayal here to say that the possibility of suicide is, understandably, one of the narrator's many touchpoints. And that's the part that hit Campbell the hardest.
"There is this point in the play when he lists all these different ways you can commit suicide," Campbell said, "and the last method he lists is 'suicide by life.' That was really meaningful to me because while we are all living, we are also all dying. And here was this writer who could not leave Iran — but he did not let that prevent him from doing what he loved.
"There is something so magical about how you can create something when you are confined, and yet it still can be seen all over the world — even if you are not part of it."
White Rabbit, Red Rabbit was an ambitious theatrical experiment, an audacious social experiment, and a potent reminder of the power of spontaneous theatre.
And as they sang in the Broadway musical Urinetown, you know — don't be the bunny.

John Moore was named one of the 12 most influential theater critics in the U.S by American Theatre Magazine in 2011. He has since taken a groundbreaking position as the Denver Center's Senior Arts Journalist.

Pipedream Productions' Denver lineup:
Adrian Egolf
Meridith C. Grundei
Luke Sorge
Anthony Adu
Emma Messenger
Ilasiea Gray
Ben Hilzer
Andrew Uhlenhopp
Erik Fellenstein
Jihad Milhem
Julie Wolf
John Hauser
Kelly Uhlenhopp
Sean Michael Cummings
Anne Penner
Chloe McLeod
Jonathan Edward Brown
Jeff Jesmer
Cooper Braun
Mare Trevathan
Susannah McLeod
The Star Bar Players' Colorado Springs lineup:
Rev. Nori June Rost
Hossein Forouzandeh
Phil Ginsburg
Lynne Hastings
Stoney Bertz
John Hazlehurst
Bob Morsch
Omid D Harrison
Jodi Papproth
Michael Lee

ABOUT THE TRUE WEST AWARDS: '30 DAYS, 30 BOUQUETS'
The True West Awards, now in their 17th year, began as the Denver Post Ovation Awards in 2001. DCPA Senior Arts Journalist John Moore — along with additional voices from around the state — celebrate the entire local theatre community by recognizing 30 achievements from 2017 over 30 days, without categories or nominations. Moore was named one of the 12 most influential theater critics in the U.S by American Theatre Magazine in 2011. He has since taken a groundbreaking position as the Denver Center's Senior Arts Journalist. His daily coverage of the DCPA and the Colorado theatre community can be found at MyDenverCenter.Org



A look back at the history of the True West Awards

The 2017 True West Awards

https://www.denvercenter.org/wp-content/uploads/2018/04/featured-image-5539.jpg
556
720
John Moore
John Moore
2017-12-13 03:09:00
2017-12-13 03:09:00
2017 True West Award: White Rabbit Red Rabbit