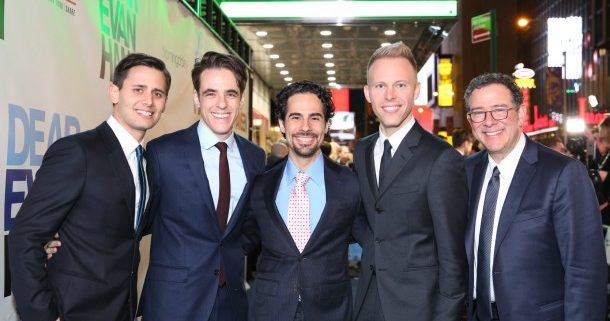 2018-19 Broadway season: 'Dear Evan Hansen,' Betty Buckley as Dolly and more
Play the video above to learn more about the Denver Center's 2018-19 Broadway season announcement.

Highly anticipated 2017 Best Musical opens September 25; legendary Buckley to find empty lap in Denver as Dolly Levi

Hello, Betty!
We now know that the previously announced national tour launch of the 2017 Tony and Grammy Award-winning Best Musical Dear Evan Hansen will launch the Denver Center for the Performing Arts' 2018-19 Broadway season from Sept. 25 through Oct. 13 in the Buell Theatre, it was announced this morning.
Joining Dear Evan Hansen will be the 2017 Tony Award-winning Best Musical Revival Hello, Dolly! starring Broadway legend Betty Buckley and the first national tours of Come From Away, A Bronx Tale, The Play That Goes Wrong, Roald Dahl's Charlie and the Chocolate Factory and Anastasia. Also as part of the season, DCPA Cabaret will produce Xanadu in the Garner Galleria Theatre.

Reservations for the limited number of new subscriptions are available at 10 a.m. starting today (Monday, Feb. 26), at 10 a.m. at denvercenter.org. Renewing subscribers, followed by members of the wait list, will receive priority seating. Some restrictions apply. A public on-sale will be announced at a later date.
The DCPA also announced several non-subscription shows, in order of their Denver arrivals: Sex Tips for Straight Women from a Gay Man, The Improvised Shakespeare Company, Love Never Dies, Irving Berlin's White Christmas, Cirque Eloize – Hotel, Rock of Ages, Bat Out of Hell, Cats, Wicked and ­Fiddler on the Roof.
Dear Evan Hansen creative team members, from left: Benj Pasek, Steven Levenson, Alex Lacamoire, Justin Paul and Michael Greif. Photo by Chad Kraus.





2018-19 BROADWAY SUBSCRIPTION SEASON AT A GLANCE:

Dear Evan Hansen tour launch, Buell Theatre, Sept. 25-Oct. 13, 2018
Xanadu, Garner Galleria Theatre, Nov. 3, 2018-April 28, 2019
Come From Away, Buell Theatre, Nov. 13-25, 2018
A Bronx Tale, Buell Theatre, Jan. 8-20, 2019
The Play That Goes Wrong, Buell Theatre, March 5-17, 2019
Hello, Dolly! Buell Theatre, March 27-April 7, 2019
Roald Dahl's Charlie and the Chocolate Factory, Buell Theatre, July9-28, 2019
Anastasia, Buell Theatre, Aug. 7-18, 2019
ADDITIONAL NON-SUBSCRIPTION OFFERINGS:

Sex Tips for Straight Women from a Gay Man, Garner Galleria Theatre, July 12-Aug. 5, 2018
The Improvised Shakespeare Company, Garner Galleria Theatre, Sept. 13-30, 2018
Love Never Dies, Buell Theatre, Oct. 23-28, 2018
Irving Berlin's White Christmas, Buell Theatre, Dec. 5-15, 2018
Cirque Eloize – Hotel, Buell Theatre, Dec. 19-23, 2018
Rock of Ages, Buell Theatre, Jan. 25-27, 2019
Bat Out of Hell, Buell Theatre, Feb. 6-17, 2019
Cats, Buell Theatre, April 24-28, 2019
Wicked, Buell Theatre, May 8-June 9, 2019
­Fiddler on the Roof, Buell Theatre, June 11-16, 2019
Please be advised that the Denver Center for the Performing Arts – denvercenter.org – is the ONLY authorized ticket provider for these productions in Denver. Ticket buyers who purchase tickets from a ticket broker, or any third party, run the risk of overpaying or potentially buying illegitimate tickets. If they do, they should be aware that the DCPA is unable to reprint or replace lost or stolen tickets and are unable to contact patrons with information regarding time changes or other pertinent updates regarding the performance. Patrons found in violation of the DCPA Ticket Purchase and Sale Terms and Policies may have ALL of their tickets canceled.


ABOUT THE SHOWS:
(In alphabetical order; descriptions provided by DCPA)
ANASTASIA
Aug 7-18, 2019
Buell Theatre
Inspired by the beloved films, the romantic and adventure-filled new musical Anastasia is on a journey to Denver at last. From the Tony Award-winning creators of the Broadway classic Ragtime, this dazzling show transports us from the twilight of the Russian Empire to the euphoria of Paris in the 1920s, as a brave young woman sets out to discover the mystery of her past. Pursued by a ruthless Soviet officer determined to silence her, Anya enlists the aid of a dashing conman and a lovable ex-aristocrat. Together, they embark on an epic adventure to help her find home, love and family. Anastasia features a book by celebrated playwright Terrence McNally, a lush new score by Stephen Flaherty (music) and Lynn Ahrens (lyrics) with direction by Tony Award-winner Darko Tresnjak. (Photo by Matthew Murphy.)
---
BAT OUT OF HELL
Feb 6-17, 2019
Buell Theatre
The romance of rock 'n' roll comes alive on stage in Jim Steinman's "Jaw-Dropping Spectacle" (London Evening Standard) Bat Out of Hell The Musical. The streets are heating up as Strat, the forever young leader of rebellious gang The Lost, falls in love with Raven, the beautiful daughter of the tyrannical ruler of post-apocalyptic Obsidian in a love story that has "changed the way musicals are staged forever" (North West End). Winner of Best Musical at the London Evening Standard Theatre Awards, this "dazzling tale of star crossed lovers" (Toronto Sun) plays The Buell February 2019. Forget everything you know about musicals and get lost in this critically-acclaimed, smash-hit theatrical spectacle. (Photo by Specular.)
---
A BRONX TALE
Jan 8-20, 2019
Buell Theatre
Broadway's hit crowd-pleaser takes you to the stoops of the Bronx in the 1960s — where a young man is caught between the father he loves and the mob boss he'd love to be. Bursting with high-energy dance numbers and original doo-wop tunes from the songwriter of Beauty and the Beast — Alan Menken — A Bronx Tale is an unforgettable story of loyalty and family. Academy Award winner Robert De Niro and Tony® winner Jerry Zaks direct this streetwise musical based on Academy Award nominee Chazz Palminteri's story that The New York Times hails as "A Critics' Pick. The kind of tale that makes you laugh and cry." "A combination of Jersey Boys and West Side Story" (amNewYork).
---
CATS
April 24-28, 2019
Buell Theatre
Cats, the record-breaking musical spectacular by Andrew Lloyd Webber that has captivated audiences in more than 30 countries and 15 languages, is now on tour across North America. Audiences and critics alike are rediscovering this beloved musical with breathtaking music, including one of the most treasured songs in musical theater—"Memory". Winner of seven Tony Awards including Best Musical, Cats tells the story of one magical night when an extraordinary tribe of cats gathers for its annual ball to rejoice and decide which cat will be reborn. The original score by Andrew Lloyd Webber (Phantom, School of Rock, Sunset Boulevard), original scenic and costume design by John Napier (Les Misérables), all-new lighting design by Natasha Katz (Aladdin), all-new sound design by Mick Potter, new choreography by Andy Blankenbuehler (Hamilton) based on the original choreography by Gillian Lynne (Phantom) and direction by Trevor Nunn (Les Misérables) make this production a new Cats for a new generation. (Photo by Matthew Murphy.)
---
ROALD DAHL'S CHARLIE AND THE CHOCOLATE FACTORY
July 9-28, 2019
Buell Theatre
Roald Dahl's amazing tale is now Denver's golden ticket. It's the perfect recipe for a delectable treat: songs from the original film, including "Pure Imagination," "The Candy Man," and "I've Got a Golden Ticket," alongside a toe-tapping and ear-tickling new score from the songwriters of Hairspray. Willy Wonka is opening his marvelous and mysterious chocolate factory…to a lucky few. That includes Charlie Bucket, whose bland life is about to burst with color and confection beyond his wildest dreams. He and four other golden ticket winners will embark on a mesmerizing joyride through a world of pure imagination. Now's your chance to experience the wonders of Wonka like never before – get ready for Oompa-Loompas, incredible inventions, the great glass elevator and more, more, more at this everlasting showstopper. (Photo by Joan Marcus.)
---
CIRQUE ELOIZE – HOTEL
Dec 19-23, 2018
Buell Theatre
For its 25th anniversary, Cirque Éloize once again presents a touching, poetic, one-of-a-kind creation. Hotel is the story of a place and the travelers who come passing through it. A stopover where lives intersect, collide and juxtapose for a brief time to generate tales and memories. Acrobatics, theatre, dance and live music will draw spectators into a colorful, timeless world. Avant-garde stage design, inspired by the elegance of the great hotels, will carry the narrative. All that remains is to enter through the lobby door and get swept away by the grandeur and poetry of Hotel.
---
COME FROM AWAY
Nov 13-25, 2018
Buell Theatre
The true story of the small town that welcomed the world. Broadway's Come From Away has won Best Musical all across North America. The New York Times Critics' Pick takes you into the heart of the remarkable true story of 7,000 stranded passengers and the small town in Newfoundland that welcomed them. Cultures clashed and nerves ran high, but uneasiness turned into trust, music soared into the night, and gratitude grew into enduring friendships. Don't miss this breathtaking new musical written by Tony nominees Irene Sankoff and David Hein and helmed by this year's Tony-winning Best Director, Christopher Ashley. Newsweek cheers, "It takes you to a place you never want to leave." On 9/11, the world stopped. On 9/12, their stories moved us all. (Photo by Matthew Murphy.)
---
DEAR EVAN HANSEN
North American tour launch of the Tony and Grammy-winning Best Musical
Sept. 25-Oct. 13, 2018
Buell Theatre
Winner of Six 2017 Tony Awards Including Best Musical and the 2018 Grammy Award for Best Musical Theater Album. A letter that was never meant to be seen, a lie that was never meant to be told, a life he never dreamed he could have. Evan Hansen is about to get the one thing he's always wanted: a chance to finally fit in. Dear Evan Hansen is the deeply personal and profoundly contemporary musical about life and the way we live it. "One of the most remarkable shows in musical theater history," says The Washington Post. Rolling Stone calls Dear Evan Hansen "a game-changer that hits you like a shot in the heart" and NBC News says the musical is "an inspiring anthem resonating on Broadway and beyond." Dear Evan Hansen features a book by Tony Award winner Steven Levenson, a score by Grammy, Tony and Academy Award winners Benj Pasek and Justin Paul (La La Land, The Greatest Showman) and direction by four-time Tony Award nominee Michael Greif (Rent, Next to Normal). Casting will be announced at a later date.
---
FIDDLER ON THE ROOF
Jun 11-16, 2019
Buell Theatre
Audiences across North America are toasting a new production of Fiddler on the Roof. Rich with musical hits you know and love, including "Tradition," "Sunrise, Sunset," "If I Were A Rich Man," "Matchmaker, Matchmaker" and "To Life (L'Chaim)," Fiddler on the Roof is the heartwarming story of fathers and daughters, husbands and wives, and life, love and laughter. Tony-winning director Bartlett Sher and the team behind South Pacific, The King and I and 2017 Tony-winning Best Play Oslo, bring a fresh and authentic vision to this beloved theatrical masterpiece from Tony winner Joseph Stein and Pulitzer Prize winners Jerry Bock and Sheldon Harnick. Featuring a talented cast, lavish orchestra and stunning movement and dance from Israeli choreographer Hofesh Shechter, based on the original staging by Jerome Robbins, Fiddler on the Roof will introduce a new generation to the uplifting celebration that raises its cup to joy.
---
HELLO, DOLLY!
March 27-April 7, 2019
Buell Theatre
Tony Award-winning Broadway legend Betty Buckley stars in Hello, Dolly! – the universally acclaimed smash that NPR calls "the best show of the year!" Winner of four Tony Awards including Best Musical Revival, director Jerry Zaks' "gorgeous" new production (Vogue) is "making people crazy happy!" (The Washington Post). Breaking box office records week after week and receiving thunderous raves on Broadway, this Hello, Dolly! pays tribute to the original work of legendary director/choreographer Gower Champion – hailed both then and now as one of the greatest stagings in musical theater history. Rolling Stone calls it "a must-see event. A musical comedy dream. If you're lucky enough to score a ticket, you'll be seeing something historic."
---
THE IMPROVISED SHAKESPEARE COMPANY
Sept 13-30, 2018
Garner Galleria Theatre
Based on one audience suggestion (a title for a play that has yet to be written) The Improvised Shakespeare Co. creates a fully improvised Shakespearean masterpiece right before your very eyes! Each of the players has brushed up on his "thee's" and "thou's" to bring you an evening of off-the-cuff comedy using the language and themes of William Shakespeare. Nothing has been planned out, rehearsed, or written. All of the dialogue is said for the first time, the characters are created as you watch, and if every you're wondering where the story is going … so are they. The night could reveal a tragedy, comedy, or history. Each play is completely improvised, so each play is entirely new.
---
LOVE NEVER DIES
Oct 23-28, 2018
Buell Theatre
This story of boundless love, full of passion and drama, follows Andrew Lloyd Webber's The Phantom of the Opera, one of the most successful musicals of all time, which has now been seen by more than 130 million people worldwide and is the winner of more than 50 international awards. The ultimate love story continues in Love Never Dies, Andrew Lloyd Webber's spellbinding sequel to The Phantom of the Opera. Love Never Dies is a dazzling new production, which takes audiences on a thrilling rollercoaster ride of intrigue, obsession and romance. Be seduced by the beautiful, sometimes magical and poetic, sometimes joyful, and occasionally melancholic score. Don't miss this magnificent continuation of one of the world's greatest love stories as it makes its Denver premiere.
---
THE PLAY THAT GOES WRONG
March 5-17, 2019
Buell Theatre
What would happen if Sherlock Holmes and Monty Python had an illegitimate Broadway baby? You'd get The Play That Goes Wrong, Broadway and London's award-winning smash comedy. Called "a gut-busting hit" (The New York Times) and "the funniest play Broadway has ever seen" (Huffington Post), this classic murder mystery is chockfull of mishaps and madcap mania delivering "a riotous explosion of comedy" (Daily Beast). Welcome to opening night of The Murder at Haversham Manor where things are quickly going from bad to utterly disastrous. With an unconscious leading lady, a corpse that can't play dead and actors who trip over everything (including their lines), it's "tons of fun for all ages" (Huffington Post) and "comic gold" (Variety).
---
Jan 25-27, 2019
Buell Theatre
It's 1987 on Hollywood's Sunset Strip when a small-town girl meets a big city rocker. As they fall in love in L.A.'s most famous rock club, Rock of Ages allows fans to rock out once again to their favorite '80s hits. Featuring the music of iconic bands such as Styx, Poison, Twisted Sister and Whitesnake among many others, this 10th Anniversary production features a dynamic new cast revisiting the larger than life characters and exhilarating story that turned Rock of Ages into a global phenomenon.
---
SEX TIPS FOR STRAIGHT WOMEN FROM A GAY MAN
July 12-Aug. 5, 2018
Garner Galleria Theatre
This romantic comedy takes the audience on a hilarious and wild ride where no topic is taboo and the insider 'tips' come straight from the source: a gay man. The play is set at a local university auditorium where the English department holds its monthly meet the author's event. Robyn is the shy and studious moderator of the event and this month's featured author is Dan Anderson of Sex Tips for Straight Women from a Gay Man. With the help of a hunky staged assistant named Stefan, Dan aims to turn this meet the author's event upside down with a highly theatrical, audience interactive sex tip seminar. Will Stefan's muscles be used for more than moving more than heavy scenery? Will the power of Dan's tips prove too titillating for even Robyn to resist? As with everything at this event … that is for Dan to know, and you to find out.

---
IRVING BERLIN'S WHITE CHRISTMAS
Dec. 5-15, 2018
Buell Theatre
Start this holiday season with a timeless tale of joy and good will, fill it with classic Irving Berlin songs, top it off with glorious dancing and lots of snow and head on over to The Buell Theatre to see Irving Berlin's White Christmas. It tells the story of a song-and-dance team putting on a show in a magical Vermont inn and falling for a stunning sister act in the process. Full of dancing, laughter and some of the greatest songs ever written. Give everyone the gift they're dreaming of with this merry and bright holiday musical.
---
WICKED
Sept. 25-Oct. 13
Buell Theatre
Wicked, the Broadway sensation, looks at what happened in the Land of Oz…but from a different angle. Long before Dorothy arrives, there is another young woman, born with emerald-green skin — smart, fiery, misunderstood and possessing an extraordinary talent. When she meets a bubbly blonde who is exceptionally popular, their initial rivalry turns into the unlikeliest of friendships…until the world decides to call one "good," and the other one "wicked." From the first electrifying note to the final breathtaking moment, Wicked — the untold true story of the Witches of Oz—transfixes audiences with its wildly inventive story that USA Today cheers is "a complete triumph. An original musical that will make you laugh, cry and think." (Photo by Joan Marcus.)
---
XANADU
Nov. 3, 2018-April 28, 2019
Garner Galleria Theatre
Xanadu follows the journey of a magical and beautiful Greek muse, Kira, who descends from the heavens of Mount Olympus to Venice Beach, California in 1980 on a quest to inspire a struggling artist, Sonny, to achieve the greatest artistic creation of all time – the first roller disco. (Hey, it's 1980.) But, when Kira falls into forbidden love with the mortal Sonny, her jealous sisters take advantage of the situation, and chaos abounds. This Tony Award-nominated, hilarious, roller skating, musical adventure about following your dreams despite the limitations others set for you, rolls along to the original hit score composed by pop-rock legends, Jeff Lynne and John Farrar. Based on the Universal Pictures cult classic movie of the same title, which starred Olivia Newton-John and Gene Kelly, Xanadu is hilarity on wheels for anyone who has ever wanted to feel inspired. Produced by DCPA Cabaret, local Xanadu auditions will be posted at a later date at denvercenter.org/about-us/careers.
---
ABOUT THE DENVER CENTER FOR THE PERFORMING ARTS
The Denver Center for the Performing Arts is the largest non-profit theatre organization in the nation, presenting Broadway tours and producing theatre, cabaret, musicals, and innovative, multimedia plays. Last season the DCPA engaged with more than 1.1 million visitors, generating a $115 million economic impact in ticket sales alone.
Follow the DCPA on social media @DenverCenter and through the Denver Center for the Performing Arts News Center.
Save the date for the 2018/19 Denver Center for the Performing Arts Theatre Company & Off-Center announcement in early April.
https://www.denvercenter.org/wp-content/uploads/2018/04/featured-image-5830.jpg
487
610
John Moore
John Moore
2018-02-26 04:56:00
2018-06-15 09:17:24
2018-19 Broadway season: 'Dear Evan Hansen,' Betty Buckley as Dolly and more