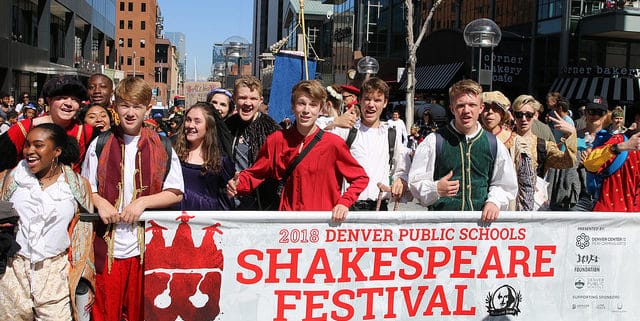 2018 DPS Shakespeare Festival turns into a celebration of teachers
Despite rally at the state Capitol, most teachers wouldn't have missed seeing culmination of students' hard work
To be or not to be … red. That was not even a question on Friday.
The 34th Denver Public Schools Shakespeare Festival took on the feel of recent downtown protest marches in support of women and gun control — only in this case, most of the marchers were dressed in colorful Elizabethan garb as queens, clowns, swordsmen and ghosts. But the prevailing color of the day was assuredly red, in support of thousands of Colorado teachers who were gathering down the road at the state Capitol building for a second day of rallies calling for better pay and more school funding.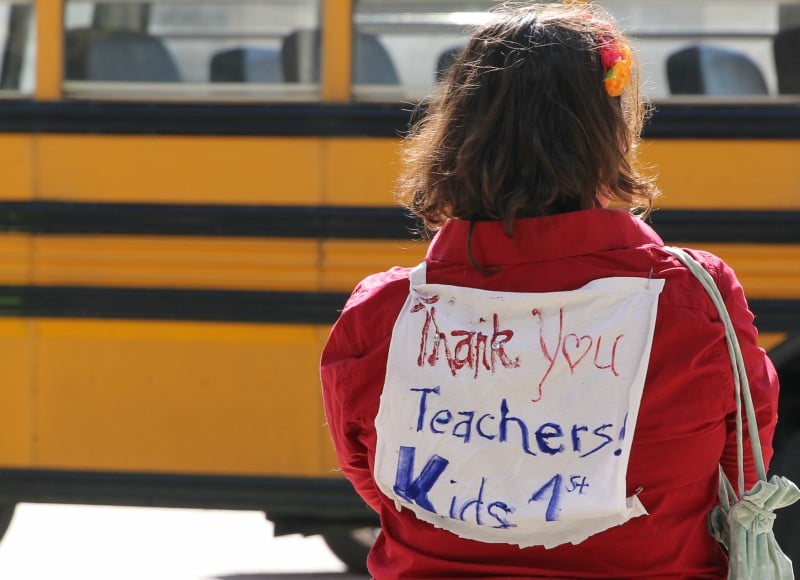 "Red for Ed" and "Kids First" were common chants along the short opening parade from the 16th Street Mall to the Denver Performing Arts Complex, where an estimated 3,400 students from kindergarten through high school performed more than 640 short scenes, dances, soliloquies and sonnets on 18 indoor and outdoor stages. An estimated 5,000 attended.
Protest signs were prevalent, such as, "I would rather be in a funded classroom," and, "Out, damned TABOR. Out, I say." That's both a takeoff on Lady Macbeth's famous "Out, damned spot" speech, and a dig at a state constitutional amendment that severely limits Colorado's spending — and has been blamed for the state's dismal ranking as 47th in educational spending.
For decades, the nation's largest annual student Shakespeare Festival has been a celebration of both students and the man considered to be the greatest writer in the English language. But on Friday, the festival turned into a joyous and organic exaltation of teachers.
"Today is absolutely a celebration of teachers," said Denver Center President and CEO Janice Sinden. "Thousands of teachers across Denver Public Schools give every minute of every day to their students, and this is an opportunity celebrate their contributions to our educational system."
The call for Colorado teachers to rally at the state capitol on Friday came down only last week. But DPS have been preparing their students for the hard work of Friday's fun back since the semester began in January. Missing it, said Highline Academy teacher Rachel VanScoy, "would have been horrible," she said.
"What's happening at the state Capitol is important, but what is happening here is important, too. We have a lot of good people representing us at the rally, but I wanted to be here to see what my kids have worked so hard to accomplish."
Studies have shown that studying and performing Shakespeare improves students' reading skills, vocabulary, critical thinking, public speaking, confidence, self-esteem and even empathy. VanScoy said her students got even more out of it on Friday. "Well, they got a little bit of stage fright," she said with a laugh. "But they also got a sense of accomplishment. … And they get turkey legs and cotton candy."
All in all, a pretty great day.
(Story continues below the photo.)
Travis Ostrom, a fourth-grade reading and writing teacher at Denver Green School, said Friday was easily the highlight of his school year. "The sense of pride and love that I have for my students has never shined stronger than when I got to see them perform," he said. "I support everything that is going on down at the Capitol, and I will join them later today. But there was no way I was going to miss this for anything. This is my special time with my students."
DPS officials said only two schools pulled out of the Shakespeare Festival because of Friday's teacher walkout.
Denver School of the Arts theatre teacher Shawn Hann said she thought about going to the Capitol on Friday "for a split second," she said. "But we have 177 students in this program, and so there was no question about it. I had to be here. This is about being the biggest advocate we can be for theatre in Denver Public Schools."
The DPS Shakespeare Festival, founded in 1984 by the legendary teacher Joe Craft, is presented by the Denver Public Schools in partnership with the city of Denver, the Denver Public Schools Foundation and the Denver Center for the Performing Arts.
Sinden delivered opening remarks wearing a gown that was used by the actor playing Juliet's attendant in the DCPA Theatre Company's 2013 production of Romeo and Juliet.
"My favorite part of the day was walking across the street this morning and a swarm of children ran to greet me asking me who I was dressed as," Sinden said. "Another highlight was seeing a little group of boys wearing mafia outfits as Shakespeare's Kingsmen. "They all have their own interpretation of what Shakespeare is."
Priya Burkett, Chair-Elect of the DPS Foundation Board of Directors, said "the Foundation believes our city is strengthened by each student who graduates and leads a successful life, and we see this Shakespeare Festival as a key component for learning about literature, culture and creative expression."
Gabriella Cavallero and Leslie O'Carroll, both longtime actors for the DCPA Theatre Company, each have daughters who performed on Friday. Cavallero's daughter, Ariana Lavezza, is a first-timer because only fifth graders at Park Hill Elementary School participate in the festival. Lavezza said she loved the chance to perform because it is a chance for her to be like her mom, who won a 2016 True West Award and most recently appeared in the Aurora Fox's staging of Real Women Have Curves.
O'Carroll, best known for playing Mrs. Fezziwig in the Denver Center's annual production of A Christmas Carol, has watched her daughter Olivia Wilson grow — and grow up — through her six years at the DPS festival. On Friday, she could hardly believe how grown up her daughter has become as she engaged in a rather intense sparring match playing Anne opposite the wicked Richard III.
"When I was little, going to the DPS Festival was all about wearing costumes and being around the big kids," said Wilson, a ninth-grader at Denver School of the Arts. "As I have gotten older, I've learned to appreciate Shakespeare's language, and I have learned so much about acting because Shakespeare basically tells you exactly how to play the scene."
Ostrom, who was bringing his Denver Green School students to the DPS festival for the first time, said the semester-long Shakespeare project gave them a real sense of purpose. "That's the best type of education," he said, "when your students are completely engaged, and fully invested in an assignment."
Each year, DPS students submit essays for the privilege to play William Shakespeare and Queen Elizabeth I in the welcoming ceremonies, and ride at the head of the parade. This year's honorees were Daniel McCorquodale, a senior at Denver Center for International Studies, and Denver School of the Arts senior Emily Embleton.
"It's such an honor for me because this is the biggest student-run Shakespeare festival in the country, and theatre arts are so important," Embleton said. "I am so honored to help facilitate the opportunity for all of these young people to be here doing theatre. It's amazing."
McCorquodale was treated like a rock star wherever he went, often stopping to talk with groups of young student performers.
"This is just tremendous," he said. "I am so glad to be part of something as wonderful as this, in a city as wonderful as Denver is, and to just be having a good time with all these lovely theatre kids."
Friday's program included a performance by DCPA Education's "Shakespeare in the Parking Lot" ensemble — a group of six professional teaching artists who presented a shortened, 45-minute version of A Midsummer Night's Dream. This semester, the group has traveled to 52 schools and logged 132 performances of Midsummer and Romeo and Juliet, followed by classroom workshops that connect the themes of the plays with  issues relevant to contemporary students. The group will perform at 1 and 3 p.m. today (Saturday, April 28) at 1610 Little Raven St., just north of 15th Street. The public is welcome.
"When schools might not have the opportunity to come downtown and see a matinee, we are so excited to bring Shakespeare to them," said DCPA Director of Education Allison Watrous. "We also think it's just so important for Shakespeare to be a part of the core curriculum in schools across Denver, and so to have 'Shakespeare in the Parking Lot' perform as part of this festival just connects with that mission. And when the kids see our teaching artists performing at the highest level, it shows them that Shakespeare is still very relevant, that it is accessible and that his stories are just incredible.\
"And to be able to watch these professional actors perform Shakespeare, that gives them something to shoot for themselves."
Friday was a busy day at the Denver Performing Arts Complex. Three young members of the DCPA Theatre Company's production of The Who's Tommy attend Denver Public School and performed in the fest before Friday evening's opening of The Who's rock opera: Charlie Korman (pictured as right Romeo), Olivia Sullivent and Tristan C. Regini. The national touring production of Disney's Aladdin also performed a matinee that attracted nearly 3,000 to the Buell Theatre during the festival.
John Moore was named one of the 12 most influential theater critics in the U.S. by American Theatre Magazine in 2011. He has since taken a groundbreaking position as the Denver Center's Senior Arts Journalist.

Photo gallery: Our best images from the 2018 DPS Shakespeare Festival. To see more, click on the photo above to be taken to our full, downloadable Flickr gallery. Photos by John Moore for the DCPA NewsCenter.
https://www.denvercenter.org/wp-content/uploads/2018/04/featured-image-6847.jpg
427
640
John Moore
John Moore
2018-04-28 01:47:00
2019-01-03 21:28:14
2018 DPS Shakespeare Festival turns into a celebration of teachers