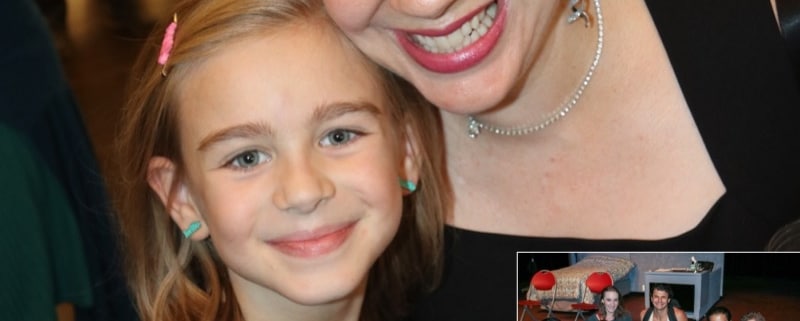 2018 True West Award: Angela Astle
2018 TRUE WEST AWARDS, Day 18

This champion of gender parity 'draws people to her by her sheer force of boundless positivity and grace and enthusiasm'
The numbers have been so bleak for so long when it comes to gender disparity in the American theatre, better to focus instead on those women who are stepping up and fighting back, however incrementally, against a deck that's been stacked for a century.
You might think live theatre, where 58 percent of all audiences are women, would be the exception to all of the world's other good-old-boys' clubs. But while the numbers are inching up in the right direction, with 28.8 percent of the plays presented in 2018 written by women … that's still pretty awful. Just not quite as awful as 2015, when the number, according to the Statera Foundation, was only 20.3.
One reason the picture is improving a bit is because of efforts by large performing-arts organizations like the Denver Center, which has a $1.5 million Women's Voices Fund that since 2005 has funded the production of 30 plays by women (including 13 world premieres), commissioned 19 female playwrights and hired 23 female directors.
Then there are those independent women who make it their life's mission to produce and present work by women writers. In Colorado, that list is regrettably short: 2015 True West Award winner Susan Lyles, who founded the And Toto Too Theatre Company in 2005; and Angela Astle, founder of Athena Project Arts, a grassroots organization with a budget as big as a sandbox and a vision as large as a national park. In that mix as well belongs Boulder's K. Woodzick, who as founder of the Non-Binary Monologues Project is committed to amplifying the voices of female, queer and transgender theatre artists.
Astle is committed to uplifting, amplifying and advancing the women's voice in the American theatre, starting here in Colorado. Athena Project Arts is dedicated to empowering women and girls to embrace their place as leaders in all arts disciplines, while actively working for equality of opportunity, recognition and pay based on artistic merit alone. Athena's focus is not limited to theatre. It also incorporates dance, visual arts, music, comedy, writing and fashion.
"Angela has such a profound love for the arts," said Denver playwright Rebecca Gorman O'Neill. "I don't know how she does everything she does, but she is always laser-focused on what Athena is going to do next. She draws people to her by her sheer force of boundless positivity and grace and enthusiasm. She is providing women with an artistic home where they know they are going to be welcomed and encouraged and treated with respect."
The centerpiece of Athena Project Arts' theatre component is a new-play development project Astle calls "Plays in Progress": Each year, Athena chooses six new plays by women playwrights (three by local writers and three from women elsewhere in the U.S.). The plays are then developed with directors, dramaturgs and actors, and presented as workshop performances. One play is then selected to be fully staged. Whenever possible, the entire creative team is made up of female designers.
This year, the chosen play was Sarah Bierstock's searing drama called Honor Killing, which was selected from among 250 scripts and quickly emerged, along with Local Theater's Wisdom From Everything, as perhaps the two most topical plays of the Colorado theatre year.
Honor Killing tells the suspenseful tale of a New York Times reporter named Allisyn Davis having to remotely investigate the "honor killing" of a young Pakistani woman by her own family while the reporter is exiled to Dubai. The play explores topical issues of cultural bias, new reporting technologies and the limits of ethical reporting in the media today.
"There is an American ideology that we are taught as children that Americans are supposed to be saviors," Bierstock told reporter Kenneth Jones. "Our media tells us that everyone wants to be us, that countries want and solicit our help, when in reality this is absolutely not the case in many places and cultures in the world. What we are taught is not accurate."
Astle is a Colorado native who graduated from Rangeview High School and earned a degree in Business and Theatre from the University of Colorado Denver. After several years as a director in New York, she came home to Denver in 2010 to helm plays including The Laramie Project (Evergreen Players) and Cat on a Hot Tin Roof (Edge Theatre). Then came Athena Project Arts.
Athena is a small but mighty team of about two dozen volunteer artists, educators, community leaders and board members.
Since 2012, Athena has provided at least 25 hours of development to more than 30 scripts by women writers and fully staged six world-premiere plays. One of them was The Ghosts of Us by O'Neill, who is now an Athena board member.
So far, Astle is doing all of this on a budget so small Athena does not yet qualify for SCFD funding or inclusion in the annual statewide Colorado Gives Day. Instead, Athena is running mostly on grants, individual donations and, as O'Neill describes it, "fundraisers and fundraisers and more fundraisers."
Doing what Astle is doing will not, by itself, move the national needle on gender disparity. But, O'Neill says, leading by example is better than doing nothing.
"Angela will often say that instead of just pointing at the problem of gender inequity, the women of Athena are actually doing something about it," O'Neill said. "They are showing the world that supporting and embracing and empowering female playwrights is a model that works – and it is a model for other cities to follow."
About The True West Awards: '30 Days, 30 Bouquets'
The True West Awards, now in their 18th year, began as the Denver Post Ovation Awards in 2001. DCPA Senior Arts Journalist John Moore — along with additional voices from around the state — celebrate the entire local theatre community by recognizing 30 achievements from 2018 over 30 days, without categories or nominations. Moore was named one of the 12 most influential theater critics in the U.S. by American Theatre magazine in 2011. His daily coverage of the DCPA and the Colorado theatre community can be found at MyDenverCenter.Org
https://www.denvercenter.org/wp-content/uploads/2018/12/Day-17-Angela-Astle.jpg
1035
800
John Moore
John Moore
2018-12-16 13:59:19
2018-12-18 08:22:45
2018 True West Award: Angela Astle