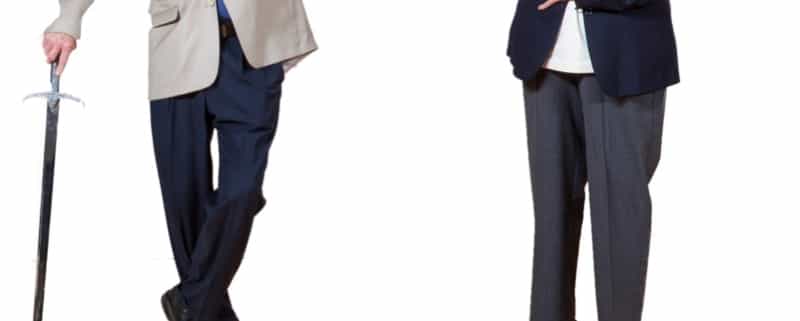 2018 True West Award: Diana and Mike Kinsey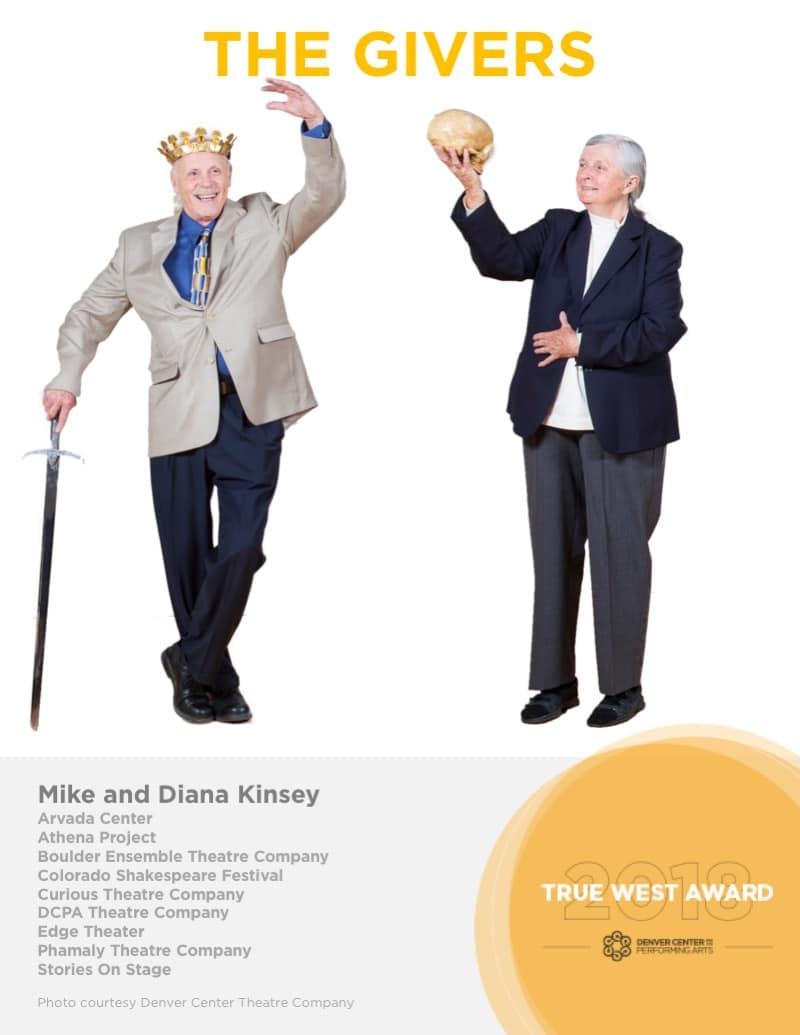 2018 TRUE WEST AWARDS, Day 16

'They give because theatre has the power to change lives, open hearts and minds to new ideas – and remind us of our humanity'
Very little is known about Diana and Mike Kinsey – and that's just the way they like it. But you need to know that the Colorado theatre landscape would not be what it is today without ongoing financial support from the community's unassuming guardian angels.
"The Kinseys don't seek recognition for what they do, which embodies the true meaning of generosity," said Teresa YoKell, the Arvada Center's Vice President of Advancement. They are, Denver Center Chairman Martin Semple puts it simply, "two of the most generous lovers and supporters of theatre in Colorado."
The Kinseys are the kind of people who help make theatre happen, and they have been helping theatres across Colorado large and small for decades. In 2018, their financial support has helped the Arvada Center, The Athena Project, Boulder Ensemble Theatre Company, Colorado Shakespeare Festival, Curious Theatre Company, DCPA Theatre Company, Edge Theater, Phamaly Theatre Company and Stories on Stage. (That we know of.)
In 2018, the Kinseys underwrote the Arvada Center's Sense & Sensibility and "adopted" actor Geoffrey Kent. They sponsored entire seasons by the Curious, Boulder Ensemble and Edge theatre companies.
At the Denver Center, the Kinseys have been producing partners for Theatre Company productions of The Secret Garden, Appoggiatura, The Nest and many more. They are long-time members of the Directors Society, Encore Society and lifetime members in the Women's Voices Fund. Kinsey attended the very first Denver Center Theatre Company performance of The Caucasian Chalk Circle on Dec. 31, 1979. Which means, "They have been with us since Day One," Semple said.
"Within the world of Denver theatre philanthropy, it's nearly impossible to think of anyone who has been more generous, committed and loyal than Diana and Mike Kinsey," said Chip Walton, co-founder and Producing Artistic Director of Curious Theatre. "All of us in the theatre community owe so very much to them for their sustained support of our work, and they should remain for all of us a shining example of what we should aspire to do with whatever we are fortunate enough to be able to give to others in this world."
The Kinseys are representative of a wide swath of local donors who aren't corporations or foundations – just people from our own neighborhoods who give what they can as often as they can to as many local theatres companies as they can. People like Isabelle Clark, Jeremy Shamos, Glenn Tiedt, Leslie Crispelle, June Travis, Carol Wolf, Jean Sutherland, Richard and Suzanne Zernow, and many more. "People like Diana, Mike and Isabelle are amazing lovers of theatre," Semple said. "They don't give a damn where it is being presented. If it's live theatre, they are supportive of it."
In the coming year, the Kinseys will be producing partners of the DCPA's upcoming production of Anna Karenina.  At the Arvada Center, they will be underwriting The Moors and Sin Street Social Club.
"The Kinseys have significantly helped the Arvada Center's new repertory-plays program thrive," said YoKell. "Lesser-known or new works such as The Moors or Sin Street Social Club would not be possible without the Kinseys' philanthropic support."
Diana Kinsey once told YoKell she gives because theatre has the power to change lives, open hearts and minds to new ideas – and remind us of our humanity. "When I think of the Kinseys, this Winston Churchill quote comes to mind: 'We make a living by what we get, and we make a life by what we give,' " YoKell said. "The Kinseys give theatre to this community, and we are grateful for their support of the Arvada Center and other theatres in the region."
They said it:
Stephen Weitz, Boulder Ensemble Theatre Company: "Diana and Mike are part of the lifeblood of Colorado theatre. Their financial generosity enables numerous companies to create amazing work. Additionally, they are true theatre fanatics. They see countless shows every year and are personally invested in the success of our local artists. I always love seeing them at our shows because I can count on a conversation about our growing son and the state of the Colorado Rockies baseball team. They are truly beautiful people, and we are lucky to have them as part of our community."
Rick Yaconis, The Edge Theater Company: "I was very excited when Diana and Mike joined as season subscribers because they have really strong opinions of what is good theater. While I knew they were also financial supporters, I never asked them to contribute to The Edge because I was just honored that they had started to regularly attend our shows. In 2016, they pulled me aside at a show and said, 'We've been coming here for about a year now, and we want to contribute to the success of The Edge. You're doing good work. Keep it up, and put this toward your production of A View from the Bridge.' I viewed that as a true validation, and it was one of the most memorable things anyone has ever said to me. Fortunately, they liked our production because they then sponsored our next season."
Anthony Powell, Stories on Stage: "Diana and Mike are two of the kindest, funniest and most down-to-earth people I know. Their incredible generosity to us at Stories on Stage and their long-term support of so many other theater companies in Denver and Boulder continually take my breath away. Where would we all be without Diana and Mike's wonderful friendship and moral support?"
Angela Astle, The Athena Project: "The economic impact of the arts with Diana and Mike Kinsey alone is staggering."
Sasha Hutchings, Phamaly Theatre Company: "We are extremely grateful to the Kinseys for their ongoing support, including their support of Phamaly's 'Sunny Tomorrow' Campaign in 2017."
About The True West Awards: '30 Days, 30 Bouquets'
The True West Awards, now in their 18th year, began as the Denver Post Ovation Awards in 2001. DCPA Senior Arts Journalist John Moore — along with additional voices from around the state — celebrate the entire local theatre community by recognizing 30 achievements from 2018 over 30 days, without categories or nominations. Moore was named one of the 12 most influential theater critics in the U.S. by American Theatre magazine in 2011. His daily coverage of the DCPA and the Colorado theatre community can be found at MyDenverCenter.Org
https://www.denvercenter.org/wp-content/uploads/2018/12/Slide1-3.jpg
1035
800
John Moore
John Moore
2018-12-13 17:56:06
2018-12-15 18:20:47
2018 True West Award: Diana and Mike Kinsey