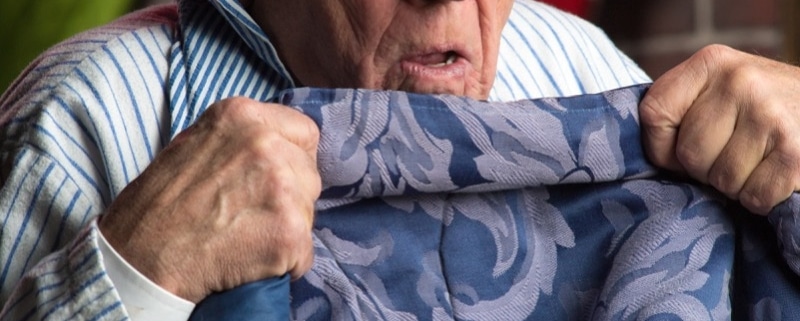 2018 True West Award: Jim Hunt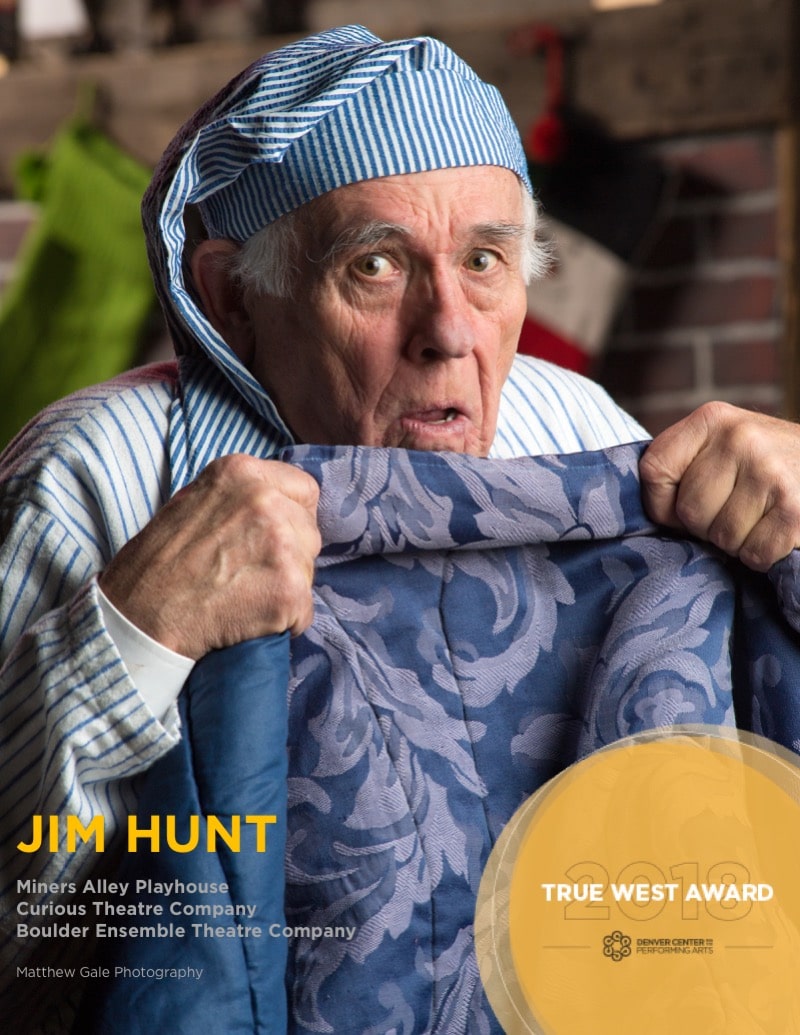 2018 TRUE WEST AWARDS, Day 21

Beloved actor will spend his 75th birthday playing his part on this sacred day of spiritual renewal
Today is the winter solstice, and it also happens to be Colorado Theatre Guild Lifetime Achievement winner Jim Hunt's 75th birthday. Which is kind of perfect. On the shortest night of the year, when the Earth begins its slow and inevitable shift toward spring, one of Colorado's most beloved actors will be doing the literary lord's work (that's Dickens!) on a stage in Golden, opening hardened hearts to the true meaning of Christmas.
Hunt is essentially playing himself playing Scrooge in Miners Alley Playhouse's unique adaptation of A Christmas Carol – a humble and heartfelt approach to the classic story set in a cozy living room where six young and old family friends six endeavor to act out the classic story using nothing more than simple props, their physicality and the power of imagination. Josh Hartwell's script is a perfect fit for the intimate 90-seat boutique theatre in Golden.
Playing Scrooge does not exactly put an actor in exclusive company. I can think of eight actors who are humbuggering their way through the Christmas season on Colorado stages this month alone. And this is the 15th different staging of A Christmas Carol Hunt has participated in over his 50-year stage career. (He says so during the play.) But there is something special about seeing Hunt in this particular iteration of the story, where he is able to show so much of his true personality – which makes it seem all the more real when he finally gets to frolic like a boy after Scrooge's midnight conversion. When Scrooge finally gets to delight, however briefly, in the joy of the season with family and children, Hunt doesn't seem to be acting at all.
It's the right role for the right actor at the right time of the year and at the right time of his life.
"What makes Jim the perfect Scrooge is that he is already the embodiment of the man who is redeemed at the end of A Christmas Carol," said Director Len Matheo.  "At Scrooge's final redemption, his heart bursts upon the stage in loving kindness, and Jim Hunt is the epitome of that true Christmas spirit."
The only hard part, Matheo said, "was getting him to be mean in the first place."
You might sometimes think Hunt is a British poet with his mastery of elocution, but he's Colorado to the core. He grew up in Fort Morgan, graduated from Westminster High School and earned his undergrad and master's degrees from the University of Northern Colorado. He performed with Nick Nolte for Greeley's Little Theatre of the Rockies in 1964 and was a part of the Arvada Center's first acting company in the mid-1970s. He has worked with just about every theatre company in Colorado, a list that of late includes the Creede Repertory Theatre, Benchmark Theatre and Buntport Theater. He remains today a core company member of both Curious Theatre Company and Boulder Ensemble Theatre Company.
When Hunt won the Colorado Theatre Guild's Lifetime Achievement Award five years ago at age 70, he wondered if the roles might start to dry up. Instead he has continued to work at a breakneck pace, most recently making his annual appearance as H.G. Wells in Victorian Horrors for the Molly Brown House Museum. He's now preparing to play his dream role: As the Stage Manager in Miners Alley Playhouse's Our Town, opening March 22. That's a story that has special significance not only to Hunt but to Rick Bernstein, who founded the Miners Alley Playhouse in 2003 and is now the Development Director at Studio Tenn in Franklin, Tenn.
On the occasion of Hunt's lifetime award, Westword's Juliet Wittman rightly called Hunt "one of the most respected, well-reviewed and best-loved actors in the Denver area." She wasn't exaggerating, especially on that last part. Bernstein's story is just one of many that support that claim. It is a story, Bernstein says, "that shows the heart and soul of Jim Hunt."
In the Spotlife: Jim Hunt starred as Zeus for Buntport Theater in 2017
Hunt was Bernstein's teacher at Alameda High School in the footloose 1970s. And Hunt could see that young Bernstein was going down a dangerous path his senior year. Hunt intervened by suggesting Bernstein audition for Alameda's production of, yes, Our Town. "And I told him to (bleep) off," Bernstein says with a laugh. But Bernstein eventually took the lifeline, and Hunt cast him as the Stage Manager in what would be his first high-school play. The opportunity changed the course of Bernstein's life. He was soon given a theatre scholarship at Colorado Women's College and in 1989 he founded the Morrison Theatre Company, the precursor to Miners Alley Playhouse.
"I was lost," Bernstein said. "I was searching for an identity, and Jim gave me that and more. He gave me a direction and a path and he gave me love and support."
The occasion of Hunt's 75th birthday on the night of seasonal and spiritual renewal, seems like the perfect time for the local thetare community to say thanks.
In his own words: "We live in an amazing town where there is so much vibrant theatre that I almost can't stand it. And I know what I'm talking about. I see a lot of stuff." – Jim Hunt.
About The True West Awards: '30 Days, 30 Bouquets'
The True West Awards, now in their 18th year, began as the Denver Post Ovation Awards in 2001. DCPA Senior Arts Journalist John Moore — along with additional voices from around the state — celebrate the entire local theatre community by recognizing 30 achievements from 2018 over 30 days, without categories or nominations. Moore was named one of the 12 most influential theater critics in the U.S. by American Theatre magazine in 2011. His daily coverage of the DCPA and the Colorado theatre community can be found at MyDenverCenter.Org
https://www.denvercenter.org/wp-content/uploads/2018/12/Slide1-6.jpg
1035
800
John Moore
John Moore
2018-12-19 16:49:02
2018-12-21 16:03:05
2018 True West Award: Jim Hunt