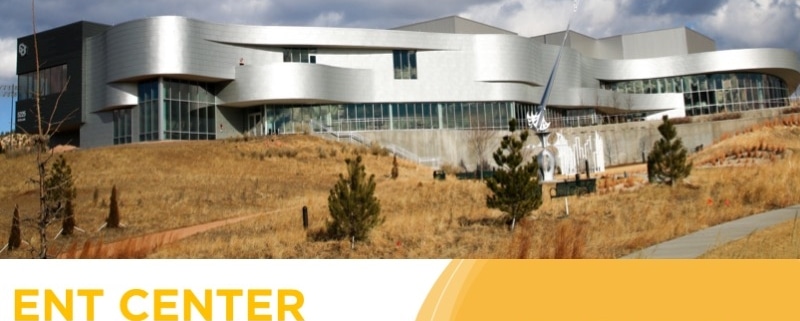 2018 True West Award: Opening of the Ent Center for the Arts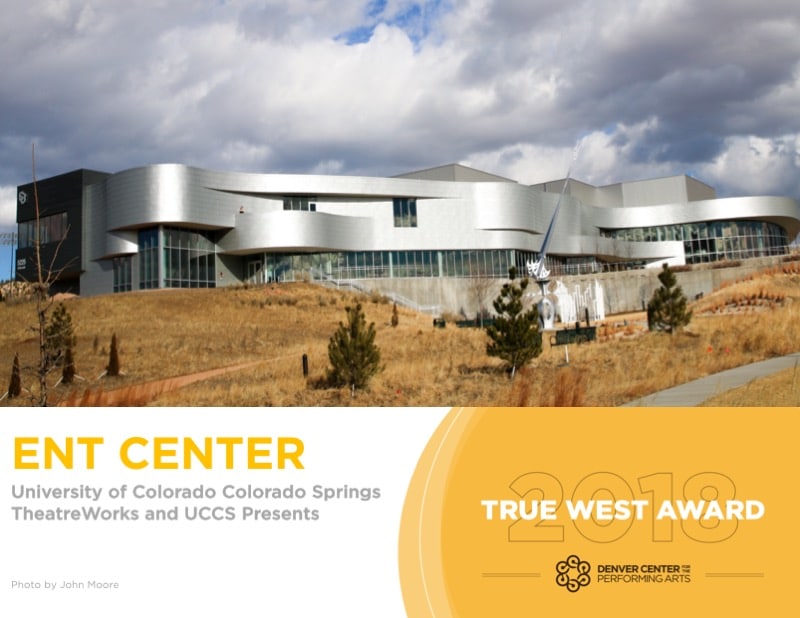 2018 TRUE WEST AWARDS, Day 8

Stunning new $70 million addition to Colorado Springs landscape transforms city
If you build it: The February opening of the $70 million Ent Center for the Arts came with many promises for the people of Colorado Springs. The new 92,000 square-foot home to music, dance, theatre, film, art and academia – a massive undertaking four years in the building and 40 years in the making – was expected to no less than forever transform the cultural life of Colorado Springs and the surrounding Pikes Peak region. And if you ask Drew Martorella, Executive Director of UCCS Presents, which manages the facility: Mission accomplished. "We staked our claim to being a nexus for the arts in Colorado Springs, and we have delivered in every way," said Martorella. "We couldn't be more happy. Or more proud."
The building: The attention-demanding Ent Center houses three theatres, an art gallery, a recital hall, a sculpture garden and the University of Colorado-Colorado Springs' music, theatre and dance programs. It is built on a slope of grassland on the campus along I-25 at Nevada Avenue and also serves as a new home for nonprofit arts groups, world-class artists and the everyday people of Colorado Springs. It is the new gateway to the college and, in many ways, to the city itself. But what people immediately notice is its intentionally dramatic, silvery metallic skin. "The client was not shy about wanting the building to stand out," said architect Chris Wineman of Semple Brown Design. "They told us, 'We want people to know where to find it.' " Job done.
The set-up: The major presenter at the Ent Center is UCCS Presents, whose programming includes TheatreWorks (the professional theatre company that operates from within the auspices of the college's theatre department), the Gallery of Contemporary Art (GOCA), and a new dance and music series. The Ent Center is now home to more than a dozen local arts groups including The Colorado Springs Philharmonic, Colorado Springs Conservatory, Colorado Springs Children's Chorale, Opera Theater of the Rockies and many more.
The pudding: By year's end, the Ent Center will have welcomed nearly 200,000 visitors. But Martorella said the most tangible evidence that its promises to Colorado Springs theatregoers has been kept is two-fold: The hiring of Caitlin Lowans to succeed TheatreWorks founder Murray Ross as only the second Artistic Director in the 40-year history of the company, and TheatreWorks' recent production of A Raisin in the Sun, which featured the first female African-American director in company history, Nambi E. Kelley. "Caitlin is a truly special hire for this company and this community," Martorella said. "I truly believe she represents not only the future of TheatreWorks but the future of the American Theatre." And of A Raisin in the Sun, Martorella said: "That was just a very special production in terms of quality, and in terms of its impact on the audience. Everyone in it was astonishingly good." Kelley, for her part, told the Colorado Springs Gazette: "(Playwright) Lorraine Hansberry was an activist. A lot of our cast members have taken up that pledge, planting their seed of what it means to be a person of color. It is activism. It is a part of the Black Lives Matter movement, defining what black lives are and how we matter in the crevices of America and not just the urban areas."
Bottom line: "This is not just a game-changer. It's the beginning of a whole new game." Kevin Landis, Associate Professor of Theatre at UCCS.
About The True West Awards: '30 Days, 30 Bouquets'
The True West Awards, now in their 18th year, began as the Denver Post Ovation Awards in 2001. DCPA Senior Arts Journalist John Moore — along with additional voices from around the state — celebrate the entire local theatre community by recognizing 30 achievements from 2018 over 30 days, without categories or nominations. Moore was named one of the 12 most influential theater critics in the U.S. by American Theatre magazine in 2011. His daily coverage of the DCPA and the Colorado theatre community can be found at MyDenverCenter.Org

A Raisin in the Sun: Cast list
Caren Blackmore: Ruth Younger
Rashid Kamara: Travis Younger
Calvin Thompson: Walter Lee Younger
Al-nisa Petty: Beneatha Younger
Lynne Hastings: Lena Younger
Kai A. Ealy: Joseph Asagai
Christopher W. Jones: George Murchison/Moving Man
Rakeem Lawrence: Bobo
Tom Paradise: Karl Lindner
Artistic Team
Nambi E. Kelly: Director
Lawrence E. Moten III: Scenic Designer
Kathy A. Perkins: Lighting Designer
Naila Aladdin Sanders: Costume Designer
David Samba: Sound Designer
Steve Baglio: Properties Manager
Dallo Goudiaby: Choreographer
Kristen Wickersheim: Stage Manager
Kala Roquemore: Assistant Stage Manager
Gabriella Cavallero: Dialect Coach
Emerson Olson: Dramaturg
Pheobe Boynton: Hair and Makeup
Rakeem Lawrence: Fight Choreographer and Fight Captain
Kai A. Ealy: Intimacy Captain
https://www.denvercenter.org/wp-content/uploads/2018/12/Day-8-Ent-Center.jpg
618
800
John Moore
John Moore
2018-12-06 11:29:57
2018-12-08 09:12:15
2018 True West Award: Opening of the Ent Center for the Arts