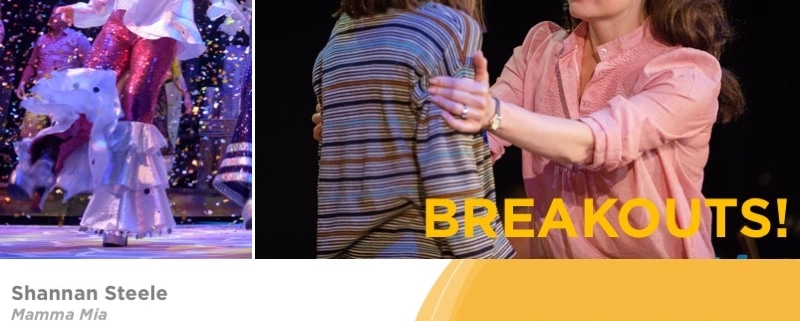 2018 True West Award: Shannan Steele and Heather Lacy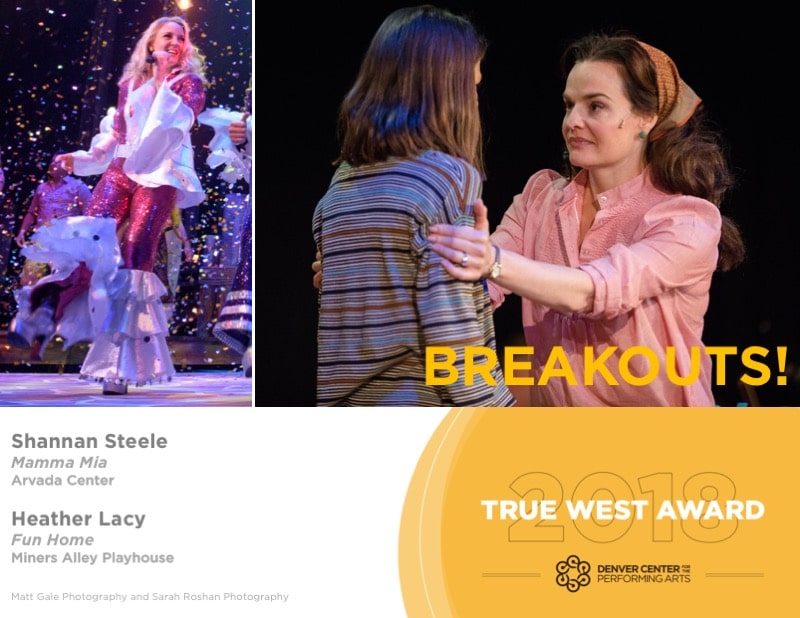 2018 TRUE WEST AWARDS, Day 14

Two respected veteran local actors seized the opportunity to shine in 2018 – and owned it
There are two kinds of breakouts: Someone you've never seen before introduces and establishes herself at the same time in her first major role. Or, someone you've seen reliably deliver (mostly) supporting role after supporting role over the years finally gets the chance to take center stage – and she completely owns the opportunity.
That was certainly the case with Shannan Steele, whose casting as the matriarch Donna in Mamma Mia! (think Meryl Streep in the film) was her 25th role at the Arvada Center – but, remarkably, her first true lead. Steele seemed to single-handedly will the role of a mother who's unsure who fathered her daughter into something far more substantive than the frothy script called for. After all, the story in Mamma Mia! exists simply to get the audience from one fun ABBA song to another. But Steele made the transitions meaningful.
"If there's a reason to see Mamma Mia!, it's Steele's performance as Donna," wrote Juliet Wittman of Westword. "She isn't an artificial musical theater-style actor. She's warm-blooded, alive and spontaneous. And she has that gorgeous voice, rich and full."
Added Steven J. Burge, who co-hosted the annual Miscast benefit for the Denver Actors Fund with Steele: "Shannan is a great singer and dancer, but what struck me the most in Mamma Mia! was her acting. Her storytelling. She took a role that was written to be sweet and light she created a real person with real depth, real flaws and a real heart. Everyone in the audience was rooting for Donna because Shannan Steele was playing Donna. And Shannan Steele is a bona fide star."
Heather Lacy had a pivotal role in Miners Alley Playhouse's groundbreaking production of Fun Home, which won the Henry Award for Best Musical. Fun Home was Broadway's first musical to feature a lesbian protagonist. Lacy played Helen, an embattled, delusional, day-drinking wife to a man she knows has been closeted from the earliest days of their relationship. It's not the biggest role, but Lacy brought the whole thing home when she revealed the family secret to her daughter in a boozy song called "Days and Days." That is a song, American Theatre magazine Editor Rob Weinert-Kendt wrote for The New York Times, that catalogs the sacrifices Helen has made for her family, in particular the trade-offs of living with a brilliant but distant man. And it closes with a stinging send-off to her daughter: "I didn't raise you to give away your days like me."
"That song is a stiff drink with a chaser – and it registers all the more forcefully for feeling unexpected," Weinert-Kendt wrote.
Of Lacy's performance in Golden, Owen Niland wrote for theaterperspectives.com: "The long-suffering Helen is fiercely played by Heather Lacy, whose powerhouse interpretation of a woman's disappointment with her life in the song 'Days and Days' is alone worth the ticket."
Fun Home fans in Colorado had the rare opportunity to see three of Colorado's most accomplished actors interpret the role in starkly different ways in 2018, including Megan Van De Hey for the Colorado Springs Fine Arts Center at Colorado College, and Alisa Metcalf for the Midtown Arts Center in Fort Collins.
Steele is a native of Laramie who doubles as a physical therapist with a master's degree from Regis University. In 2002 she joined the cast of the Denver Center's I Love You, You're Perfect, Now Change, which went on to become the longest-running production in Colorado theatre history. Other Denver Center roles have included Animal Crackers, Sweeney Todd and The Last 5 Years. She won a 2014 True West Award for her work as … well … a gorilla human baby mama in the Arvada Center's Tarzan.
"Here's the thing: Shannan has performed in the ensemble of innumerable productions and has covered for dozens of Broadway performers, not because she's not talented enough to be the lead – because she is talented enough to be the lead," said Burge. "She always has been. But in Mamma Mia! she got to show everyone what some of us have always known about her: She's a star. Period."
Lacy is a graduate of Colorado State University who has appeared at the Denver Center in the second go-round of I Love You, You're Perfect, Now Change and in The Doyle and Debbie Show. They both appeared together this year in the ensemble of the Arvada Center's Sunday in the Park with George. Lacy's biggest chance to shine in Denver before Fun Home was probably as Bernadette in the Aurora Fox's 2017 production of Priscilla Queen of the Desert.
Our report on Fun Home being performed on stages across Colorado
Steele currently can be seen in the Denver Center Theatre Company's A Christmas Carol through December 24. It's a job she loves to come back to every December, she says, "because A Christmas Carol is a story about human transformation. We all need to be transformed from time to time, and this is a story so profound it impacts the surrounding community, family and, most important, the soul."
What's next for Steele? We'll just echo the final line from Wittman's Mamma Mia! review: "Here's hoping she's cast in something stronger and smarter that Mamma Mia! soon."
Shannan Steele: 2018
As an Actor:
Sunday in the Park with George, Ensemble, Arvada Center
Mamma Mia!, Donna Sheridan, Arvada Center
Miscast 2018 for Denver Actors Fund, co-host, Mizel Arts and Culture Center
A Christmas Carol, Ensemble, Denver Center Theatre Company
As a Director and Choreographer:
Respect, A Musical Journey of Women, Cherry Creek Theatre
Heather Lacy: 2018
Fun Home, Helen, Miners Alley Playhouse
Sunday in the Park with George; Yvonne, Naomi
Denver Dolls, featured member of Andrews Sisters tribute group
About The True West Awards: '30 Days, 30 Bouquets'
The True West Awards, now in their 18th year, began as the Denver Post Ovation Awards in 2001. DCPA Senior Arts Journalist John Moore — along with additional voices from around the state — celebrate the entire local theatre community by recognizing 30 achievements from 2018 over 30 days, without categories or nominations. Moore was named one of the 12 most influential theater critics in the U.S. by American Theatre magazine in 2011. His daily coverage of the DCPA and the Colorado theatre community can be found at MyDenverCenter.Org
https://www.denvercenter.org/wp-content/uploads/2018/12/Slide1-2.jpg
618
800
John Moore
John Moore
2018-12-12 11:11:09
2018-12-13 07:49:29
2018 True West Award: Shannan Steele and Heather Lacy