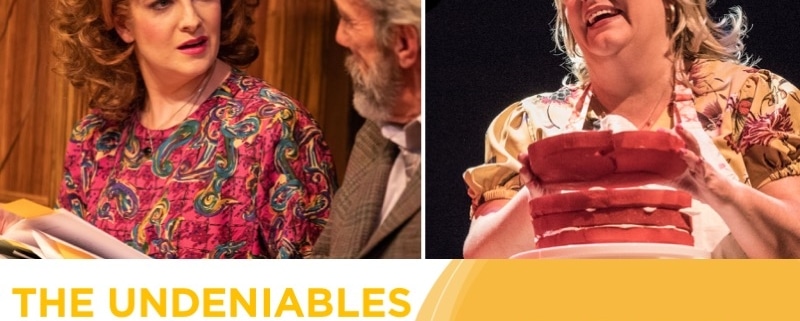 2018 True West Awards: Emma Messenger and Emily Van Fleet
2018 TRUE WEST AWARDS, Day 26

Actors Emily Van Fleet and Emma Messenger aren't resting on any previous laurels
We try not to repeat ourselves from year to year at the True West Awards. But some selections, while redundant, are simply undeniable. Each year we put out a call for suggestions from the theatergoing public, and this year no one received more support than versatile actors Emma Messenger and Emily Van Fleet. Messenger was a core member of the Arvada Center's rep company, while Van Fleet's home base was again the Creede Repertory Theatre 250 miles southwest of Denver. But they both got around in 2018. Consider the considerable cases for each:
Emma Messenger:
Messenger, who has won three True West Awards and three Henry Awards since 2013, had the year of her life, finally making her overdue debuts at the Arvada Center, Curious Theatre and Denver Center – all in the same year. She landed two Henry Award nominations as Best Supporting Actress for her work as one tough nun in Agnes of God and as a flight attendant who is fired for "excess poundage" in Mud Blue Sky (for which she won). Messenger was alternately described this year as both terrifying and warmhearted in different reviews by Westword's Juliet Wittman, who added: "Messenger is the kind of actor you can't take your eyes off even if all she's doing is reading a grocery list." Her year culminated with a starring role in Curious Theatre's The Cake, inspired by the Colorado court case of a baker who refused service to a same-sex couple. Joanne Ostrow of The Denver Post called it a brave performance. "Della is a beautifully crafted character, not a simpleton, not a bigot, but a reflective and humane soul with a big heart," Ostrow wrote. "She follows recipes as exactingly as she follows scripture. Messenger's range is on display, hilarious to heartbreaking, in a transporting turn."
All My Sons, Kate, Arvada Center
Sense & Sensibility, Mrs. Jennings, Arvada Center
Reading of Marie-Helene BertinoIt's Exit Zero, Stories On Stage
Agnes of God, Mother Miriam Ruth, Vintage Theatre
The Cake, Della, Curious Theatre
Minerva Black and the Killer Robot Army, Whitmore, Shocking Beyond Belief Films (web series)
Marginalia, J/M, for Off-Center's Bite-Size: An Evening of Micro Theatre
Flame-Broiled, various characters, reading of a new play by Rodney Hicks at Dairy Arts Center in Boulder
Critics corner:
As Kate in All My Sons: "Messenger's Kate balances terrifyingly on the edge of madness: A feather could topple her." – Juliet Wittman, Westword.
As Mrs. Jennings in Sense & Sensibility: "Sir John Middleton and the warm-hearted, chattering Mrs. Jennings, deliciously played by Abner Genece and Emma Messenger, are a little reminiscent of the generous Fezziwigs in Dickens' A Christmas Carol." – Juliet Wittman, Westword
As Della in The Cake: "We watch Della, played brilliantly by Emma Messenger, re-evaluate her opinions and their origins. We see her question her own marriage and why some have given love set boundaries. Messenger's facial expressions alone are worthy of an award, as she flirts and stumbles and processes her emotions." – Daliah Singer, 5280 Magazine

Emily Van Fleet:
Van Fleet, who won a True West Award last year for her star-making turn as a self-destructive showgirl in Off-Center's very wild The Wild Party, followed that capstone performance with one compelling role after the other in 2018, including playing both (separate) leading roles in the Arvada Center's Sunday in the Park with George. In the first act, she played Dot, the 1880s model muse of artist George Seurat. Then she played Dot's elderly daughter nearly a century later. And believe it or not, all the talk this summer from Creede to Denver was how Van Fleet somehow infused the Dolly Parton character from 9 to 5 with real substance. Van Fleet ended the year opposite longtime Denver Center favorite John Hutton in the Arvada Center's superb Educating Rita, a 1980s British class comedy about a working-class hairdresser who seeks literature tutoring from a washed-up academic at a public college. Van Fleet and Hutton put on an acting clinic. Wittman called Van Fleet's rich work "an A-plus performance of a B-level script." Van Fleet's Rita, she wrote, "is neither a stereotype nor a symbol. She's funny, engaging, self-aware and, in some ways, smarter than Frank." One of the enduring mysteries in the erratic history of the Henry Awards is how Van Fleet, one of the most consistent and acclaimed actors in Colorado, has never even snared as much as a nomination.
Sunday in the Park with George, Dot and Marie, Arvada Center
9 to 5, Doralee, Creede Repertory Theatre
The Wizard of Oz, Creede Repertory Theatre (Director)
Miss Holmes, Lizzie, Peggy and Martha, Creede Repertory Theatre (children's)
Hazardous Materials, a reading of the "Headwaters" new-play festival winner by Beth Kander, Creede Repertory Theatre
Multiple characters in BDT Stage's The Laramie Project: A 20th anniversary reading
Educating Rita, Rita, Arvada Center
You will be able to find both Messenger and Van Fleet this spring in the Arvada Center's repertory company, running Feb. 1-May 22. Van Fleet will appear as Florie Mae in the world premiere of Sin Street Social Club and as the Moor Hen in The Moors by Jen Silverman. Messenger will play Mrs. Van Daan in The Diary of Anne Frank, Agatha in The Moors; and Angie B in Sin Street Social Club. For information, call 720-898-7200 or go to arvadacenter.org
About The True West Awards: '30 Days, 30 Bouquets'
The True West Awards, now in their 18th year, began as the Denver Post Ovation Awards in 2001. DCPA Senior Arts Journalist John Moore — along with additional voices from around the state — celebrate the entire local theatre community by recognizing 30 achievements from 2018 over 30 days, without categories or nominations. Moore was named one of the 12 most influential theater critics in the U.S. by American Theatre magazine in 2011. His daily coverage of the DCPA and the Colorado theatre community can be found at MyDenverCenter.Org
https://www.denvercenter.org/wp-content/uploads/2018/12/Day-26-Emily-Van-Fleet-and-Emma-Messenger.jpg
618
800
John Moore
John Moore
2018-12-22 18:58:36
2019-01-04 17:39:44
2018 True West Awards: Emma Messenger and Emily Van Fleet