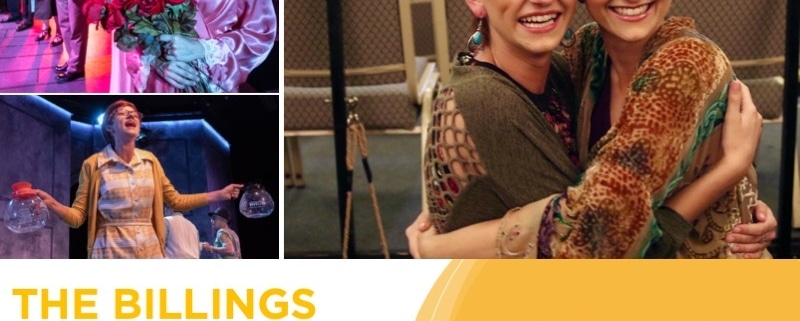 2018 True West Awards: Jamie and Jacquie Jo Billings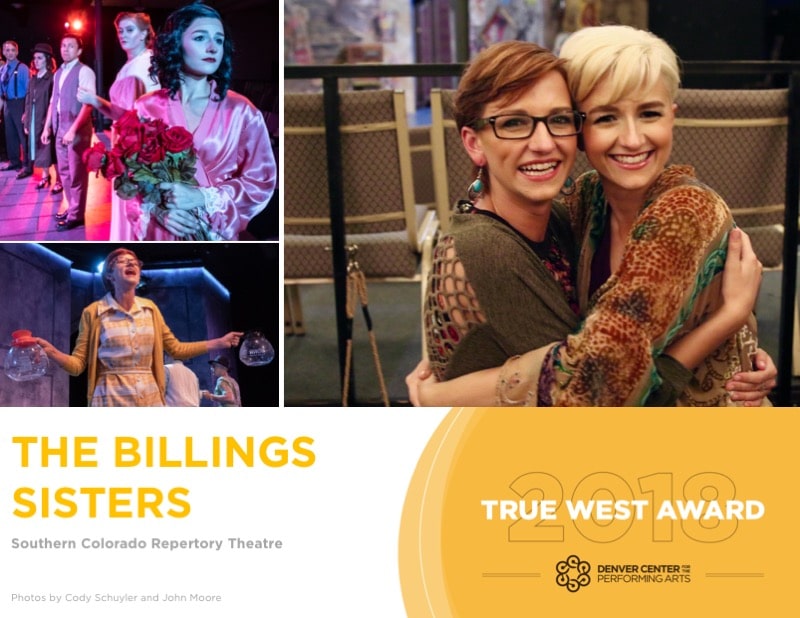 2018 TRUE WEST AWARDS, Day 20

Two sisters triumphantly return to the stage
and honor their mother side by side
The death of Brenda Billings will never define who her daughters are. But the life of Brenda Billings will always define who they have become. And this past summer, sisters Jamie and Jacquie Jo Billings channeled their grief into helping the Southern Repertory Theatre Company launch a new era in Trinidad.
Brenda Billings, Co-Artistic Director of the Miners Alley Playhouse and President of The Denver Actors Fund, died in April 2016 after a brain hemorrhage while conducting auditions for her next musical. She was the daughter of P.K. Worley, a legendary figure with the Evergreen Players.
Though just in their mid-20s, Jamie and Jacquie Jo had already long established themselves in the local and national theatre communities. Jamie performed in the national touring production of Spring Awakening and went on to study direction in London – at her mother's suggestion. Jacquie Jo had won a True West Award back in 2014 for her starring role in The Fantasticks. When Brenda died, they honored her by pushing through. Jamie came home and directed Little Shop of Horrors in her mother's place. Jacquie Jo starred as Audrey.
But both young women were devastated by their loss, as were their siblings, Jessica and Brady. The extended family includes Billings' brother, Tag – currently the drummer in the DCPA Cabaret's production of Xanadu. He is married to area choreographer Alann Worley.
All of which made the announcement of Eli Carpenter's appointment as the new artistic leader in Trinidad, which also made him the youngest Artistic Director of any established company in the state, all the more intriguing. For his inaugural 2018 season, Jacquie Jo would play the titular role of Eva Peron in Evita. Jamie would direct the acidic comedy God of Carnage. And the real-life sisters would play onstage sisters in the contemporary musical Fly By Night.
To accommodate Evita in a 100-seat Main Street storefront theatre, director Jimmy Bruenger had the story take place entirely within a tango bar in the heart of Buenos Aires on the night of Eva Peron's death. Jacquie Jo essentially played an ordinary woman in a bar who takes on the persona of Eva in the telling of her story. "In this conceptualized version we discovered the story to be more intimate and focused on Eva's own point of view," Carpenter said.
Wrote Cynthia Berresse Ploski of The Chronicle-News: "The actors' beautiful voices and outstanding performances combined to make this a beautiful, entertaining, thought-provoking and educational, Broadway caliber-musical."
Fly By Night, meanwhile, hit much closer to home for anyone in the audience who knows the Billingses or of their family tragedy. It's a melancholy rock fable about a humdrum New York sandwich maker whose life intersects with two newly transplanted sisters from South Dakota in 1965. One is an ambitious actor (Jacquie Jo); the other a mousy waitress (Jamie). The story follows a year in their complicated love triangle, culminating on the night of a massive blackout.
Eli's coming: Our report from Trinidad in the summer of 2016
It's a story about moving from light to dark and, hopefully, back to light again – which fairly sums up the Billings' odyssey since their mother's death. That the story builds to a life-and-death hospital vigil scene had to be far too close to real for anyone in the Billings family. But then again, the triumph of the sisters' performances, and really their full summer of repertory theatre at the relatively safe distance of Trinidad 200 miles south of Denver, had to have been cathartic for them.
"The contradictions of life are really the beauty of life," Carpenter said. "We will have experiences of great joy but also great sadness. And that sadness is not a flaw of life but a natural part of it."
He was talking about the musical. But he could have been talking about the Billingses.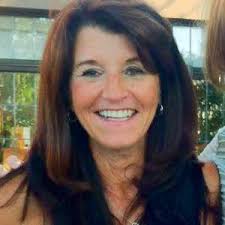 And even if most everyone who attended Southern Colorado Rep's bounce-back season had no clue of the Billingses' real story, they were the beneficiaries of having two of Colorado's best artists performing and directing for them while the sisters nursed themselves if not back to life, then at least to a full theatrical life.
Colorado theatre loses Brenda Billings: 'A warrior of acceptance'
Trivia: In the 2014 New York premiere of Fly By Night, the more extroverted sister was played by Patti Murin, who spent much of 2017 in Denver originating the role of Princess Anna in Disney's Frozen.
Critics Corner: "Without this summer's superlative cast and adept direction by Jamie Billings, the Southern Colorado Repertory Theatre's brilliant diamond of a comedy God of Carnage might have just been a lump of coal. After all, what is so funny about four people having a verbal slugfest for 90 minutes? Ah, but such depth, meaning and serious, social comment swims just below the surface of this entertaining, bubbling cauldron." ­– Cynthia Berresse Ploski, The Chronicle-News
About The True West Awards: '30 Days, 30 Bouquets'
The True West Awards, now in their 18th year, began as the Denver Post Ovation Awards in 2001. DCPA Senior Arts Journalist John Moore — along with additional voices from around the state — celebrate the entire local theatre community by recognizing 30 achievements from 2018 over 30 days, without categories or nominations. Moore was named one of the 12 most influential theater critics in the U.S. by American Theatre magazine in 2011. His daily coverage of the DCPA and the Colorado theatre community can be found at MyDenverCenter.Org
https://www.denvercenter.org/wp-content/uploads/2018/12/Day-19-Billings-Sisters.jpg
618
800
John Moore
John Moore
2018-12-18 15:05:03
2018-12-18 15:23:55
2018 True West Awards: Jamie and Jacquie Jo Billings