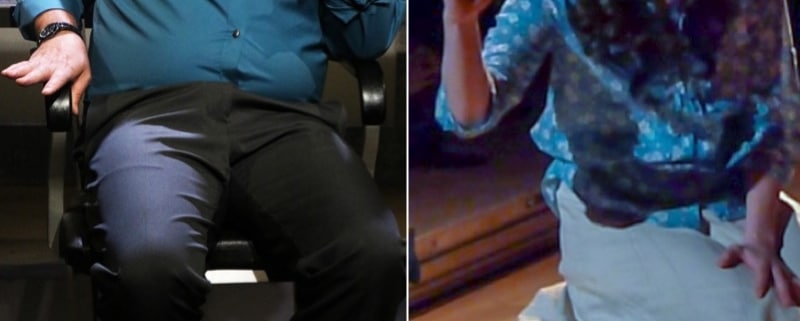 2018 True West Awards: Jeffrey Roark and Missy Moore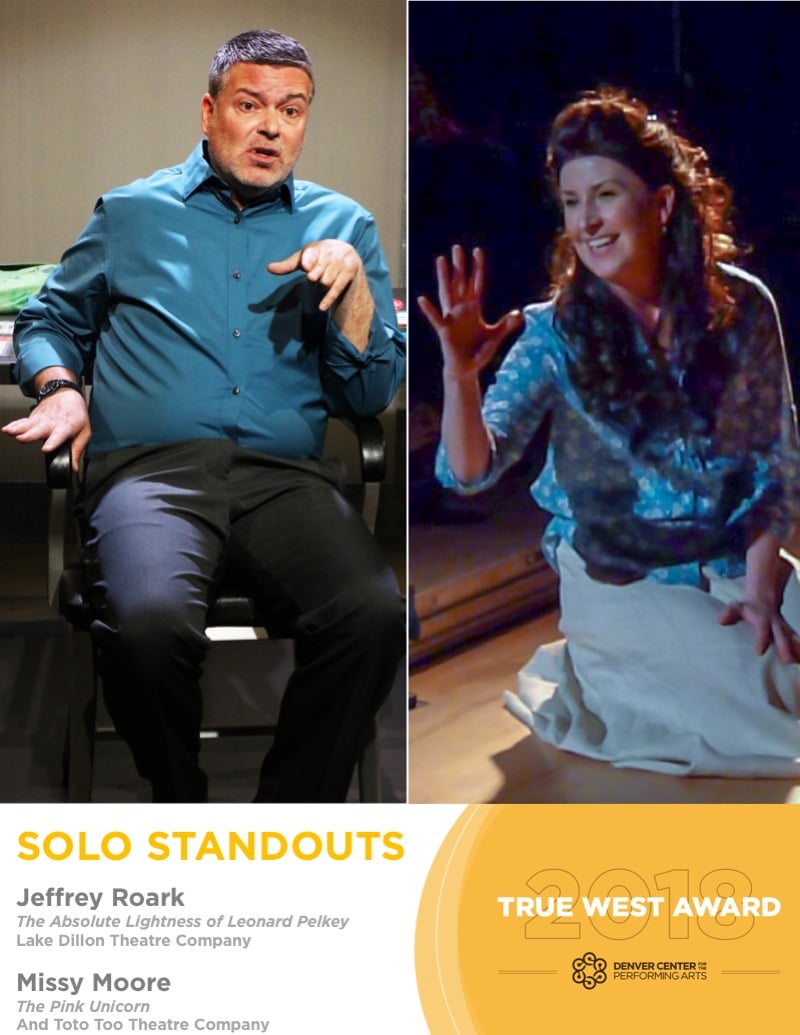 2018 TRUE WEST AWARDS, Day 6

Two actors commanded the stage alone and in the process brought entire communities to life
The solo play has been described as both an actor's dream – and nightmare. It is the ultimate exercise in self-reliance, because you have no net, no scene partner to rescue you and no one to create chemistry or momentum with but yourself. There are always a couple of dozen one-actor plays on the Colorado theatre calendar each year, in part because because they make for uncommonly intimate experiences, and in part because they are budget-friendly. The Lake Dillon Theatre Company presented a remarkable series of three successive solo plays this year featuring Jasmine Eileen Coles (Mr. Joy), Sharon Kay White (I'll Eat You Last) and Jeff Roark (The Absolute Brightness of Leonard Pelkey). Here at the Denver Center, Michael Bouchard is finishing up a hugely popular four-year seasonal run as David in The SantaLand Diaries right now in The Jones.
Roark and Missy Moore capped sensational individual years with deeply moving but very different kinds of solo performances that explored the raw heartbreak at the nerve center of America's ongoing culture of gender and sexual intolerance. In The Pink Unicorn for Denver's And Toto Too Theatre Company, Moore played just one character, Trisha Lee. She's a Christian widow living in a conservative Texas town who finds her life thrown into turmoil when her teenage daughter announces she is "gender queer" and is starting a gay and straight alliance club at school. Trisha Lee not only talked directly to the audience as neighbors, she served them iced tea and openly confided her own deepest biases and ignorances, all steeped in a mother's deep-seated fear for the safety of her child. We witnessed Moore transform from a seemingly slight widow to an evolving mother who has her own epiphany that gender is fixed in the mind, not the body – and passes that on to the audience like a torch. The play came at a particularly meaningful moment, with the government now talking about defining transgenderism out of existence. "It takes a special blend of talent, bravery and stage experience to pull off a one-woman show – and Moore possesses all three in spades," wrote Alex Miller for onstagecolorado.com. "Moore no doubt felt the love in the room as she inhabited a character far removed from her own life. And pretty much killed it." Just as she had done earlier in the year playing a maimed U.S. veteran returning from Afghanistan in Lake Dillon Theatre Company's tough Ugly Lies the Bone.
Roark, meanwhile, has quietly gone about his business for two decades as one of Colorado's most understated and reliable actors. Give him any character, he'll nail it – from the Swedish adventurer who might be Sophie's father in the Arvada Center's Mamma Mia to a gasp-inducing Jacob Marley in the DCPA Theatre Company's A Christmas Carol. (Neither of which, when you think about it, are particularly understated roles.) Roark got an overdue chance to shine this year with The Absolute Brightness of Leonard Pelkey, a joyful gut-punch of a play about a flamboyant, optimistic 14-year-old boy who goes missing in a small Jersey town. Among others, Roark played the hard-boiled cop assigned to the case, and we witnessed his Trisha Lee-like transformation as he got to know the boy and what he represents through loved ones and witnesses. "I loved this play because it uses the theatre to bring communities together," Director Christy Montour-Larson said. "It asked audiences to explore how can we encourage the Leonard Pelkeys in our lives to be fully themselves and at the same time, keep them safe. Many young people still face prejudice, discrimination, danger and limited opportunities because of who they are." You would just never expect those truths to be so warmly communicated through the Jersey cop assigned to investigate a gay teen's disappearance. Roark's performance was not so much a revelation but more a confirmation of what he has consistently shown by degrees throughout his exquisite stage career.
Missy Moore 2018
As a Director:
Director, Glengarry Glen Ross, The Edge Theater
As an Actor:
Ugly Lies the Bone, Jess, Lake Dillon Theatre Company
Lend Me a Tenor, Maggie, Miners Alley Playhouse
Men on Boats, Hawkins, The Catamounts
The Pink Unicorn, Tricia Lee, And Toto Too Theatre Company (Directed by Susan Lyles)
She said it: "We took our 12-year-old to see Missy Moore in The Pink Unicorn, and it was an incredible experience for our kid. It was also so powerful for me as a parent to glimpse this play through the lens of what it meant to my child." Parent Lynn Kutner.
Critics Corner: "Missy Moore was the charming embodiment of concerned mother Trisha Lee. If anyone could captivate an audience with a one-woman show with grace and vulnerability, it would be this exceptional actor. She brought this mother's strength and courage to the forefront and everyone just fell in love her with this endearing story. Director Susan Lyles picked the right actor for the job." Michael Mulhern, DenverTheatrePerspectives.com
Jeffrey Roark 2018

As an actor:
Sunday in the Park With George, Jules and Bob Greenberg, Arvada Center
The Absolute Brightness of Leonard Pelkey, Chuck DeSantis and others, Lake Dillon Theatre Company
Mamma Mia, Bill Austin, Arvada Center
A Christmas Carol, Jacob Marley, DCPA Theatre Company
She said it: "One-person shows are very special works of theatre with their own unique sets of requirements. I knew the moment I read The Absolute Brightness of Leonard Pelkey that Jeffrey Roark was the perfect actor for this show. His crafting is always impeccably honest and detailed. It is so very difficult to 'just be' on stage – yet Jeffrey makes it all look so easy. Next time you see Jeffrey in a show, check out how present he is, how deeply he listens. He is a master, and it is always an honor to work with him." Director Christy Montour-Larson.
Critics Corner: "In a standout performance, Jeffrey Roark plays Jacob Marley as The Terminator of tortured souls, blasting into Scrooge's bedroom with shocking fury and a great rattling of chains." Alex Miller, VailDaily.com
About The True West Awards: '30 Days, 30 Bouquets'
The True West Awards, now in their 18th year, began as the Denver Post Ovation Awards in 2001. DCPA Senior Arts Journalist John Moore — along with additional voices from around the state — celebrate the entire local theatre community by recognizing 30 achievements from 2018 over 30 days, without categories or nominations. Moore was named one of the 12 most influential theater critics in the U.S. by American Theatre magazine in 2011. His daily coverage of the DCPA and the Colorado theatre community can be found at MyDenverCenter.Org

https://www.denvercenter.org/wp-content/uploads/2018/12/Day-6-Solo-Standouts.jpg
1035
800
John Moore
John Moore
2018-12-05 13:10:49
2018-12-06 09:45:05
2018 True West Awards: Jeffrey Roark and Missy Moore