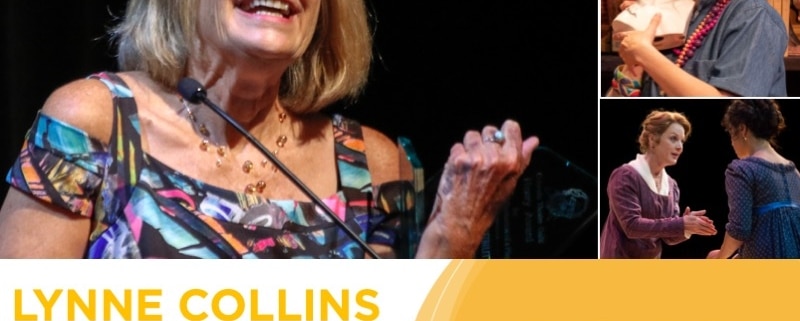 2018 True West Awards: Lynne Collins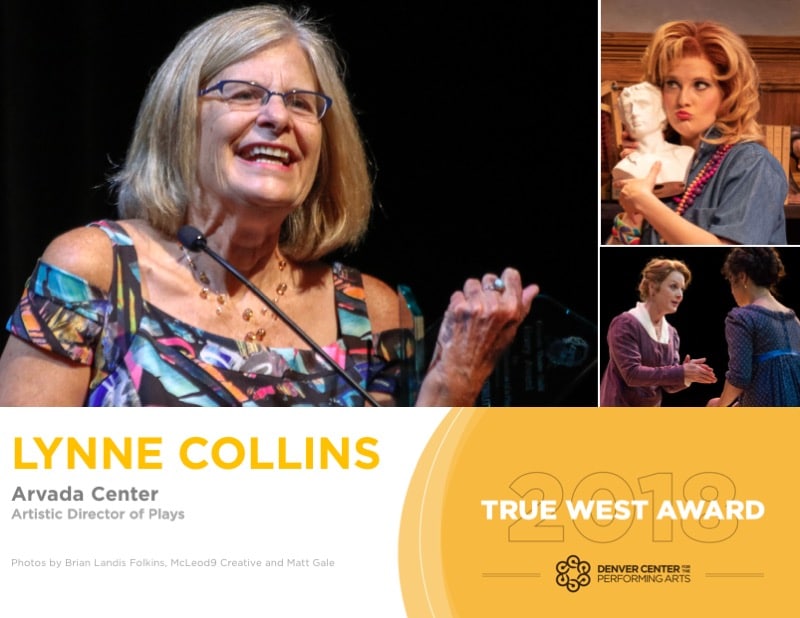 2018 TRUE WEST AWARDS, Day 12

Maverick gambles on resident acting company and throwback plays – and audiences, critics and donors back her play
It would be enough to recognize Lynne Collins with an award simply for directing good plays – after all, she was nominated by the Colorado Theatre Guild's Henry Awards for two plays she directed in 2018, and she won for her imaginative take on Sense & Sensibility – on wheels.
But also worth noting is that since Collins was hired by the Arvada Center in 2016 to launch a year-round company of resident actors, attendance at Arvada Center plays – long secondary to Rod Lansberry's magnificent musicals – is up 40 percent.
And not simply because if you build it, they will come. Collins made it happen in collaboration with the Arvada Center's development department in a way few creative staff ever bother.
"Lynne has changed the (play program) dramatically through her audience-engagement efforts that were not being done previously," said Teresa YoKell, the Arvada Center's Vice President of Advancement, referring to pre-show talks, talkbacks and behind-the-scenes events. As Collins began locking up some of the area's best actors for an old-school repertory season that runs in earnest from February through May, the development department parlayed the new mission into unprecedented fundraising opportunities, including an "adopt an actor" program.
"Prior to Lynne joining the team, we had very little philanthropic support for plays," YoKell said. "This is the first season we were able to get an underwriter for every play."
That is huge. "Three years ago, we had no sponsors attached to specific productions," she said. "Funding increases significantly when relationships are nurtured by not only the development staff but the artistic staff as well. Lynne loves and takes pride in her work, and it shows."
The end result, said Arvada Center Director of Communications Marcus Turner: "Lynne has nearly tripled the number of donations given to the Arvada Center to support the production of plays."
None of which would much matter if those plays weren't good. But the Arvada Center's focus on revisiting (mostly) classic plays has been well-received by audiences, critics and judges. Sense & Sensibility was the Henry Awards' most-honored play of the 2017-18 season, winning for Outstanding Production of a Play, Outstanding Ensemble and Outstanding Direction.
Collins' precisely timed staging was more than an old-fashioned Jane Austen comedy of manners pitting heart versus head. It was "a very physical, mannered dance, performed with distinction by a gifted cast," wrote Joanne Ostrow of The Denver Post. All of the set pieces were placed on wheels and twirled in precise choreography, steered by frenetic actors sometimes holding on by their ankles. Ostrow called the effort "a dizzying, delightful spectacle."
Collins also was nominated for directing Arthur Miller's All My Sons. Combined with Lansberry's musicals, the Arvada Center garnered a record 29 Henry Award nominations.
"Lynne's magnificent strength is that she's not afraid to collaborate," said two-time True West Award-winning actor Emma Messenger, who played Kate Keller in All My Sons and Mrs. Jennings in Sense & Sensibility. "She doesn't pretend to know everything. She doesn't waste time on ego. She surrounds herself with incredible designers, truly wonderful directors and really good actors, too. Then she listens to them. She's the visionary at the center, but she's humble and generous. She leaves room for the other artists in the company to have a voice. That's an incredible gift to the whole company."
This fall, Collins' 2018-19 season-opener Educating Rita paired 2017 True West Award winner Emily Van Fleet with longtime DCPA Theatre Company favorite John Hutton. "It's as good as it gets with these two," wrote Alex Miller of the Vail Daily.
Resident acting companies, which were common for decades at large regional theatres for 40 years, have become both economically unsustainable and too artistically restrictive for most companies. Collins has made the concept viable again at the Arvada Center by committing not to a permanent ensemble of actors but to a rotating company built one year at a time. And as the Arvada Center rep concept enters its third season in earnest Feb. 1 with The Diary of Anne Frank, one thing is certain: Those actors are being seen by bigger audiences since Collins arrived.
"And as an actor, I can say it is sheer joy to perform over and over to full, appreciative houses," Messenger said.
Who is Lynne Collins? Collins was first brought to Colorado by Arvada Center President and CEO Philip Sneed when he ran the Colorado Shakespeare Festival. She directed there for six seasons, including Macbeth (2008), the True West Award-winning best comedy Noises Off (2012) and her proudest achievement, Romeo and Juliet (2011). She had been a resident director for the Foothill Theatre Company in Nevada City, Calif., from 1990 to 2009. She studied at the American Conservatory Theatre in San Francisco and with Stella Adler. She holds an M.A. from San Francisco State University.
Read more on the Arvada Center's commitment to old-school repertory theatre
By the numbers
2015-16 (before Collins): 10,240 play tickets sold to Arvada Center subscribers
 1,601 play tickets sold to single-ticket buyers
2016-17 (Collins first season): 13,429 play tickets sold to subscribers
3,100 play tickets sold to single-ticket buyers
Arvada Center's 2018 plays
Sense & Sensibility (directed by Lynne Collins)
The Electric Baby (directed by Rick Barbour)
All My Sons (directed by Lynne Collins)
Educating Rita (directed by Lynne Collins)
Arvada Center's scheduled 2019  plays:
Feb. 1-May 17, 2019: The Diary of Anne Frank
Feb. 22-May 18, 2019: The Moors
March 15-May 19, 2019: Sin Street Social Club
2017-18 Repertory Company:
Zachary Andrews
Jessica Austgen
Regina Fernandez
Abner Genece
Kate Gleason
Sam Gregory
Geoffrey Kent
Emma Messenger
Emelie O'Hara
Lance Rasmussen
Jessica Robblee
About The True West Awards: '30 Days, 30 Bouquets'
The True West Awards, now in their 18th year, began as the Denver Post Ovation Awards in 2001. DCPA Senior Arts Journalist John Moore — along with additional voices from around the state — celebrate the entire local theatre community by recognizing 30 achievements from 2018 over 30 days, without categories or nominations. Moore was named one of the 12 most influential theater critics in the U.S. by American Theatre magazine in 2011. His daily coverage of the DCPA and the Colorado theatre community can be found at MyDenverCenter.Org
https://www.denvercenter.org/wp-content/uploads/2018/12/Day-12-Lynne-Collins-3.jpg
618
800
John Moore
John Moore
2018-12-11 01:14:28
2018-12-12 07:31:04
2018 True West Awards: Lynne Collins