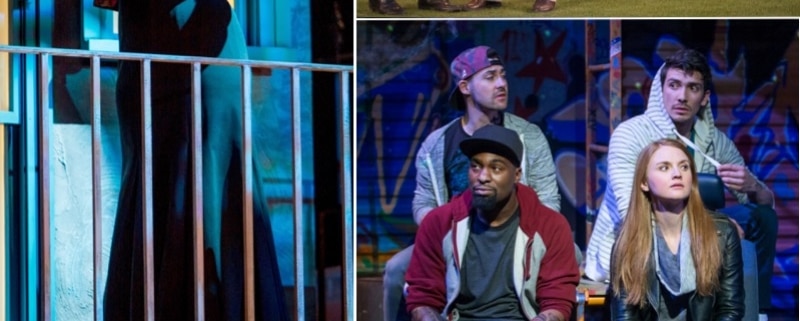 2018 True West Awards: Meghan Anderson Doyle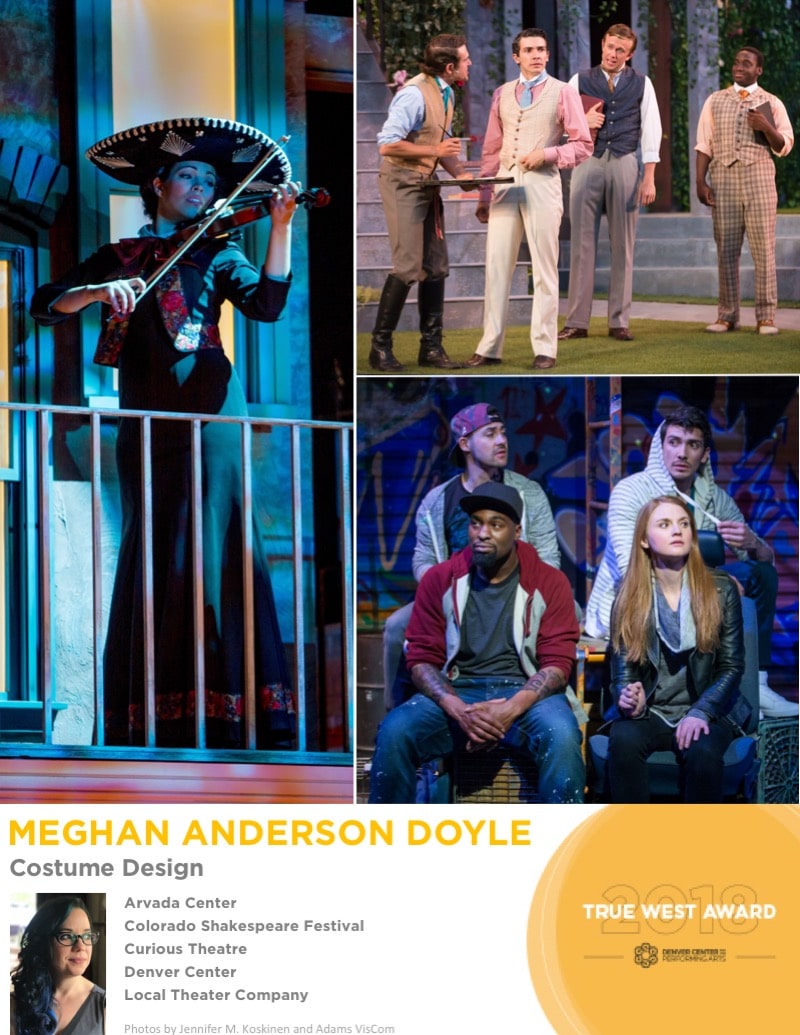 2018 TRUE WEST AWARDS, Day 4

Costume designs for any era, style or story
Consider, for a moment, the variety of characters Meghan Anderson Doyle clothed in 2018: A mystical Romanian mother of a dying child. A 1970s female wannabe mariachi player. A teenage Syrian refugee. Anarchist graffiti artists. A sexually fasting young Shakespearean king. An eccentric, economically liberated 1930s American family. A conservative North Carolina cake-baker. An ageless Greek muse … on roller skates. Doyle does not have a genre. Doyle, a Denver Center Costume Design Associate, is a fourth-generation North Sider who holds a B.A. in Theatre from the University of Denver and an M.F.A. in Costume Design from the University of Florida. She began working at the DCPA as an intern while still a student at North High School, and was hired as a full-time designer after she earned her masters degree in 2006. She has since designed about 10 Theatre Company mainstage shows  and assisted on dozens of others. "To have a job in the arts where you are using your degree? That's pretty fantastic," said Doyle, who earned a 2018 Henry Award nomination for American Mariachi. But while the costumes are fun for her to build and create, "they aren't anything without the performance." She still wants to be a Muppet when she grows up.
Meghan Anderson Doyle: 2018 Costume Designs
The Electric Baby, Arvada Center
American Mariachi, DCPA Theatre Company
Wisdom from Everything, Local Theater Company
This is Modern Art, Off-Center
Love's Labour's Lost, Colorado Shakespeare Festival
You Can't Take It With You, Colorado Shakespeare Festival
The Cake, Curious Theatre Company
Bite Size, DCPA Off-Center
Xanadu, DCPA Cabaret
He said it: James Vásquez, director of American Mariachi: "Meghan is a dream designer and collaborator. Her specificity and detail, not only with every wide-ranging project, but for each individual actor and character within each project, exemplify the brilliant storyteller she is in her own right."
He did, too: Brendon Fox, director of Love's Labour's Lost: "I loved how Meghan created for the noblemen and women such richness of complementary colors and casual elegance. She showed their status not through crowns and tiaras, but through specific, beautiful accessories. She has a very good eye for what will 'pop' on an individual actor and what will set them apart from the others, while still understanding when they need to be in sync design-wise with [everyone else] in the play."
And so did he: Kevin Copenhaver, Denver Center Costume Crafts Director: "Meghan is a master of scheduling and prioritizing, and doesn't know the word procrastination. How else could she fit designing costumes for so many shows outside of the DCPA into her schedule as well as working full-time as a Costume Design Associate here? She is capable of drifting through periods and concepts effortlessly and delivers a solid design every time. Brava to my friend, colleague, artist, zombie partner in crime, giggle buddy, and dreamer of amazing things for this richly deserved award."
Critics Corner: "Thanks in largest part to scenic designer Stephen C. Jones and costume designer Meghan Anderson Doyle, Love's Labour's Lost looks amazing." (Gary Zeidner, Boulder Weekly) … "Meghan Anderson Doyle's American Mariachi costumes are first-rate." (James Hebert, San Diego Union-Tribune).
About The True West Awards: '30 Days, 30 Bouquets'
The True West Awards, now in their 18th year, began as the Denver Post Ovation Awards in 2001. DCPA Senior Arts Journalist John Moore — along with additional voices from around the state — celebrate the entire local theatre community by recognizing 30 achievements from 2018 over 30 days, without categories or nominations. Moore was named one of the 12 most influential theater critics in the U.S. by American Theatre magazine in 2011. His daily coverage of the DCPA and the Colorado theatre community can be found at MyDenverCenter.Org

https://www.denvercenter.org/wp-content/uploads/2018/11/Day-4-Mehghan-Anderson-Doyle.jpg
1035
800
John Moore
John Moore
2018-11-30 12:51:45
2018-12-05 20:17:50
2018 True West Awards: Meghan Anderson Doyle