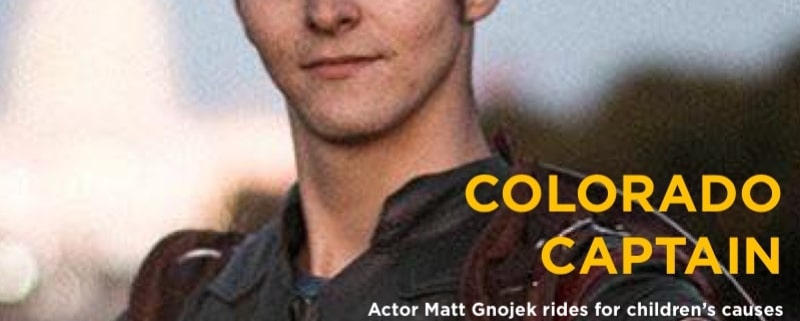 2018 True West Awards: The Colorado Captain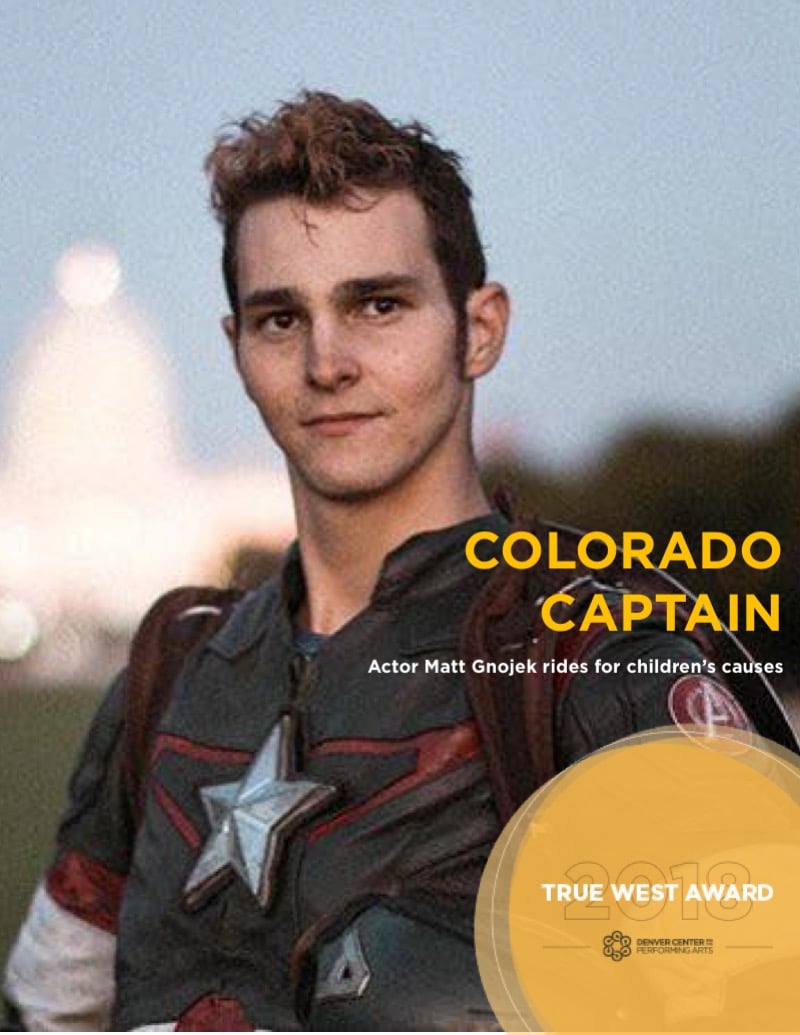 2018 TRUE WEST AWARDS, Day 29

Actor Matt Gnojek went from 'Suddenly Seymour' to suddenly wiped out on a cross-country motorcycle ride for children's charities
Matt Gnojek isn't like most actors. He isn't like most humans, for that matter. The star of Equinox Theatre Company's Little Shop of Horrors is a superhero in our midst.
For more than two years, when Gnojek hasn't been hustling three jobs to make ends meet, he has been riding his Harley-Davidson around Denver and across the country dressed as a star-spangled superhero to raise money for children's charities.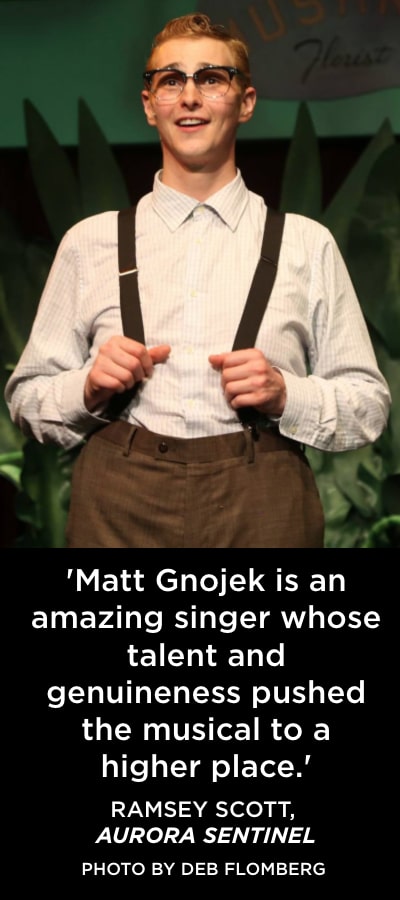 "I'm no hero," Gnojek says. "I'm just a guy in a suit who supports, promotes and protects civil rights, human rights and children's causes across the nation."
Not so fast. A guy who crosses the country visiting hospitals to fight pediatric cancer while also supporting veterans, refugees and children? Who brings smiles to young and old wherever he goes? Who cranes enough necks on highways to keep chiropractor practices thriving from coast to coast?
He might be a goofball. (OK, he is.) But he's definitely a hero. And his name is "Colorado Captain." That's the persona Gnojek created in 2016 when he founded his nonprofit charity.
"The world needs more Matt Gnojeks," said Equinox Theatre Co-Executive Producer Deb Flomberg. "If there were more people like him, the world would be a better place."
Gnojek was praised for his performance as nerdy plant-feeder Seymour Krelborn in Equinox's May 2018 production of Little Shop staged at The Bug Theatre. The Aurora Sentinel's Ramsey Scott called Gnojek "an amazing singer whose talent and genuineness pushed the musical to a higher place." Flomberg said Gnojek's performance alongside co-star Katelyn Kendrick was natural, comic and heartfelt. "He was always a lovable, happy joy to be around," Flomberg said. "And he was beautiful to look at."
But fate threw Gnojek a curveball in October when he was heading home from his latest cross-country fundraising tour. More literally: Fate threw Gnojek a blown semi-truck tire as he was riding through Peoria, Illinois. By then, he already had logged 5,000 miles and raised about $5,000 visiting children's hospitals and refugee centers in 16 states. He even made a TV appearance as part of New York's ComicCon. All to help two designated charities: Cap for Kids and International Rescue Committee.
"But then my right foot and that piece of tire got real close real fast and then had a very intimate break-up," Gnojek told Denver7 reporter Jason Gruenauer, who has been following Gnojek's continuing story throughout the year. Gnojek snapped an ankle and would require surgery back in Denver. But he had no way of getting home. So Denver7 photojournalist James Dougherty drove to Illinois, collected Gnojek (and his bike) and brought them both home in his own truck – a 2,000-mile act of kindness. (Talk about your 7Everyday Hero!).
Gnojek's surgery came with a (just-ended) two-month recovery period, during which he was ordered not to work his various odd jobs – ­or do his charity work. Gnojek paid his own way on his cross-country odyssey and of course has used none of the money he raised on himself. So his inability to work has wiped out his meager savings and landed him temporarily on his father's couch. (Matt is the son of longtime BDT Stage drummer Nick Gnojek.) The Denver Actors Fund has kicked in more than $4,000 to help with bills and essential living expenses.
Gnojek says he has been humbled by the support he has received from the local theatre community – and from Colorado at large since his story aired on Channel 7. "I hope that through this opportunity, I may continue to use my own charity work to benefit others in every possible way I can," Gnojek said.
Flomberg, for one, is happy to see Gnojek on the receiving end of the love he has given so freely to others. "Matt walks the walk and talks the talk," Flomberg said. "He has a tireless energy for helping people, and he puts it all on the line every time he gets on that Harley-Davidson."
How you can help Matt Gnojek recover: If you would like to direct a specific donation to help Matt Gnojek with his recovery, mail a check in any amount made out to Denver Actors Fund (with Matt Gnojek's name written in the topic field) to P.O. Box 11182, Denver, CO 80212. Or use this donation link. If you use the online option, be sure to designate that your donation is a targeted donation for Matt Gnojek. (He will then receive 100 percent of your donation.)
Channel 7 news report on Matt Gnojek:
About The True West Awards: '30 Days, 30 Bouquets'
The True West Awards, now in their 18th year, began as the Denver Post Ovation Awards in 2001. DCPA Senior Arts Journalist John Moore — along with additional voices from around the state — celebrate the entire local theatre community by recognizing 30 achievements from 2018 over 30 days, without categories or nominations. Moore was named one of the 12 most influential theater critics in the U.S. by American Theatre magazine in 2011. His daily coverage of the DCPA and the Colorado theatre community can be found at MyDenverCenter.Org
https://www.denvercenter.org/wp-content/uploads/2018/12/Day-29-Matt-Gnojek.jpg
1035
800
John Moore
John Moore
2018-12-27 16:28:09
2019-11-26 15:22:46
2018 True West Awards: The Colorado Captain