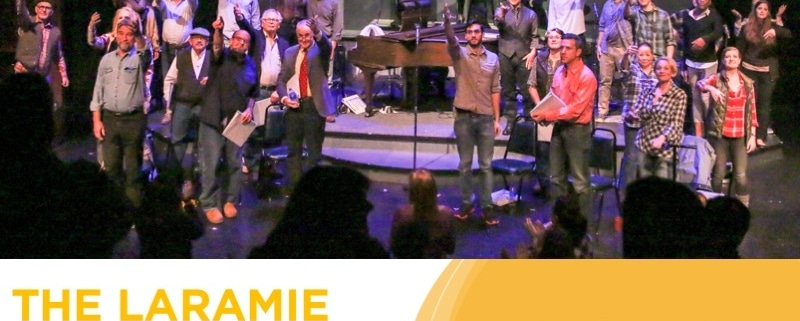 2018 True West Awards: The Laramie Project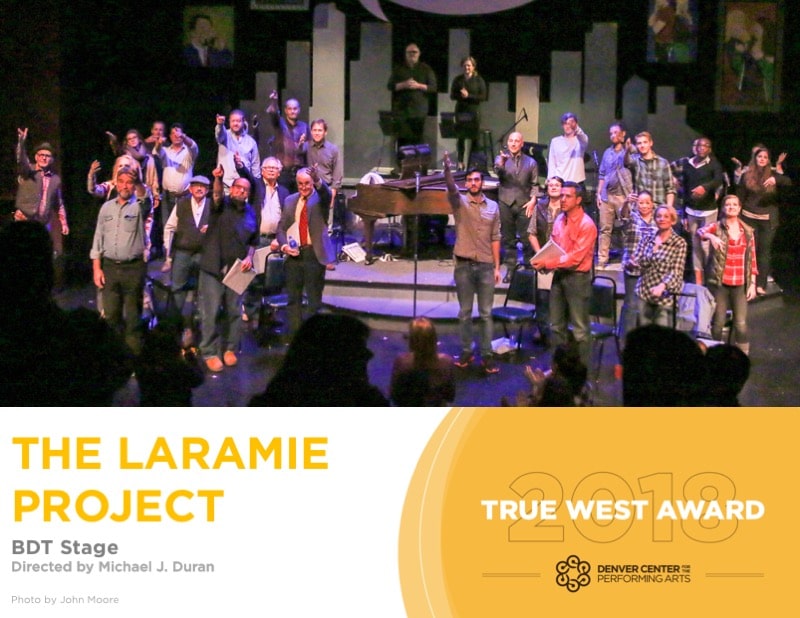 2018 TRUE WEST AWARDS, Day 10

A community comes together to remember Matthew Shepard,
but 20 years later, there is still much work to be done
The moment: It wasn't the kind of anniversary we can look back on and take comfort in how far we have come. October 12 marked 20 years since the brutal murder of Matthew Shepard, and what has changed since? Hate crimes were up 12 percent last year, Americans remain bitterly divided on social issues and Wyoming, the scene of the horrific crime, remains one of five states without a single hate-crime statute.
The call to action: When BDT Stage Producer Michael J. Duran recently came across the 2002 HBO film adaptation of The Laramie Project – which had its world premiere as a play at the Denver Center in 1999 – he was struck by the climactic courtroom scene, when actor Terry Kinney, playing Shepard's father spared the killers from the death penalty. Duran instantly envisioned a community-wide staged reading marking two decades since the 21-year-old University of Wyoming student was robbed, pistol-whipped, tortured and left to die like scarecrow on a fence outside Laramie — many believe, because he was gay. "It was that speech that made me want to do this reading in the first place," said Duran. "There was something about Dennis Shepard granting mercy to his son's killers in honor of Matthew that was so moving to me."
Read our complete report on the anniversary of Matthew Shepard's murder
The response: Duran sent out a call for volunteer actors throughout the Colorado theatre community, and he was surprised by the positive response. He now realizes he shouldn't have been. "People just said yes," Duran said. "When we first got everyone in the same room, I was just overwhelmed by the generosity of our community of actors. They always come through for things like this, but it humbled me that all I had to do was ask." The ensemble included previous True West Award winners John Ashton, Mark Collins, Sam Gregory, Tim Howard, Wayne Kennedy, Matthew D. Peters, Robert Michael Sanders, Nick Sugar, Megan Van De Hey and Emily Van Fleet, as well as well-known local media personalities Eden Lane, Greg Moody and Chris Parente.
The impact: The reading drew close to a capacity crowd (300) to Boulder and, as Duran anticipated, the extraordinary evening built to Dennis Shepard's courtroom speech. After having seen Sam Gregory (currently playing Scrooge in the DCPA Theatre Company's A Christmas Carol) play Atticus Finch in To Kill a Mockingbird years before for the Colorado Shakespeare Festival, Duran said, "I knew from the start that I wanted Sam to deliver that speech." And when Gregory did, Duran said, "it just punched me in the gut."
The good it did: Duran charged only $5 for admission but encouraged donations to The Matthew Shepard Foundation, Out Boulder County and The Denver Actors Fund. Combined efforts for the evening raised about $4,500 for the three area nonprofits.
Bottom line: "Since the murder, we have become more enlightened in a sense, but the killing hasn't stopped," said Duran. "The rhetoric coming out of Washington has given those who hate permission to speak up – so we have to be more vocal ourselves to counteract that. Twenty years later, we still have a lot of work to do."
About The True West Awards: '30 Days, 30 Bouquets'
The True West Awards, now in their 18th year, began as the Denver Post Ovation Awards in 2001. DCPA Senior Arts Journalist John Moore — along with additional voices from around the state — celebrate the entire local theatre community by recognizing 30 achievements from 2018 over 30 days, without categories or nominations. Moore was named one of the 12 most influential theater critics in the U.S. by American Theatre magazine in 2011. His daily coverage of the DCPA and the Colorado theatre community can be found at MyDenverCenter.Org

The Laramie Project: Cast list
Archie Archuleta
John Ashton
Mark Collins
Kaila Coleman
Jerry Cunningham
Giana Giraldi
Sam Gregory
Tim Howard
Wayne Kennedy
Abigail Kochevar
Eden Lane
Chas Lederer
Sue Leiser
Ali King Meyers
Greg Moody
Chris Parente
Matthew D. Peters
Kristi Pike
Tyrell Rae
Robert Michael Sanders
Fiona Small
Philip Sneed
Nick Sugar
Roark Thornberry
Megan Van de Hey
Emily Van Fleet
Lisa Young
https://www.denvercenter.org/wp-content/uploads/2018/12/Day-10-The-Laramie-Project-1.jpg
618
800
John Moore
John Moore
2018-12-07 12:15:12
2018-12-07 14:56:21
2018 True West Awards: The Laramie Project