2019 Colorado Theatre Person of the Year: Bobby LeFebre
There goes the neighborhood but here comes playwright and Colorado Poet Laureate Bobby LeFebre
Usually, the passage of time makes any new play less relevant. But consider that from the time Bobby LeFebre started the first draft of his play Northside in April 2014 to Opening Night last June, the population of Denver grew by 50,000 people. The median price of a home jumped 43 percent to $357,000.
As the first-time playwright's humane satire on the rapidly changing face of north Denver was going through the slow process of workshops and readings and rewrites, his main character – the city itself – was hurtling through an urban boom that has brought with it a housing affordability shortage, increased traffic and endless angst over rampant development.
LeFebre kept one eye on the his laptop and the other on Denver's mad grab to build on every available square foot. On single-family homes being scraped by the hundreds in favor of mass-density condos. On Latinx families leaving Denver's Northside because they no longer can afford to live in a neighborhood that is fast becoming, as LeFebre calls it, "a graveyard to yesterday."
When Northside finally premiered at the Su Teatro Performing Arts Center on June 13, just days after another municipal election rubber-stamped prevailing pro-growth policies, it was supposed to be a quick, three-week run. But when Northside unleashed a torrent of nostalgia, resentment and anger citywide, it summer-snowballed into a bonafide cultural phenomenon that LeFebre said "was exiting, humbling and validating all at the same time."
The initial run was doubled to six weeks. The play sold out for 23 straight performances in Su Teatro's 320-seat mainstage theatre. It was then brought back for a week in August. But demand only grew. So Su Teatro moved the play to LeFebre's alma mater at Denver North High School for two packed nights in a 750-seat auditorium. On September 28, Su Teatro presented a free, farewell and occasionally raucous performance for all-comers in Denver's La Raza Park.
"That final performance was a gift both given and received by our community," said actor Yolanda Ortega, who played a widowed matriarch whose home becomes the object of a bidding war. "Northside is a play that goes beyond words. It pays tribute to the spirit and heart that is the Northside, while at the same time challenging us all to not lose our sense of community to gentrification."
In all, more than 10,000 attended Northside, obliterating Su Teatro's nearly 50-year attendance and revenue records. At its fever pitch, Su Teatro auctioned off four Northside yard signs, raising almost $4,000 for the North High School theatre department. Other yard signs were reported stolen right off people's lawns.
Northside, and its debut playwright, captured the zeitgeist of the city at a very unsettling moment in time like few plays ever could.
"As a first-time playwright, there is nothing sweeter, perhaps, than to watch your first-born soar and succeed beyond measure," LeFebre told the DCPA NewsCenter. "That's how I feel about Northside. "In a city that has been struggling through an identity crisis for some time now, Northside provided an enigmatic space for the community to lick its wounds and see a side of itself that is disappearing or is being intentionally ignored."
In the midst of all this, LeFebre made history he wishes didn't come with the title of being named Colorado's newest Poet Laureate, a four-year appointment announced in July by Governor Jared Polis. That also made LeFebre Colorado's first Poet Laureate of color. "I am super grateful to hold this prestigious title," LeFebre said. "But in the more than 100-year history of this post, I know I am not the first person of color who has been qualified to hold the office."
'Bobby LeFebre has an amazing ability to empower and connect communities through the wisdom of his words.' – Colorado Governor Jared Polis
In announcing the appointment, Polis said: "Bobby LeFebre has an amazing ability to empower and connect communities through the wisdom of his words. He embodies the spirit of a 'Colorado for All,' where everyone is included. That is why we are confident he will make a strong advocate for the arts and arts education as a way to bring us together."
All of which is why playwright, slam poet, actor and activist Bobby LeFebre today has been named the True West Awards' 2019 Colorado Theatre Person of the Year, joining a prestigious list of luminaries that includes his mentor, Su Teatro Artistic Director Anthony J. Garcia.
"I take pride but no credit for what Bobby has done," said Garcia, who was named Colorado Theatre Person of the Year in 2010. "And I think Bobby has only scratched the surface of what he's capable of doing."
Roots at North High School
Bobby LeFebre, 37, moved all around the Northside as a kid before graduating from Denver North High School in 2000 and Metropolitan State University in 2004. He earned his master's degree from the University of Denver in Arts and Culture in 2013.
His life as a performer began at age 13 when he appeared in a play at Horace Mann Middle School about Jackie Robinson breaking baseball's color barrier. The school went on to perform the play in Washington D.C. as part of National History Day, and ever since, LeFebre said, "I've been hooked. It hit me so profoundly that it changed the trajectory of my entire life."
As a teen, LeFebre was developing into more of a champion spoken-word artist than a stage actor, so he didn't audition to perform at Su Teatro until he was 19. That play was directed by Hugo E. Carbajal – who would come home to Denver from Los Angeles to direct Northside 18 years later. But the fates can be unkind: LeFebre didn't make the cut because he was just too baby-faced for the play.
Read Bobby LeFebre's Guest Column on Northside for the DCPA NewsCenter
He did later perform in The Day Ricardo Falcon Died, about a group of Chicano students whose hero is shot on his way to a unity convention. And in Ludlow, about the 1914 massacre of striking coal miners by the Colorado National Guard. And in Olin, as the Aztec king Montezuma.
But LeFebre's greatest night ever at Su Teatro, he said, was as an audience member way back in 1999. That's when he took his high-school classmate and future wife Claudia Hernández-Ponce on their first date. It was to see Su Teatro's production of Real Women Have Curves. They married in 2008.
LeFebre has honed his on-camera acting skills over the years by taking many intensive classes through Jennifer Rincon's VisionBox Studio and DCPA Education. "I have tried as much as I can to be well-rounded," he said. "But the thing is, I am a writer. I am a poet first, and I just dabble in everything else."
It was in 2014, when Su Teatro was launching its now annual WordFest, that Garcia encouraged LeFebre to dabble in a different kind of writing: Playwriting.
"I had always wanted to write a play," LeFebre said. And for his first attempt, he wanted to tackle the changing face of the Denver neighborhood where his grandmother bought her house at 43rd Avenue and Navajo Street in the early 1930s for $21,000. He now estimates its value to be in the $700,000s.
What is lost, he believes, when bungalows like his grandmother's get gobbled up and turned into slot houses and duplexes, is a sense of working-class community. Filling every square inch of lot space, ironically, leaves behind what he calls "an aching sense of emptiness."
So every day during National Poetry Month, LeFebre worked not on a poem but on the first draft of Northside, which tells the story of two couples who are competing to buy a widowed grandmother's home. One is a professional, upscale young Latinx couple looking to come home and buy in the neighborhood where they grew up – if they can only afford it. The other is a satirically insipid suburban white couple looking to take advantage of the shifting demographics in this rapidly gentrifying urban hot spot. LeFebre is unapologetically merciless in his depiction of these rich yuppie idiots who are fueled by a kind of oblivious greed.
While the play's dialogue is designed to draw cheers of recognition from the audience, Garcia says LeFebre comes at it from an emotional, rather than a political standpoint. "Yes, there is rage, there is anger and there is finger-pointing," Garcia said. "But at the core of it, this is Bobby's famiy in this play. This is his home and these are his traditions. And he feels they are being diminished."
One of the play's most disquieting moments is when the young couple that grew up in the Northside begins to wonder whether it is worth the bother and expense for them to come home when there is so little left of the home they once knew to come back to.
Denver's A Raisin in the Sun?
Garcia calls Northside Denver's own A Raisin in the Sun. He thinks it is similarly universal in its geographic specificity. LeFebre calls Northside a celebration of cultural preservation and permanence – and a eulogy to things lost.
"I created this play to serve as an urban-colloquial story of power and privilege, unflinching love and the innate human need to belong somewhere," he said. "But I would be lying if I said we were not surprised by its success. I hope we posed questions, made people feel something, and created and contributed to necessary civic and cultural conversation. Northside was the highlight of my artistic career—the people, the process, the fruit. We are proud of what we did together."
Garcia isn't sure what we will see next from LeFebre. But he can't wait to find out.
"Bobby's only 37, but keep in mind: He has his master's degree from DU. He's a commissioner for the Denver Commission on Cultural Affairs. He did a whole web series called Welcome to the Northside," Garcia said. "So he's been doing the work all along. This just happens to be the year that all of that hard work has culminated. I think Bobby is going to do whatever Bobby wants to do.
"But I think the great takeaway from the runaway success of Northside is that our stories are as valuable as anyone else's – and nobody can tell our stories better than we can."
Critics' corner:
"Welcome to Denver's housing market and its touchy, at times deeply painful, cultural implications. The roiled and tender feelings at the heart of Northside — the love of home, the desire for it, the draw of neighborhoods grown over the years and fought for — is undeniable. Bobby LeFebre honors cultural memory and argues not for scraping a history but for shoring its foundation." Lisa Kennedy, The Denver Post
"Although imperfect in some areas, the storyline is provocative and  informational, pulling in people who want to learn and people who have wanted to be heard for years finally getting to watch their struggle on a theatre stage." – Camila Biddulph, 303 Magazine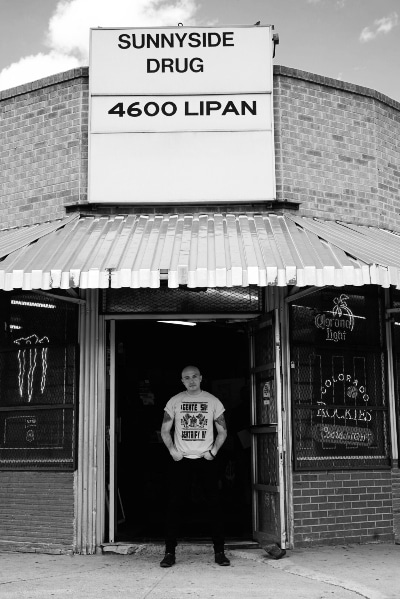 Graduate of North High School, Metropolitan State University and the University of Denver
Two-time Grand Slam champion, National Poetry Slam finalist and  individual World Poetry Slam finalist
Co-founder of Cafe Cultura, a youth-focused organization formed in 2004 and now known as Sacred Voices. Its  mission is to celebrate and pass down indigenous oral and written traditions to the next generation.
Currently serves as a commissioner for the Denver Commission on Cultural Affairs, as a fellow of the Intercultural Leadership Institute and as an advisory board member for the Latino Cultural Arts Center, the Clyfford Still Museum and La Raza
Named Colorado's Poet Laureate in July 2019, a job that calls for him to champion poetry and literature across the state. LeFebre offers readings at schools, libraries, literary festivals and the State Capitol. The position includes a $2,000 honorarium and up to $2,000 in travel expenses for each year of his four-year term.
Wrote the world-premiere play Northside, debuting at Su Teatro in June 2019
Northside cast:
Yolanda Ortega: Mrs. Lujan

Angel Mendez Soto: Mr. Lujan
Molly Gallegos: Luna
Ben Martinez: Teo

Phil Luna: Felipe
Iliana Barron: Delores

Cary Seston: Megan

Seth Palmer Harris: Sean


Andrea Renteria: Lluvia

Gia Valverde: Adriana

Art Razo: Veterano

Northside creative team:
Playwright: Bobby LeFebre
Director, Video Editor and Sound Editor: Hugo E. Carbajal
Artistic Director: Anthony J. Garcia
Production Manager: Mica Garcia de Benavidez
Technical Director: Arnold King
Assistant Drector: Laura Chavez
Dramaturg: Valerie E. Castillo
Scenic Designer: Steve Nash
Light Board: Isaac Duran
Video Cinematography: Ben Martinez
Sound Design: Hugo E. Carbajal, Bobby LeFebre and DJ Chonz
Costumes: Hugo E. Carbajal, Bobby LeFebre and Mica Garcia de Benavidez
Technical Assistants: Chris Castaneda and Aleighya Dawkins
Northside: Photo gallery:
True West Awards' Theatre Person of the Year
• 2019: Bobby LeFebre, playwright, slam poet, actor and activist
• 2018: Jessica Austgen, Playwright, actor and improviser
• 2017: Regan Linton: Phamaly Theatre Company Artistic Director
• 2016: Billie McBride: Actor and director
• 2015: Donald R. Seawell: Denver Center for the Performing Arts founder
• 2014: Steve Wilson: Phamaly Theatre Company and Mizel Center for Arts and Culture
• 2013: Shelly Bordas: Actor, teacher, director and cancer warrior
• 2012: Stephen Weitz: Boulder Ensemble Theatre Company co-founder
• 2011: Maurice LaMee: Creede Repertory Theatre artistic director
• 2010: Anthony Garcia: Su Teatro artistic director
• 2009: Kathleen M. Brady: DCPA Theatre Company actor
• 2008: Wendy Ishii: Bas Bleu Theatre co-founder
• 2007: Ed Baierlein: Germinal Stage-Denver founder
• 2006: Bonnie Metzgar: Curious Theatre associate artistic director
• 2005: Chip Walton, Curious Theatre founder
• 2004: Michael R. Duran: Actor, set designer, director and playwright
• 2003: Nagle Jackson, DCPA Theatre Company director and playwright
• 2002: Chris Tabb: Actor and director
About The True West Awards: '30 Days, 30 Bouquets'
The True West Awards, now in their 19th year, began as the Denver Post Ovation Awards in 2001. DCPA Senior Arts Journalist John Moore — along with additional voices from around the state — celebrate the entire local theatre community by recognizing 30 achievements from 2019 over 30 days, without categories or nominations. Moore was named one of the 12 most influential theater critics in the U.S. by American Theatre magazine in 2011. His daily coverage of the DCPA and the Colorado theatre community can be found at MyDenverCenter.Org
https://www.denvercenter.org/wp-content/uploads/2019/12/Day-31-Bobby-Lefebre-featured.jpg
531
1000
John Moore
John Moore
2019-12-30 08:18:29
2019-12-31 05:39:27
2019 Colorado Theatre Person of the Year: Bobby LeFebre