2019 True West Award: Alicia K. Meyers and Matthew D. Peters
Day 17: BDT Stage choreographers step to front of the line as co-Directors

Boulder's BDT Stage is getting footloose and fancy free-wheeling with the old rules for Choreographers.
For the most part, the leadership roles in staging musicals in the American theatre have been fairly fixed for decades. There is almost always a Musical Director to teach the vocal parts and oversee the orchestra; a Choreographer to handle dancing and movement; a Technical Director to oversee all creative needs, and an overlord imperiously called "The Director" who trumps all others.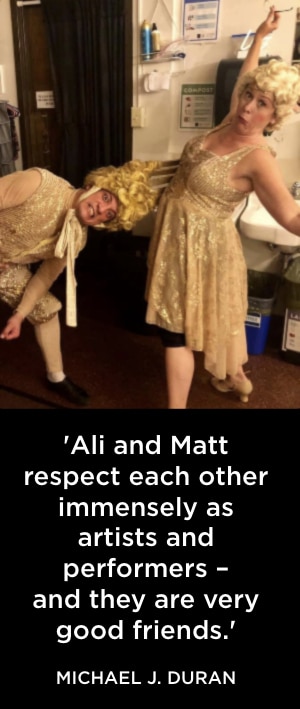 But BDT Stage is rewriting the organizational flow chart in what is believed to be an unprecedented nod toward modern-day creative collaboration. BDT's current production of Mamma Mia! is the third since Artistic Producer Michael J. Duran started calling Alicia K. Meyers and Matthew D. Peters "Co-Directors and Co-Choreographers."
Throughout the history of the American musical, there always have been choreographers who also direct. But it would have been once unthinkable to imagine titans like Bob Fosse or Tommy Tune or Susan Stroman sharing the work – or top creative billing. Duran, however, was open to the idea of officially making Meyers and Peters an equally empowered power couple when they came to him with the idea last year.
"It is unusual," said Duran. "But all I know is it works, so I don't question it. I just I reap the benefits from it."
The "Co-Choreographer and Co-Director" concept began with The Little Mermaid in 2018, and has been repeated for this year's Beauty and the Beast and Mamma Mia! (running through February 22). Duran's rolling with it, he says, to suit the unique talents and chemistry of these two longtime BDT performers. And because, by all accounts, it's working.
"Ali and Matt respect each other immensely as artists and performers, and equally important – they are also very good friends," Duran said. "I think they are able to riff off each other and come up with ideas together. They are able to play off each other's strengths. It's kind of a mutual admiration society."
Meyers and Peters both came to what was then called Boulder's Dinner Theatre as performers – Meyers in 1995 and Peters in 2004. Both were almost immediately additionally employed as Choreographers. Meyers took the next step up to Director in 2006; Peters in 2014. Since then, each has served in one capacity or the other on multiple shows. But with The Little Mermaid, the couple stepped to the front of the line as co-Directors and Co-Choreographers.
The way it works in the rehearsal room goes something like this: Meyers and Peters split up the scenes and songs that most interest them or best suit their skills. They go off and work on them, and then let the other give it a fresh eye for suggestions and problem-solving. Adding further intrigue: Meyers and Peters both have appeared in all three of their co-directing endeavors to date, playing roles large and small. Meyers, for example, played evil Ursula in The Little Mermaid, and is currently playing the man-eating Tanya in Mamma Mia! Which means one might be directing the other one moment, and the other might be returning the favor the next.
Chas Lederer, who is currently playing Sky in Mamma Mia!, says "it can be a really fascinating thing" to watch Meyers and Peters at work, "because they represent two different visions living in the same world."
Having two directors, he added, keeps everyone on their toes. "Normally when a director gets their hands on a project, it's their project," he said. "This way, you get more hands on the same project. But it works because there is an insane amount of trust between them."
Lederer has performed at many theatres in the metro area but he recognizes this arrangement is uniquely suited for Meyers and Peters.
"The culture at BDT is one of family first," he said. "When you get cast here, you become part of that family. That's what allows all of us to create freely without fear or judgment."
But he doesn't think it would work for everyone.
"Listen, I have plenty of friends – but I'm not sure I would want to direct with all of them," he said with a laugh.
Critics corner:
"It's clear from the start of BDT's Beauty and the Beast that the director/choreographer team of Alicia K. Meyers and Matthew D. Peters had the green light to go all-out on this production. For a show like this, it's hugely important to have all the trappings of the world in place before the first note is sung. It's hard to say enough about the team that created it all." Alex Miller, OnStage Colorado
"The choreography by Alicia K. Meyers and Matthew D. Peters is especially inventive and original. Beauty and the Beast has been done by companies all over the Front Range, but these two start from scratch and build a whole new re-imagined show with sparkling dance numbers and catchy routines." Beki Pineda, Get Boulder.Com
Alicia K. Meyers/At a glance
Alicia K. Meyers, a native of Houston and resident of Longmont,  has worked as an actress, choreographer and director in the Denver metro area for the past 22 years. She also has worked with various children's theatre programs and as the director/choreographer for Platte Middle School and Silver Creek High School. She is also part of Candlelight Dinner Theatre's musical-theatre education program. As a performer, previous productions have included Disenchanted!, Beauty and the Beast, Thoroughly Modern Millie, The Addams Family, Always Patsy Cline, Hairspray, Spamalot, Hello, Dolly!, Chicago, CATS, Cabaret, Gypsy and Singin' in the Rain.
Matthew D. Peters/At a glance
Matthew D. Peters, a graduate of Boulder High School, won a 2017 Henry Award for choreographing Joseph and the Amazing Technicolor Dreamcoat at BDT Stage, and a 2014 True West Award for directing Littleton Town Hall Arts Center's Swing! and BDT Stage's Shrek the Musical. Other credits include Thoroughly Modern Millie, Footloose, Mary Poppins, The Drowsy Chaperone, Crazy For You, Cats and West Side Story. He has also performed at the Arvada Center, Aurora Fox, Lone Tree Arts Center, Candlelight Dinner Playhouse and others.
Mamma Mia!/Ticket information
Where: BDT Stage, 5501 Arapahoe Ave., Boulder
When: Through February 22
Info: 303-449-6000 or bdtstage com
About The True West Awards: '30 Days, 30 Bouquets'
The True West Awards, now in their 19th year, began as the Denver Post Ovation Awards in 2001. DCPA Senior Arts Journalist John Moore — along with additional voices from around the state — celebrate the entire local theatre community by recognizing 30 achievements from 2019 over 30 days, without categories or nominations. Moore was named one of the 12 most influential theater critics in the U.S. by American Theatre magazine in 2011. His daily coverage of the DCPA and the Colorado theatre community can be found at MyDenverCenter.Org
https://www.denvercenter.org/wp-content/uploads/2019/12/Day-17-Meyers-Peters-featured.jpg
531
1000
John Moore
John Moore
2019-12-15 16:42:12
2019-12-30 01:14:22
2019 True West Award: Alicia K. Meyers and Matthew D. Peters