2019 True West Award: Benchmark Theatre's 'The Quality of Life'
Day 29: Benchmark Theatre pulled off the surprise of the year
The biggest mystery in all mankind is simply this: What happens next? It's a question we all face again and again throughout our lifetimes, every time we lose a loved one. Until it's our turn to go, and what happens next for us becomes a matter for someone else's contemplation.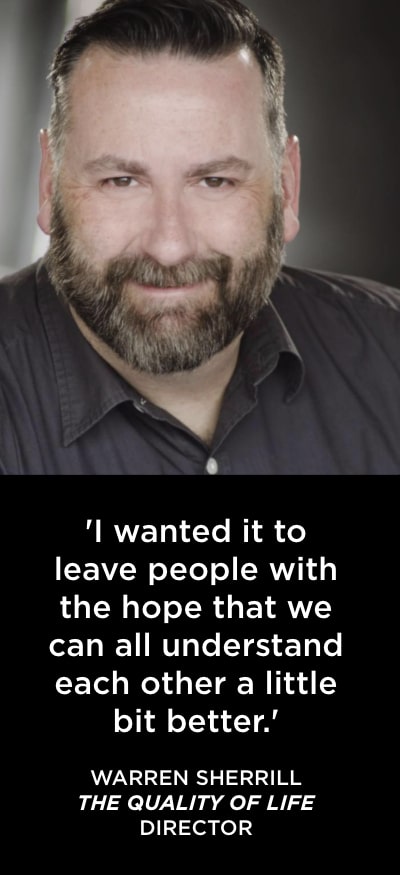 Warren Sherrill, perhaps Colorado's most gentle theatrical director, faced that question last year when his father was on life support. Sherrill and his siblings gathered with their mother to wrestle with that most awful decision of when to turn the machines off. What made it a little easier for Sherrill was at least knowing that his mother believed she knew what would happen next for her husband of 50 years. "The slight comfort my mother took from her belief made me … dare I say it … a little envious," he said.
Jane Anderson's The Quality of Life could not address a more universal question: What happens next? And Benchmark Theatre pulled off the surprise of the year by turning this melancholy matter into a surprisingly affirming theatergoing experience that will be long remembered for its achieved honesty.
'Warren Sherrill directs with intelligence and unsentimental sensitivity.' – Juliet Wittman, Westword
But on paper, The Quality of Life sounds like it might be a contrived exercise in cookie-cutter sentiment: Start with two diametrically opposed but related couples whose religious, political, social and familial divides seem far too obvious to make for an interesting play. One is a devout, churchgoing couple from the Midwest; the other left-leaning California hippies living in a yurt. The evangelicals have been wrecked by the violent death of their daughter. The hippies are facing the husband's impending death from cancer. And when they all come together in their mutual sadness, you just know what must happen next: Tolerance and mutual understanding – in 90 minutes or less.
But somehow, through Sherrill's remarkably understated direction and four impossibly humane, generous performances from Mark Collins, Emily Paton Davies, Haley Johnson and Marc Stith, Benchmark's production managed to stand out as perhaps the most powerful play of 2019 that not enough people saw.
In the divisive America we've all been festering in for years now, it turns out even a fictional exercise in ideological family compromise, expertly presented, can come off as a hopeful salve. It worked here because Sherrill is the kind of director who tells his actors to forget they are in a theatre, stop shouting and just … talk to each other.
Sherrill credits a strong ensemble "who are not only brilliant actors, they are incredibly smart people who pushed it to the next level," he said. But getting there, he added, was an emotional journey.
"We found ourselves having lots of discussions around issues of life and death and religion," he said. "Everyone had amazing stories to tell about the way they were brought up. There were nights when we would be standing around saying goodbye, and someone would just start crying. It's a rare thing to have four actors who are not only honest and focused but also super concerned that we were doing this right."
But given the subject matter, it was not always easy to watch. The more you cared about the characters, the more there was to lose. "But I don't see this as a sad play," Sherrill said. "I see it as a hopeful play. What I love about it is that it doesn't choose sides. Nobody has all the answers. No one is right and no one is wrong. We're all struggling. It's all about being there for each other. I wanted it to leave people with the hope that we can all understand each other a little bit better."
If only more people were there to receive that hope. Turns out (and not for the first time) that the subject of death is not the kind of fun escapism that most people want out of their theatregoing experience. Their loss. Sherrill gives all kudos to Benchmark for giving life to topical and meaningful plays like The Quality of Life.
"That comes down to what is built into all of us as artists," said Sherrill, who ran the similarly gutsy Paragon Theatre with Michael Stricker for 12 years. "When you are choosing plays, you have to go with your gut, and you have to believe in what you are doing. If we just keep doing the best we can and affecting people – whether it's for thousands of people or just a couple of hundred – then we are doing our job.
"When we make theatre, there are a lot of things we can't control. But we can control what happens in those two hours that you have people at your theatre. We can give them our very best."
Coming Tuesday: The True West Awards' 2019 Colorado Theatre Person of the Year
Critics' Corner
"The play is both intensely serious and intensely sad. But if you are interested in issues of life, death and meaning; if you are in love with the expressive power of art; and if you are ready to encounter real, breathing and original characters facing crucially important dilemmas, get your tickets now." – Juliet Wittman, Westword
"The Quality of Life serves as a reminder of just how good theatre can be when every element clicks." – Lane Ware, OnStage Colorado
Cast
Mark Collins: Neil
Emily Paton Davies: Jeannette
Haley Johnson: Dinah
Marc Stith: Bill
Creative team
Director: Warren Sherrill
Stage Manager: Connie Flores
Scenic Designer: Brandon Case
Lighting Designer: Jacob Welch
Properties Designer: Andy Bakehouse
Costume and Sound Designer: Rachel Rogers
Assistant Sound Designer and Composer: John Hauser
About The True West Awards: '30 Days, 30 Bouquets'
The True West Awards, now in their 19th year, began as the Denver Post Ovation Awards in 2001. DCPA Senior Arts Journalist John Moore — along with additional voices from around the state — celebrate the entire local theatre community by recognizing 30 achievements from 2019 over 30 days, without categories or nominations. Moore was named one of the 12 most influential theater critics in the U.S. by American Theatre magazine in 2011. His daily coverage of the DCPA and the Colorado theatre community can be found at MyDenverCenter.Org
https://www.denvercenter.org/wp-content/uploads/2019/12/Day-29-Quality-of-life.jpg
531
1000
John Moore
John Moore
2019-12-27 13:53:23
2019-12-30 01:01:37
2019 True West Award: Benchmark Theatre's 'The Quality of Life'