2019 True West Award: Curt Behm and Steve Tangedal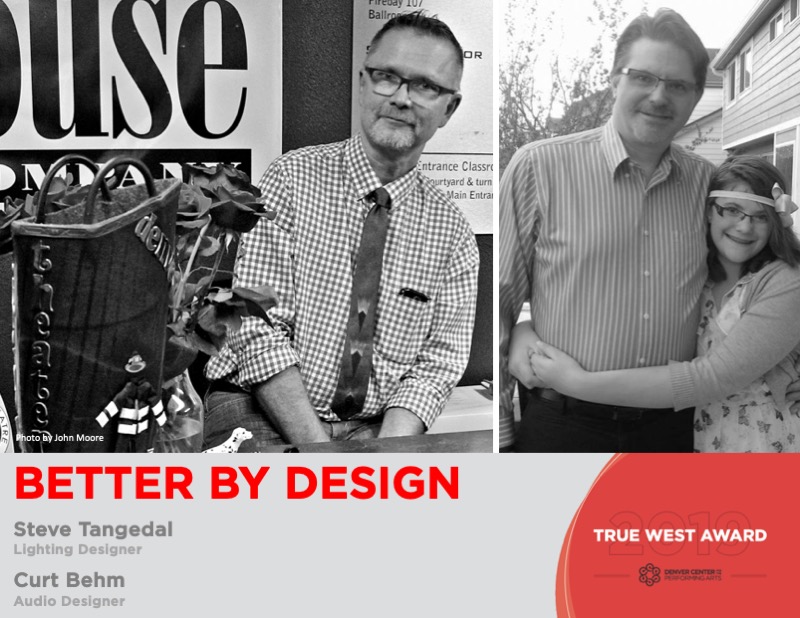 Day 11: Lighting, Audio Designers combine for 65 years of Colorado theatre history
Jill Manser, producer of the StageDoor Theatre in Conifer, is certain that few if any of the dozens of performers who have walked under Steve Tangedal's stage lights in 2019 have any idea of his long-established place in Colorado theatre history. "I don't think a lot of people know how extensive his background is," she said.
But that's how it often goes for designers who bring light and color and vibrancy to area stages – without ever being seen much themselves.
"What determines the success of any production goes far beyond the artistry you see on stage, says acclaimed local director Nick Sugar. "It's also the emotion and the commitment and friendships we cultivate with our designers and crew backstage."
Sugar has worked backstage extensively with both of today's True West Award winning-designers: Tangedal and Town Hall Arts Center resident Audio Designer Curt Behm.
Tangedal has been involved in more than 500 local theatre productions over the past 40 years. From 1992 to 2007, he was the Executive Director of Theatre Group, Colorado's first and longest-running theater company dedicated to telling gay stories – with Sugar as his Artistic Director for most of that time.
In recent years, Tangedal has settled into a much more quiet but no less active theatrical life as an itinerant lighting designer who occasionally returns to directing. "I decided I just couldn't stay away," Tangedal said in a previous interview. "The theater addiction has been too hard to fight."
In 2019, Tangedal designed the lighting for an astonishing 17 productions by StageDoor, Vintage, Firehouse and the Evergreen Players. Behm, meanwhile, designed the audio for 13 productions at the Bug, Aurora Fox, Town Hall Arts Center, PACE Center, Mizel Center and Lone Tree Arts Center. He was nominated for two Colorado Theatre Guild Henry Awards in July, for Aurora Fox productions of Songs for a New World and Caroline, or Change.
What these two veteran designers have in common, friends say, is their old-fashioned Midwesterners' patience.
Tangedal left North Dakota in 1980 after five years as a teacher to work toward his master's degree at the University of Colorado Boulder. Manser knew Tangedal from his Theatre Group days, and she jumped at the chance to bring him on to light shows by StageDoor's three distinct acting companies: Middle-school, high school and adult. She said Tangedal's classroom experience gives him the perfect demeanor to teach her students in Conifer. "We have teenagers operate the light board for our educational shows – sometimes for the first time – and Steve is just so great about bringing them along and showing them the ropes," Manser said.
Lighting smaller stages brings special challenges for all designers, Manser said, but Tangedal never runs out of fresh ideas. "We did some cool stuff with the set for Motherhood Out Loud, which is a series of vignettes," Manser said. "I wanted Steve to set the tone for each scene in a unique way." So they placed a series of empty squares in front of a large white sheet at the back of the stage, so that the light Tangedal set off from behind would project out through the squares in varying colors. "It gave you the sense of shifting stained glass," Manser said.
"Steve knows what he's doing, and he brings something new to me every time."
He is, Sugar added, "the best lighting designer I have ever known."
Behm, a transplant from Minnesota, has designed audio for 25 years, including most shows at the Littleton Town Hall Arts Center since 2013. Behm has an acumen, Sugar said, for handling the special challenges of big-sounding musicals. Recent collaborations have included Passing Strange and Hedwig and the Angry Inch at the Aurora Fox and, this year, the return of Cabaret to Town Hall. His biggest challenge there, Sugar said, was that "in an effort to keep the show as authentic as possible, we took away all the body mics – and Curt still made it sound amazing throughout the theatre."
Behm especially thrives with rock musicals, likely because he has been mixing for rock bands and solo artists like Susan Tedeschi for more than 25 years. Behm proved that last year with American Idiot, Sugar said, when he managed to take 20 singers wailing power ballads alternating with full-throated rock anthems, balanced them against a live band "and still somehow made sure we were able to hear the words clearly in every spot in the theatre," Sugar said.
"He's humble, he's awesome, and he is a total team player. He works well with so many different personality types, and he's even-keeled across the board. His patience, his knowledge and his professionalism are just what you need when you are trying to get an intense musical off the ground. He makes my life as a director better, and he really completes our team at Town Hall."
Curt Behm: 2019 Audio Designs
Town Hall Arts Center (Littleton)
Casa Valentina
Dames at Sea
The World Goes 'Round
Sister Act
Cabaret
Meet Me In St. Louis
Heritage High School's Songs for a New World
The Aurora Fox (Aurora)
Sasquatch Productions (Parker)

19K Productions (Denver)

In the Trenches: A Parenting Musical 
In the Holiday Trenches: A Parenting Musical
The Bug Theatre (Denver)
Heathers the Musical (for Equinox Theatre Company)
Lone Tree Arts Center (Lone Tree)

---
Steve Tangedal: 2019 Lighting Designs
StageDoor Theater (Conifer)
Sylvia (Adult Company)
Aristocats (Junior Company)
Rent (High School Company)
James and the Giant Peach (Junior Company)
Motherhood Out Loud (Adult Company)
Into the Woods (High School Company)
Roald Dahl's Willy Wonka (Junior Company)
Vintage Theater (Aurora)
Every Brilliant Thing
The Language Archive
The Addams Family
Looped
RFK: A Portrait of Robert Kennedy
Firehouse Theater (Denver)
Outside Mullingar
Rock of Aging Revival
Three Tall Women
Calendar Girls
Evergreen Players (Evergreen)
About The True West Awards: '30 Days, 30 Bouquets'
The True West Awards, now in their 19th year, began as the Denver Post Ovation Awards in 2001. DCPA Senior Arts Journalist John Moore — along with additional voices from around the state — celebrate the entire local theatre community by recognizing 30 achievements from 2019 over 30 days, without categories or nominations. Moore was named one of the 12 most influential theater critics in the U.S. by American Theatre magazine in 2011. His daily coverage of the DCPA and the Colorado theatre community can be found at MyDenverCenter.Org
https://www.denvercenter.org/wp-content/uploads/2019/12/Day-11-Tangedal-Behm-featured.jpg
531
1000
John Moore
John Moore
2019-12-08 23:54:08
2019-12-30 01:19:48
2019 True West Award: Curt Behm and Steve Tangedal