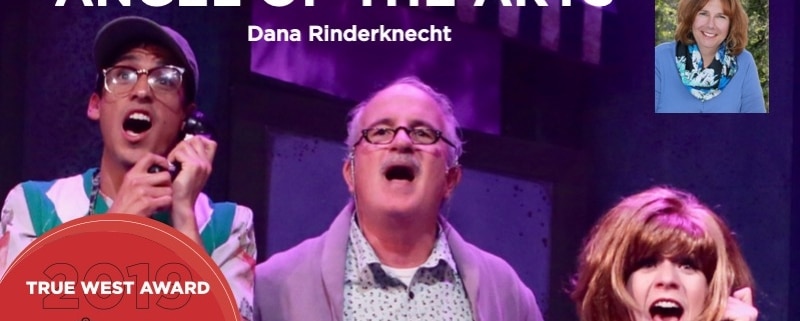 2019 True West Award: Dana Rinderknecht and Colorado Gives Day
Day 14: Banquet of benevolence has raised $256 million for Colorado nonprofits
The mind-blowing good that has come from a decade of Colorado Gives Days can be measured in quantifiable ways – most literally the $256 million they have raised for thousands of Colorado nonprofits since 2010. On Tuesday, the 10th annual phenomenon of philanthropy inspired 165,000 donations, generating $39.6 million for 2,659 nonprofits.
The performing arts make up just 11 percent of the effort's overall nonprofit pie, but what a succulent piece of pie it is: Consider that Colorado Gives Day, presented by the Community First Foundation and First Bank, has specifically infused Colorado's performing-arts nonprofits with $10 million in just the past two years. That's game-changing for many organizations. Over the past 10 years, Colorado Gives Day has become as essential an ingredient to the cultural life of Denver as water is to plants.
"It's everything," said Len Matheo, Artistic Director of the Miners Alley Playhouse in Golden, which reported a stunning $33,225 in donations Tuesday, up from $8,000 in 2018. What's $33K to a company whose annual operating budget has doubled to $700,000 since 2013? It's about the cost to produce one play. And it's almost the amount the newly unionized theatre pays its actors each year in salaries, health insurance, pensions and social security.
"It's the difference between a decent wage and a respectable wage," Matheo said. "It's the difference between a good production and a great production."
And to think it all started with five do-gooders sitting around a table modestly brainstorming ways to make it easier for Coloradans to help other Coloradans. The rarely celebrated heroes of this story are Community First Foundation Executive Vice President Cheryl Haggstrom; Director of Online Giving Dana Rinderknecht; Chief Operating Officer Emily Robinson; and public relations wizzes Jean Galloway and Cori Streetman.
'I am truly blown away by the numbers. It is just amazing to me.' – Dana Rinderknecht, Community First Foundation Director of Online Giving
The Community First Foundation had launched its online giving site back in 2007. It served then, as it does now, as a place where people could go to make online donations to area nonprofits year-round. But there was no designated "Colorado Gives Day" until Rinderknecht suggested they look at mirroring giving campaigns that had been launched in Pittsburgh and Minneapolis. A Colorado company called CiviCore helped create the online platform, and the rest was … well, $256 million ago.
"It's been humbling to watch how the donors have embraced this," said Rinderknecht, who has overseen Colorado Gives Day from the start. "But it wouldn't happen if our nonprofits didn't get so excited about it and put so much hard work into it. And it wouldn't happen if the donors didn't go online and donate."
The numbers from Tuesday are staggering from every corner of the state. The Denver Actors Fund reported $36,400, nearly three times greater than its previous record. Buntport Theater raised $22,000. Su Teatro generated $15,000, as did Boulder's Local Theater and Evergreen's Ovation West.
But nothing comes close to the savviest of all Colorado theatre companies. The Creede Repertory Theatre, which saw the potential of Colorado Gives Day from the very beginning, brought in a boggling $211,727 on Tuesday, in large part because it went into the big giving day with a $100,000 matching donor in hand. That brings Creede Rep's haul from individual donors to $729,000 since 2012, with matching donors pushing the overall total well past $1 million.
Creede Rep is located 250 miles southwest of Denver and is the largest single employer in Mineral County. It presents summer and fall fare in its two Main Street theatres, operating on a $1.5 million annual budget. The company targets the majority of its annual giving efforts for Colorado Gives Day – in part because of its unique ability to secure those huge matching donors, and in part because of a $1 million incentive Community First Foundation shares among all its recipients.
"Colorado Gives Day comes at the perfect time of year for a theatre like Creede Rep," said Associate Artistic Director Kate Berry. "Because all of our programming is in the summer and fall, the winter and spring can be difficult financially given that our income level drops so significantly."
But still: One little theatre company nestled in the San Juan Mountains has turned the opportunity that Colorado Gives Day has presented into a $1 million windfall in the past seven years alone.
"To see the support every year from around the country for our crazy rural and remote theatre is never less than magical," a tickled Berry said.
Thousands of Colorado nonprofits are justifiably celebrating their varying infusions of essential revenue this week. But they also should be celebrating those who put the apparatus in place in the first place. That's the part that gives Rinderknecht the most satisfaction.
"People have always wanted to give but they just didn't know how," she said. "We just gave them a place to do it."
Of course Rinderknecht and her co-creators have done so much more than that. They have vastly improved the well-being of humankind, while making our community more robust and vibrant.
"We are so grateful to all those who had the foresight to create Colorado Gives Day," said Matheo. "They are all true unsung heroes. Not only have they positively affected the arts, they have positively affected every aspect of our lives. It's such a gift to all of us."
Dana Rinderknecht/At a glance
Director of Online Giving Dana Rinderknecht joined Community First Foundation in December 2007 after serving on the staff and board of several nonprofits, including Director of Resource Development at Dental Aid, Inc., Executive Director at Family Pathways of Colorado and Development Officer at Work Options for Women. She holds a master's degree in business administration from the University of Denver and a bachelor's of science in applied math from Colorado State University. In high school and college, she for worked several summers in the Games Department at Elitch Gardens.
About The True West Awards: '30 Days, 30 Bouquets'
The True West Awards, now in their 19th year, began as the Denver Post Ovation Awards in 2001. DCPA Senior Arts Journalist John Moore — along with additional voices from around the state — celebrate the entire local theatre community by recognizing 30 achievements from 2019 over 30 days, without categories or nominations. Moore was named one of the 12 most influential theater critics in the U.S. by American Theatre magazine in 2011. His daily coverage of the DCPA and the Colorado theatre community can be found at MyDenverCenter.Org
https://www.denvercenter.org/wp-content/uploads/2019/12/Day-15-Angel-of-the-Arts-featured-800.jpg
426
800
John Moore
John Moore
2019-12-13 09:34:17
2019-12-30 01:16:45
2019 True West Award: Dana Rinderknecht and Colorado Gives Day