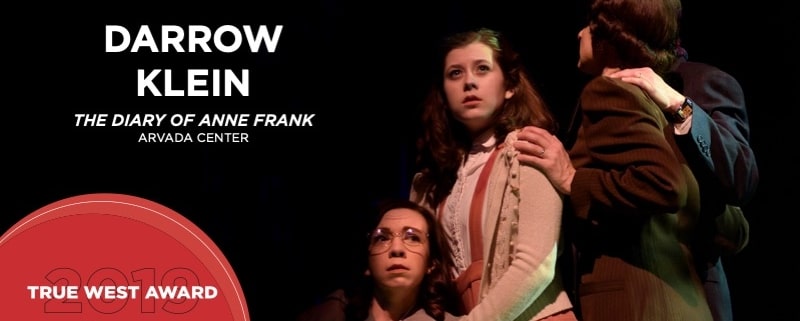 2019 True West Award: Darrow Klein
Day 2: Teen actor 'is as perfect an Anne Frank as I can imagine'
From the moment the Arvada Center scheduled The Diary of Anne Frank, it was evident that Darrow Klein was the right kid for the part. She was 16, the same age as Anne Frank when she died in a German concentration camp and was thrown into a mass grave. More than that, Klein clearly felt and embraced the full weight of the responsibility that comes with performing the iconic role. "It was evident from her performance that this was a very important project for Darrow, and she put her heart and soul into it," said her director, Christy Montour-Larson.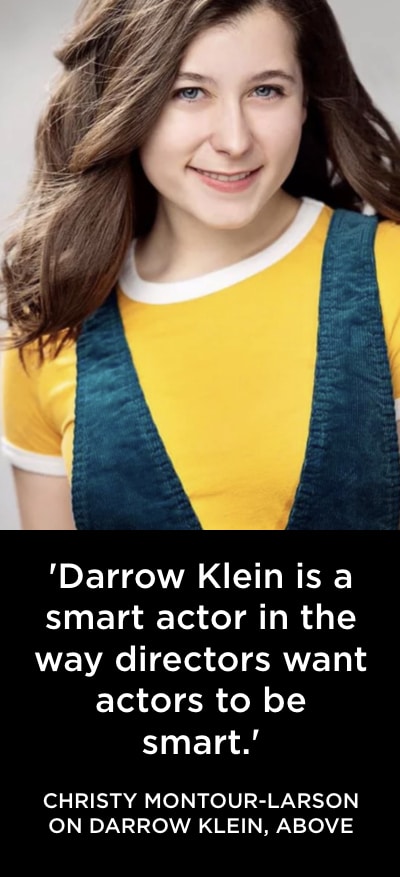 That's why you almost always see Anne Frank played by an adult actor. But as Westword's Juliet Wittman, the most tenured theatre critic in Denver journalism and herself Jewish, put it: "Darrow Klein is as perfect an Anne Frank as I can imagine."
Despite her age, Montour-Larson said Klein was a fully participating member of the ensemble. "We all felt as a team that not only was it important that Darrow give a powerful and moving performance – but that she have a positive experience doing it as well."
Klein, now a senior at Fairview High School, called it a privilege to play the role. "I am proud to have played a part in keeping Anne Frank's memory alive," said Klein, who was nominated for a Henry Award for her performance.
Montour-Larson called Klein "a smart actor in the way directors want actors to be smart. She did a lot of prep beforehand, and yet she put that all in her back pocket and only used it when she needed it."
To 2018 True West Award-winning actor Emma Messenger, who played Anne's moody attic-mate, Mrs. Van Daan, "It wasn't just that Darrow knew all her lines perfectly before anyone else. Or that she was contagiously cheerful. Or that she never once complained about being tired. Her professionalism lay in her ability to transcend the ordinary industry of performing week after week.
"In the most intimate moments of the play, when Anne reveals her secret feelings to her diary, the young school children bussed in for a Tuesday morning field trip would often titter, taunting, squealing their embarrassed reactions. I remember cringing inside, wondering how this young actor would maintain her character, her equilibrium, in the face of such inappropriate reactions. In that moment, she was so vulnerable and exposed. But Darrow never blinked, serenely continuing to tell her story. She remained true to herself, true to us, and true to Anne."
All at a time when she was performing up to six shows a week during an intense academic year that has included five advanced AP and IB classes. Klein already has attended entrance auditions at colleges including Carnegie Mellon, Point Park and the University of Michigan. She trained at Interlochen and was part of its citywide high-school production of 9 to 5. And she was the assistant director for Fairview's fall production of High School Musical. She will play the Baker's Wife in CenterStage's production of Into the Woods in February, and then perform in the Aurora Fox's Freaky Friday in April.
Further still, Klein has remained part of an active group of young people who have combined to raise tens of thousands of dollars for The Denver Actors Fund over the past five years. She led a collection effort at three Anne Frank performances, raising $1,333 for the nonprofit that helps local theatre artists pay their medical bills. That total donation included part of Klein's own performance stipend for playing Anne Frank.
She also performed in the fifth annual Jewish Broadway, a musical revue that raised $100,000 for the Nevei Kodesh congregation in Boulder. She took part in the Denver ACLU's Training Emerging Activists program. And she started a student-activist club at Fairview focused on supporting teen voices in the larger community. The club participated in a phone campaign to stop the execution of Rodney Reed in Texas, which was stayed on November 25 after the discovery of new evidence in the 22-year old murder case.
Klein seems to embody the clarion call from Anne Frank's grave: "How wonderful it is that nobody need wait a single moment before starting to improve the world."
Critics corner:
"Darrow Klein embodies the endless energy, spirit and optimism of Anne Frank. Her effervescence lights up the dim surroundings of the attic." – Lane Ware, Onstage Colorado
About The True West Awards: '30 Days, 30 Bouquets'
The True West Awards, now in their 19th year, began as the Denver Post Ovation Awards in 2001. DCPA Senior Arts Journalist John Moore — along with additional voices from around the state — celebrate the entire local theatre community by recognizing 30 achievements from 2019 over 30 days, without categories or nominations. Moore was named one of the 12 most influential theater critics in the U.S. by American Theatre magazine in 2011. His daily coverage of the DCPA and the Colorado theatre community can be found at MyDenverCenter.Org
Read up on all of the 2019 True West Awards
Video bonus: Darrow Klein and the Killer Kids of Miscast
https://www.denvercenter.org/wp-content/uploads/2019/11/Day-2-Darrow-featured.jpg
425
800
John Moore
John Moore
2019-11-27 14:39:22
2019-12-30 01:36:53
2019 True West Award: Darrow Klein