2019 True West Award: Kelly McAllister

Day 16: Expanding opportunities for local playwrights, one First Monday at a time
Longtime DCPA Education Playwriting Instructor Kelly McAllister came to Head of Acting Tim McCracken last year with an idea that would greatly expand the Denver Center's commitment to the local playwriting community. First Mondays is now a free, open and public cold-reading series that allows local playwrights to hear their words read aloud by area actors.
The format is simple: On the first Monday of every month, local playwrights who have signed up for the 10 available slots bring 10 minutes of a work-in-progress. The sign-up window opens at 9 a.m. on the day of each event, and closes when the lineup is full. Local actors help out for the opportunity to engage in the valuable exercise of cold readings. Up to 50 members of the public come each month for the simple joy of hearing developing scenes from new writers.
"First Mondays is providing countless opportunities for playwrights and actors alike, and it is all because of Kelly," McCracken said. "He is selfless, humble and truly loves the work."
Once each quarter the format shifts and the actors instead read a full, published play chosen by McAllister. Previous titles have included Cloud 9 by Caryl Churchill; The Children's Hour by Lillian Hellman; and a new adaptation of Bertolt Brecht's The Good Person of Szechuan, translated by DCPA Director of New Play Development Doug Langworthy. In the coming months, the featured play will be The Great Pretenders, a new, full-length work by one of McAllister's own Denver Center playwriting students, Hollice Stander.
First Mondays was inspired by a longtime series called Naked Angels Tuesdays at 9 in New York City and Los Angeles. Closer to home, the Rough Draught Playwrights have gathered once per quarter since 2012 to do the same over pizza and beers at the Walnut Room.
The difference with First Monday is what McAllister, DCPA Education and the DCPA Theatre Company's Literary Department bring to the proceedings, which is constructive group feedback in more of an academic salon atmosphere.
"What Kelly has created has been a really nice bridge between the Denver Center and the local theatre community," said DCPA Literary Manager Lynde Rosario. "This has been a really great way for local playwrights not only to feel welcome in our spaces, but to feel emboldened and empowered to make new work."
That's happening, Rosario said, because McAllister has created a safe and collaborative atmosphere where artists can feel free to take risks. "It's a really beautiful community Kelly has gathered," Rosario said, "and they really lift each other up."
Not to mention: "He's just a really great teacher," said actor and playwright Luke Sorge, who has taken three playwriting classes from McAllister at the Denver Center. "The things that stand out to me are his enthusiasm for writing in general, and the joy he takes in every one of his students' success."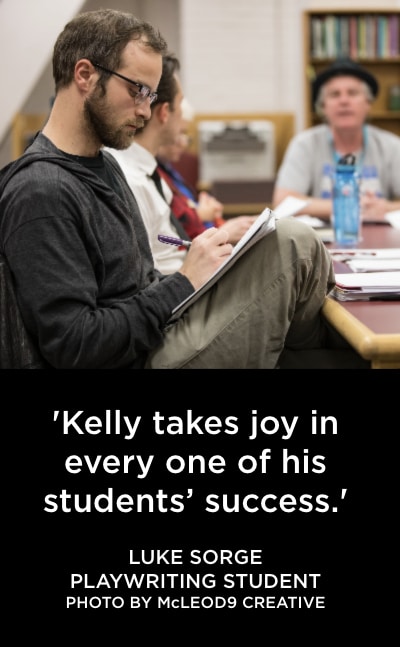 Sorge recalls working on a film script where he had the audacity to change genres midway through the story. But he wanted to run it by McAllister for his opinion first. "Kelly pointed out that if the genre is going to change, then maybe the characters should behave differently as well, which is something I hadn't considered," Sorge said. "That really unlocked a few moments for me."
McAllister is also a busy director, screenwriter, actor and teacher beyond the Denver Center, "and his impact on our theatre community continues to grow every year," McCracken said. "Kelly is active in so many areas, serving children in many communities where he is directing and teaching classes, as well as adults through directing musicals and teaching playwriting."
This year, McAllister directed a massive production of The Full Monty at the PACE Center in Parker that launched a new company called Sasquatch Productions (named after his obsession with Bigfoot). He also just directed The Little Mermaid for high-school students at StageDoor Theatre in Conifer (running through December 21).
McAllister fell in love with the story about the unemployed steelworkers when he went to see The Full Monty on Broadway with his mother. "It was glorious," said McAllister, who was nominated for a 2017 Henry Award for his direction of Inspire Theatre Company's Spamalot. "Here was a tale of folks down and out, desperate for something to come along and save them. They weren't lost royalty or chosen ones meant to save the galaxy. They were working-class men and women looking for a bit of comfort in a cold and often indifferent world."
Everything McAllister is not, as borne out by his favorite quote: "Love is evil spelled backward … and wrong."
Kelly McAllister/2019
Facilitator, DCPA Education's First Mondays playwriting series
Director, The Full Monty, Sasquatch Productions, PACE Center, Parker
Director, The Little Mermaid, StageDoor Theatre (high-school company), Conifer
At a glance: Kelly McAllister, a native of San Jose, California, is an experienced director, actor, educator and playwright who has taught playwriting at the Denver Center since 2015. As a director, Kelly has directed six mainstage productions at StageDoor Theatre in Conifer. He also has worked locally with the Wolf Theatre Academy at the Mizel Center, the Off Broadway School of Fine Arts, Rocky Mountain Theatre for Kids, The Renaissance Program in Boulder and more. His plays have been produced in the United States, Canada, Czech Republic, Austria, Slovak Republic, Dubai and Brazil. Three of his plays have been presented at the New York International Fringe Festival. In 2010, his play Hela and Troy was named a finalist for the Heideman Award at the Humana Festival in Louisville, Kentucky. Other plays include Last Call, Burning the Old Man, April's Fool, Rose Red, Some Unfortunate Hour, Fenway: Last of the Bohemians, Muse of Fire and The Morons. He also wrote and directed a short film called "Strong Tea." He also was a senior theatre reviewer for nytheatre.com from 2003-05, and was the Drama Coach at Littlton High School from 2016-18.
First Mondays/Information
When: 7 p.m. every First Monday
Where: Third floor of the Newman Building at the corner of 13th and Arapahoe streets
How: To submit a play, email education@dcpa.org starting at 9 a.m. on the day of each event. The first 10 submissions will be read that night.
Cost: Free
Info: email education@dcpa.org
About The True West Awards: '30 Days, 30 Bouquets'
The True West Awards, now in their 19th year, began as the Denver Post Ovation Awards in 2001. DCPA Senior Arts Journalist John Moore — along with additional voices from around the state — celebrate the entire local theatre community by recognizing 30 achievements from 2019 over 30 days, without categories or nominations. Moore was named one of the 12 most influential theater critics in the U.S. by American Theatre magazine in 2011. His daily coverage of the DCPA and the Colorado theatre community can be found at MyDenverCenter.Org
https://www.denvercenter.org/wp-content/uploads/2019/12/Day-16-Kelly-McAllister-featured.jpg
1327
2500
John Moore
John Moore
2019-12-13 14:46:21
2019-12-30 01:15:14
2019 True West Award: Kelly McAllister