2019 True West Award: M. Curtis Grittner and Phil Forman
Day 26: Tarzan designers in perfect, percussive jungle harmony
Barret Harper says being an actor in Candlelight Dinner Playhouse's Tarzan was a little like a day at Jungle Quest, a kid-friendly world filled with ziplines, ropes, bridges, nets and climbing walls. Only with singing monkeys and lots (and lots) of drums.
"That was an absolutely fun playground to play on," said Harper, who portrayed pop culture's iconic monkey man in Director Piper Arpan's physical, kinetic and atmospheric staging where abs seemingly grew like vines at the Johnstown dinner theatre 45 miles north of Denver.
"The set ignited a childlike sense of play in all of us. It was like the feeling you had as a kid playing on a jungle gym," said Harper, who closed the first act with a dramatic zipline entrance from the balcony of the 350-seat theatre, passing over every twirling head in the audience and onto the stage just in time to save an endangered Jane. It was a feat Harper called "amazing and fun but a little bit terrifying. I wasn't harnessed in for that one, so the adrenaline was firing."
In theatre, you often hear how vital it is that the scenic designer work in perfect rhythm with, say, the costume or sound designer. You don't hear that as often about the scenic designer and the music director. But for this unique production challenge, Tarzan Scenic Designer M. Curtis Grittner had to be in perfect sync with Music Director Phil Forman to create both the show's west African jungle atmosphere and its percussive tribal energy. So percussive, Arpan said of one campsite dinner scene, "I told them I wanted the water in the actors' glasses to vibrate."
The pop-rock score for Tarzan, one of the lesser-known Disney stage musicals, was composed by Genesis drummer Phil Collins, and as you might imagine, its emphasis on percussion is probably second only to The Lion King. And so Arpan wanted to make sure the percussion took center stage – literally. She challenged Grittner to design a floorplan that could accommodate Forman – himself a drummer down to his bones – and another percussionist throughout the show.
Grittner came back with an expansive, multi-level set anchored by what has since come to be known as "The Percussion Pit" – Forman and John Meriwether banging away in full view, surrounded by flying actors and flora while the other six live musicians played from the traditional orchestra pit in front of and below the stage.
"I feel like I gave Michael a huge list of things I wanted that I knew were going to be tricky, and he gave me every single thing," Arpan said. The resulting effect, she said, "was everything."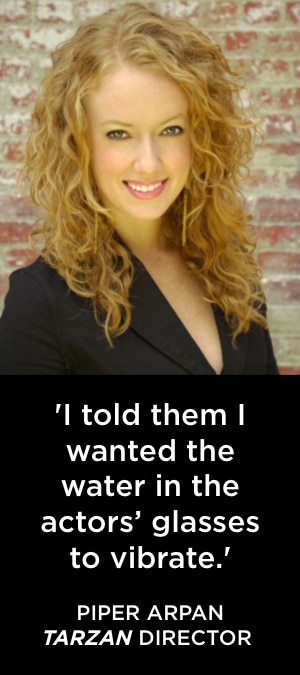 Tarzan, adapted from the 1999 animated film that was based on Edgar Rice Burroughs' 1912 pulp novel, is the adventurous tale of the infant boy who is orphaned in a shipwreck off the coast of west Africa and raised by a tribe of apes in full ignorance of his human heritage until a hunting expedition comes to threaten his primate family.
Arpan's staging called for most of her ensemble to play monkeys who could bound and climb and swing as naturally as their arthropodal brethren. So Grittner installed little grips throughout the set like you might see on indoor rock-climbing walls to allow for efficient clambering.
Forman, a longtime theatre teacher at Mountain View High School who was named Candlelight's Resident Music Director in 2018, has been on, under or behind northern Colorado stages for more than 30 years. Because the Tarzan score has what Arpan called "a distinctly 1980s pop style," she encouraged Forman to make some adjustments. Specifically she wanted to infuse the famous "Trashing the Cans" sequence from the animated movie with a more urgent sense of tribalism and gravitas on the stage. By the climax, all of Tarzan's animal pals were making noise Stomp-style – creating percussion with every ordinary object one might find in a camp site of the time, including forks, typewriters, barrels and more.
"Phil wrote actual percussion lines for the apes to play on all of those found objects," Arpan said. It all came together, she added, "because Phil is just so collaborative in the most beautiful way. He has so much to bring to the table. He is always tireless, and he is always vibrant – even if he hasn't slept or eaten for days. He's always trying to make things better."
Music Director Phil Forman/2019 at a glance
Nunsense, Candlelight Dinner Playhouse
Motones vs. Jerseys, Candlelight Dinner Playhouse
Oliver!, Candlelight Dinner Playhouse
Disney's Tarzan, Candlelight Dinner Playhouse
Disney's The Hunchback of Notre Dame, Candlelight Dinner Playhouse
Through January 19: Irving Berlin's Holiday Inn, Candlelight Dinner Playhouse
Coming up: January 30-March 29: Jekyll & Hyde, Candlelight Dinner Playhouse
Scenic Designer M. Curtis Grittner/2019 at a glance
Other Desert Cities, Cherry Creek Theatre
The Little Prince, Denver Children's Theatre
Disney's Tarzan, Candlelight Dinner Playhouse
Tuesday with Morrie, Cherry Creek Theatre
Coming up: April 9-May 31: Curtains
About The True West Awards: '30 Days, 30 Bouquets'
The True West Awards, now in their 19th year, began as the Denver Post Ovation Awards in 2001. DCPA Senior Arts Journalist John Moore — along with additional voices from around the state — celebrate the entire local theatre community by recognizing 30 achievements from 2019 over 30 days, without categories or nominations. Moore was named one of the 12 most influential theater critics in the U.S. by American Theatre magazine in 2011. His daily coverage of the DCPA and the Colorado theatre community can be found at MyDenverCenter.Org
https://www.denvercenter.org/wp-content/uploads/2019/12/Day-26-featured.jpg
531
1000
John Moore
John Moore
2019-12-22 19:50:07
2019-12-30 01:06:22
2019 True West Award: M. Curtis Grittner and Phil Forman