2019 True West Award: Nathan Halvorson

Day 6: Choreographer rides to the rescue as an actor on a high wire
Step right up and you'll hear a tall (but true) tale you've got to read to believe.
On May 23, actor Gil Brady fractured his knee during the final dress rehearsal for the circus musical Barnum presented by the Fine Arts Center Theatre Company at Colorado College. Now in theatre, people often say, "The show must go on." But it doesn't. Not always. In this case, it did. But with no understudy at the ready, it was going to take a feat of derring-do. And in this case, choreographer Nathan Halvorson was that daring dude.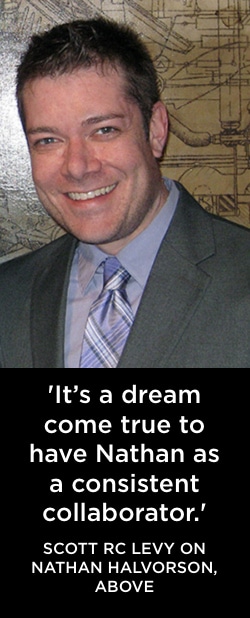 Most theatre companies constantly walk a scary economic tightrope, and understudies can be an expensive luxury. The solution decided upon here was for Halvorson to dance the role of The Greatest Showman while Brady spoke and sang the famous ringleader's lines as he sat in a period wheelchair on the side of the stage. Talk about a show-stopper. And show-re-starter.
For Brady, leaving the production after his injury never even occurred to him. "That's not how I was raised," he said. "That would have meant no show, period, and we had worked so hard. I didn't see any other option."
Under normal circumstances, Halvorson would have been just hours from completing his responsibilities as the choreographer and moving on to his next assignment. Instead, he came back and performed as Barnum's ambulatory shadow in every show of the month-long run. And that's just one reason he's such a valuable member of the Fine Arts Center team, Director Scott RC Levy said.
"Nathan is extraordinarily committed and passionate for everything about theatre," said Levy, "and that manifests itself whether he is directing or choreographing or acting or educating the next generation of theatre artists."
2019 was no less than a three-ring triumph for Halvorson, who was named Associate Director of Performing Arts and Director of Education for the Fine Arts Center Theatre Company at Colorado College in 2014. He's also an acting teacher at the University of Colorado at Colorado Springs.
In July, the versatile everyman made Henry Awards history by having a hand in six 2018-19 nominations. He won for directing the Outstanding Play of 2018-19, Church & State, and Levy said he was a major reason the Fine Arts Center won its first-ever Henry Award for Outstanding Season by a Company.
"It's a dream come true to have Nathan as a consistent collaborator," Levy said.
Halvorson's 2019 went something like this: He opened the year finishing up a widely guffawed run as Mrs. Trunchbull in Roald Dahl's Matilda the Musical. He then directed and choreographed Hands on a Hardbody. He then contributed some choreography for Busytown: The Musical. He also found time to direct and choreograph his teen conservatory company's full production of Disaster the Musical and a concert version of Carrie the Musical, starring Megan Van De Hey beside a bunch of pig-blood-spilling students. "Nathan is 100 percent dedicated to those kids, and it is truly awe-inspiring to watch him with them," Van De Hey said.
Halvorson is ending the year with no less of an undertaking than directing and choreographing a mainstage production of The Sound of Music (running December 12 through January 12).
Oh, that's not all. Halvorson also made time to direct and choreograph Little Shop of Horrors for Colorado Springs TheatreWorks and The Great American Trailer Park Musical for the Mountain Rep Theatre in Cripple Creek.
He is, Levy said, one of the hardest-working people in show biz (and academia). And one of the most talkative. Which is why Levy couldn't resist a good-natured parting jest:
"One of the most rewarding things for me this year was to witness Nathan perform in a show without ever opening his mouth," Levy said with a laugh. "He has such a unique voice, so to see him onstage without being able to use that instrument of his was, well … something to see."
Halvorson is, as Van De Hey put it, "one of these rare gems that I hope we can hold onto in this theatre community for a very long time to come."
Read our full report on the injury to Barnum actor Gil Brady
Nathan Halvorson: At a glance
Nathan Halvorson is a native of Sun Prairie, Wisconsin, and earned his master's degree at the University of Iowa. He has been working professionally for nearly 20 years at venues including Lincoln Center Theatre, the New York Theatre Workshop, New York International Fringe Festival, University of Notre Dame and many others. He was a founding member and Artistic Director of the off-Broadway Key Theatre. He spent five years as Resident Director of The Penobscot Theatre in Bangor, Maine. He was named Associate Director of Performing Arts at the Colorado Springs Fine Arts Center Theatre Company at Colorado College in 2014.
Nathan Halvorson: 2019 Henry Award Nominations
Outstanding Play: Church & State, Director
Outstanding Musical: Hands on a Hardbody, Director
Outstanding Actor in a Musical: Miss Trunchbull, Roald Dahl's Matilda The Musical
Outstanding Direction of a Play: Church & State
Outstanding Direction of a Musical: Hands on a Hardbody
Outstanding Choreography: Hands on a Hardbody
About The True West Awards: '30 Days, 30 Bouquets'
The True West Awards, now in their 19th year, began as the Denver Post Ovation Awards in 2001. DCPA Senior Arts Journalist John Moore — along with additional voices from around the state — celebrate the entire local theatre community by recognizing 30 achievements from 2019 over 30 days, without categories or nominations. Moore was named one of the 12 most influential theater critics in the U.S. by American Theatre magazine in 2011. His daily coverage of the DCPA and the Colorado theatre community can be found at MyDenverCenter.Org
https://www.denvercenter.org/wp-content/uploads/2019/12/Day-7-Nathan-Halvorson-800.jpeg
531
1000
John Moore
John Moore
2019-12-04 08:28:13
2019-12-30 01:24:41
2019 True West Award: Nathan Halvorson