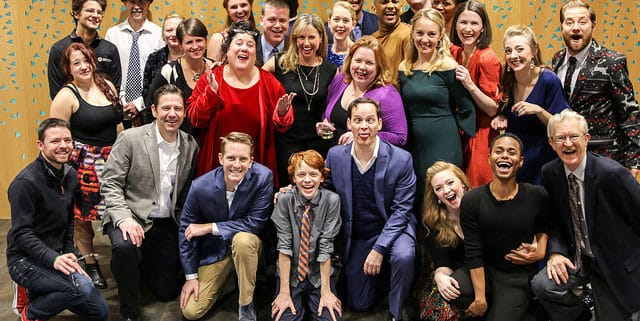 Photos from the making of 'A Christmas Carol' from Friday's opening night and going back to the first rehearsal. To see more, click on the image above to be taken to our full gallery of photos. Photos by John Moore for the DCPA NewsCenter.
'One of the things I love so much about this Denver Center production is its humanity,' the playwright says at opening.
Richard Hellesen's 1987 stage adaptation of Charles Dickens' A Christmas Carol has become a holiday standard for theatre companies across the country including the Denver Center, which opened its 10th seasonal staging of Hellesen's script last Friday — with the playwright in the audience.
Hellesen doesn't track how many productions his sweeping adaptation, with music by David de Berry, has enjoyed over the past 30 years. But the number of performances here at the Stage Theatre since 2006 is now nearing 500, with attendance topping 300,000. Hellesen said he was moved to tears by Melissa Rain Anderson's take on the story.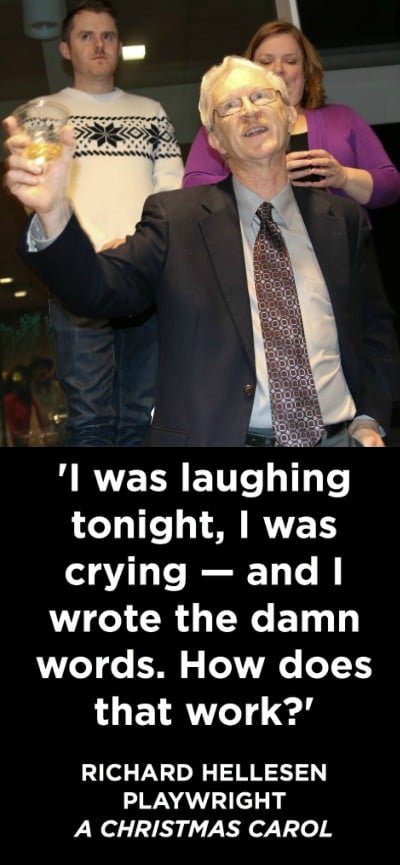 "I know the words, but sometimes the performances and the direction surprise me," Hellesen said after the performance. "I was laughing tonight, I was crying — and I wrote the damn words. How does that work?"
Well, it starts with Sam Gregory, who is playing Scrooge for a second straight season. Hellesen was taken by Gregory's evident youth, which while uncommon for actors playing the role of the grizzled old skinflint, is actually consistent with Dickens' novel.
Hellesen said Gregory presents a Scrooge who has an opportunity to make a more lasting impact on his Victorian community after his conversion — and a greater emotional impact on audiences — because he still has a significant amount of time left to improve himself and his community.
"My favorite line from the whole play is: 'Best of all, Scrooge knew he had the time before him to make amends — and he started that very day.'
"One of the things I love so much about this Denver Center production is its humanity, because it's extremely easy to make Scrooge one-dimensional, or a stereotype. I think the harder challenge for the actor is to humanize him to the point where you are sitting in the audience saying to yourself, 'You know what? I kind of … sort of … actually see where he is coming from. And that moves us a little closer in his direction.
Lisa Kennedy on why we circle back to A Christmas Carol
"I know when the emotional parts are coming," he said, "and yet I am just floored whenever I see an actor who is giving it something new like Sam Gregory."
Added Anderson: "What I love about this adaptation and the way Sam plays it is that it works on all levels," she said. "There's the bitter, there's the sweet, there's the political, there's dark humor and there's frivolous humor. Sam really hits every single scope that a man can hit in one night."
Part of the enduring power of the source story, Hellesen said, is its ever-relevant decrying of injustice in all its forms. Audiences may not realize it, he said, but Dickens wrote A Christmas Carol in 1843 as a demand for societal change.
"I think certain lines in the script will suddenly resonate anew with any present-day audience depending on what is going on in the world," he said. "For me tonight, that was when The Ghost of Christmas Present made his speech about how some men commit acts of envy and pride and bigotry and prejudice in the name of Christmas. That's in Dickens' book, and I put that in my adaptation for a reason. It's because I want people to hear that today. We are at an interesting time. There is want, and there is ignorance. But there is also hope for redemption."
Hellesen said the Denver Center's various stagings have always ranked among his favorites for their production values and the quality of the acting. This year he was particularly impressed to see a multi-racial Cratchit family on the stage.
"I absolutely loved that," he said. "Yes, this is a very specific story written in 1843 London, but it's obviously a much more universal story than that. And so to expand the casting in terms of ethnicity and age just adds to the universality of the piece."
Hellesen took a moment after the opening performance to thank the cast and crew directly.
"When you sit at your computer and you adapt something, you just hope that somehow it has a life," he told those gathered. "To see all of you people who are so talented giving so much to something that I wrote  — I am incredibly humbled to be in the room with you all, watching you do this."
John Moore was named one of the 12 most influential theater critics in the U.S. by American Theatre Magazine in 2011. He has since taken a groundbreaking position as the Denver Center's Senior Arts Journalist.
A Christmas Carol: Ticket information
At a glance: Based on Charles Dickens' classic novel, this joyous and opulent musical adaptation traces money-hoarding skinflint Ebenezer Scrooge's triumphant overnight journey to redemption. A Christmas Carol illuminates the meaning of the holiday season in a way that has resonated for generations.
Presented by the DCPA Theatre Company
Performances through Through Dec. 24
Stage Theatre, Denver Performing Arts Complex
Tickets start at $25
Call 303-893-4100 or BUY ONLINE
Sales to groups of 10 or more click here
https://www.denvercenter.org/wp-content/uploads/2018/04/featured-image-5555.jpg
406
640
John Moore, Senior Arts Journalist
John Moore, Senior Arts Journalist
2017-12-07 15:32:00
2020-03-17 17:02:50
'A Christmas Carol' still brings playwright to laughter, tears