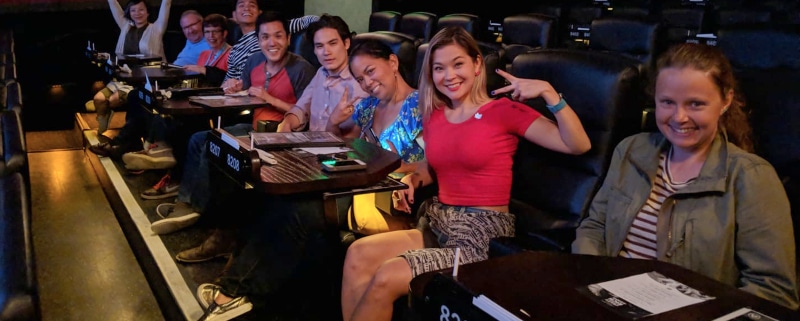 A 'Vietgone' actor's emotional response to 'Crazy Rich Asians'
When you go your whole life never seeing yourself on screen, here's how a comedy can make you weep with joy
Editor's note: 'Crazy Rich Asians' is the first major modern studio film to feature a majority Asian cast since 1993's 'The Joy Luck Club.' The film, released Aug. 15, already has grossed more than $60 million worldwide and received positive reviews from critics. The author of the following esssay, Jordan De Leon, is an actor playing six roles, including that of Playwright, in the DCPA Theatre Company's  regional premiere of the romantic comedy 'Vietgone.'
On August 15, my Vietgone family and I saw the new film Crazy Rich Asians. I knew it was going to be an experience, but I had no idea that it would have the effect on me that it did.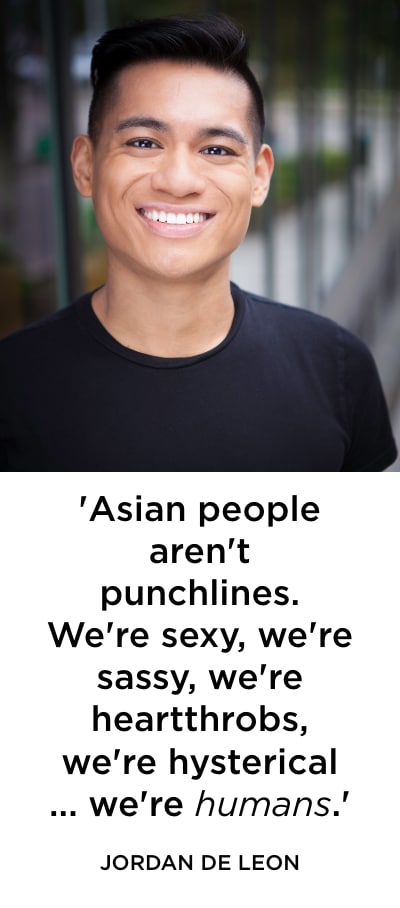 First, a little backstory: I was a Filipino boy who grew up in the suburbs of Chicago to two awesome Filipino parents. In my middle-school graduating class of 26, there were four Asians. In high school, I graduated with the same number of Asian friends that I entered with: Two.
After high school, I attended the University of Cincinnati College Conservatory of Music (CCM) to study musical theatre and found out that, if I earned my diploma, I would be one of only three Asians to ever graduate from CCM, and the first and only Asian male graduate … ever.
Needless to say, my childhood, adolescence and college life were extremely, for lack of a better word, white. And I was happy to live that life.
When I was in grade school, my grandmother would try to send me off to school with Spam and rice for lunch (the most Filipino thing you could send a kid to school with, short of longganisa) and I would tell her to make me a grilled cheese instead, so as not to stick out at school. In college and high school, when people asked me about my cultural upbringing, I would say, something like, 'I mean, I'm Asian. But besides the color of my skin, I'm basically white." I'm not proud these things. But ask any Asian-American, especially in the Midwest, and they will tell you the same thing: Assimilation is the name of the game.
And why wouldn't it be? Growing up, white boys get shown by the media that they can be anything they want to be. Their role models were superheroes, Red Power Rangers, heartthrobs, models, action stars and athletes. I, on the other hand, was shown by TV shows and movies that Asians could be one of four things: Mathematicians, scientists, martial-arts experts or punch lines regarding race and ethnicity. (That last one was the most prevalent). My friends know that I'm no good at math or science, and I am no one's Kung Fu master, so I was deprived of a role model in the media growing up. (Sorry, Jackie Chan. I respect the hell out of you, but I just don't see myself in you.)
Studies have shown that the way we see people who look like us portrayed in the media directly affects the reflection we see of ourselves in everyday life. This is why, after the release of Black Panther, interest among young black girls in STEM subjects (science, technology, engineering and mathematics) skyrocketed in schools across the country, no doubt in thanks to the portrayal of the character Shuri by Letitia Wright as a fierce, funny, witty black girl who also happened to be the smartest woman in the Marvel Universe. This portrayal showed them they could be whatever they wanted to be.
I didn't and still don't fit into any stereotypical Asian category.
I had no reflection.
And now, during my 26th year of life, I got to go see Crazy Rich Asians, a movie littered with beautiful, sexy, sassy, funny, confident people who looked like me in a packed movie theatre. The white people in the film were done speaking before the title card went up. This movie was about my people. I watched a film filled with people who looked like me, and none of whom were scientists, martial-arts experts or punchlines at the expense of their heritage. I watched a movie full of people who looked like me and weren't trying to be anything other than who they were. No one was trying to be white. No one was trying to assimilate to a white standard. They were proud of who they were and, because none of them were "special" (having super powers, were Kung-Fu masters or mystical sages), they were special to me.
It was a feeling I never thought I would ever need to feel. I wept the second I got home and for more than a half hour as I thought about why this movie had such an impact on me.
I feel lucky to say I've worked with some amazing directors who've not only let me play Asian roles, but allowed and encouraged me to play them as people of pride and not as punch lines (shoutout to Susan Craig-Olsen, Mark Madama, Dan Knechtges, Alex Timbers, Casey Colgan, [Vietgone Director] Seema Sueko, and the late Lee Blakeley). But there are many Asian actors out there much less fortunate than me, who are being directed as racial punchlines, token props or, even worse, "less than" their white colleagues. This movie showed the world that we're here, we're proud as we are, our people and faces can make money in mainstream media — and we're not going anywhere.
Please go out and support this movie. Show Hollywood and the world that Asian people aren't punchlines. We're sexy, we're sassy, we're heartthrobs, we're hysterical, we're bitches, we're jerks, we're friends, we're mothers, we're fathers, we're brothers, we're sisters, we're humans.
This movie is absolute proof that representation matters. I hope and pray that some little Asian boy in the suburbs of Chicago watches this movie and sees a beautiful plethora of role models to choose from. Because for this 26-year old gay Filipino boy from the Midwest who never saw a reflection of himself in the media, Crazy Rich Asians was a long overdue Hall of Mirrors.
Jordan De Leon: About the author
Select Theatre: Here Lies Love (Seattle Repertory Theatre), Waterfall (Pasadena Playhouse, The 5th Avenue Theatre), The King and I (Lyric Opera of Chicago), The 25th Annual Putnam County Spelling Bee (Drury Lane Oakbrook), Footloose (Kansas City Starlight Theatre), Beauty and the Beast (The MUNY), Madagascar (STAGES St. Louis). TV: "Orange is the New Black." Training: University of Cincinnati CCM.
Vietgone:

Ticket information



Vietgone is an ode to the real-life courtship of Playwright Qui Nguyen's parents. Forced to leave their country during the height of the Vietnam War, two refugees find themselves at the same relocation camp in Arkansas – the land of Harleys and hot dogs. Before they find their way into each other's arms, they'll have to blaze a trail in their weird new world and leave behind the baggage they didn't pack.
https://www.denvercenter.org/wp-content/uploads/2018/08/Crazy-Rich-Asians-800.jpg
459
800
Jordan De Leon
Jordan De Leon
2018-08-24 13:56:43
2018-08-28 16:34:28
A 'Vietgone' actor's emotional response to 'Crazy Rich Asians'