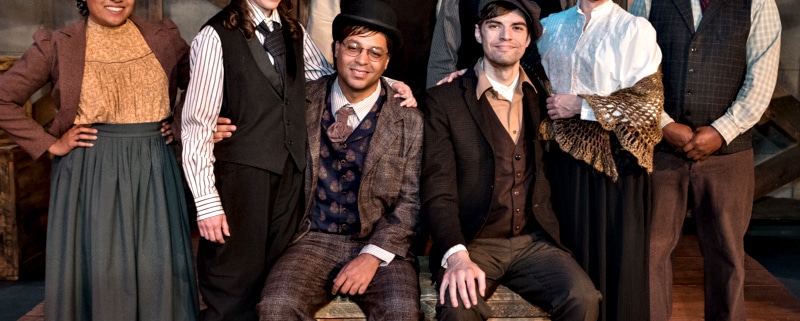 Aaron Posner on revisiting 'The Merchant of Venice': To be or not to be?
The cast of Miners Alley Playhouse's 'District Merchants,' which reimagines 'The Merchant of Venice' in 1870s America. Photo by Sarah Roshan.
Rather than foreclose on Bard's problem play, playwright gives it a new lease on American life in District Merchants
By John Moore
Senior Arts Journalist
The Merchant of Venice, with its legendarily merciless Jewish money-lender who demands his pound of flesh and receives not one ounce of mercy in return, has not stood well the test of time. In these contemporary times, Shakespeare's blatantly anti-Semitic leanings have even led some to suggest that the play should no longer be performed at all.
Aaron Posner, one of the leading imaginers and re-imaginers in the American theatre today, is not one of them. Which is not to say he likes the Bard's problematic play.
"I had known The Merchant of Venice for a long time, but I never wanted to direct it because I couldn't find a way to make the play, as it existed, interesting to me," said Posner, who sustains multiple careers as playwright, adaptor, educator, company leader and acclaimed director in Washington D.C. "But I knew that if I was going to push it around too much, it ceases to be 'the play' for me. So I began to think: 'Maybe I should use it as a launch-pad for a brand-new play.' And that's what I did." That brand-new play is District Merchants, which opens in its regional premiere on Friday at the Miners Alley Playhouse in Golden.
District Merchants uses The Merchant of Venice as a jumping-off point to explore the complex relationship between blacks and Jews in America after the Civil War — without cleansing the troubling ethnic undertones of the original story.
"For all of his genius, Shakespeare was still a product of his time," said Posner. "And while he was forward-thinking in a number of ways, he was still limited by those times. Thank goodness, civilization has progressed over the past 400 years."
For centuries, many regarded The Merchant of Venice to be a harmless romantic comedy with a happy ending for all — save for that unforgiving and unforgiven Jew. "I actually think a lot of that play really is interesting and engaging and true and human," said Posner. "But it has its darker side, too.
"What's tricky is that I don't have a problem with the darker sides of the play. I just think they are not explored fully enough in the play to make it clear to us what Shakespeare was really up to — or to make it resonant for us. You have to keep in mind that, for all his genius, Shakespeare was writing 300 years before Freud. He was not asking deep questions about relationships between his characters that we do today, because he didn't have that vocabulary. He doesn't care why this person falls in love with that person. He's not asking about what psychological wounds might be driving this person, or what kind of emotional healing needs to happen between those people. He was talking about incredibly interesting universal truths. But I wanted to engage with the issues of that play in a way where I could make it speak to people today."
Posner easily could have taken inspiration from today's headlines and set his modern variation in the offices of, let's say, any the five largest banks in the United States, whose assets equal 60 percent of the U.S. economy. He wanted to create some distance instead. "Because the moment you see a guy named Shylock walking around the streets of D.C., and it's today, and he's on his cellphone, you are in danger of becoming really kitschy really quickly," he said.
Instead, Posner found "really fertile ground" exploring relations between blacks and Jews during the Reconstruction. He cites lines in Shakespeare's The Merchant of Venice that bluntly equate slavery to personal property. "That hit a chord with me," said Posner. "And that led me to the Civil War, which circuitously led me to the setting of my play. And then the play quickly became about the relationships between blacks and Jews, which very interesting and historically fraught.
In District Merchants, set in the 1870s, Shylock is an immigrant who has fled ethnic cleansing in the Ukraine. Antonio — the unfortunate merchant of Shakespeare's title — here becomes Antoine DuPre, a freeborn black man who unwisely borrows money from Shylock to help pal Benjamin Bassanio win Portia's heart and fortune. The play also has its modern, 21st-century meta-theater moments as well, simultaneously making the setting Shakespearean, post-Civil War and present-day — all at the same time. Think of it as two pasts make a present.
"There has been an uneasy and complicated relationship between blacks and Jews in this country for years," said Posner, who took inspiration from a book called Blacks and Jews by Nathan Lerner and Cornel West. "Of course, they have been allies at times. But there also have been times when they should have, and could have, been stronger allies. Instead, there is still some essential distrust between those communities to this day. It really piqued my interest to think about these historical relationships between oppressed peoples in this country where there should be natural affinity, and often instead, there is actually animosity, for a variety of interesting and compelling reasons. All of that is in the play to some extent.
"But really, for all of the political and social aspects of the play, I'm always most interested in individual human beings and the complicated relationships they make. To me, District Merchants ends up being more a story of people coming together across difference, trying to build bridges, trying to sort of reach out to each other, and looking at the things that divide us."
(Story continues below the photo.)

Chris Kendall and Cris Davenport in Miners Alley Playhouse's 'District Merchants,' opening Friday. Photo by Sarah Roshan Photography.
And what has all of that to say about the rampant corruption in today's banking industry, the lives left ruined in its wake, and the ongoing ideological polarization that seems to have America in a vice?
"I guess the play is asking, as you look at such a divided society, 'Is it possible to come together across distrust, suspicion and genuine difference? Particularly after genuine, deep and abiding harm has been done. You can't pretend it hasn't. But how do you move forward anyhow?"
But, just to clarify: Posner says District Merchants is also a very funny play. Really.
"I think if you come to it with an open mind, I think there's a lot there," he said. "I don't think it takes sides in any one direction. I think it's just trying to engage people with questions about power and privilege. And if people are open to that story, I think that is a worthwhile story to tell."
The year of Aaron Posner in Colorado theatre
Posner is on the verge of becoming much more known to Colorado theatre audiences, starting with Friday's opening of District Merchants at Miners Alley Playhouse. Cherry Creek Theatre will stage Posner's My Name is Asher Lev in October, and the Aurora Fox will stage Life Sucks, his hilariously titled variation on Chekhov Uncle Vanya, in February.
My Name is Asher Lev, an adaptation of the popular novel by Chaim Potok, follows the journey of a young Jewish painter torn between his Hassidic upbringing and his desperate need to fulfill his artistic promise. When his evident artistic genius threatens to destroy his relationship with his parents and community, young Asher realizes he must make a difficult choice between art and faith.
(Pictured: Jacqueline Garcia, Curtiss Johns and Albert Banker in Miners Alley Playhouse's 2015 staging of 'My Name is Asher Lev.' Photo by Sarah Roshan Photography.)
"It's just a great story," Posner said. "I already had adapted Chaim's novel The Chosen, (directed by new DCPA Theatre Company Artistic Director Chris Coleman in 2010 at Portland Center Stage), and I began meeting people who told me that Asher Lev had really changed their lives. It's the story of growing up in a family that doesn't seem to be yours, or being pulled between your community and something else that is deeply important to you."
And while District Merchants and Life Sucks are very much Posner's singular versions of their source stories, "Asher Lev is not my story," he said. "This is Chaim Potok's story. I'm very much the midwife trying to tell his story as best I can. I do think it is a deeply universal, very relatable story regardless of whether you've ever met a Jew."
In Life Sucks, a group of old friends, ex-lovers, estranged in-laws and lifelong enemies grapple with life's thorniest philosophical questions and stumble their way toward the inevitable conclusion that, yeah, life pretty much sucks. "It's one of my favorite things I've ever written, and maybe one of the closest to me," Posner said, "because while Stupid F***ing Bird (a meta takeoff on Chekhov's The Seagull) is a young person's play in its core sensibilities, Life Sucks is more of a middle-aged play, which is where I sit in life right now."
While The Merchant of Venice is steeped with villains, Posner said, there are no evil-doers here. "I'm much more interested in good people doing their best and still messing things up," he said. "That's what Chekov tends to do, and that's what I apparently am building of off in Life Sucks. It's people struggling to do their best and (bleeping) it up on a regular basis.
John Moore was named one of the 12 most influential theater critics in the U.S. by American Theatre Magazine in 2011. He has since taken a groundbreaking position as the Denver Center's Senior Arts Journalist.
Candace Joice as Portia and Sinjin Jones as Benjamin Bassanio in 'District Merchants' at Miners Alley Playhouse. Sarah Roshan Photography.
Aaron Posner at a glance
Aaron Posner, born in Eugene, Ore., has built a thriving career as a theater administrator, playwright, and a freelance director of award-winning productions in the Washington, D.C. area and throughout the country with an emphasis on Shakespeare and literary classics. A graduate of Northwestern University with a B.S. in Performance Studies, Posner is an Eisenhower Fellow whose plays and productions have been seen at more than one-third of all LORT theatres in the country. He was a founding Artistic Director of Arden Theatre in Philadelphia, directing more than 35 productions there and Aaron is an Associate Artist at the Folger Theatre and Milwaukee Rep. Posner has won four Helen Hayes Awards for Best Director for work at the Folger, including: Measure For Measure, The Two Gentlemen of Verona, and Cyrano, He also won the 2014 HHA -The Charles MacArthur Award for Outstanding New Play along with two Barrymore Awards (A Midsummer Night's Dream (Best Director), and The Chosen (playwright), both at the Arden.
District Merchants: Ticket information
Presented by Miners Alley Playhouse
March 23-April 29
Written by Aaron Posner
Directed by Len Matheo
Performances 7:30 p.m. Thursdays through Saturdays; 2 p.m. Sundays
Tickets: $15-$38
At 1224 Washington Ave., Golden, 303-935-3044 or minersalley.com.
The play runs 2 hours and 30 minutes
Cast
Cris Davenport as Antoine Dupree
Chris Kendall as Shylock
Amy Elizabeth Gray as Jessica
Sinjin Jones as Benjamin Bassanio
Sean Michael Cummings as Finn Randall
Candace Joice as Portia
Kristina Lorice Fountaine as Nessa
Isaiah Kelley as Lancelot
More upcoming Aaron Posner:
https://www.denvercenter.org/wp-content/uploads/2018/05/featured-image-9034.jpg
648
800
John Moore
John Moore
2018-05-17 23:19:00
2018-06-14 15:46:04
Aaron Posner on revisiting 'The Merchant of Venice': To be or not to be?